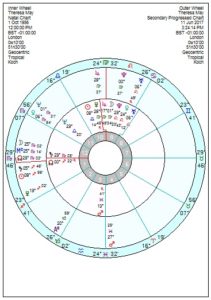 Theresa May will need all of her Saturn in Scorpio sticking power if she's going to hack on regardless. She'll meet her backbenchers probably tomorrow (Monday) which might seal her fate. But polls are indicating that none of the possible contenders from within Tory ranks would be any more popular, some less so. So they are tangled up in a maze without an exit at the moment. The deal with the DUP is raising hackles in Northern Ireland given assurances (inscribed in a UN tablet of stone) that the UK government would favour neither side (the DUP or Sinn Fein). And Scottish Tory leader Ruth Davidson, with 12 MPs, must be aghast at having such a bunch of homophobes, zealots and creationists as the DUP being a crucial support. And last but not least May goes into the Brexit negotiations woefully unprepared psychologically, logistically and realpolitik-wise, with a smirking Merkel and almost certainly triumphant Macron ganging up to block the Brits every which way.
The Tories have self-destructed themselves and the country would say hell mend them, except for the more mature voters who look at Corbyn,  have read the history books on the bad old days of Stalin, remember the IRA, understand the Chavez chaos of Venezuela, and screech in horror. It's worth reading the New Yorker piece by Anthony Lane, June 9, The Book of Jeremy Corbyn.    Gloriously funny but acutely perceptive as well about the whys and wherefores – and the generation gap.  [URL in Questions and Comments below]
It's anyone's guess when May will cease to be in George Osborne's payback comment 'a dead man walking' and become a past tense. She does have tr Pluto sextile her Solar Arc Jupiter along with the highly confused tr Pluto square her Sun/Neptune till mid July, so a mix of hope and delusion; then her sinking-failure tr Neptune conjunct her Mars returns after mid July till early September; and again early and late 2018. She does have some bullish Pluto transits to two Jupiter midpoints picking up from early 2018, which will give her a stroke of luck – in whatever scenario she is operating then. But will get a fearful jolt in late 2018 from Solar Arc Uranus conjunct her Libra Sun.
Her 16th Harmonic which does give her tremendous staying power but also a tendency to self-inflicted disasters is her strongest harmonic; next is her 19H which is lucky for personal success, happiness and prosperity. However there is also an element of ill luck attached to it, unless the person can develop their individuality. [E.g Mel Gibson has a strong 19H]. Her 10H = contains the seed of both rise and fall, is also marked.
What may be telling is that having been forced to fire her inner cabal of two advisers and into appointing a Deputy PM and a new Chief of Staff, she has named two strong Remainers.
Damian Green, 17 Jan 1956, now Deputy PM, a Capricorn with a Pisces Moon, isn't that easy a match for her with his Jupiter Pluto square Saturn Mars sitting on her Pluto square Saturn – and their relationship chart has a cool and controlling Sun Saturn opposition Venus square Pluto – chained together with underlying resentment.
Gavin Barwell, Chief of Staff, 23 Jan 1972, is a Sun Aquarius, Moon Aries/Taurus, with Saturn in late Taurus square Pluto, so stubborn and gritty. That relationship chart is also very Saturnine with a composite Sun opposition Venus square Saturn, which is good for business if not exactly warm.
The chart above is with her Secondary Progression positions and have moved up a comment by Maggy below.