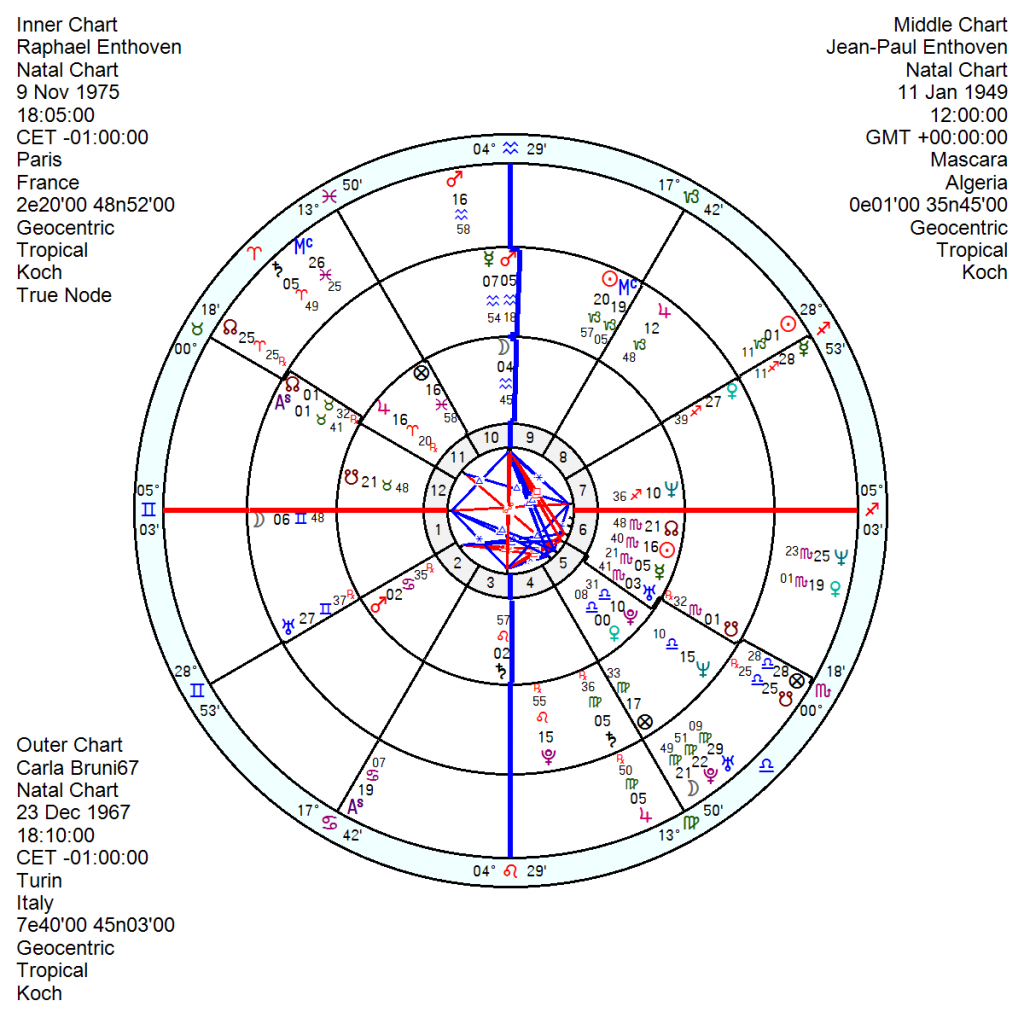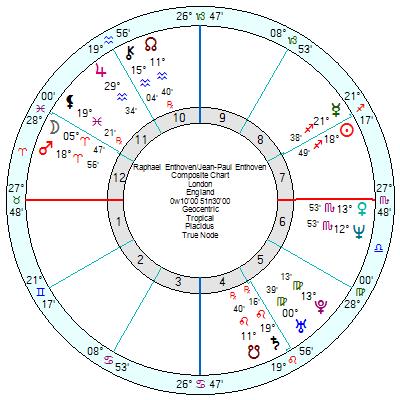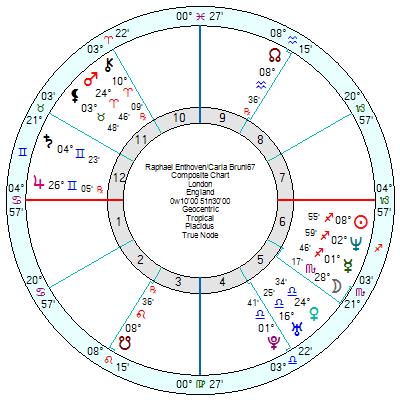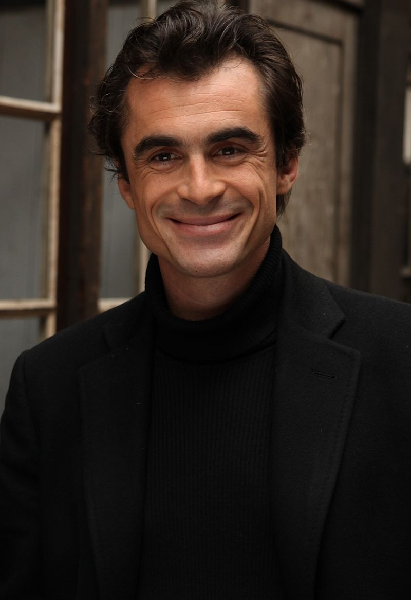 A torrid family split of a continental calibre is being played out in France. In keeping with the national character philosophers are (oddly enough) media celebrities so it's headline news when high-minded writer/journalist Jean-Paul Enthoven publicly disowns his philosopher son Raphael, an academic and well-known radio and TV pundit. The dispute isn't about junior stealing senior's girlfriend, Carla Bruni, two decades back and fathering a child with her. But that he has had the temerity to write an autobiographical novel "recounting the hell of his childhood" which is described as "brilliant … like a bullet in the skull". There's now trench warfare between supporters of father and son. Father says his heart is broken and he's in mourning, "drowning in an ocean of ingratitude."
Raphael, born 9 November 1975 6.05 pm Paris, is a Sun Scorpio with an outspoken Mercury Uranus also in Scorpio squaring onto a 10th house Moon in Aquarius and Midheaven opposition Saturn in Leo – so he won't be short of opinions and an inclination to shock with an Aquarius Moon; with an unforgiving streak to boot. His childhood does look cool, overly dutiful with Moon Saturn, and quite toxic in some respects with a composite Mars square Pluto.
Raphael also has a pushily confident Pluto in the attention-grabbing and performing 5th house opposition Jupiter; plus a none-too-sensitive (emotionally-speaking) Mars square Venus in the romantic 5th. With an uncommitted Neptune in his 7th house of relationships. He was married initially to another philosopher Bernard-Henri Levy's daughter with whom he had a child, moved onto Bruni with whom he had a child, then onto an actress with whom he had a child and finally to a sailor/politician with whom he had another child.
His father Jean-Paul, born 11 January 1949 in Algeria, is a Capricorn with Mars Mercury in stubbornly contrary Aquarius conjunct junior's Moon and opposition his Saturn – which is a grating interface. Jean-Paul's Pluto and Saturn also fall in Raphael's 4th which is controlling and chilly.
Their relationship chart has a power-struggling composite Sun square Pluto; and a neurotic/paranoid/suspicious Saturn opposition Node square Venus Neptune; plus an argumentative and irritable Sun Mercury trine Mars trine Saturn.
Their relationship is clearly sagging at the moment with tr Neptune square the composite Sun. But the person who looks more upset with Raphael is Carla Bruni, now married to Nicholas Sarkozy. Her feelings about Raphael are running boiling hot and it won't be passion with the composite Mars opposition Venus catching the tr Pluto square this year and next.
The French media wakening up after the lockdown are in full flood having dubbed the family drama – Oedipus vex. Light relief from political sludge and hysteria.
Photo: Marie-Stéphane Barthout