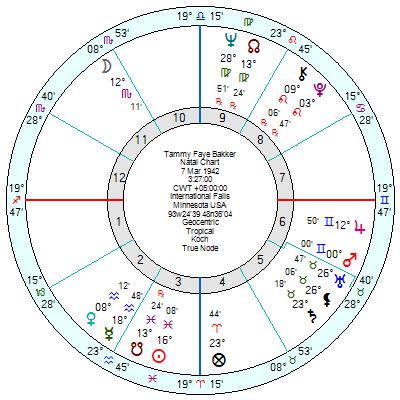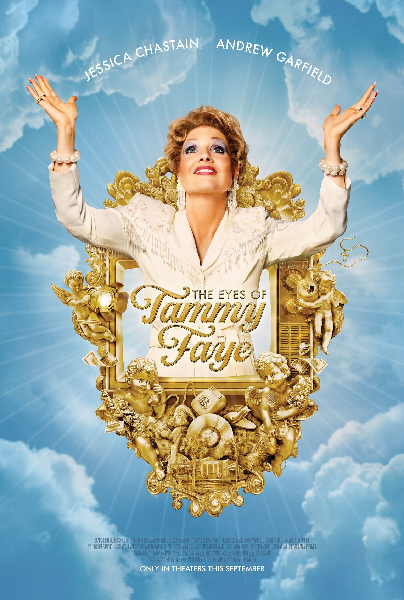 The life of the late Tammy Faye Bakker, a peculiarly American phenomenon – a brassy blonde, over-made-up, money-generating televangelist – has been turned into a bio-pic starring Jessica Chastain. She rose out of poverty, the daughter of Pentecostal preachers to make millions with her first husband Jim, until he fell from grace into prison, convicted on multiple counts of fraud. She divorced him when he was inside and married a contractor who built megachurches, who was later convicted of bankruptcy fraud and landed in jail as well.
She was born 7 March 1942 3.27 am International Falls, Minnesota, and had a 3rd house sharp-witted Pisces Sun in an expansive, over-confident square to Jupiter in chatty Gemini and trine an intense Scorpio Moon. Her Moon was on the focal point of a Fixed – and clearly acquisitive – T Square to a 2nd house Venus opposition an 8th house Pluto. Her Moon would design her to interface with the public and her 8th house Pluto would give her influence. She also had Saturn Uranus in Taurus in her 5th giving her an ability to organise 'entertainment.' Her Neptune fittingly was in the religious 9th in a creative trine to Uranus and a publicity-seeking trine to Mars.
Her 8th house Pluto would also arguably attract her to the dark side and to partners who wanted to wield power and money.
Scientologist Ron Hubbard's thought that the best way to make a million was to invent a religion had more than a smidgeon of truth in it where the USA is concerned anyway.