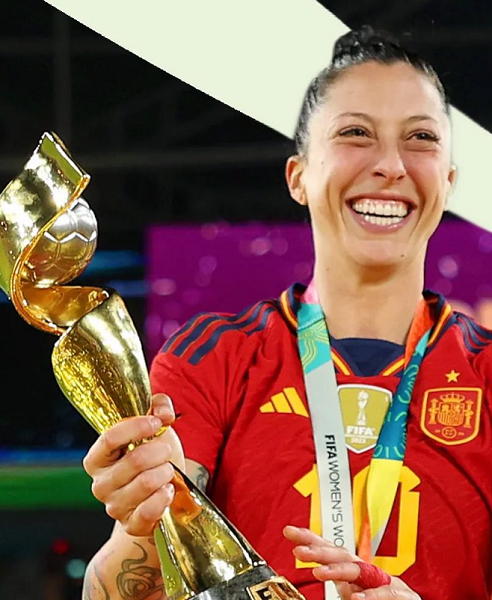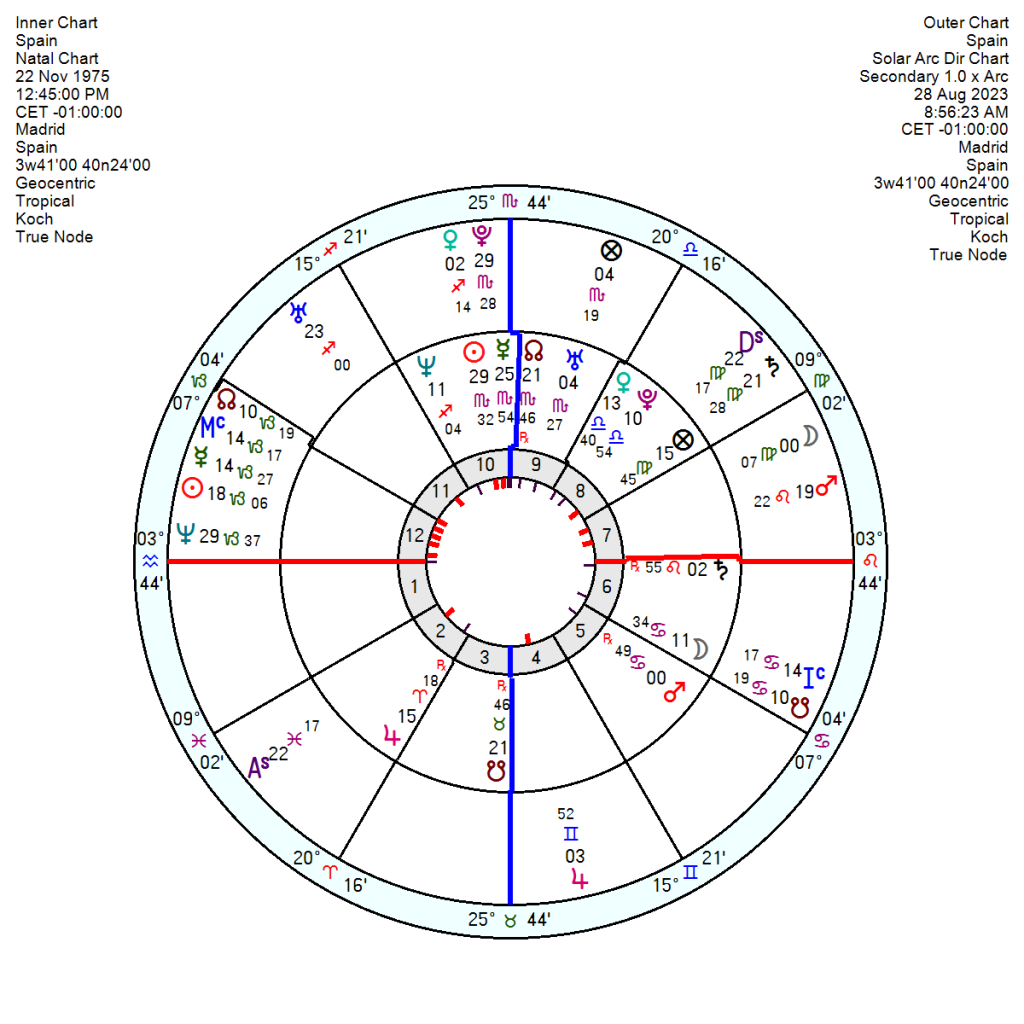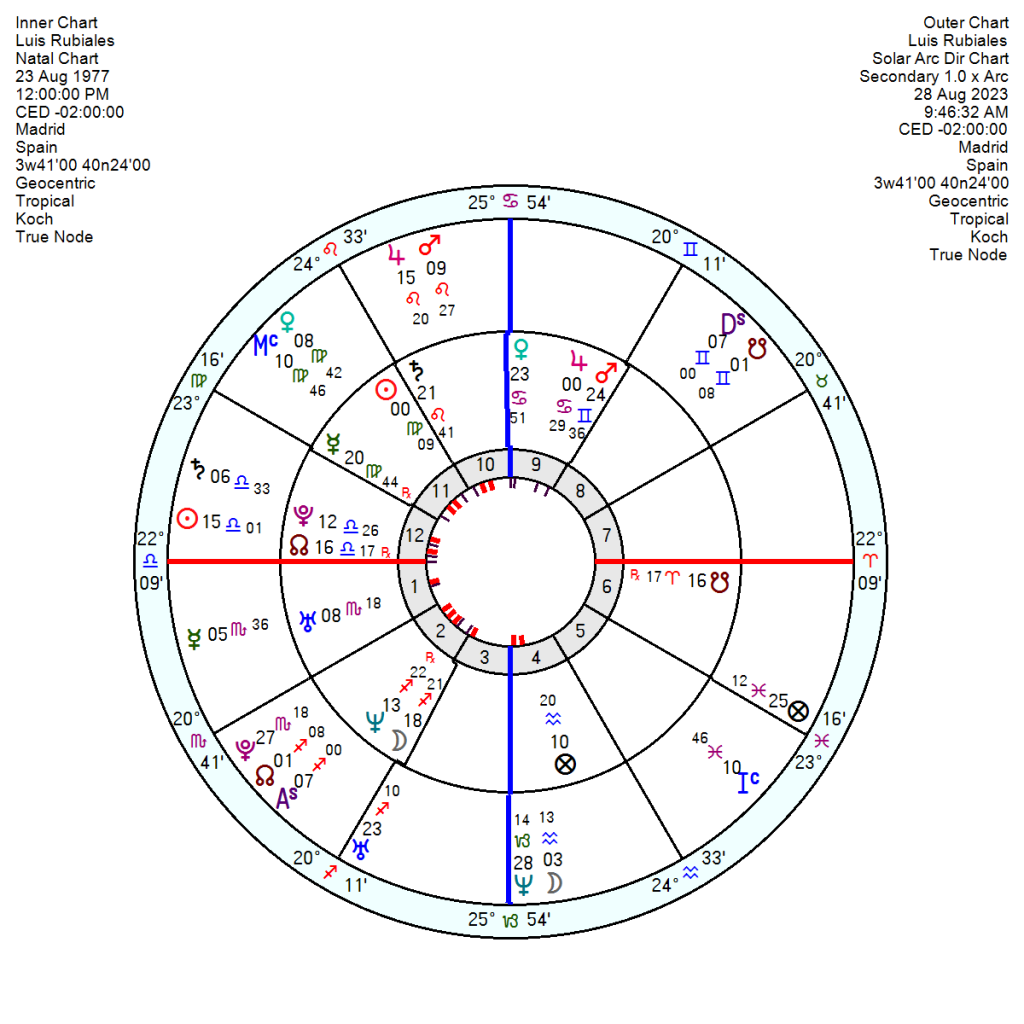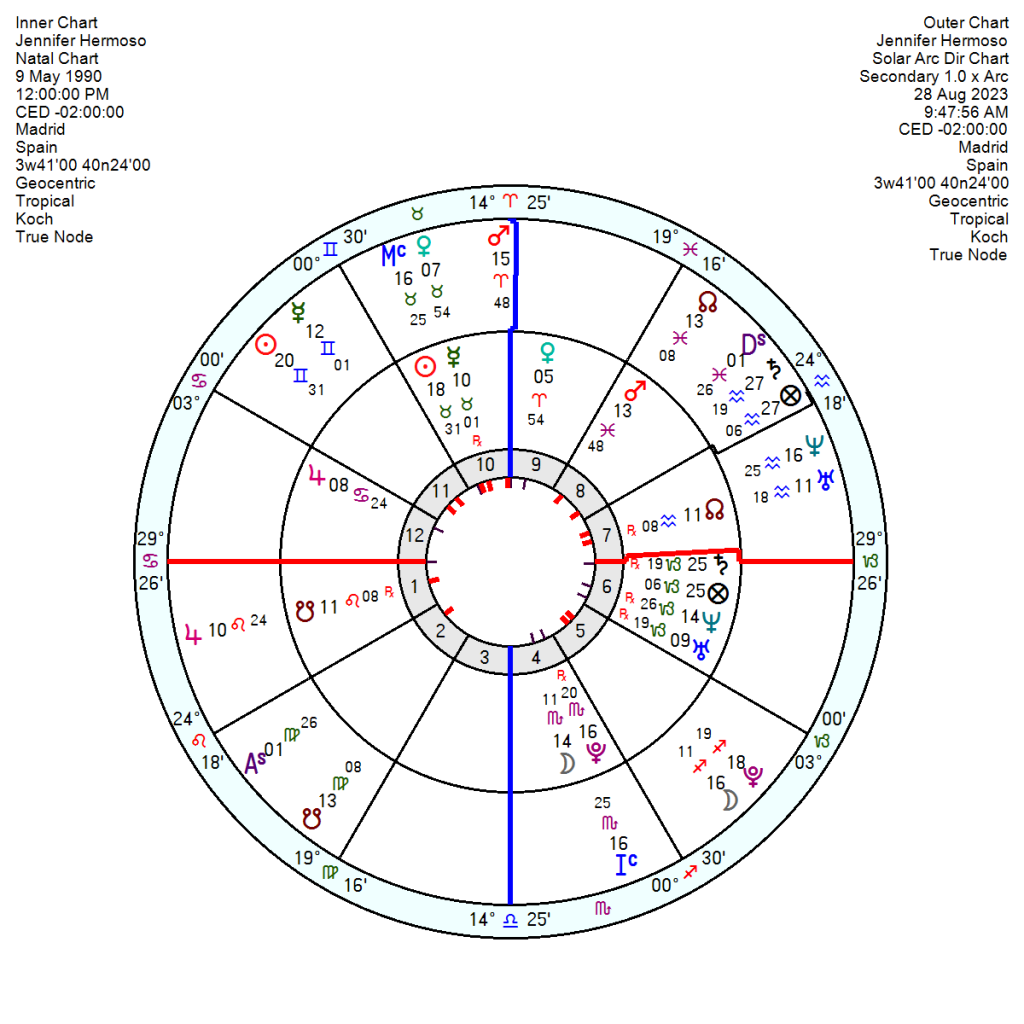 Snatching defeat out of the jaws of victory, Luis Robiales, the Spanish football chief, has managed to drown out the celebrations of the victory at the Women's World Cup final by acting the bully in forcibly kissing winning player Jennifer Hermoso and then doubling down on refusals to apologise. FIFA has suspended him though the internal Spanish association have not (to date), even in the face of general condemnation and resignations within the sport and government ministers demanding his resignation.
As he celebrated at the final whistle Robiales grabbed his crotch, with Queen Letizia of Spain and her 16-year-old daughter standing nearby, for which he later apologised.
It is being called Spain's #MeToo moment though the hashtag has become #SeAcabó = "it's over".
The Spain 22 November 1975 12.45pm chart is certainly in a Plutonic, maybe transformational, moment. The Scorpio Sun has Solar Arc Pluto conjunct exactly now and the Solar Arc North Node is square the Spain Pluto. With Pluto involved it will be a bitter and prolonged wrangle for the upper hand which appears to be playing out.
The Spain chart does have a Cancer Moon square Venus Pluto opposition Jupiter. That would certainly indicate intense emotional involvements where women/mother are concerned. Females will be seen as sexualised (Venus) and possessive (thereby needing to be kept under control). Jupiter Pluto tends to the over confident, pushing aside social niceties to grab what is desired. The Sun is also quincunx Mars hinting at problems handling anger and assertion in a modulated way. And Saturn in Leo square Uranus which can be autocratic.
  Robiales, 23 August 1977, is a Sun Leo/Virgo with Saturn in wannabe-important Leo and Mars in Gemini. His North Node conjunct Pluto is in Libra which hints at a difficulty in understanding what others want in close relationships.  It is not an especially alarming chart though the angles will make a difference. Where a birth time is missing it is often worth looking at the midpoints since they can round out some of the missing pieces.   His Venus is conjunct his unkind Mars/Saturn midpoint and his Uranus squares his Venus/Saturn midpoint – both of which suggest coldness and lack of sensitivity in romance to put it at its mildest.
  He picked the wrong target for his exuberant caveman kiss. Jennifer Hermoso, 9 May 1990, is a stalwart and unbudgeable Sun Taurus opposition a Scorpio Moon and Pluto; with her Sun trine Saturn in Capricorn as well as Neptune (Uranus) in Capricorn; and a formidable Water Grand Trine of Jupiter trine Pluto trine Mars in Pisces, formed into a Kite by Jupiter opposition Uranus and Neptune.    
    Robiales has tr Neptune square his Mars in Gemini late November/December this year for a sense of sinking failure and undermined masculinity.
  Jennifer Hermoso intriguingly has her central Jupiter opposition Uranus having moved to trigger her Aquarius North Node – putting her in a position to spearhead a cause.
There will be more to Spain's SA Pluto conjunct Sun than this spat so worth watching for what else is ongoing.