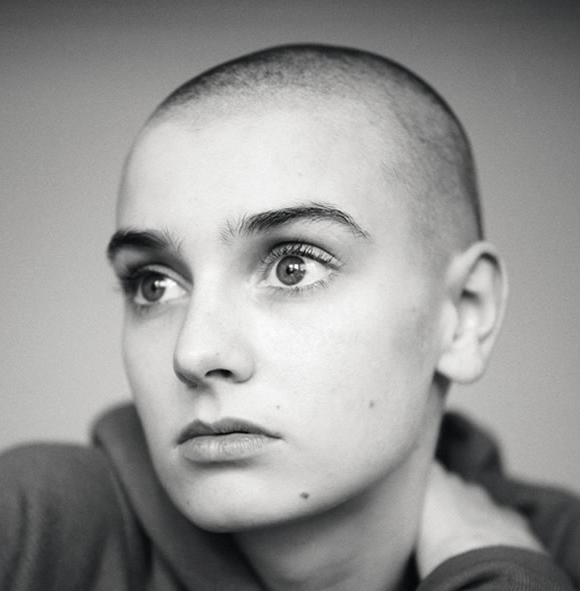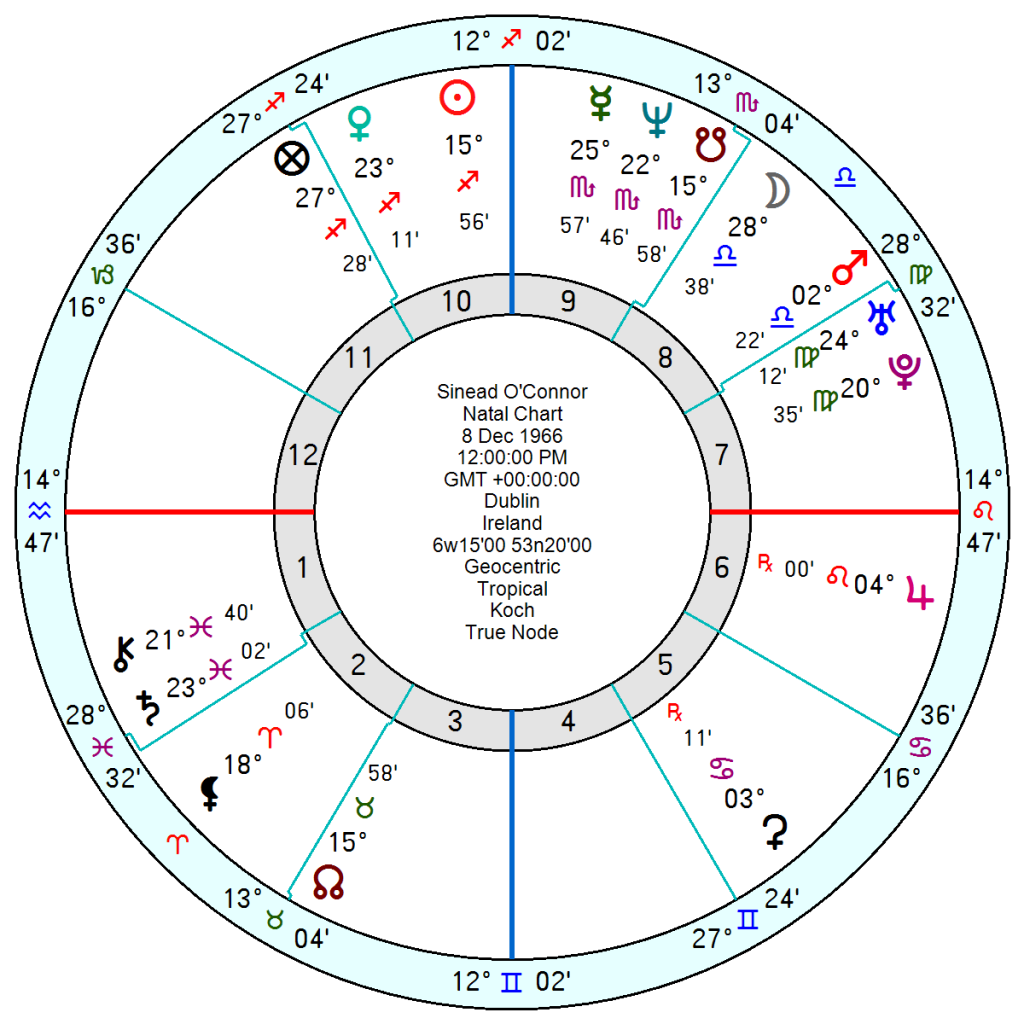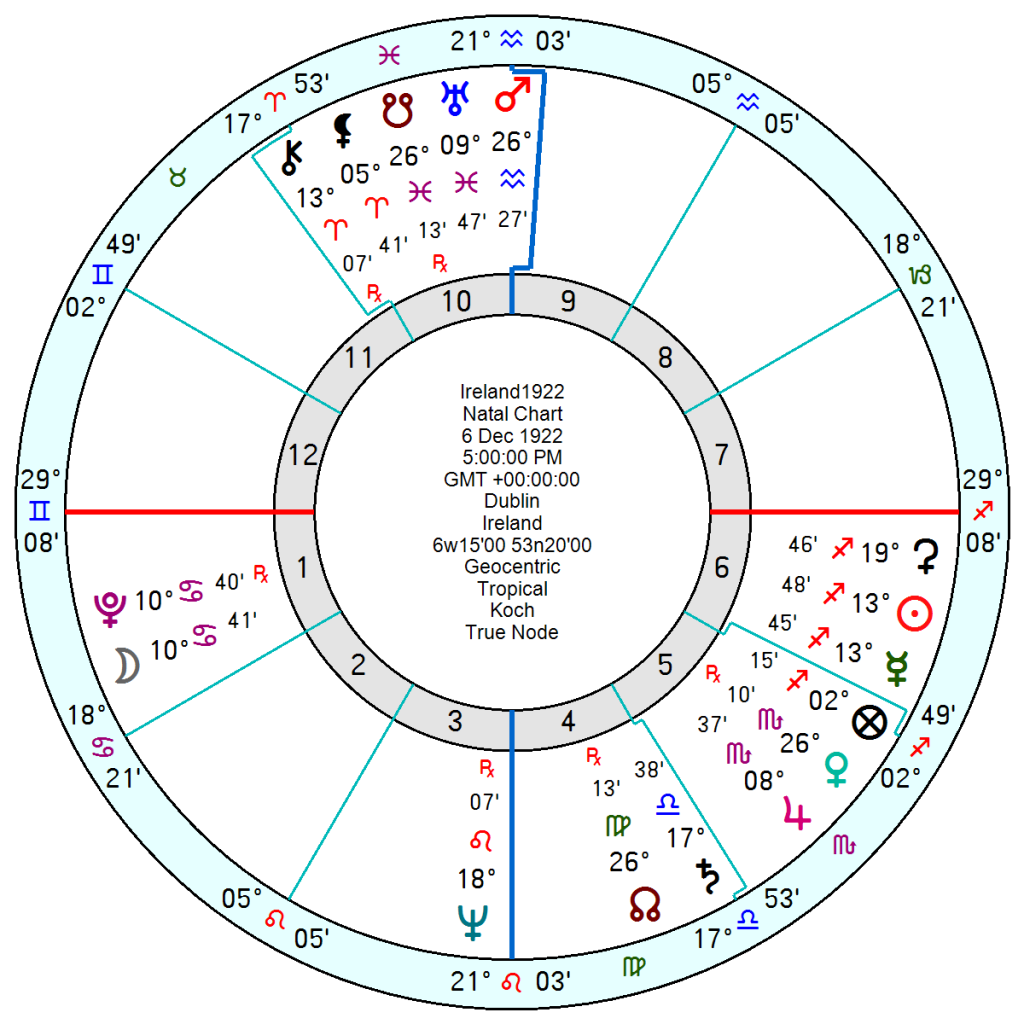 The sad but not unexpected death of Sinead O'Connor has brought a raft of poignant accolades – "Supremely gifted, terrifyingly vulnerable and hilarious – even at her bleakest she'd make you laugh." "A heroic talent who spoke truth to power – and found redemption in art. Her music made everything worthwhile." "A complicated, sensitive, erratic woman from a very difficult, abusive background, who led a life beset by controversy, confrontation, mental health problems and terrible personal tragedies." " She was a volatile person, passionate, intelligent, contrarian."
She was born 8 December 1966 in Dublin with no verified birth time, with a kleptomaniac mother who abused her physically and sexually about which she spoke openly. She had issues with the Catholic Church and nearly wrecked her career by tearing up the Pope's photograph at one point. She compared the Ireland she grew up in to Iran: "a theocracy, slightly less potent but the same situation." She ricocheted through several marriages, had four children, became a priest and then converted to Islam and spent a good deal of time in mental hospitals with a bipolar diagnosis with two previous suicide attempts. She never recovered from the suicide of one of her sons, aged 17 last year.
"A reputation as a crazy self-destructive person pursued her down decades of erratic and polarising behaviour, whether declaring then retracting lesbianism or being ordained as a renegade Catholic priest whilst campaigning against sexual abuse in the church, then converting to Islam."
She had the rebellious, chaotic Uranus Pluto in Virgo of the mid 1960s – it's energy so visibly lived out it must have been on the angles of her chart or in her 8th house. It opposed Saturn in Pisces and Chiron square an outspoken Sagittarius Sun. Her Chiron conjunct Saturn and opposition Pluto and Uranus would have made her psychic wounds deep. Depression, a grinding sense of betrayal, grief and loss of power would come from Chiron Pluto. Chiron Saturn hints at fear, deep insecurity, an over-compensation in work to stave off sorrow.
Her Taurus North Node in a different way hints at a turbulent life searching for peace and different values. The recent May Lunar Eclipse was exactly conjunct her South Node.
Her Mars was sparsely aspected being only sextile Jupiter which would make her overly-energetic and uncompromising.
Her Moon was late Libra or Scorpio and the latter sounds more likely.
Her singing touched the hearts of many and her courage.
Add On:
https://www.bbc.co.uk/news/world-europe-66330500
'The huge outpouring in the Irish Republic since the death of Sinéad O'Connor reflects a late realisation that she helped the country confront its own trauma, writes Una Mullally.'
'She was part of a generation intent on dragging Ireland out of theocratic oppression, and towards a sense of empathy and liberation.'
'O'Connor was a lighthouse for those who felt adrift in Irish society. She offered a new moral compass beyond the lie of societal piety, one that pointed towards an uncharted direction of authenticity.'
'O'Connor had been right all along, and everyone knew it. As Ireland became a more secular country, she was one of the leading voices for confronting the Catholic Church while maintaining a personal spirituality.'
'In recent days, people have recalled her attendance at reproductive rights marches in the early 1990s and her kindness towards the Traveller community, refugees, trans rights organisations, and the Dublin Aids Alliance.'
Her rebellious revolutionary, status-quo-upsetting Uranus Pluto falls in the Ireland 4th – 6 December 1922 5pm Dublin as she set about uprooting the country from its reactionary past. Her Saturn Chiron fell in the Ireland 10th conjunct their South Node as her pain and anguish set the country on a new road, pushing it into unfamiliar territory and away from old damaging securities.