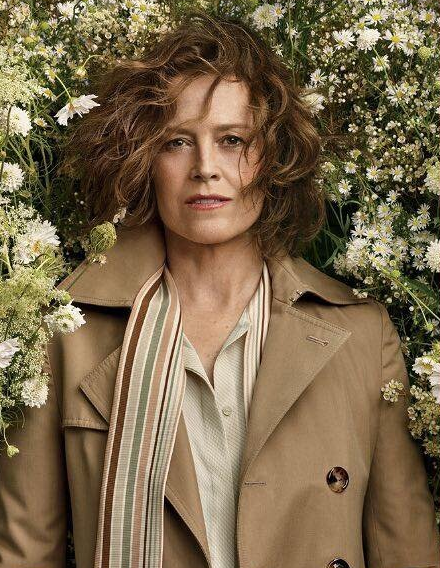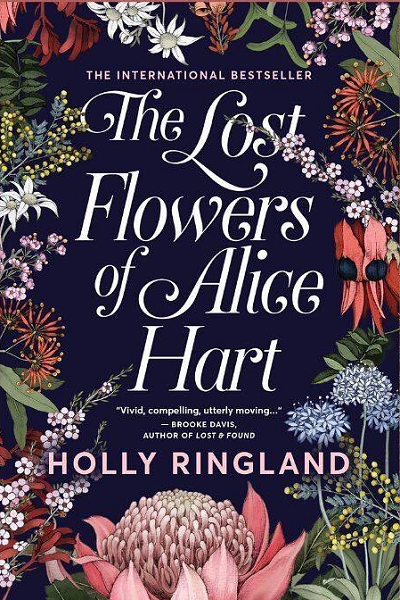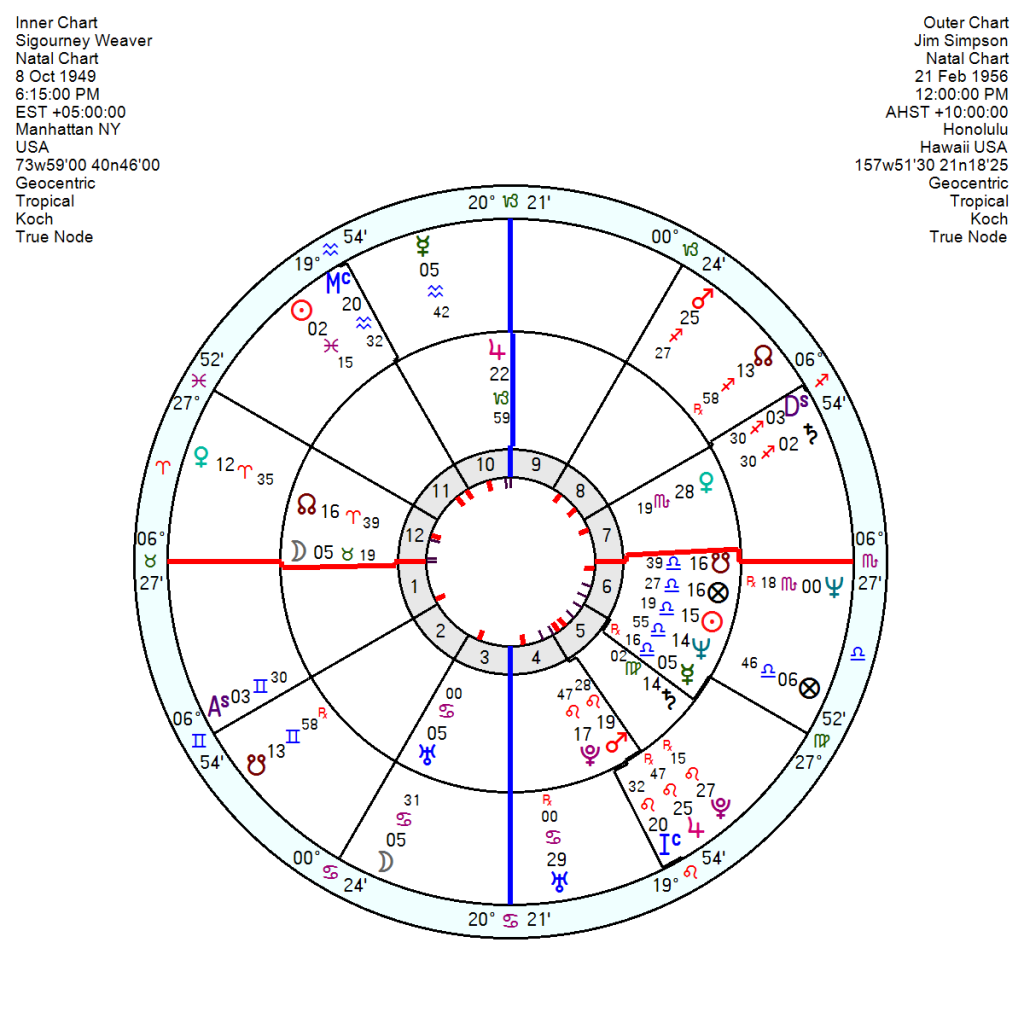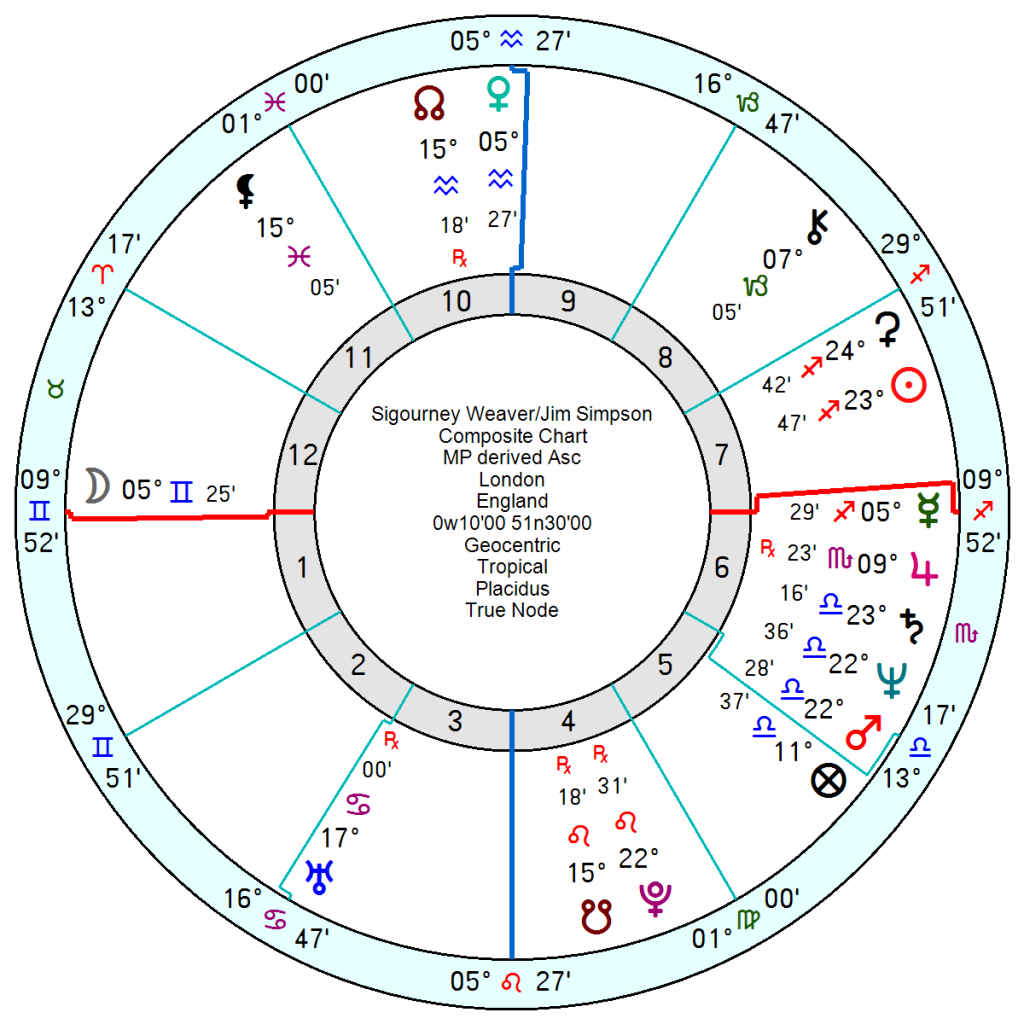 Sigourney Weaver, veteran of some of the biggest blockbuster franchises of all time – Alien, Ghostbusters and Avatar – and a statuesque 5 foot 11+ tall, is still going strong and largely flying under the radar of Hollywood hype by living quietly in New York. She's back on TV screens next month in The Lost Flowers of Alice Hart, based on Holly Ringland's book, which is a 'harrowing but engrossing and exquisitely rendered tale about grief, domestic abuse and trauma; how a group of women come together to heal through the lushness and language of flowers.'
She was born 8 October 1949 6.15 pm Manhattan, NY, with an English mother and TV executive father. Told repeatedly she had no talent in her twenties, she persevered and landed Alien as only her third movie. Oscar nominations followed and she won a Golden Globe best actress for Gorillas in the Mist and commendations for playing the alpha boss in Working Girl. She has been married to Jim Simpson, a theatre director, since 1984 with one non-binary child in their 30s.
She has an understated and hard-working Sun Neptune in Libra in her 6th house square a successful Jupiter in Capricorn on her Midheaven and sextile a do-or-die-determined Mars Pluto in Leo in her performing 5th house. Venus in Scorpio in her 7th endows her with great charm and will attract affectionate partners in life. Her Taurus Moon sits on her Ascendant giving her a down-to-earth image – it is sparsely aspected barring a sextile to a quick-witted Uranus in her 3rd, which will increase her vulnerability though it is not at first obvious. Her Saturn in Virgo also in her 5th will give her organising ability in the entertainment field.
 Her husband Jim Simpson, 21 February 1956, Hawaii, is a Sun Pisces trine Neptune and square Saturn – both are highly Neptunian though it is also a high-octane mix with his Jupiter Pluto in Leo sitting close beside her Mars Pluto. His Cancer Moon is somewhere around her independent-minded Uranus so two constantly changing careers will help. His Neptune opposes her Moon so he will be tricky to pin down at times. It won't all have been smooth sailing with their relationship chart having a composite Mars, Neptune, Saturn conjunction square Uranus for high tension and sacrifices demanded of one partner.  But a composite Sun trine Pluto will bring closeness and a Jupiter square Venus adds a sparkle of frivolity to smooth round rough edges.  Their wedding chart had an easy going Sun Mercury square Jupiter with a passionate Venus Pluto and a showbusiness Mars Neptune so it did get off to an auspicious start.
  With Jupiter moving through her 1st house this year she's into a lucky patch and tr Saturn is moving through her high profile, hard-working 4th Quadrant till the end of this decade so she won't be retiring any time soon.