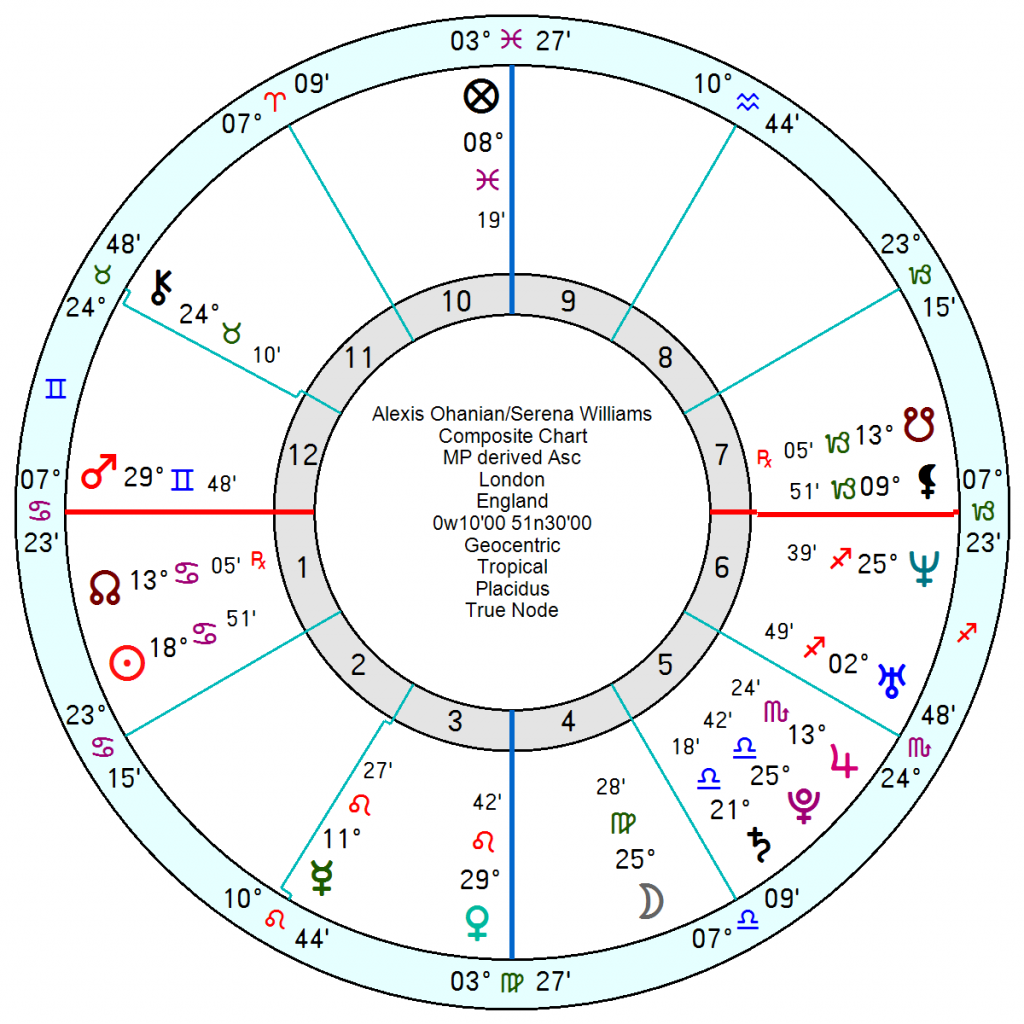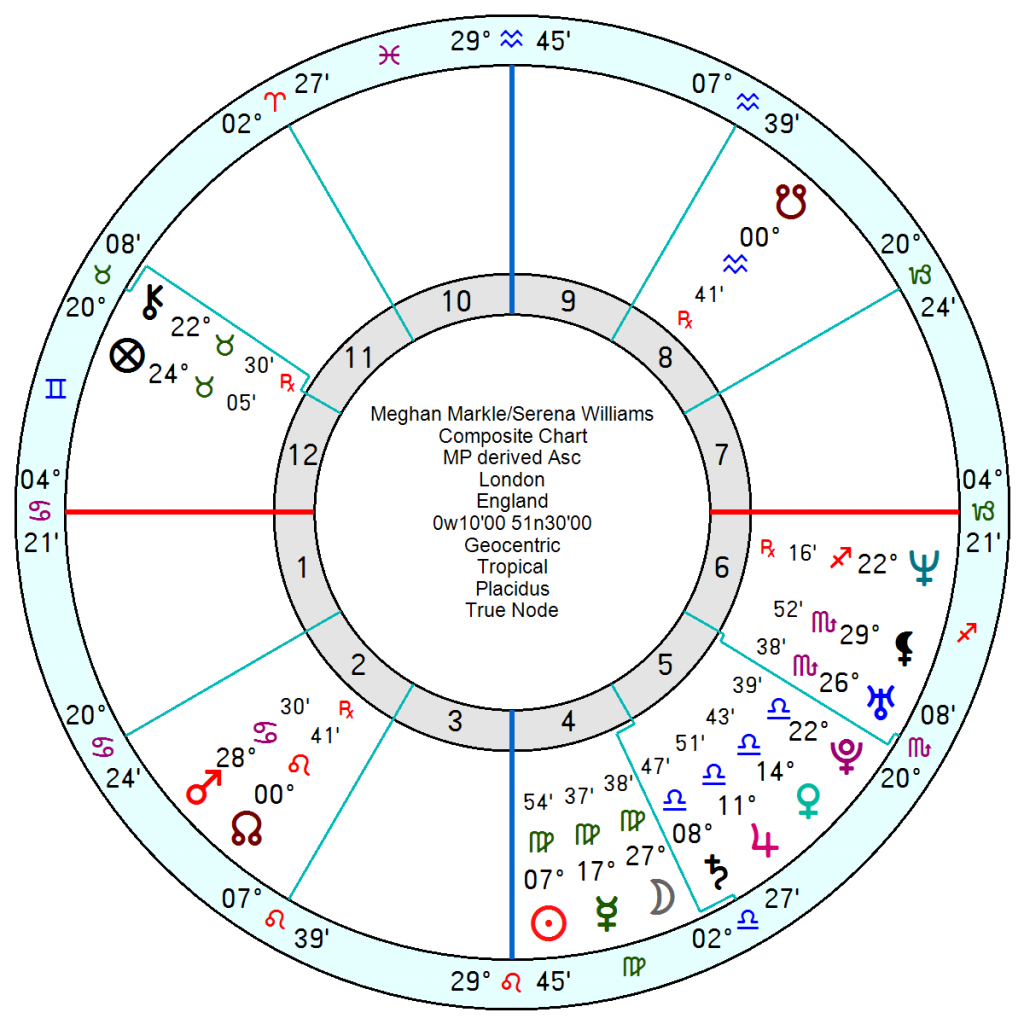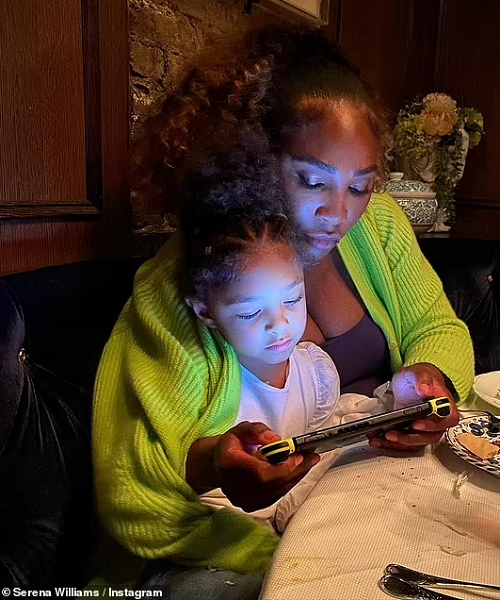 Serena Williams is bringing her uniquely successful tennis-playing career to a close in order to have another child. She has won 23 Grand Slam singles titles and been ranked singles world No. 1 five times. Her first baby born with husband Reddit co-founder Alexis Ohanian in 2017 disrupted her training schedule as she was hospitalised with deep vein thrombosis and suffered post-partum depression. She is one of the world's highest paid women athletes, earning multi millions a year from equipment and endorsements deals and fashion outlets.
Born 26 September 1981 6.28pm Saginaw, MI, she has a packed, hard-working 6th house with a Libra stellium of Sun, Saturn, Jupiter, Pluto and Mercury there. So taking it easy won't be in her nature. She has flamboyant Mars in Leo in her sporting and entertaining 5th house in square to a charming and emotionally intense Venus in Scorpio in her 7th. Uranus is also in her 7th house of relationships so she will need space and independence in marriage and an unconventional partner. Her Virgo Moon is square an 8th house Neptune so she will have an idealised vision of motherhood.
What is intriguing for such a driven personality is her North Node in Cancer in her 4th house – which suggests that fulfilling career ambitions is not her true purpose in life. Establishing a happy home life and putting down roots is.
She has a well-aspected global superstar 22nd Harmonic; a leaving a footprint for future generations 17H; and a particularly strong 9th Harmonic – which last will either turn her into an even more successful money-making machine or focus her attention on humanitarian efforts where she will have considerable influence.
She will have good news this coming November and again March but that could refer to any number of events in her life. Her husband Alexis, 24 April 1983, will be going through a high-stress, immensely challenging few years from 2023 to 2026 with tr Pluto square his Saturn in Scorpio and then square his Taurus Sun. That will be discouraging and depressing and may be partially what lies behind a dip in their relationship now up till 2025/6.
Serena's Spotify podcast with Meghan Markle has not gone down well with reviews in the UK and Australia calling it anything from 'a lemon and a dud' to 'preposterous', 'banal' and one reviewer pointing out that Meghan was responsible for about 61 per cent of the conversation while the focus of the podcast Serena only got 39 per cent.
They were born within seven weeks of each other so have similar stelliums in Libra. Despite all the PR gush it is a fairly combustible relationship with MM's Leo Sun conjunct Serena's Mars; and MM's Mars square Serena's Saturn exactly.
Their relationship chart has a stressed composite Mars square Pluto which is under strain right through till late 2023 with the composite Moon being undermined as well in 2023/24.
Meghan's personal chart has an infuriated and frustrated tr Pluto opposition her Mars/Pluto midpoint exactly now until early this December so she won't be ecstatic over events in her life.