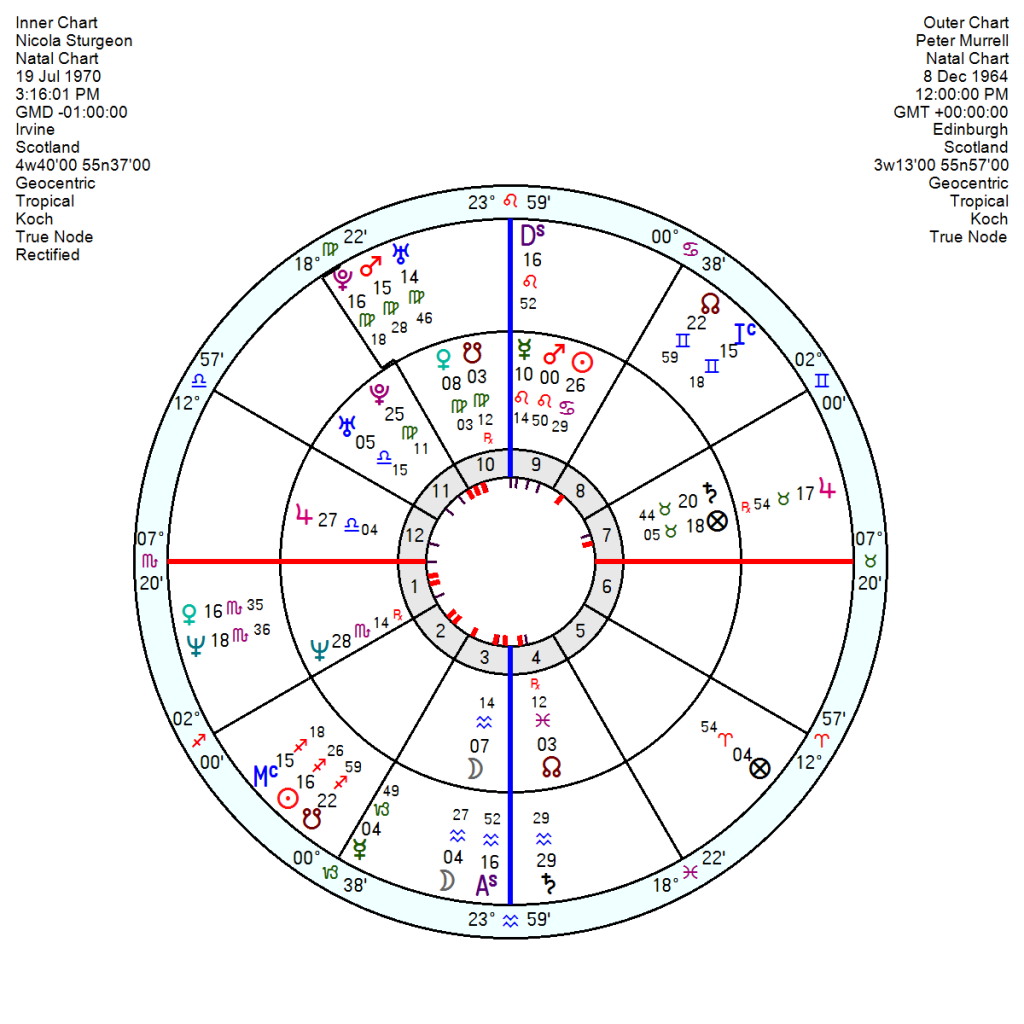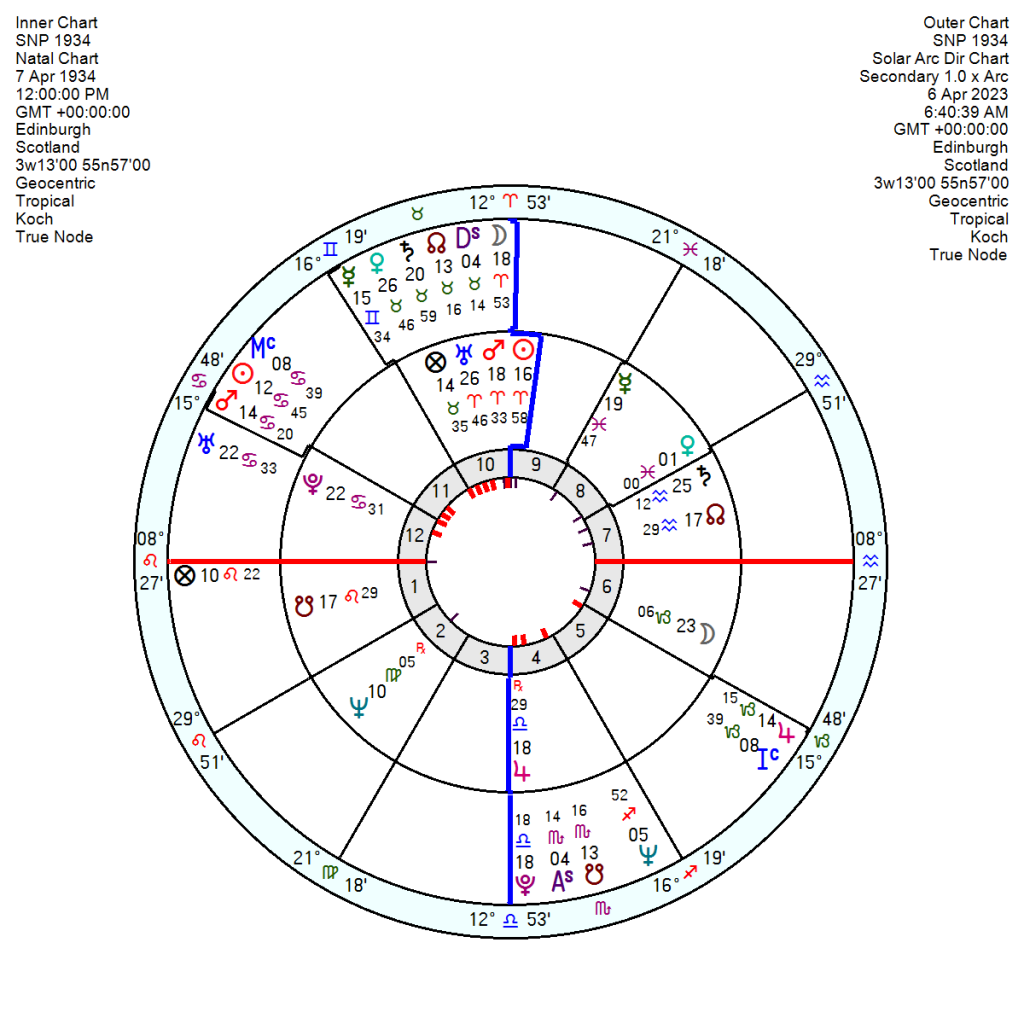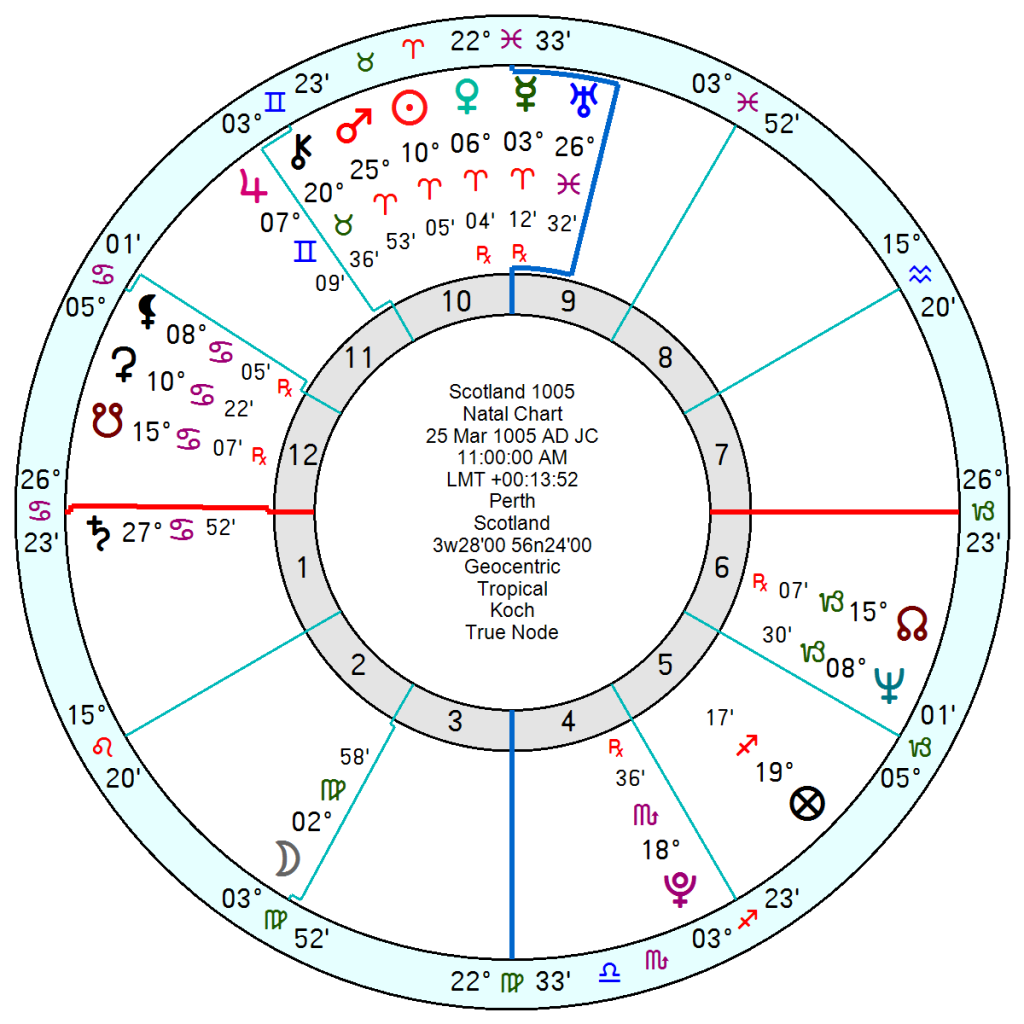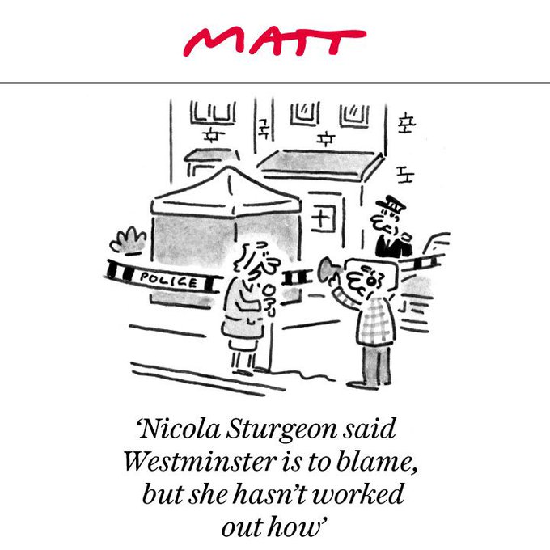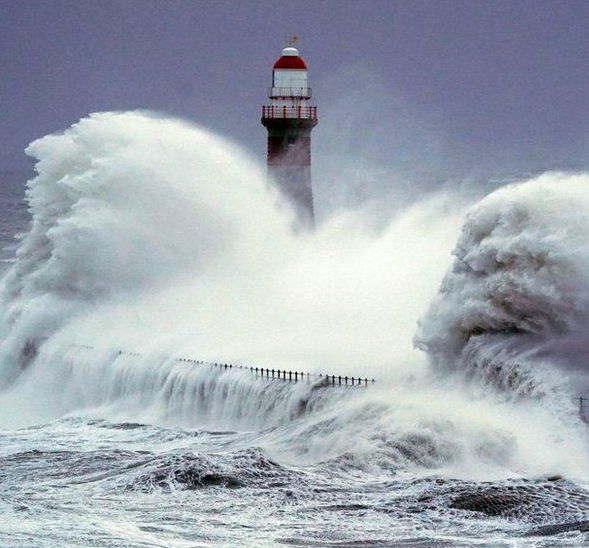 The wrecking ball that has knocked the SNP not just sideways but face-planted into Loch Ness has shocked supporters into appalled silence and even bitter enemies are gasping with astonishment. Gone is Nicola Sturgeon, the glory girl First Minister, deliverer of multiple election wins. Doubly diminished is her husband Peter Murrell, the power behind the throne and SNP chief executive for two decades, who was arrested yesterday over an investigation into party finances, held for over 12 hours and released without charge, though searches in their home are still ongoing.
Their marriage always was a bone of contention, blurring the dividing line between the affairs of party and the affairs of government – and exacerbated criticism of ruling party with too tight a grip on power and lacking in transparency.
Additional thoughts to previous posts – 19 March, 15 February, 3rd February 2023.
Peter Murrell, 8 December 1964, has Boris Johnson's Jupiter in Taurus opposition Neptune in Scorpio (conjunct Venus) described by Ebertin as scandal prone due to instability and certainly has a tendency to varnish over the actualite. Murrell also has a combustible Sagittarius Sun square a volcanic Uranus, Mars, Pluto in Virgo – for a man with a public image so meek he was known as mouse, he was not what he seemed.
  He is a few weeks past his Second Saturn Return when reality bites and his Mutable Sun and Virgo planets will not enjoy the pounding they get from Saturn, planet of retribution, in 2024. At the moment he has the same influences as collapsed Boris in a heap. Uranus in hard aspect to his Jupiter and Venus Neptune which has brought him down to earth with a bump.
Nicola, 19 July 1970 3.16pm Irvine, has tr Pluto opposing her Mars at zero degrees Leo now till mid June, and again on and off throughout 2024. That is a deeply frustrating, trapped, scary influence and mirrors Peter Murrell's tr Pluto square his Sun/Mars midpoint running at the same time. Their woes won't disappear in a hurry.
  Nicola looks poleaxed exactly now (mid March to early April) and again October to mid November and across the New Year and January 2024 – so one can only assume she would know in advance about the party finances investigation coming to a head now. Which raises all manner of questions about the timing of her resignation and the election of Humza Yousaf, the continuity candidate, who might not have fared so well had these events transpired before his election on a narrow margin to become leader and FM. Though it makes sense of why he was elected with tr Uranus conjunct his Mars in Taurus which usually accompanies a shock and insecurity rather than a triumph.
The SNP, 7 April 1934, has tr Uranus exactly square the Aquarius North Node now, sending their cause off track. The Solar Arc Uranus is also exactly conjunct the Pluto for a disruption and an upheaval; and the Solar Arc Pluto is exactly opposition the Mars in Aries and conjunct Jupiter .That latter often leads to an above-the-law arrogance and thinking they cannot not lose which often rebounds in conflict with authorities.
  The Scotland 25 March 1005 chart is in a discouraging year with tr Pluto opposing the Saturn; and more significantly tr Uranus opposition the Pluto at 18 degrees Scorpio – arguably a turning point in destiny.
  Life is achanging – first Boris gone, then Trump indicted and now Scotland forced to rethink its direction. Pluto in Aquarius plus Saturn in Pisces – plus that history-changing 18 degree marker of Uranus North Node from last August sending out ripples to upset the status quo ante.
Cartoon: Grateful thanks to the Telegraph.