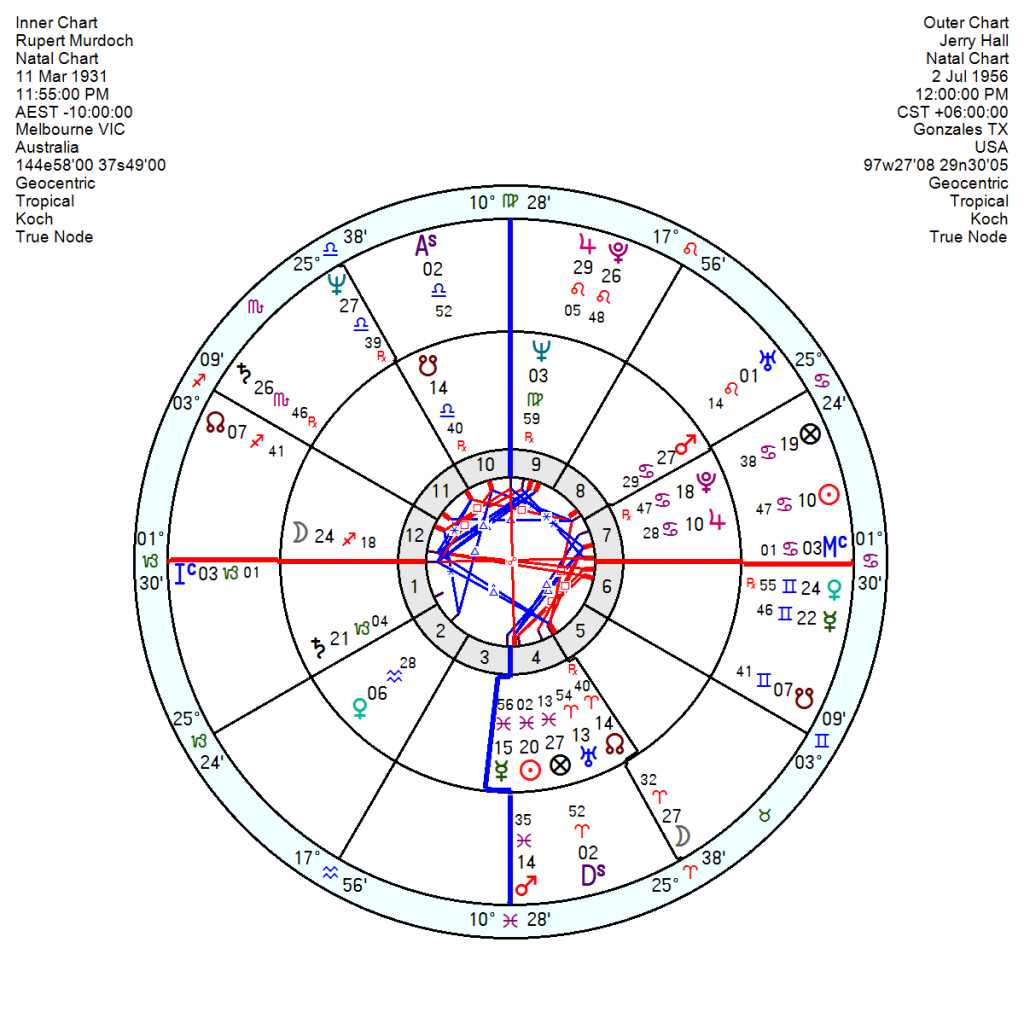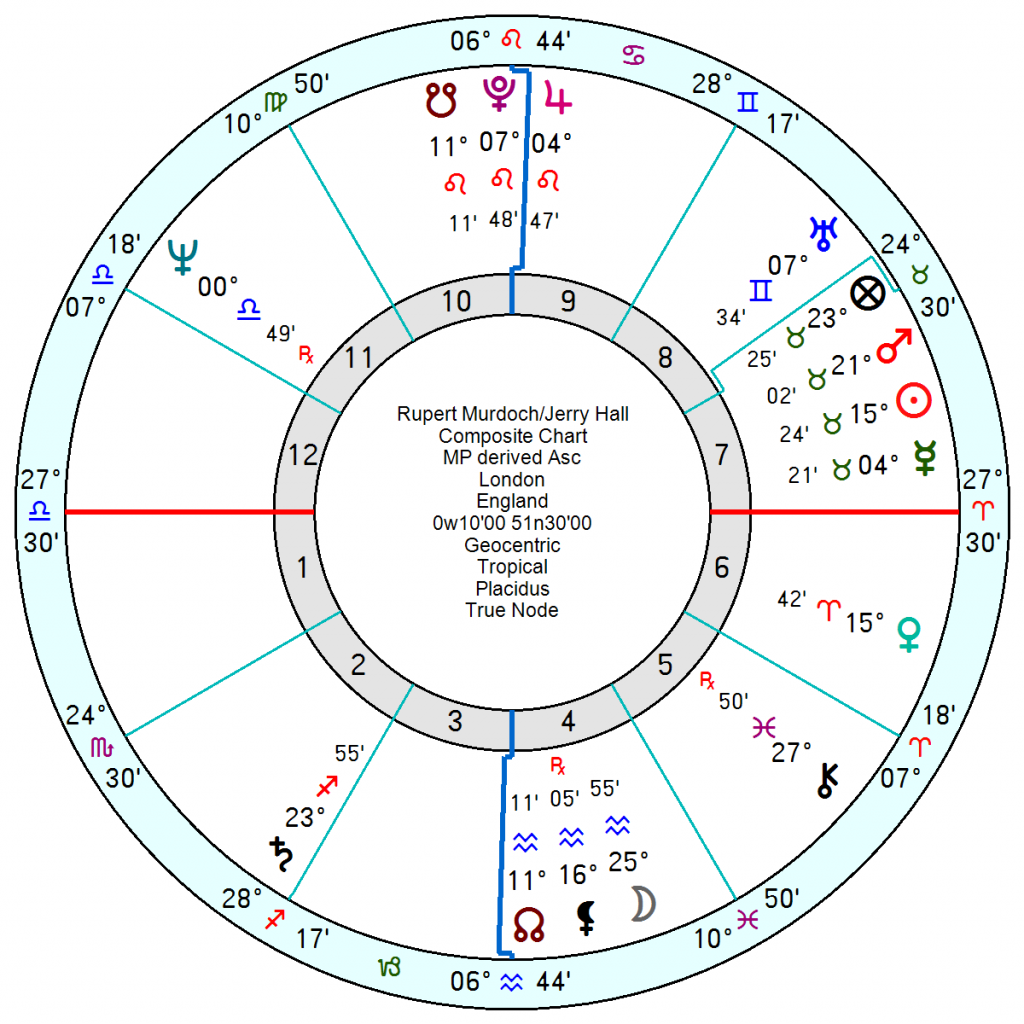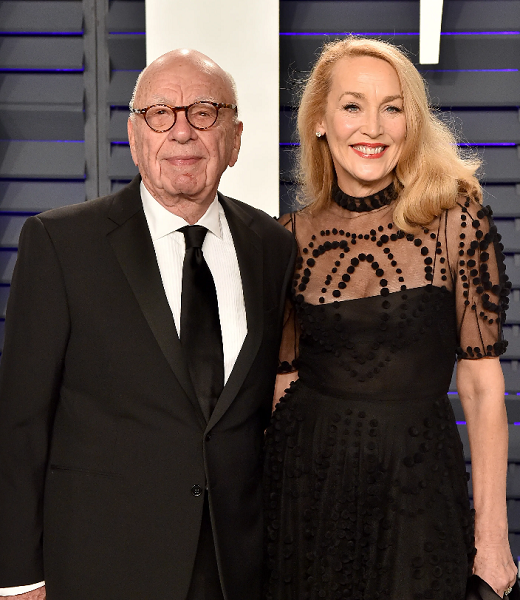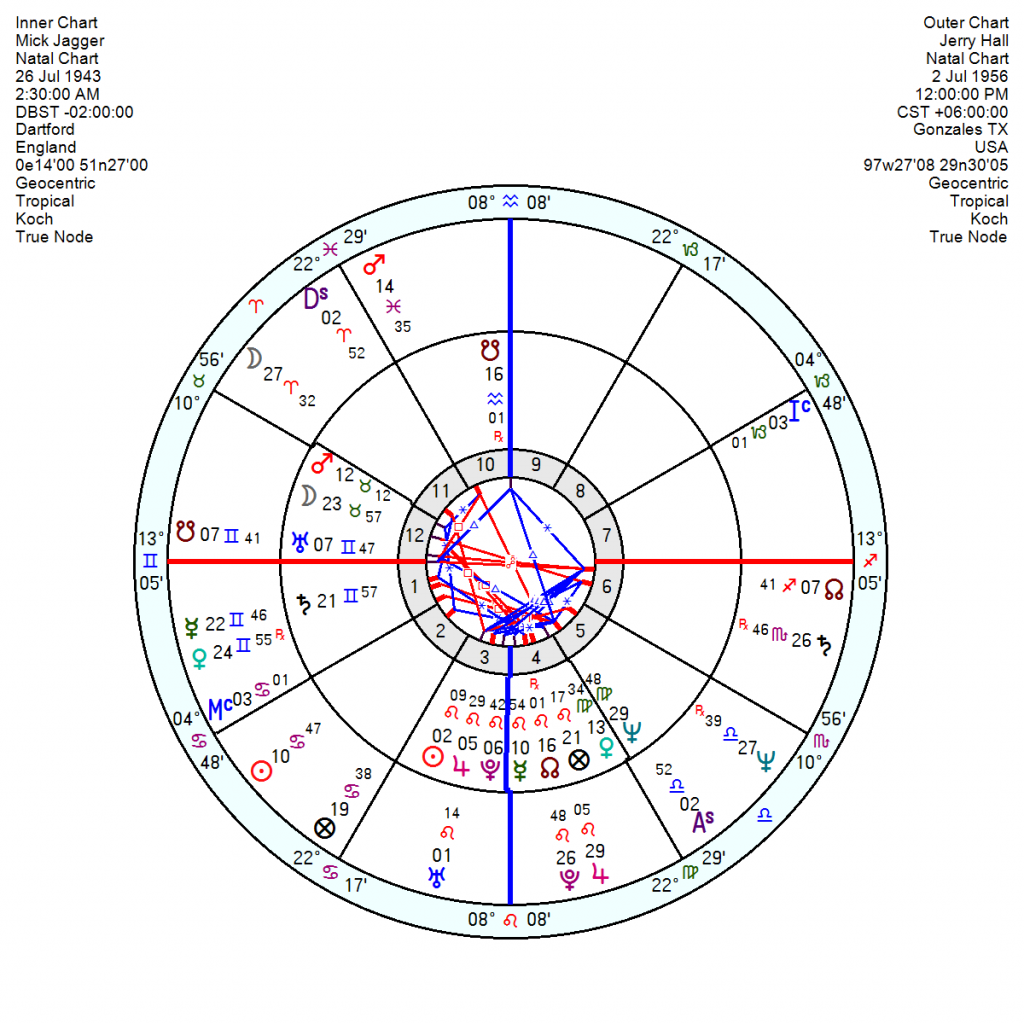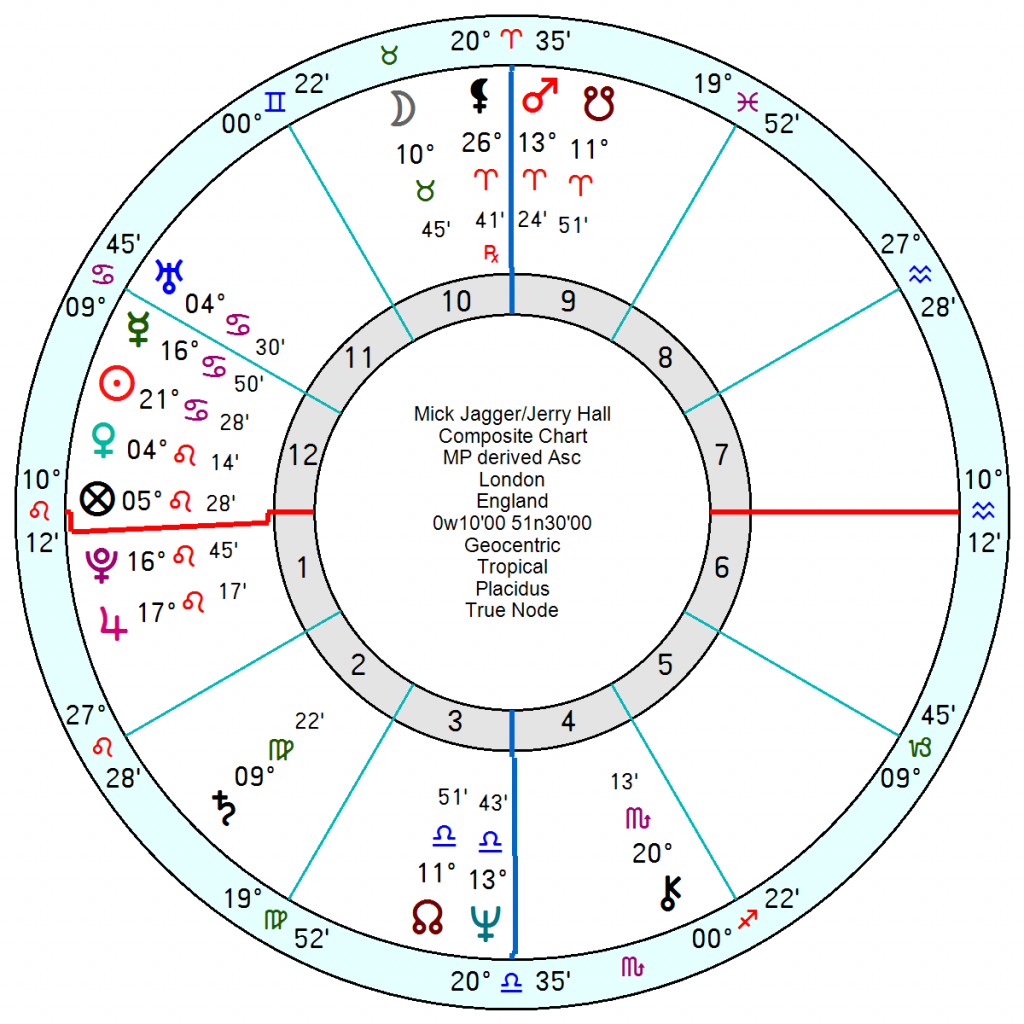 The odd couple are reported to be splitting up. Nonagenarian, media mogul Rupert Murdoch and model Jerry Hall, formerly of the Mick Jagger tribe, raised eyebrows when they were hitched six years back, but now according to reports have decided to call it quits.
There were some positives about the match with her Cancer Sun sitting in his relationship 7th house conjunct his Jupiter and her social-butterfly Venus in Gemini opposition his Sagittarius Moon, plus her Pisces Moon probably conjunct his Pisces Sun. But it was always going to be an argumentative combination with a composite, can-be-competitive Sun Mars conjunction. Plus there's a power-couple composite Jupiter Pluto conjunction giving them both a morale boost initially at the prospect of an attention-grabbing relationship. But once the shine wears off what brought them together would start to rankle and they'd both be fighting for the upper hand and last word.
She was born 2 July 1956, Texas, no time and he 11 March 1931 11.55pm Melbourne, Australia.
Both are strong, unbudgeable personalities – she has a super-confident Jupiter Pluto in Leo square Saturn in Scorpio and doesn't give way easily. He has Pluto and an 8th house Mars opposition Saturn in Capricorn square Uranus – so hard-driving, and do-or-die determined.
Tr Uranus has been upsetting their apple-cart since 2020 as it moved through early to mid Taurus hitting the composite Jupiter Pluto and then Sun – with more upheavals in 2023.
The wedding chart of 4 March 2016 hinted at an excess of confidence and indulgence from Sun opposition Jupiter sextile/trine Pluto Moon; along with a constant-bickering Mercury square Mars.
Both of them look downbeat this year. She has tr Saturn dampening her usual high-spirits as it opposes her Jupiter Pluto and squares her Saturn into early 2023; with a confused tr Pluto square her Neptune in 2022/23 and a romantically disappointing tr Neptune square her Venus this year as well.
  Similarly he has tr Neptune square his Moon and a frustrated and impatient tr Pluto opposition his Mars. Both of them have a complicated relationship past and she'll be well used to emotional hitches and glitches having had four children with the notoriously wayward Jagger. Murdoch has been married four times and an Australian newspaper quoted Andrew Neil, a former editor of Murdoch's Sunday Times, as saying advice to wannabe brides was – "Don't fall in love with Rupert. He turns against lovers and chops them off."
Add ON: It's a great pity there is no birth time for her which might explain a lot. She's clearly always gone for difficult relationships.
 With Mick Jagger, 26 July 1943 2.30am Dartford, England, her Saturn opposed his Taurus Moon with her Jupiter Pluto in square and her Venus Mercury was conjunct his Saturn.  Saturn in relationships gives longevity and endurance but cuts down on warmth. Her Pluto square his Moon would make her possessive but her Uranus was conjunct his Leo, Sun, Pluto in Leo which would not make for a settled mix. Her Sun falls in his 2nd so money would be an important element in the mix.
  Their relationship chart has a composite showbizzy Mars opposition Neptune square Mercury Sun which would be argumentative and not mutually supportive – egos would loom large. There was also the classic power-couple Jupiter Pluto conjunction so togetherness offered great influence. But the internal dynamic especially with an ego-maniac like Jagger wouldn't be pretty.  Especially since there was also a dominating composite Mars trine Pluto.
 There was less Saturn in her relationship with Brian Ferry but dollops of Mars with her Cancer Sun conjunct his Mars and her Mars square his Uranus – plenty of hot attraction to start with which turned into running competition to win arguments.  Their relationship chart has a seriously aggravated composite Sun Pluto square Mars (Moon). He evidently wanted to marry her but a even more successful rock star turned up in the shape of Jagger so he was dropped.   
Her Jupiter Pluto in Leo will crave flamboyance and gold glitter. She's not a lady of simple tastes.