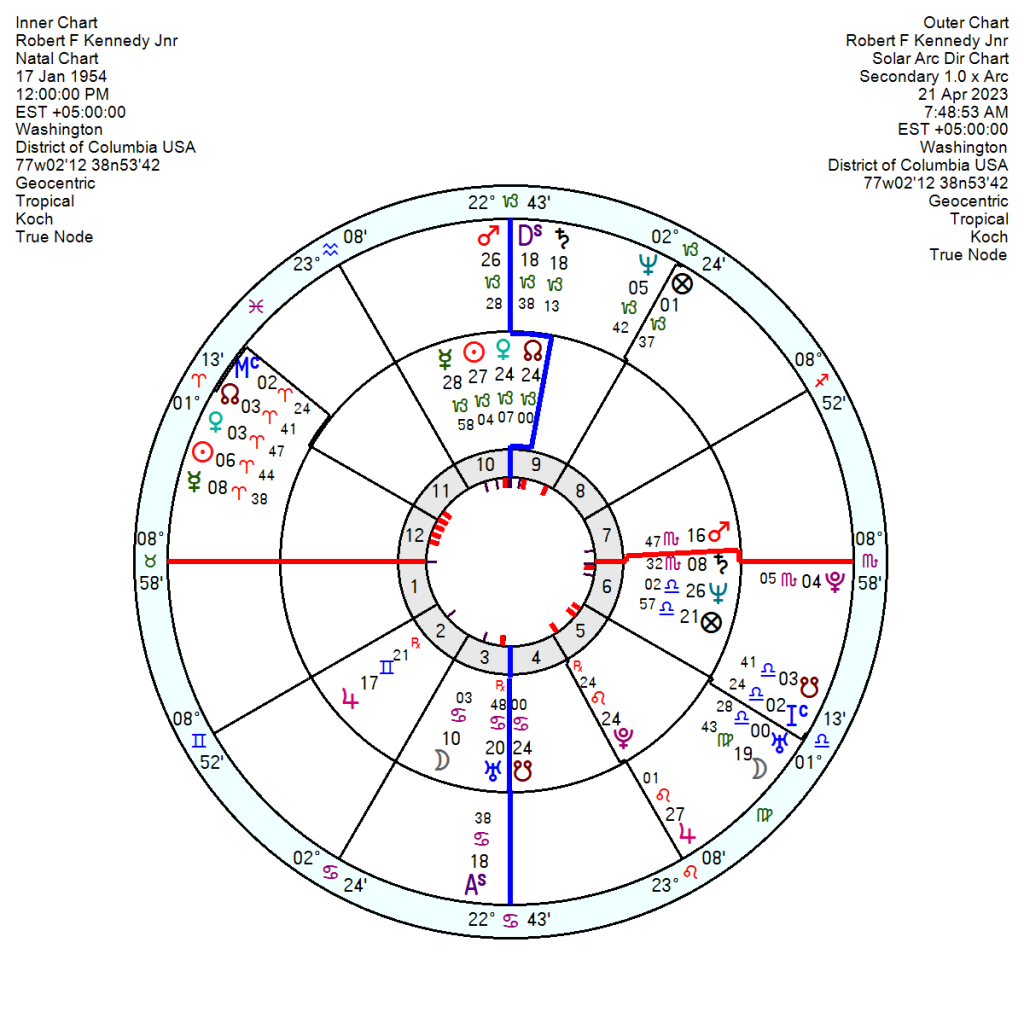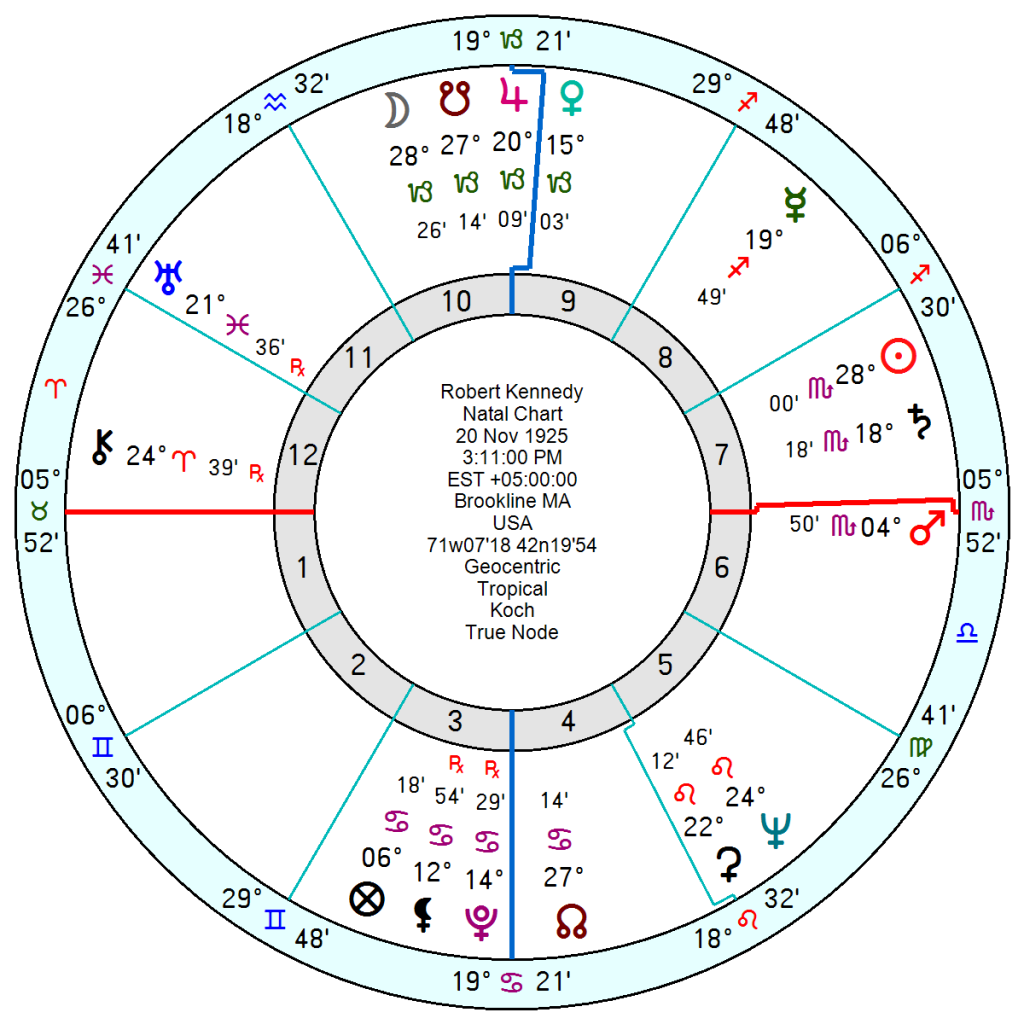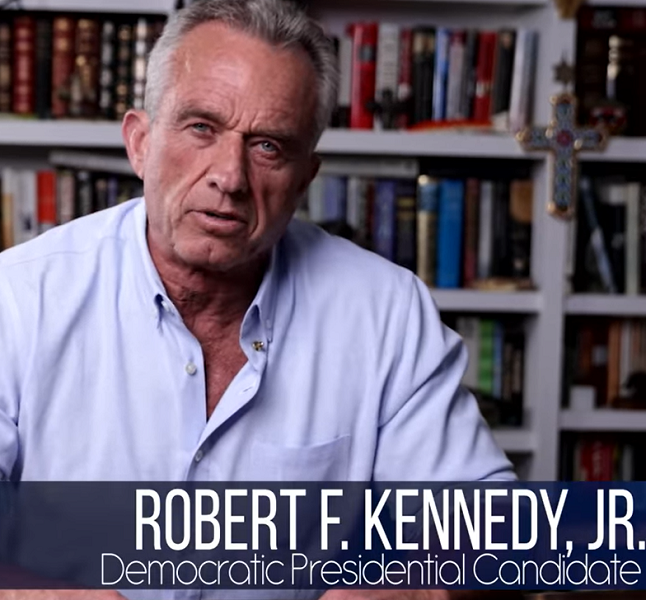 Robert F Kennedy Jnr has announced he is trying for the Democratic nomination for the 2024 Presidential. An environmental lawyer and best-selling author, he is the son of Robert Kennedy and nephew of JFK. He has a sterling record in protection of waterways, the fight against polluters and upholding the rights of indigenous peoples. And a less commendable one for promoting the scientifically discredited link between vaccines and autism and being a leading proponent of COVID-19 vaccine misinformation in the USA.
  Born 17 January 1954 in Washington, no birth time, the third of eleven children, he was nine when his uncle died and 14 when he was flown to his father's deathbed after he was shot in 1968. He has an earthy, ambitious and resourceful collection of Sun, Mercury, Venus, North Node in Capricorn opposition Uranus square an idealistic (and can-be-fanatical and impervious-to-reason) Neptune. His Capricorn planets are inconjunct Pluto and widely inconjunct Jupiter – giving him a singular Yod. His Uranus sits in opposition to his Capricorn planets making it the key planet in driving his Yod – a reformer, revolutionary, trailblazer and/or anarchist.
He also has a relentlessly determined Mars Saturn conjunction in Scorpio with his Mars inconjunct Jupiter and square Pluto – so he does not give way to pressure or threats.
He has certainly carved out his own individual road, having been scarred early on by two family assassinations.
Tr Pluto is in its second year of being conjunct his Sun and Mercury so he will be undergoing massive changes. His Solar Arc Mars is conjunct his Sun probably late 2023/early 2024 which may derail his hopes since that always produces a collision of sorts. Tr Uranus through 2024 and into 2025 is square his Pluto suggesting a major and radical change in his life moving ahead. He does have his Jupiter Return over the election itself. He will be an outlier in the running who may drop off fairly quickly but he could also be hoping to pick up breadcrumbs from the exposure.
His chart has strong similarities to his father's. Robert Kennedy, 20 November 1925 3.11 pm Brookline, Massachusetts, was a Sun Scorpio square Neptune with Saturn and Mars also in Scorpio; and Moon, Jupiter, Venus in Capricorn with a confident Pluto opposition Jupiter. He had a healing, creative Water Grand Trine of Uranus trine Pluto trine Saturn with Jupiter as the driving planet.