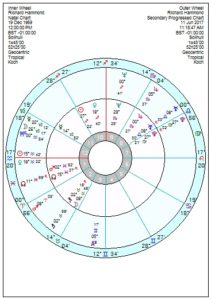 Former Top Gear and The Grand Tour tv presenter Richard Hammond has escaped death for the second time in a crash that Jeremy Clarkson described as the "most frightening" crash he had ever seen. He was on a practice run in Switzerland with an electric car which flipped and then burst into flames. He suffered a fractured knee but was not seriously injured.
In 2006 he suffered severe brain injuries from a Top Gear crash, but made a full recovery after several years treatment.
Born 19 December 1969, Solihull, England, he's a sporty Sagittarius in a determined square to Pluto; with his Sun on the point of a wedge trine/sextile to an up-and-down and hates-failure Saturn in Taurus opposition Jupiter, and also on the focal point of a mini-Grand Trine to an adventurous Jupiter in Scorpio trine Mars in Pisces. So a go-getter, risk-taker and hugely energised.
At the moment he has tr Uranus trine his Sun and quincunx his Pluto; but remarkably little Mars activity, until you look at his Progressions, where his Sec Prog Mars is opposing his Uranus for the next year. And he seemingly had another scrunch-up earlier this year on a motorcycle. A time to be wary.
His previous major accident in 2006, also has little direct Mars activity apart from his progressed Mars quincunx his Jupiter, shaking up that wedge involving Sun and Saturn. Though tr Pluto in Sagittarius conjunct his Sun and square his Pluto oversaw a long and difficult recovery in the months/years thereafter.