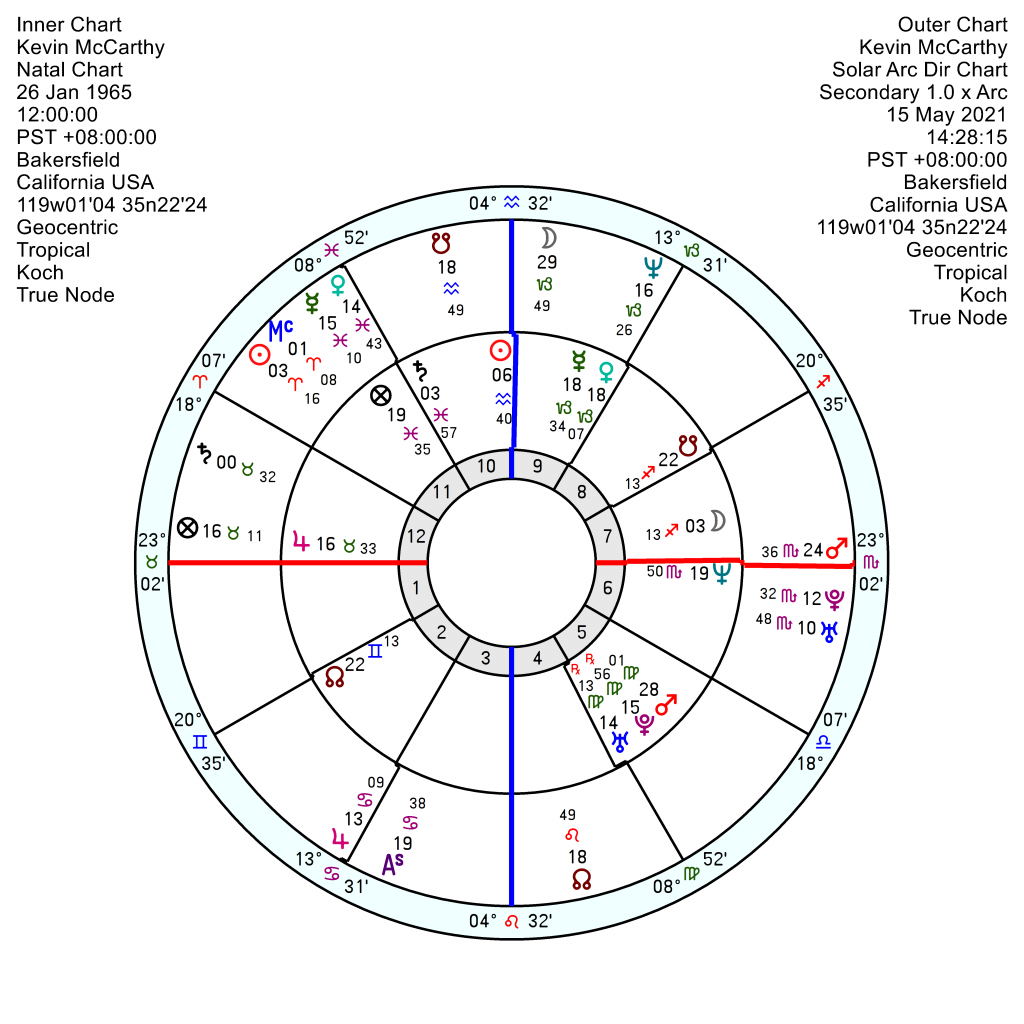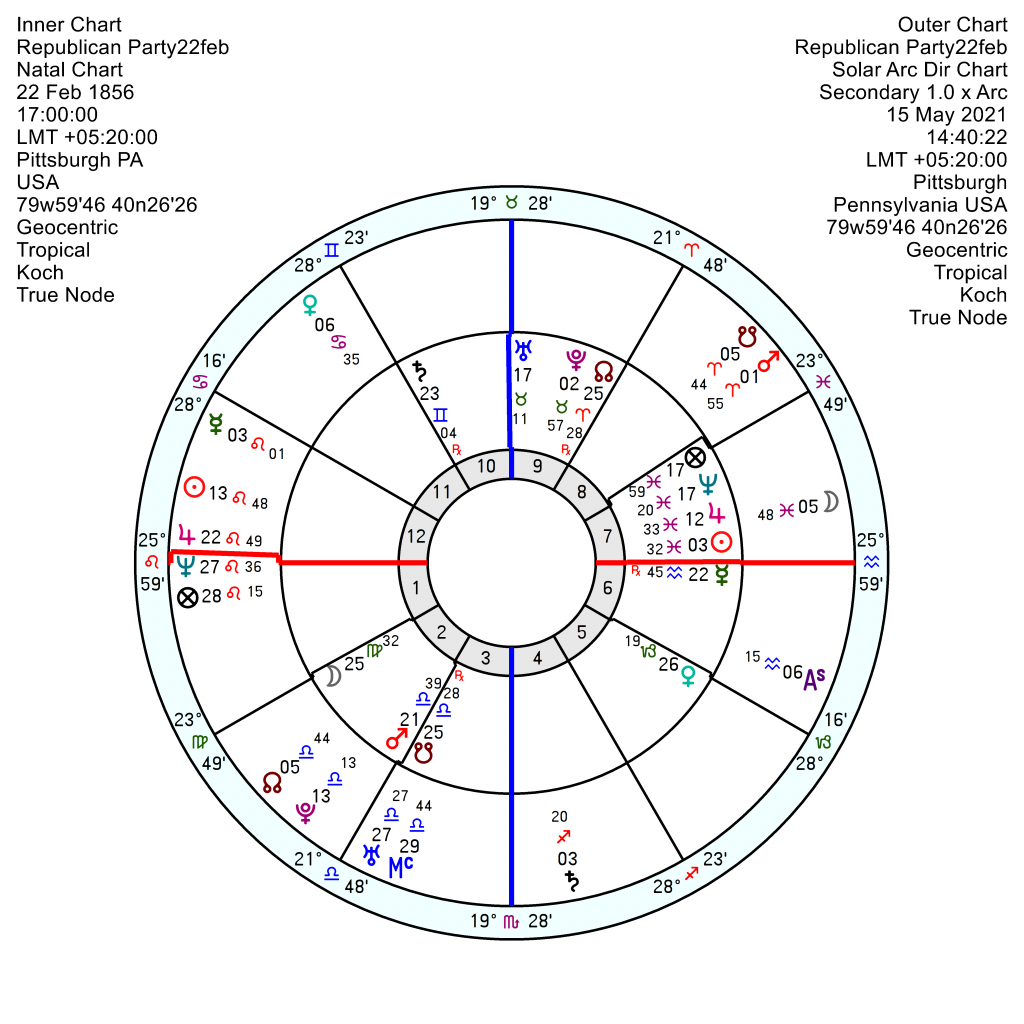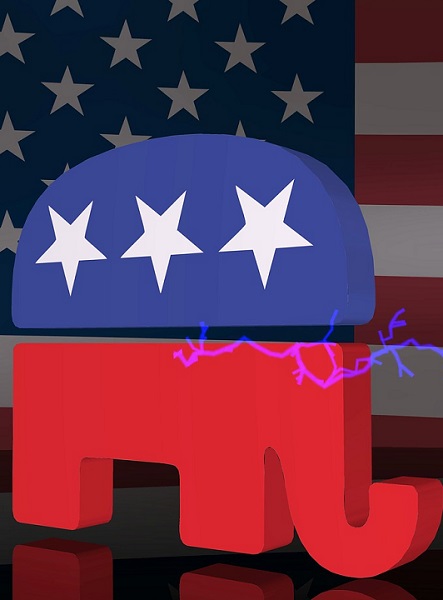 Liz Cheney is out for refusing to swallow Trump's lies about a stolen election – supported by 70% of GOP-ers – and Elise Stefanik is in as the third ranking Republican in Congress.
   Stefanik has made false claims of voter fraud and opposed suggestions that Trump be impeached for his part in stoking up the January 6 Capitol assault.
  Born 2 July 1984 in New York she is a Sun Venus Mercury in Cancer; with her Mercury square Pluto, which gives her harsh opinions, a generally suspicious outlook and a tendency to bully others into agreeing with her outlook. Her Sun Venus are also trine a hard-edged, vengeful Mars Saturn in Scorpio. Not a chart I warm to, I'd have to admit.
  Her Mars Saturn will be buffeted this year into early 2022 by tr Uranus in opposition and tr Saturn square – so not everything will be rolling her way with setbacks, failures and aggro. This year's May Lunar and December Solar Eclipses also catch her Uranus. She's then got a run of undermining Neptune transits to various midpoints through this year as well as 2022/23 so she will sag – though her rhetoric is likely to roll on till 2024 with tr Pluto squaring her Pluto towards and over the next election.  Without a birth time there's not much that looks upbeat.
Kevin McCarthy, 26 January 1965, the Congress Minority Leader, is a Sun Aquarius with an Earth Grand Trine of Jupiter in Taurus trine Uranus Pluto trine Mercury Venus in Capricorn, formed into a Kite by a slippery Jupiter opposition Neptune in Scorpio. The 2022 Midterms will be critical for him but with the tr Uranus square tr Saturn colliding with his Jupiter opposition Neptune it's tricky to say quite what the outcome will be. Partly he'll be lucky with tr Uranus conjunct his Jupiter and partly downcast with tr Saturn square both Jupiter and Neptune. 2024 is more obvious with a sinking-failure tr Neptune opposition his Mars either over the election or immediately after. And this year he's tripping into some calamities and major sink holes mid September to mid October this year and again mid January to mid February 2022.
Mitch McConnell, 20 February 1942, whether politically or personally is facing an exceptionally bumpy ride through 2022/3/24 with his Solar Arc Saturn opposition his Venus, Mercury and his Solar Arc Sun conjunct his Mars and Saturn; as well as tr Uranus moving across his Mars Saturn Uranus in 2023/24 which looks acutely stressful. But that could be for all manner of reasons separate from the Republican Party's fortunes.
Liz Cheney is pushing confidently ahead this year and next with a couple of Jupiterian midpoints boosting her morale. 2023 looks more downbeat. 2024 nerve stretched and argumentative and not altogether content. Her fortunes pick up in 2026/27. See post 5 May 2021.
   Her relationship charts with both the GOP 1854 and 1856 do show maybe a break up of sorts between herself and her party in 2023 with tr Uranus conjunct the composite Suns of both. She's certainly out of sorts with both this year and vice versa with tr Uranus square tr Saturn hitting the Mars square Venus on one and Saturn conjunct Mercury on the other.
  Both the Republican charts have Sun Neptune in Pisces which tr Saturn will make a downbeat conjunction to in 2024 – though that's minor enough. Both are ploughing through thick mud through this Biden Term.
   The GOP 22 February 1856 chart has Solar Arc Saturn square the Sun for this election loss which might suggest it's the more informative of the two charts. On this one, 2022/23 look deeply frustrated and aggravated; with 2024 not well starred.
Nailing Trump's flag to their mainmast is a questionable tactic since his astro indicates a litany of woes ahead from later this year onwards. If he goes down so do they. See post on Giuliani etc 29 April 2021.