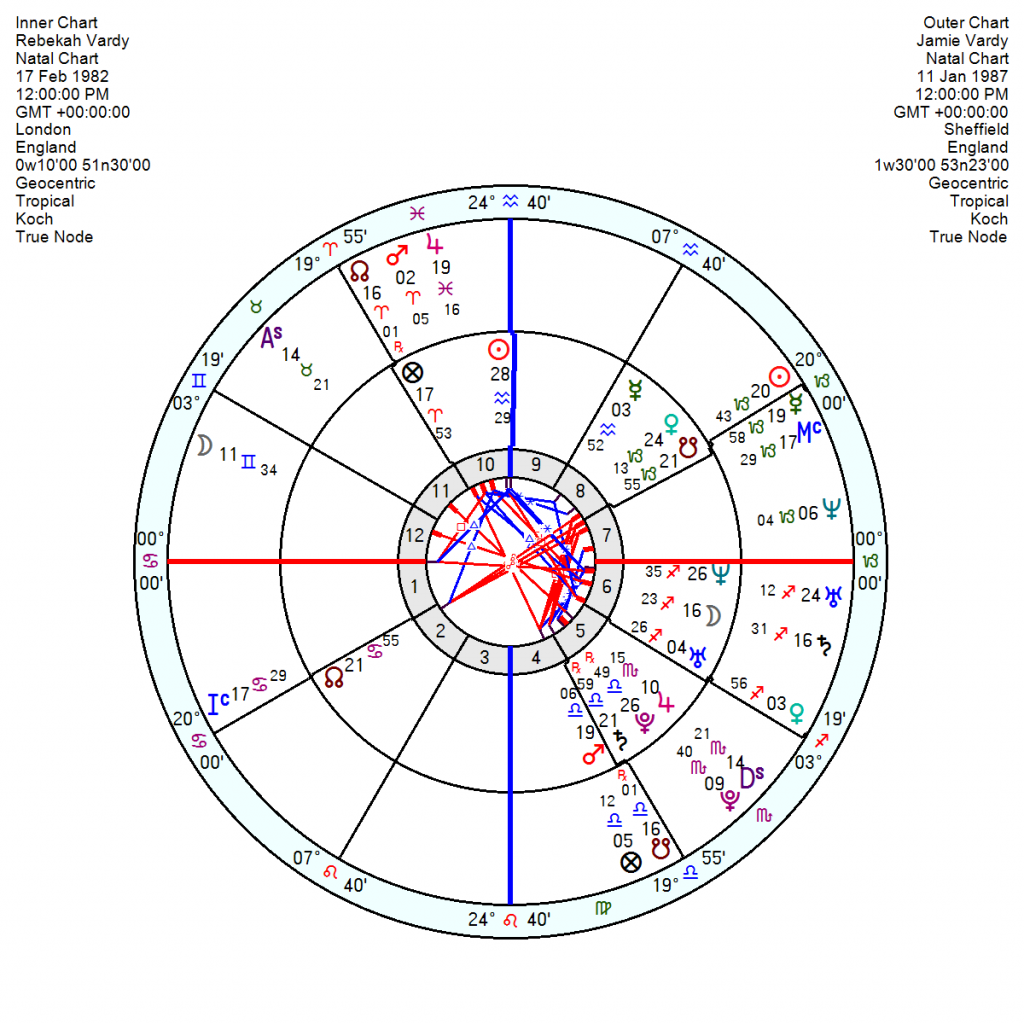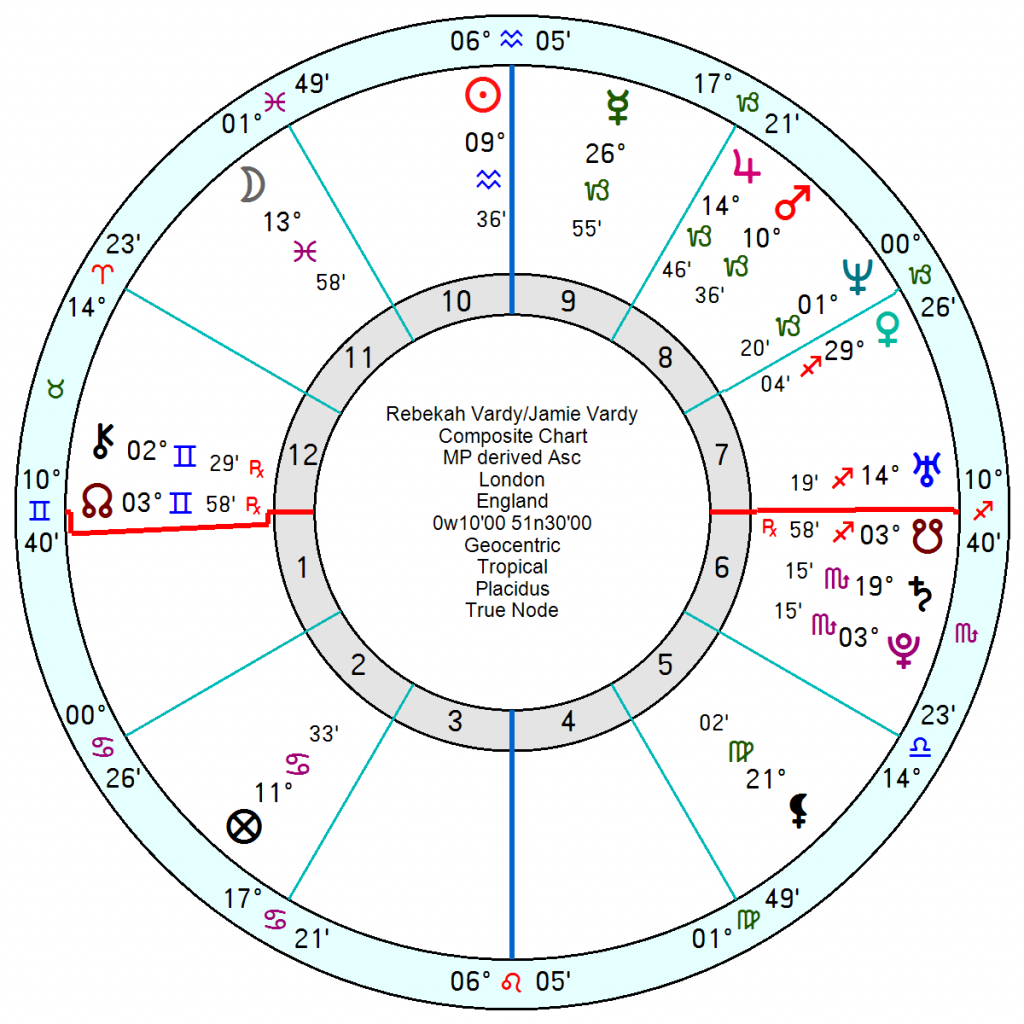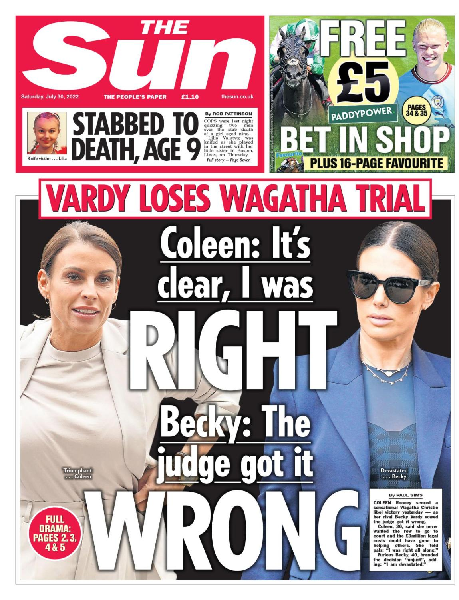 The most offensive waste of money since the Beckham Peltz wedding or indeed the upcoming Boris Carrie country-pile splurge has ended with Rebekah Vardy losing her court case against Coleen Rooney. Two waste-of-space famous-for-nothing types squalling over leaked gossip of the sort which garners headlines on which both depend to bolster their vanity always seemed a pointless exercise.
Running true to form, Rebekah Vardy is stamping her feet, blaming a flawed judgement and insisting she wasn't wrong in her muddled testimony.
Born 17 February 1982, she has a troubled, even harsh chart with an angry, anguished and aggravated Pluto Saturn Mars conjunction in Libra trine her Aquarius Sun and square her Venus and North Node in Cancer. Her Sagittarius Moon may even be sextile Mars Saturn and either conjunct Uranus or Neptune.
  Her life until she married footballer Jamie Vardy in 2016 appears to have been a train-wreck.  
Her parents divorced when she was 11 and she moved from city to city, was sexually assaulted by a family friend on a weekly basis for three years, which was dismissed by her mother leading to a rift, which left her homeless at 15. "I was made to feel like it was my fault." She attempted suicide with pills and vodka.
She married first at 17, which fell apart after six months when she slept with singer Peter Andre, whom she later disparaged because of the size of his genitalia. A six year relationship with a footballer followed which ended acrimoniously, with him claiming she dumped him to upgrade to a wealthier type. He said as his parting shot that he showered her with expensive gifts, took out an "extortionate mortgage" on their Nottinghamshire home and lent her his Mercedes but nothing was good enough. "Becky liked the finer things in life. She wanted the biggest house on the street, expensive handbags," he said.
When she married Jamie Vardy neither his parents or Becky's mum and stepdad attended. The groom's family blamed Becky for causing the rift and mum Lisa said: "I don't have anything directly to do with my son any more. It's a shame and very sad."
She now lives with him in an eight-bedroom farmhouse, worth £3million, with an indoor pool, sauna, tennis court and gym, in between Dubai holidays staying at the Atlantis (a suite costs £1,800) and the Four Seasons (suites up to £14,000 a night.)
Two psychological thoughts. One is that bad experiences don't necessarily produce good people or result in a well-rounded, pleasant, compassionate temperament with a sense of decency and perspective. The other is that abusive and dysfunctional nurturing in childhood produces individuals over-sensitive to criticism, even where it is legitimate, since it taps into their deep well of inner shame.
She now has five children from various liaisons.
Her present husband, Jamie, 11 January 1987, is a Sun, Mercury in Capricorn which squares her Mars, Saturn and Pluto which does not sound easy or harmonious; with her Jupiter in likes-money-Scorpio conjunct his Pluto – so hints of a wannabe power-couple ambition. Admittedly her Venus is conjunct his Sun which will help slightly.
Their relationship chart has a possessive, controlling composite Sun square Pluto with an enthusiastic Mars Jupiter conjunction and an illusory Venus Neptune. He's very welcome to her, frankly.
She will bounce back in 2023/2024 with tr Pluto square a Jupiter midpoint – she has a titanium-strength protective shield which will deflect anything that feels threatening. Kind of like Trump/BJ etc.