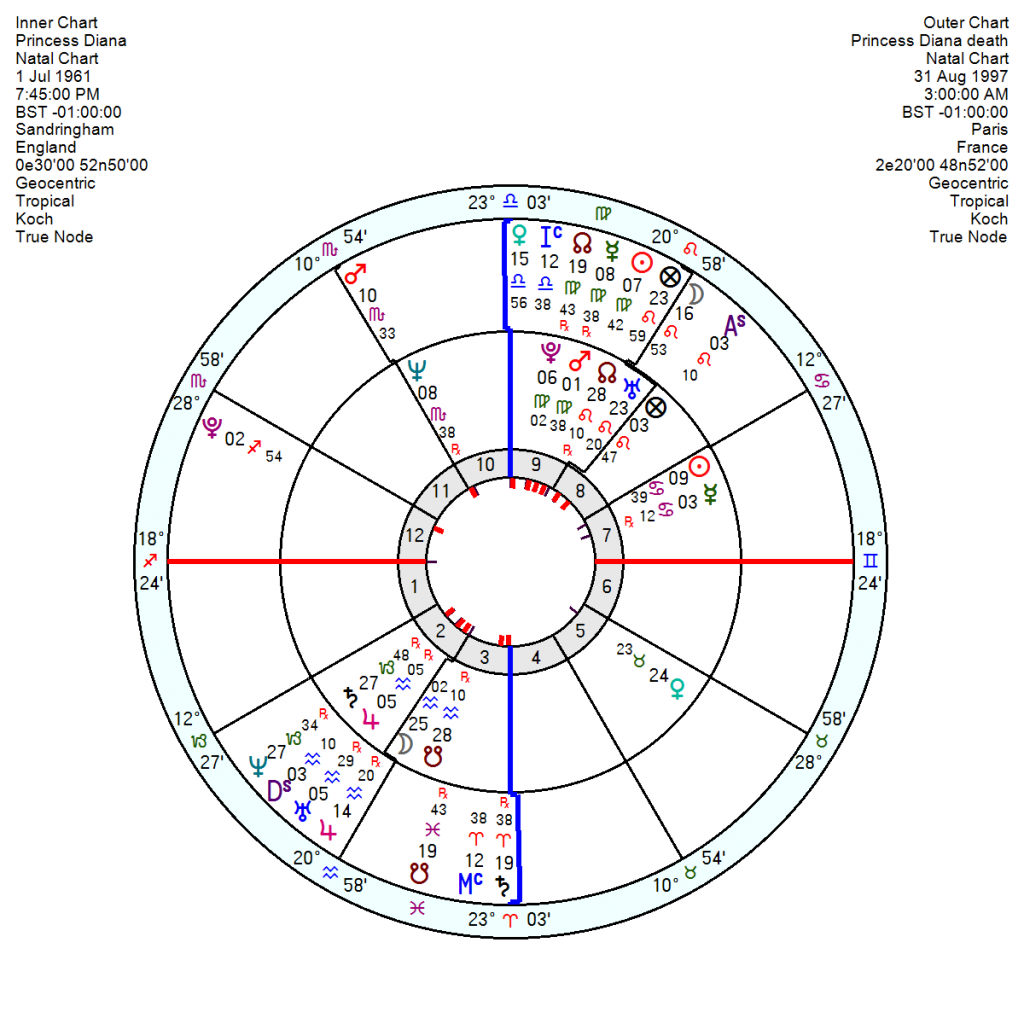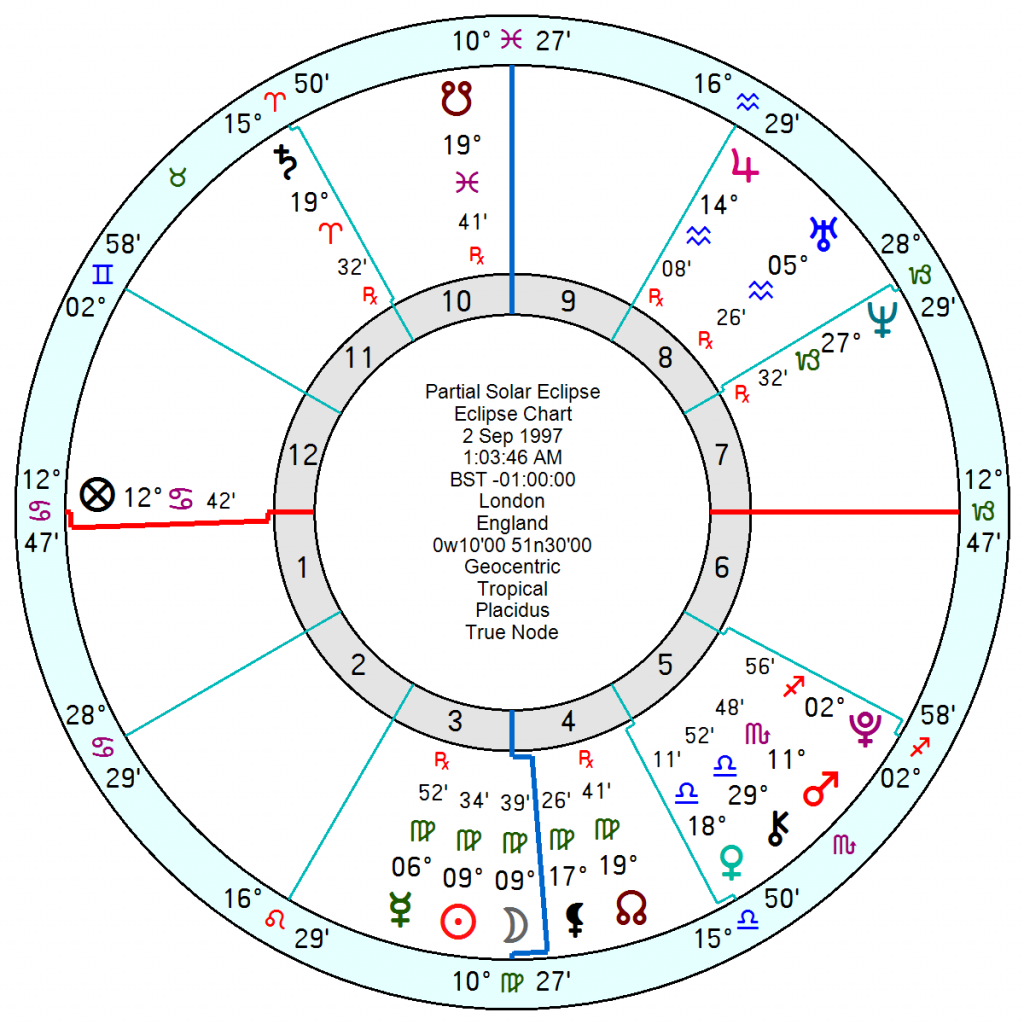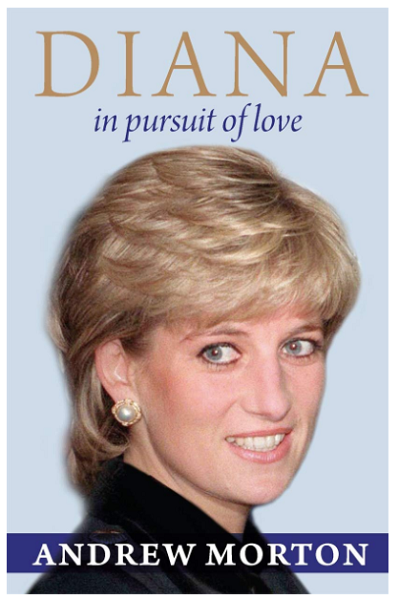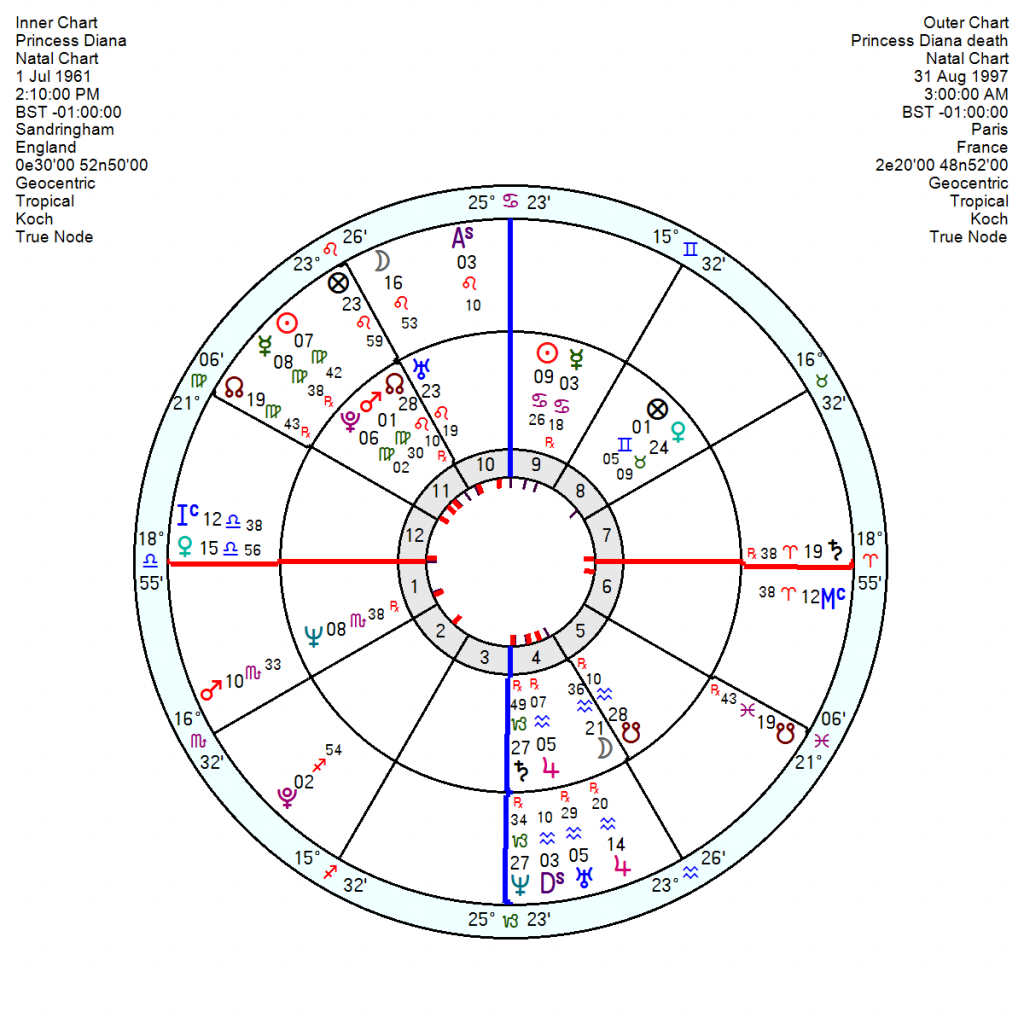 Twenty five years on the memory of Princess Diana burns brightly and still raises strong reactions. She died on 31 August 1997 in Paris, causing worldwide shock and an outpouring of grief in the UK. 2 billion people watched her funeral on television.
She died two days before an 18 North Solar Eclipse in the same Saros cycle as the previous one which oversaw the death of the Queen's uncle, Earl Mountbatten, killed by an IRA bomb while holidaying in Ireland. This Saros cycle usually accompanies illness or accidents and is given to obsessive worry. Eclipses repeat in the same cycle every 18.5 years approximately and this one has particular relevance for the Royal Family. It was the closest to the birth of Lady Diana Spencer in 1961.
Eclipses marked her life as she was married two days before an eclipse on 31 July 1981, a service watched by a global audience of 700 million people. This cycle, not seen as a luck-bringer, puts pressure on personal relationships, with the caution that hasty decisions are not wise since information is distorted and possibly false. Tiredness or health problems are also associated with it.
Prince William, the eldest son and heir to the throne in succession to his father, was born on the day of a solar eclipse in June 1982. This series is challenging in effect, dealing with separations or the ending of a union, although the long-term outcome is hopeful.
Born 1 July 1961 7.45pm (memory) Sandringham, England, Diana had a charming and people-oriented 7th house Cancer Sun and Mercury so was adept at making everyone she met feel special; and in trine to Neptune would give her a healing presence. Her 5th house Venus would also give her a radiant and entertaining glow. She needed a stabilising partner in life but she would be conflicted and contradictory emotionally. Her yearning for Watery togetherness sat uneasily with a maverick Aquarius Moon in a freedom-loving opposition to Uranus square Venus conjunct the destructive Fixed star Algol. And she had an angry, argumentative 9th house Mars Pluto in Virgo. On the one hand this gave her the ability to spread a message to a wide audience about the tragedy of AIDS and landmines, dark subjects the public would otherwise have turned away from. But it would also give her considerable inner turmoil, resentment and hostility.
She was also born with a Saturn Jupiter conjunction in Capricorn/Aquarius, which for a very few individuals ties them into the spirit of the age and whose lives seem marked out by destiny. Messiahs in their own sphere, they carry the hopes of their era. John Lennon was born in 1940 with Jupiter–Saturn in Taurus and became the unlikely hero of a generation. The Beatles' debut occurred on the 1960 Jupiter Saturn conjunction in Capricorn, and his death on the conjunction in Libra in 1980.
Similarly, Diana, born on a waning Jupiter–Saturn conjunction, was married in 1980 during the exact Jupiter–Saturn conjunction but never quite made it to the next one in 2000.
What appears to happen is their Jupiterian fame pitches them too high into the realm of the gods and Saturn, the grim reaper, comes into play to cut them down to size as mere mortals. Most US presidents in the past 200 years who were inaugurated on a Jupiter Saturn conjunctions were either assassinated, survived an assassination attempt or died while in office.
When Diana died, most significantly tr Pluto was putting pressure on her natal Mars Pluto conjunction – building up from the previous year, so she would be amped up, feeling trapped and not thinking clearly, driven by her demons. She also had tr Neptune conjunct her Saturn which brings great uncertainty; and an accident-prone tr Uranus opposition her Sun/Mars midpoint. Strangely she also had tr Uranus conjunct her Jupiter which is usually associated with luck and relief from tension though it may also have stoked her high-spirited streak into taking risks.
On her astrocartography, the United States would be where her Cancerian sun shone at its brightest. A glittering public career would have been guaranteed and her Jupiter (easy) on the I. C. (home) line runs through New York and down to the Bahamas, both places where she was happy to relax and feel accepted. Her Venus (love, affection, indulgence) on the I. C. (home) line, and the Jupiter ascendant (confidence-bringer) line both run through Egypt, the home of Dodi Al Fayed. Her Sun I. C. line (spiritual home) runs through India where she frequently visited Mother Teresa, and which was also the home of one close friend, an Indian heart doctor, after her separation from Prince Charles. Her Neptune (sacrifice, pity for the suffering) midheaven line runs through Africa, as does her Jupiter ascendant, giving her confidence to raise her land-mine campaign to international notice. Her other Jupiter midheaven and Neptune descendant lines, with much the same meaning, run through the Far East, Cambodia, Laos and Vietnam, suggesting she had much to do in future in this mine-strewn area before her life was cut short. She had Pluto cross lines ('parans') through Paris, northern France, and significantly through the Mediterranean, the scene of sailing holidays a few weeks before her death, hinting that this was not a safe area for her. Jupiter in the midheaven crossing her Venus ascendant also in the Mediterranean zone perhaps distracted her, suggesting as it does glittering acclaim, a glitzy lifestyle and a good deal of lavish indulgence.
Her Sun fell on the UK midheaven so she was a guiding star for her time.
Add On: Penny Thornton wrote to me suggesting a 2.10pm birth time which she resourced from Diana's personal comment to her that she was born just before a Wimbledon match.
https://www.astrolutely.com/the-princess-of-wales-time-of-birth/
It would give her a charming Libra Ascendant and put her passionate Venus in the 8th; with her Moon on the cusp of the 5th house ruling parties and children. A much-travelled Sun in the 9th' influential-out-in-society Mars Pluto in the 11th though also difficult friendships.
When she died tr Neptune would have been crossing the IC and tr Saturn crossing the Descendant. When she married tr Uranus would have been trine the MC and Solar Arc Pluto sextile the MC – certainly feasible.