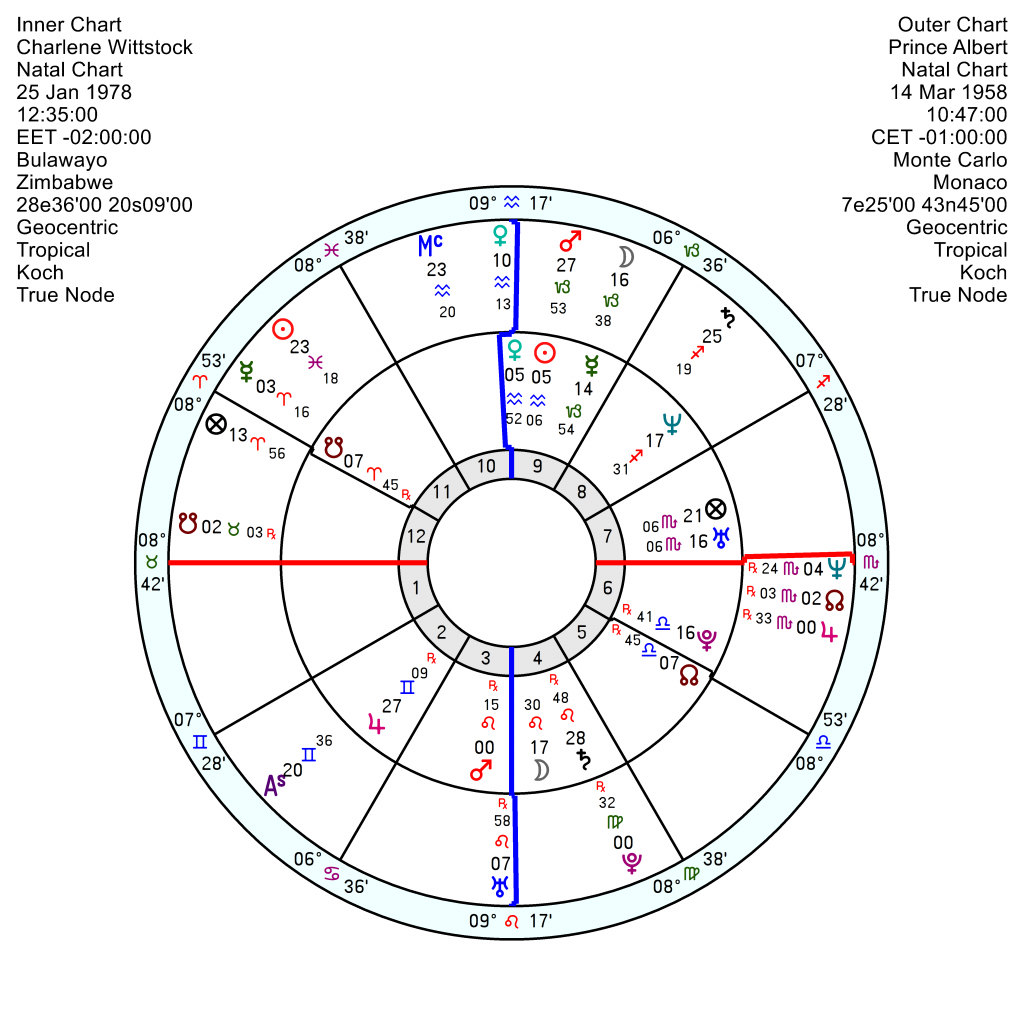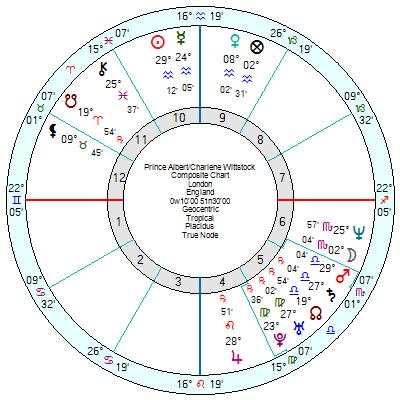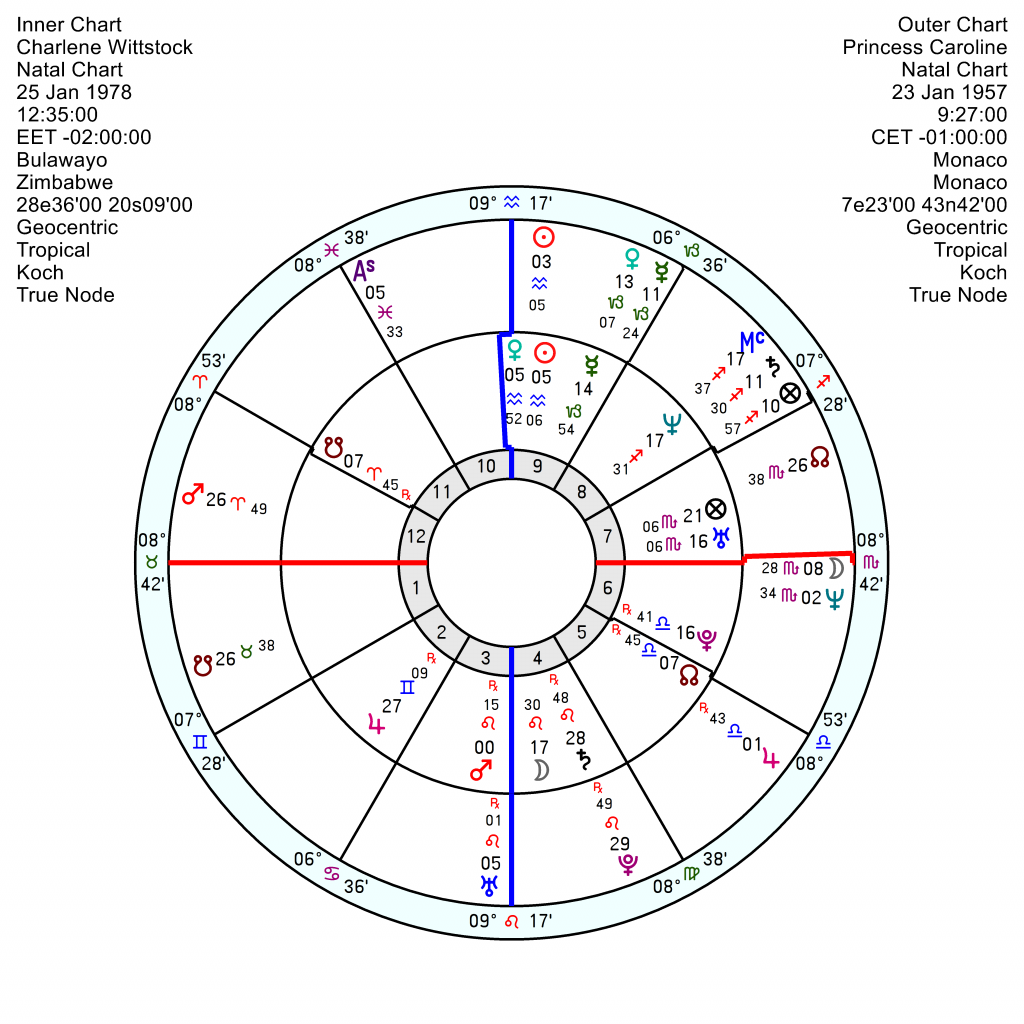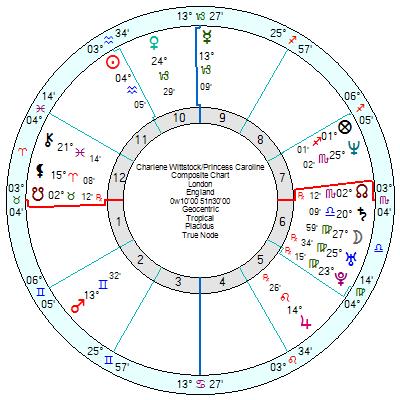 Princess Charlene of Monaco, an icon of cool sophistication, has taken the extraordinary step of having a punk half-head-shaved buzz cut. It's been put down to a new found independence and wish to please herself. Which may well be a precursor to her upping sticks and leaving what has been an unhappy stint in Monaco since she wed Prince Albert in tears in 2011. Twins followed in 2014 in what was rumoured to be part of the marriage contract after she was reportedly persuaded back, having bolted with pre-wedding nerves.
Born 25 January 1978 12.35 pm Bulawayo, Zimbabwe, she's a charming Sun Venus in Aquarius opposition Mars in Leo with an 'unconventional' Uranus in her relationship 7th house. She's also got a Leo Moon and Saturn in her 4th house of home and family so she will crave a settled domestic life though it will always require effort.
What is on cue is tr Uranus moving across her Taurus Ascendant now which is the start of a rebellious, defiant few years both in terms of appearance and also behaviour when she'll go her own way no matter what the reaction. And, of course, the tr Saturn Jupiter move into Aquarius and crossing her Sun Venus will also be prompting thoughts of a new start. Tr Uranus is also square her Midheaven at the moment elbowing her to consider a radical change of direction.
Through 2021 tr Uranus will oppose her Sun/Moon midpoint (= the marriage significator) with tr Saturn in square. This will put an additional strain on her marriage – with disruptions, a strong sense of separation and facing up to a few realities. But if she is going to go, and her predecessor Princess Grace stayed despite her unhappiness, it'll be 2022 when tr Uranus square tr Saturn elbows her Moon. 2022 is also the year of her mid life crisis with tr Uranus opposing her 7th house Uranus, so she'll be seriously reconsidering her life options.
The marriage always was going to be a grind with a composite unfair-treatment, one-sided composite Mars Saturn trine the Sun Mercury in the relationship chart – she had to give away a good deal of herself in return for a gilded cage. His controlling Pluto falls in her 4th conjunct her Saturn and his wayward Uranus is opposition her Sun Venus; with his intimacy-blocking Saturn in her 8th. Not ideal.
The marriage chart for 1 July 2011 had a Cancer New Moon opposition a controlling Pluto square a deprived. unyielding Saturn opposition an unsettled Uranus – not a good omen for what followed.
The relationship chart indicates 2022/23 are the low point with tr Pluto squaring the Saturn Mars for three years and tr Saturn conjunct the composite Sun – and that will be beyond tough going.
2022 is when Prince Albert's Sun/Moon midpoint will be under severe strain. This coming year sees the undermining tr Neptune conjunct his Pisces Sun, with his Venus in Aquarius being severely shaken up as well, not boding well for his love life. He'll be tripping over one disaster after another from mid year and it only gets worse in 2022/23 with a devastating Solar Arc Pluto conjunct his Neptune; a confusing, uncertain tr Neptune square his 7th house Saturn; as well as a frustrating, enraging, trapped tr Pluto conjunct his financial and emotional 8th house Mars.
   Princess Diana had tr Uranus crossing her Sagittarius Ascendant from 1986 onwards, two years after Harry's birth, as she floated away from Prince Charles, though their split only came in the early 1990s.
Add ON: Reports suggests there is not a sympathetic connection with Princess Caroline of Monaco, Prince Albert's older sister.  Born 23 January 1957 9.27am Monaco, she has a 12th house Sun in Aquarius opposition Uranus – and that falls exactly on top of Charlene's Sun Venus in Aquarius opposition Mars in Leo, so it will be a scratchy, uncompromising interface.
   Caroline's Pluto is conjunct Charlene's 4th house Saturn so sister-in-the-law will be experienced as controlling and restrictive. Caroline's Saturn is conjunct Charlene's 8th house Neptune which again inhibits warmth and a deep connection. In turn Charlene's elusive Neptune is conjunct Caroline's Midheaven, making for confusion, and perhaps a hint that Charlene's starry aura does not sit well with Caroline.
Their relationship chart has a chilly composite Venus square Saturn; and a disruptive composite Moon Uranus Pluto. It's a relationship that will undergo many upheavals – starting this year and running on for the next several.