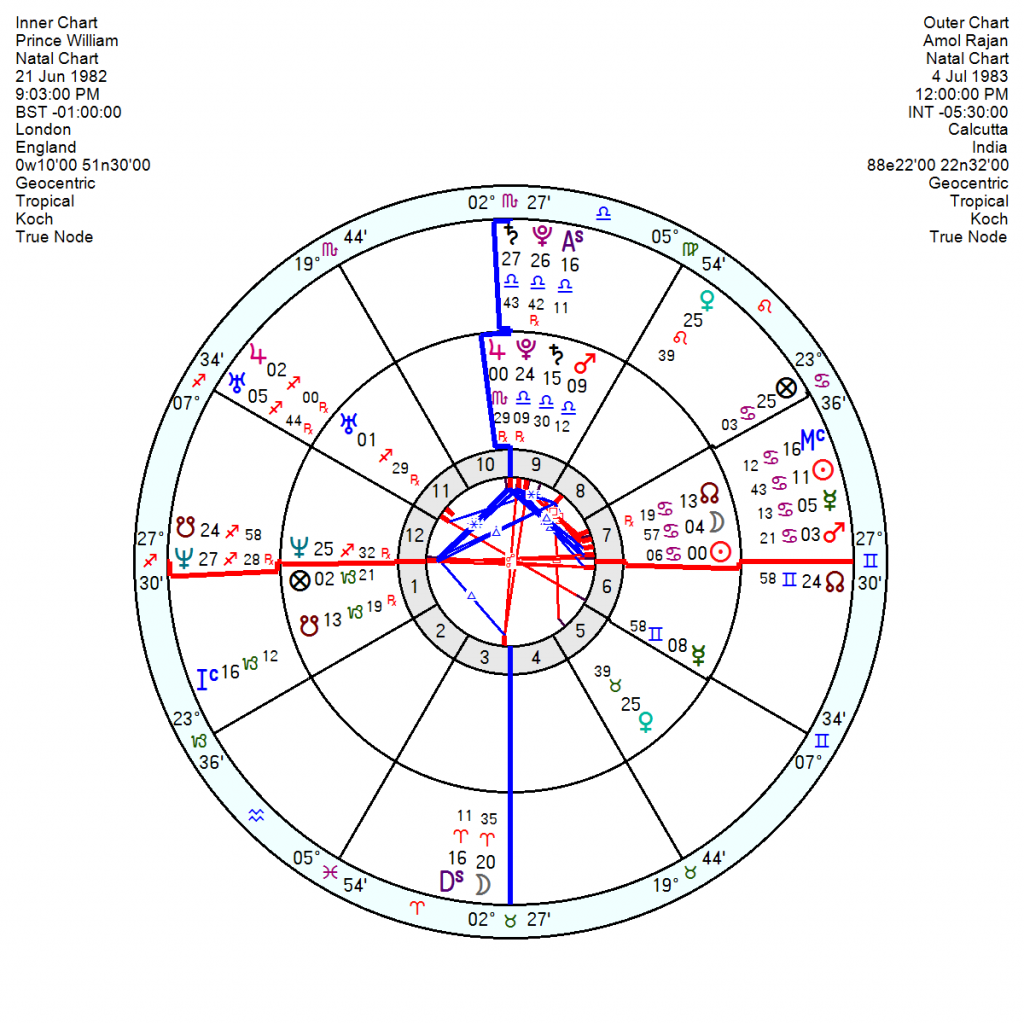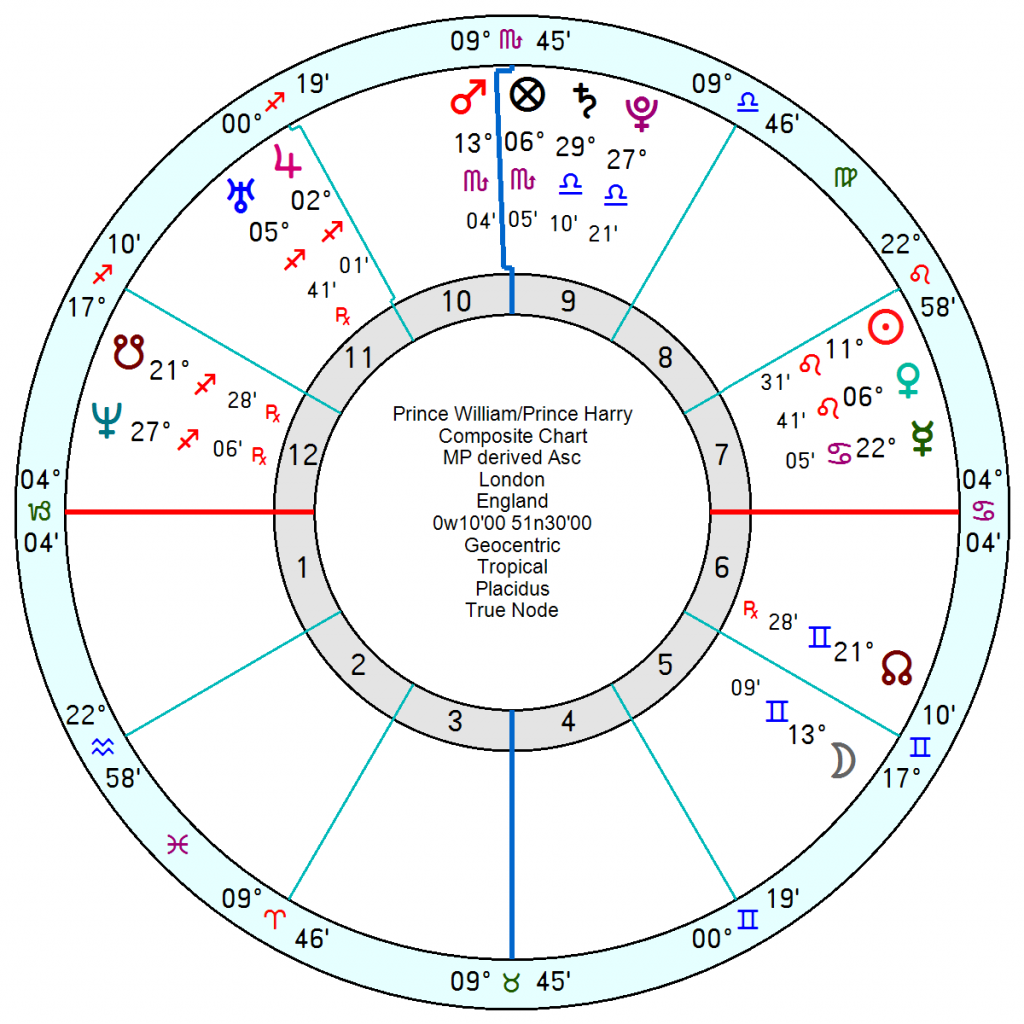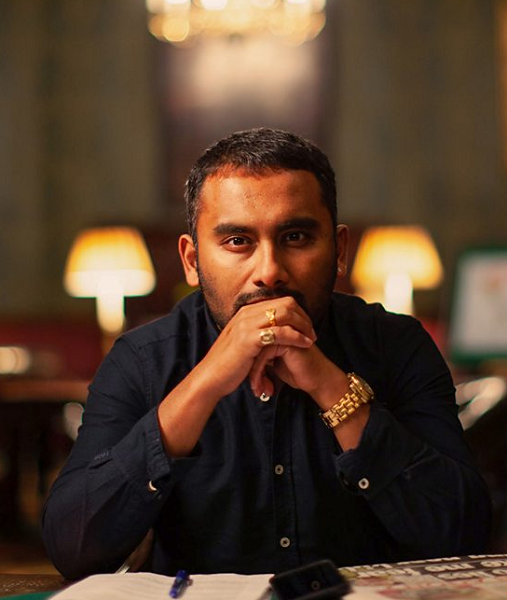 Cancerian Prince William took the full brunt of the recent Taurus Algol Lunar Eclipse sitting on top of his Venus in Taurus. He has gone to war on the BBC, fully supported by the other senior Royals, to object to Amol Rajan's two part documentary on The Princes and the Press. Part One last week gave air time to the Sussexes' lawyer and hagiographer Omar Scobie but did not give equal access to the other side of the story. As a result Prince William and Kate took their live carol concert away from the BBC and gave it to ITV instead.
An Eclipse on Venus is emotionally upsetting and can accompany a painful crisis. He'll get a rerun from next May with the Scorpio Lunar Eclipse doing similar. Royal feelings are still raw after the recent Martin Bashir climbdown over the Diana Panorama interview.
Amol Rajan, the BBC's ubiquitous new hot talent, a Republican by inclination from past twitter form, was born 4 July 1983 and is a resourceful and excitable Sun, Mercury, Mars in Cancer with a tough-minded and persevering Saturn Pluto in Libra and an adventurous, lucky Jupiter Uranus in Sagittarius.
He was always going to have a provocative not to say incendiary effect on William. Rajan's Mars in conjunct Will's Cancer Sun Moon and Will's Mars Saturn are square Rajan's Sun. Cancer and Mars do tend to work on the simplistic rule of thumb – water makes fire boil.
Rajan's Sun is also conjunct Will's North Node, which latter has an undertone of pride; and Will's Neptune Ascendant are opposition Rajan's bull-in-a-china-shop Gemini North Node. That and an interwoven relationship chart with a composite Sun North Node, and the composite Mercury tied into Neptune, Mars, Saturn Pluto suggests a 'fated' encounter which might have wider ramifications.
Will's relationship with the BBC chart has this December's Sagittarius Solar Eclipse conjunct the composite Mars which is likely to cause further aggravation.
The fraternal relationship between William and Harry was always due to have a bust up around now with the combative, argumentative composite Sun square Mars catching the tr Uranus square Sun exactly now, with a further bucket of ice water through December/January with the tr Saturn hard aspects to both the Sun and Mars; and more rifts come April 2022 with tr Uranus opposition the composite Mars.
Amol Rajan has a raft of uncomfortable, undermining and less than ecstatic transits to midpoints in 2022 with only one stroke of luck, so the fall-out may slow his rapid progress up the BBC ladder. Or not. Since the BBC can be remarkably tin-eared and inclined to dig its heels in hard when criticized, whether justified or not.
See previous post 11 September 2021 Royals rising their legacy with thoughts on the 2036 Eclipse.