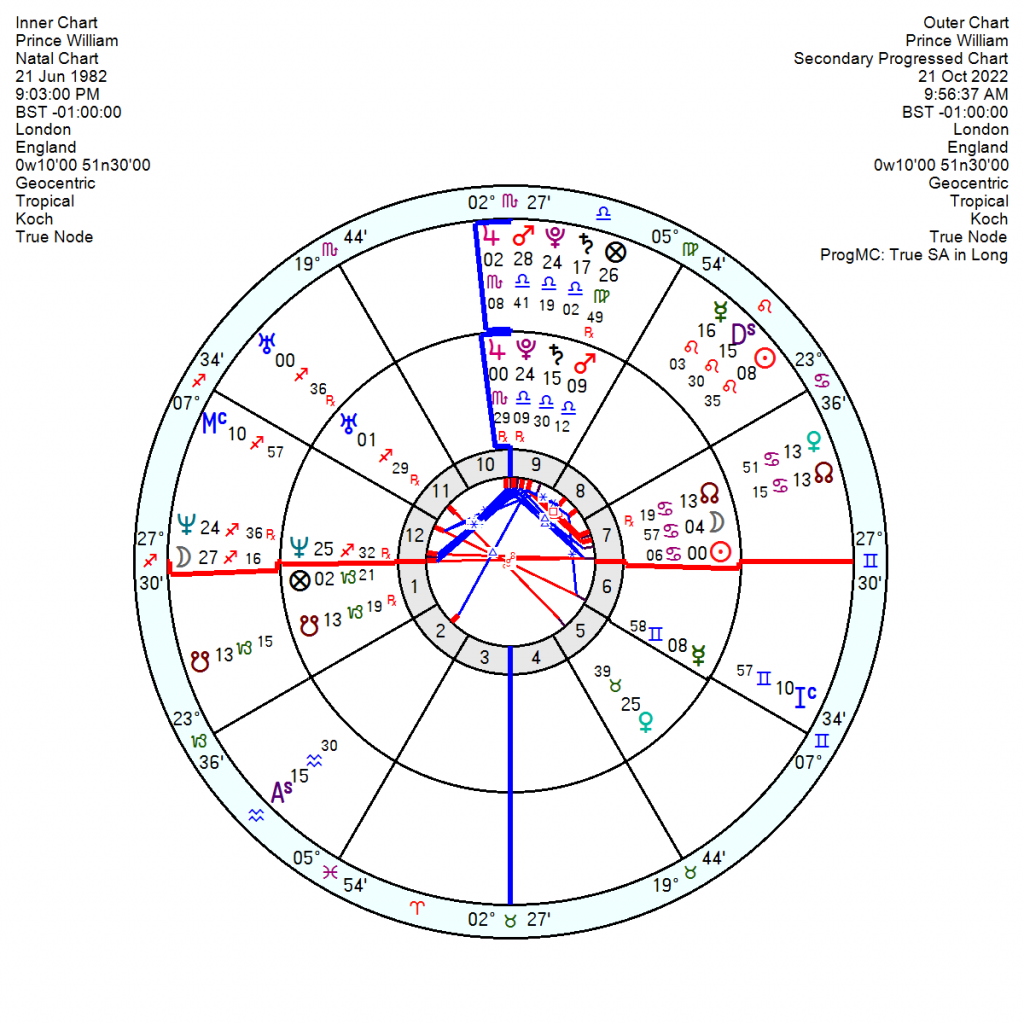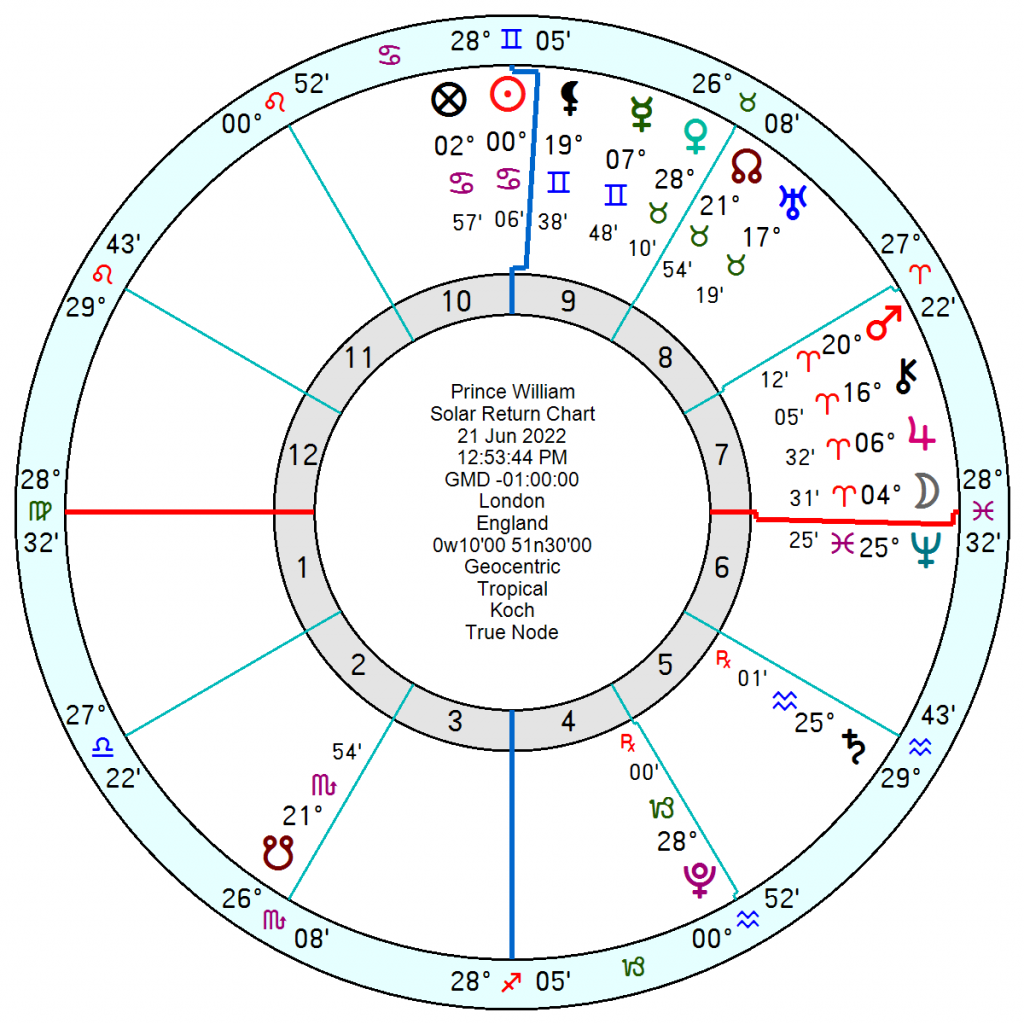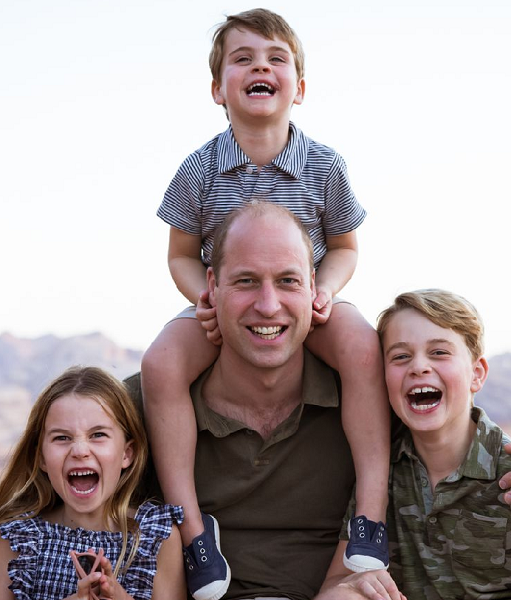 Prince William is 40 today, looking every bit the fulfilled father, husband, son and settled into his role as heir to the heir to the throne. He has overcome his initial reluctance to pick up the Royal reins, mended his once uncomfortable relationship with Prince Charles and appears to be increasingly making his views count in key discussions about the future shape of the monarchy.
He was born 21 June 1982 9.03pm London on the day of a Solar Eclipse in a Saros cycle that ends in 2036, leading some astrologers to say he would be the last king. Though I'm not sure anyone knows exactly what an Eclipse birth means in this context.
His New Moon in Cancer and his North Node in Cancer fall in his 7th house so relationships – with a partner, the public and socially – will be the key to his purpose in life. The Cancer North Node is about a journey through life learning to be the feeding hands (metaphorically speaking) for others. But it hasn't come easily. His Venus in Taurus on the focal point of a Yod would initially make him awkward and uneasy in social situations until he found his purpose in improving the lives of others.
His Venus conjunct Algol and Chiron suggests an emotional woundedness and low self-esteem which does ultimately lead to an empathy with those less fortunate. Venus Chiron would make him see himself as "secondary" in any relationship, feeling he was not worthy of love. Children would make a significant difference to his feelings about himself with Venus Chiron Algol falling in his 5th.
His mother's death would obviously contribute to his woundedness but she also leant heavily on him through the divorce years, treating him as a confidante, which would do damage to a growing boy, since he would feel it was his role to make her happy. Self-sacrifice is associated with Chiron conjunct Venus – and that is echoed in his Mars Saturn conjunction which like Sharron Davies gives him self-discipline stemming from tough conditions of emotional deprivation and restrictions.
He has a lucky, successful Jupiter in Scorpio on his Midheaven pointing to growing popularity and respect the older he gets and it trines his Sun and Moon. Jupiter on the midheaven also suggests a mother who was over the top in some way or a drama queen.
His Mercury opposition Uranus will give him a tendency to be outspoken and Mars Saturn can be short-tempered so when he's rattled he'll let fly verbally. And he does have strong opinions with Pluto, Saturn, Mars in the 9th.
He's been slowly revisioning his life since 2017 as his children arrived with tr Saturn moving through his low profile First Quadrant, starting with several years of focusing more on his personal life. He's starting to emerge from that with tr Saturn about to move into his 3rd from early 2023. He's also had his Progressed Moon moving through his 12th house picking up in early 2021 just before Prince Philip's death which is a time of endings and introspection – that finishes this October.
He looks to be on a confident roll this year and next with tr Pluto square his Jupiter/Pluto midpoint and that will be consolidated by an assertive and determined tr Pluto square his Jupiter in 2023/24 and then his Midheaven in 2024/2025, which will alter the trajectory of his career/life. Tr Uranus conjunct his focal point Venus Chiron from mid 2024 will also trigger a significant change emotionally and in his public role.
The tr Neptune Saturn conjunction in Aries in 2025/26 will square his Sun and move in square to his Moon thereafter for three years which will be a time of confusion as he adjusts to new circumstances.
His Solar Return is similar to the Cancer Ingress but makes the most of the upbeat Moon Jupiter square Sun putting them in the sociable/diplomatic 7th and career-marker 10th. Hard work, travel, a few surprises from Uranus in the 8th but generally not a disaster.