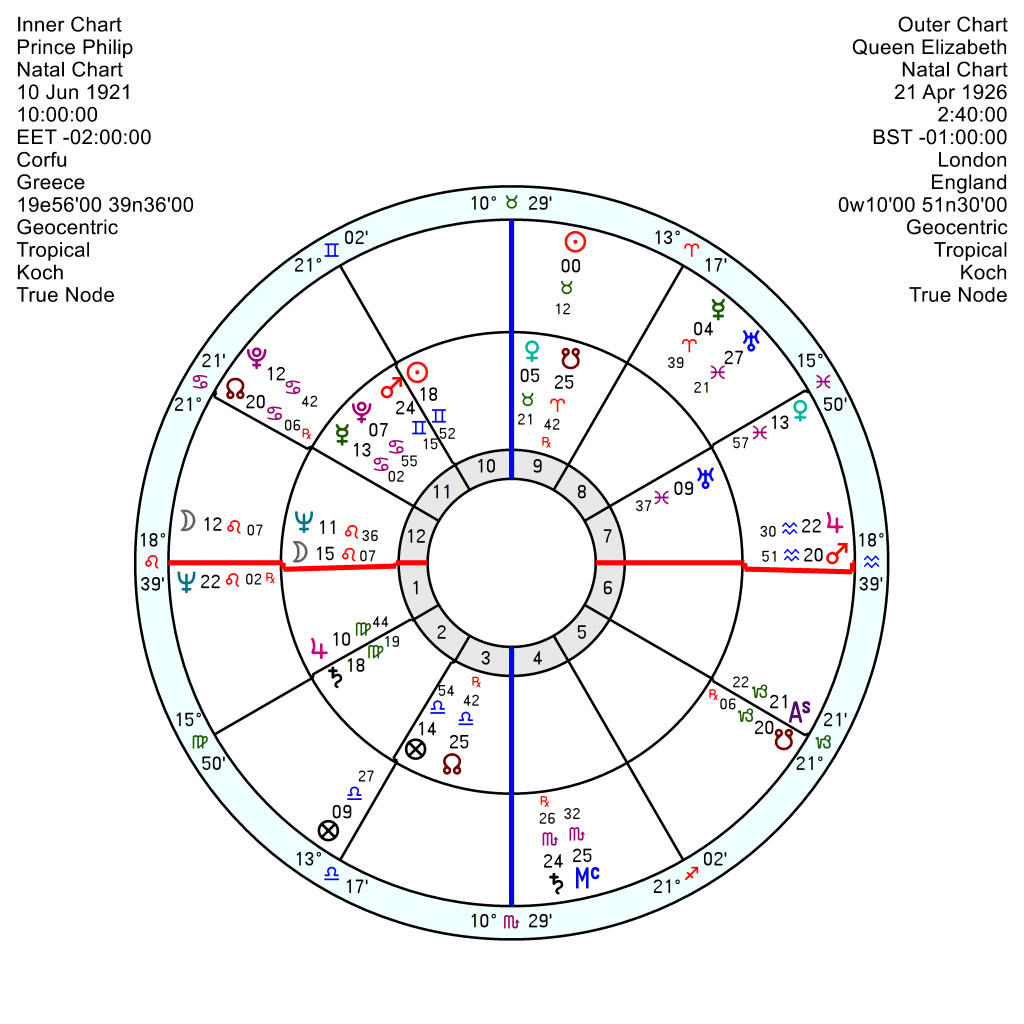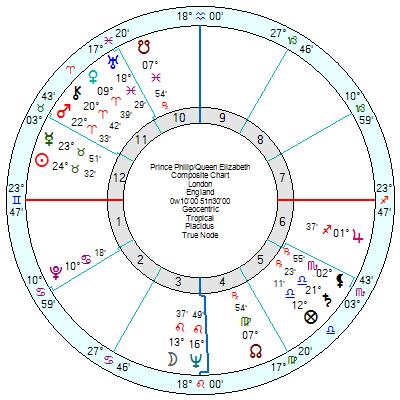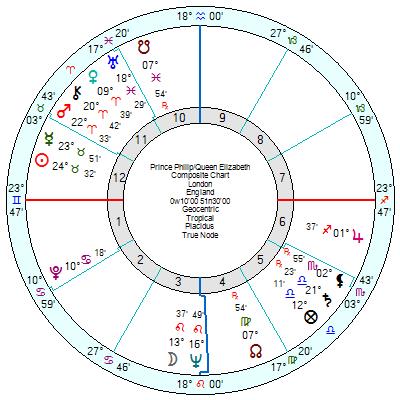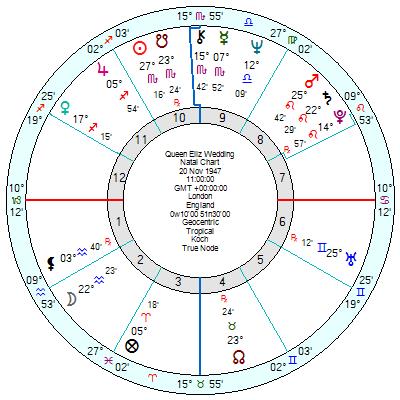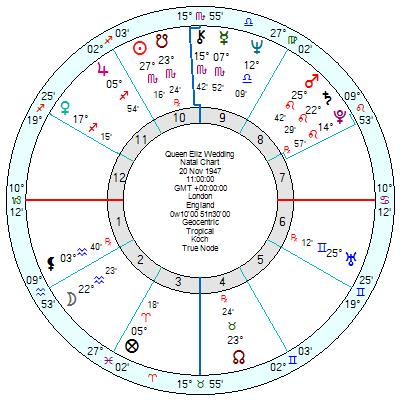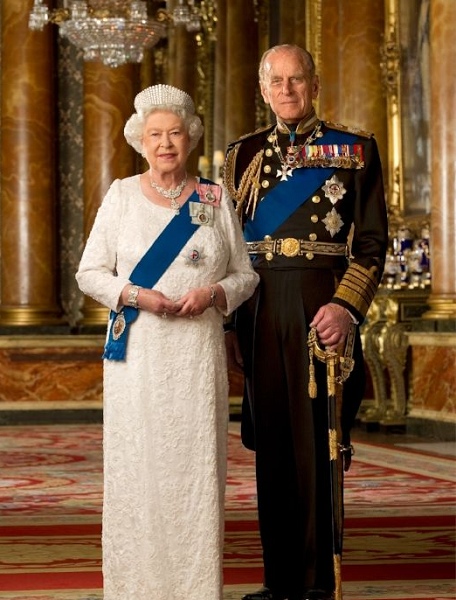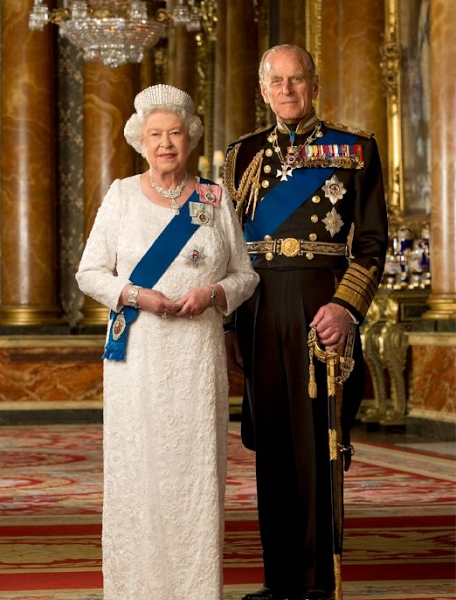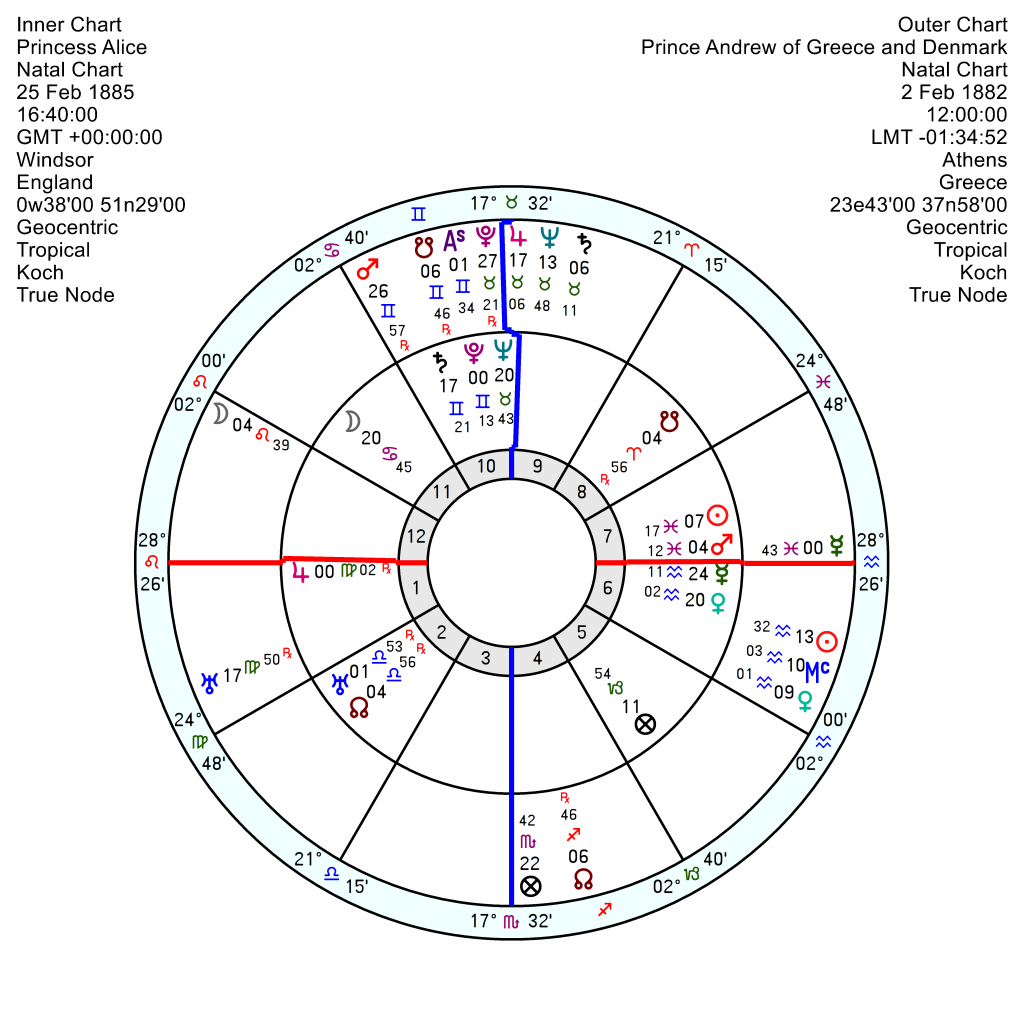 Prince Philip has died just short of his 100th birthday in June.
Born 10 June 1921 Corfu, Greece, time maybe 10am, into the Greek and Danish royal families he had a peripatetic childhood with the family exiled when he was an enfant and he was educated in France, Germany and the UK. He served in the British Royal Navy with distinction in World War 11 and married the then Princess Elizabeth in 1947.
He had an assertive and hyper-active Sun Mars in Gemini with his Sun on the focal point of a scattered Mutable T square to Jupiter Saturn in hard-working Virgo opposition Uranus. His Mercury in Cancer close to Pluto and trine Uranus would give him a tendency to express himself forcefully. His Venus in indulgent Taurus was square Neptune and widely a Leo Moon.
It was by no means an easy match with Elizabeth though her Sun conjunct his Venus would help, as did her enthusiastic Mars Jupiter in his 7th (10am being accurate BT) and both shared a flamboyant Leo Moon and Neptune – all of which would help to smooth some rough edges. But the relationship chart with a Mars opposition Saturn flags up the one-sided, self-sacrificing nature of the bond, as he had to give up his family names and career to become he-who-walked-behind. It did undoubtedly cause aggravations and irritability as well as resentment. There's also a Yod of Uranus sextile Sun Mercury inconjunct Saturn – which indicates a relationship which would change the lives of both irrevocably. There was on the plus side a passionate composite Venus square Pluto, a morale-boosting Sun opposition Jupiter; and a gloss-over-problems Venus trine Moon Neptune. It's also notable that the Queen's chart is extraordinarily Fixed while his is weighted to the more adaptable Mutable. Oddly enough Gunther Sachs study found Taurus and Gemini one of the longer lasting matches which wouldn't seem intuitive but it clearly works.
The Wedding chart, 20 November 1947 11am London was also exceedingly fraught with Mars Saturn (Pluto) opposition Moon square Saturn – a simmering volcano of aggravation but also arguably the toughness of the aspects was what gave it the strength to endure – since in those days bolting was not an option.
At the moment the Queen has tr Saturn exactly on the opposition to her 12 degree Leo Moon with tr Uranus moving to square her Moon from late May. Prince Edward, who oddly on the astro seems to have been the child closest to him, also looks rattled with tr Uranus square his Aquarius Moon exactly now. Andrew has tr Uranus opposition his 4th house Neptune for a highly-strung reaction; and Anne has tr Saturn just into her 4th house, which rules childhood/father.
Prince Charles has tr Neptune square his Mars this year, just a few days off the exact, so he will be feeling undermined.
What is heart-warming is how the Queen and Philip spent more time together recently because of the pandemic – and how their relationship weathered the storms to come together in recent years as a rock-solid partnership.
The UK chart has tr Saturn square the 8th house (rules death) Mars as the country reflects on the passing of an era.
  Scary to think what might come apart at the seams when the Queen moves on.  
Add ON: His mother Princess Alice, a great granddaughter of Queen Victoria, had a troubled life being congenitally deaf, forced into exile, despatched to a sanatorium after a breakdown when Philip was nine years old and diagnosed as schizophrenic. After she came out she devoted her life to charitable works in Greece, sheltering Jewish refugees in WW11 and setting up an order of nursing nuns. She spent her last two years living in Buckingham Palace. She was born 25 February 1885 4.40pm Windsor, England.
His father Prince Andrew of Denmark and Greece, 2 February 1882, left the family to live with his mistress in Monte Carlo in 1930 and died in 1944, not having seen his wife or son since the outbreak of war.
Princess Alice had a highly-strung Sun Mars in Pisces opposition Jupiter square Pluto with Saturn in Gemini – a highly Mutable chart like her son and indeed Queen Victoria who was a Sun, Moon in Gemini with Saturn Pluto in Pisces square Uranus Neptune in Sagittarius. The Queen's father George V1 was also weighted towards Mutable with a Sun Mars Mercury in Sagittarius and Neptune Pluto in Gemini. Mutable is restless, nervy, scattered, often sharply intelligent because of the Mercurial nature of it. What a mercy the Queen is so Fixed.
Prince Andrew of Denmark and Greece was a Sun Venus in Aquarius square an impractical, over expansive Jupiter Neptune in Taurus. Like Philip he had Mars in Gemini.
  Philp's connection with neither was easy. The relationship chart with his father had an aggravated, bitter and undermining Pluto Mars Neptune square Venus. With his mother there was an argumentative Sun Mars and a living-through-times-of-constant-change Uranus opposition Pluto tied into Venus.
It's a miracle he stood rock steady for all these years in the one marriage.