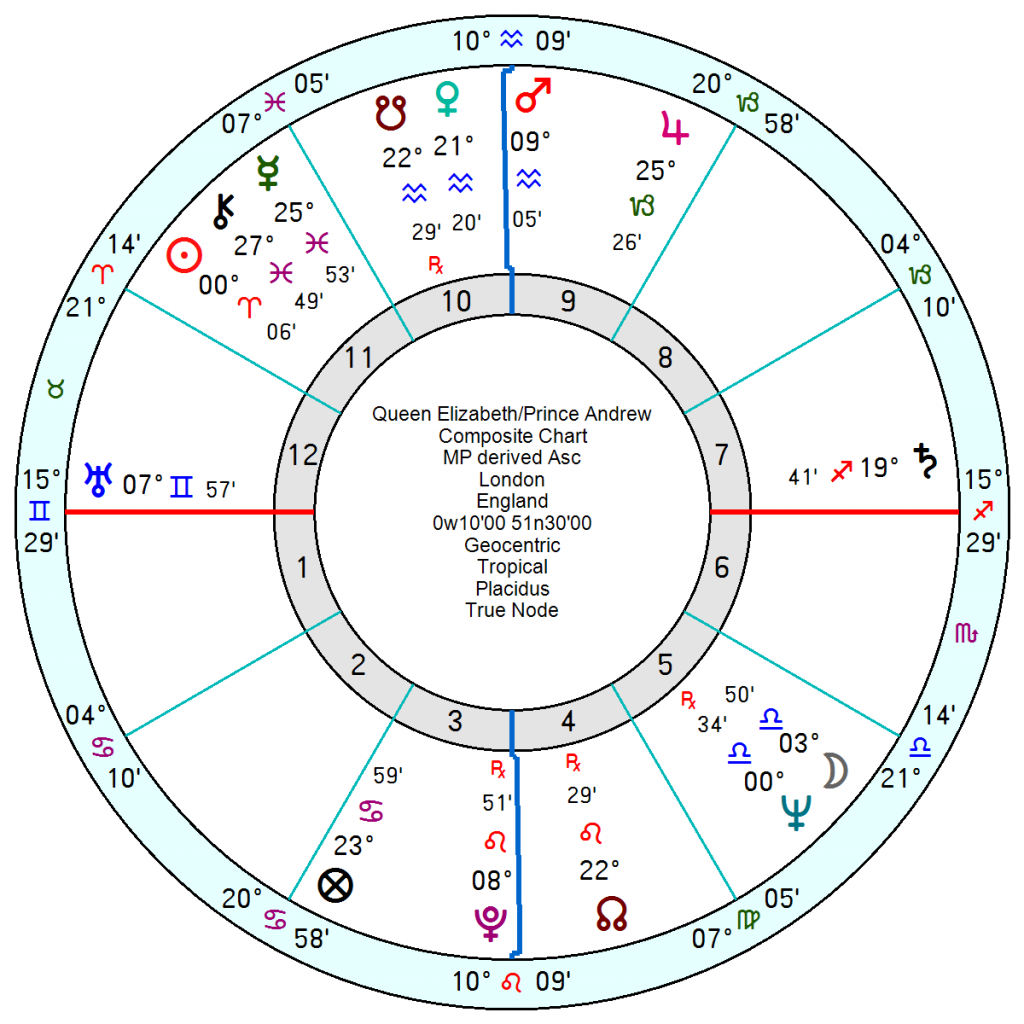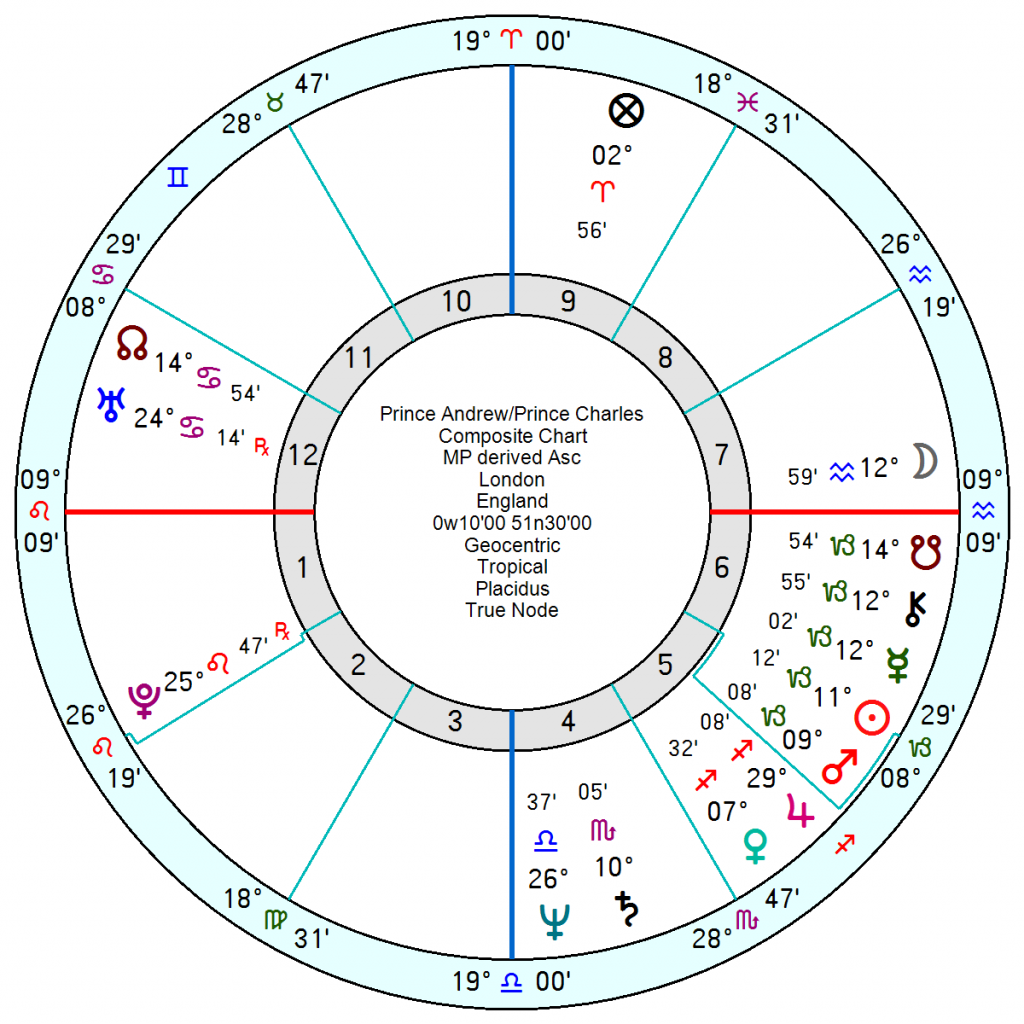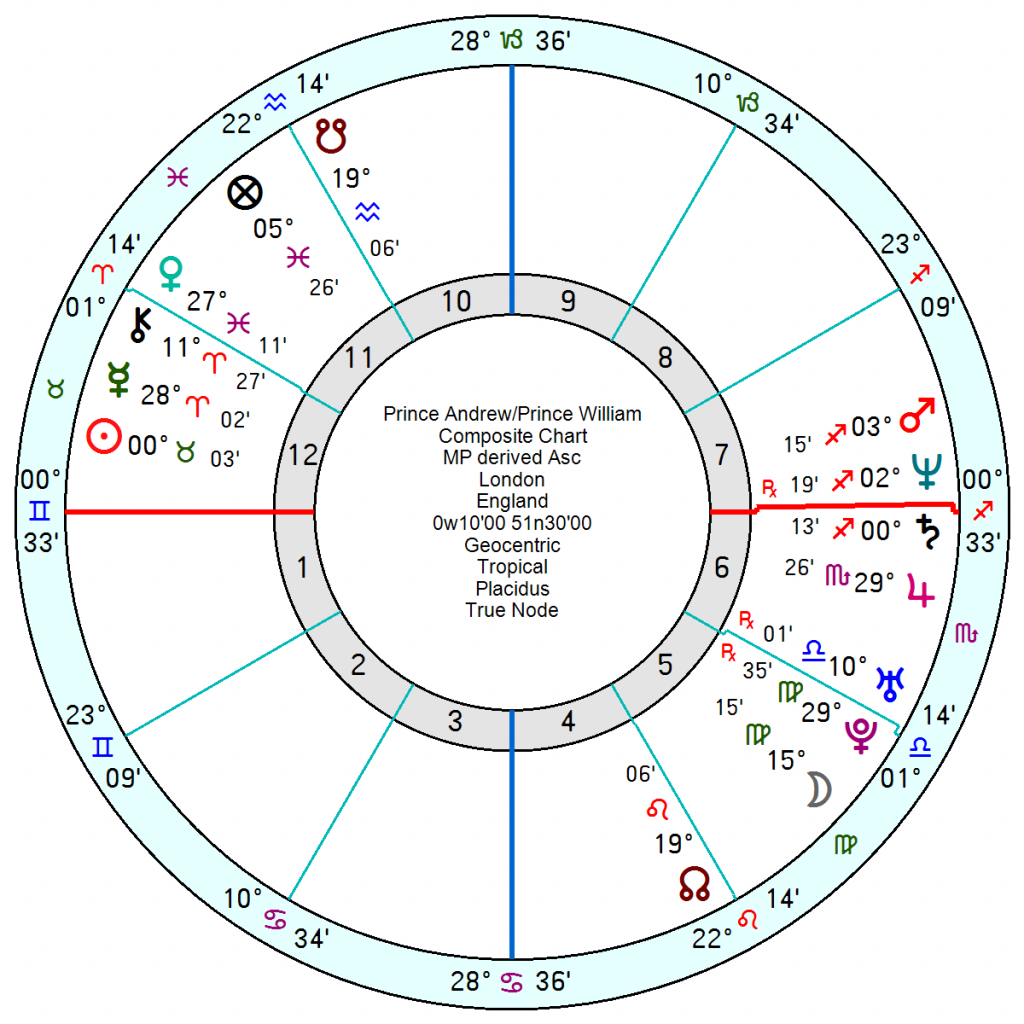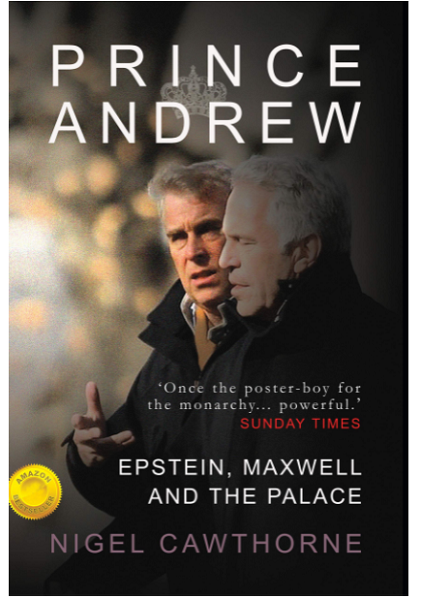 The Royals won't put on as united a public front for Prince Andrew as the Maxwell siblings have done for Ghislaine. Even the Queen may be belatedly facing up to the fact that she's reached, if not a point of no return, certainly a fork in the road where her allegedly favourite son is concerned.
  Her relationship chart with him is heavily Neptunian with the composite Sun opposition a Moon Neptune conjunction, so swirled in illusory hopes and unrealistic expectations. It took a hit when he was forced to exit his trade envoy job in 2011 after his dodgy Middle and Far Eastern political and financial connections were exposed as well as his friendship with Epstein. At that point tr Pluto was squaring the composite Moon and tugging on the composite Sun and Neptune.
   The tr Uranus square tr Saturn has recently been chipping away at their composite Midheaven Mars opposition Pluto  – with tr Saturn exactly conjunct the Midheaven at the moment. A serious reality check.
Her own Moon at 12 degrees Leo is also being pounded by tr Saturn in opposition in early January and tr Uranus square in March, so she will feel under-supported and distressed.
Prince Charles and Andrew were never bosom buddies with a competitive composite Sun Mars in their relationship chart; and a chilly composite Moon square Saturn. That latter is being walloped around by the tr Saturn square tr Uranus exactly now through till March as well.
  Prince William who harbours a strong dislike of his uncle Andrew will be involved in intense and perhaps bitter discussions from March onwards as he makes his view clear, presumably on the damage that having Andrew visible at Windsor is doing to the monarchy. The years between 2023 and 2026 will see William at his most determinedly hostile.
  Sarah Ferguson, the divorced but still financially supported/housed and 150% cheer-leading former wife, will find the sands shifting under her feet. Her relationship with Andrew is sagging badly from May this year onwards, with upsets mid year and on in similar fashion into 2023. A Royal watcher remarked recently that they are each other's only support. And what lies ahead for her through 2023 to 2025 looks fairly dire with a poleaxing series of blocked, discouraging and aggravated Solar Arcs.
It's sad to think of the Queen having to cope with this mess at her age, though perhaps if she'd sent him into exile years back, or been stricter about his dodgy connections, it would never have reached this point. And heaven knows she lived through Princess Margaret's eye-curling loves and dissolute habits, never mind a couple of her uncles whose behaviour would have felled the monarchy decades back if there had been a more invasive media then.