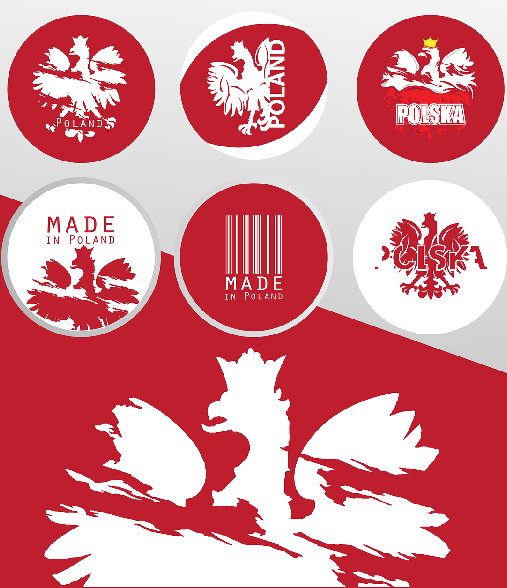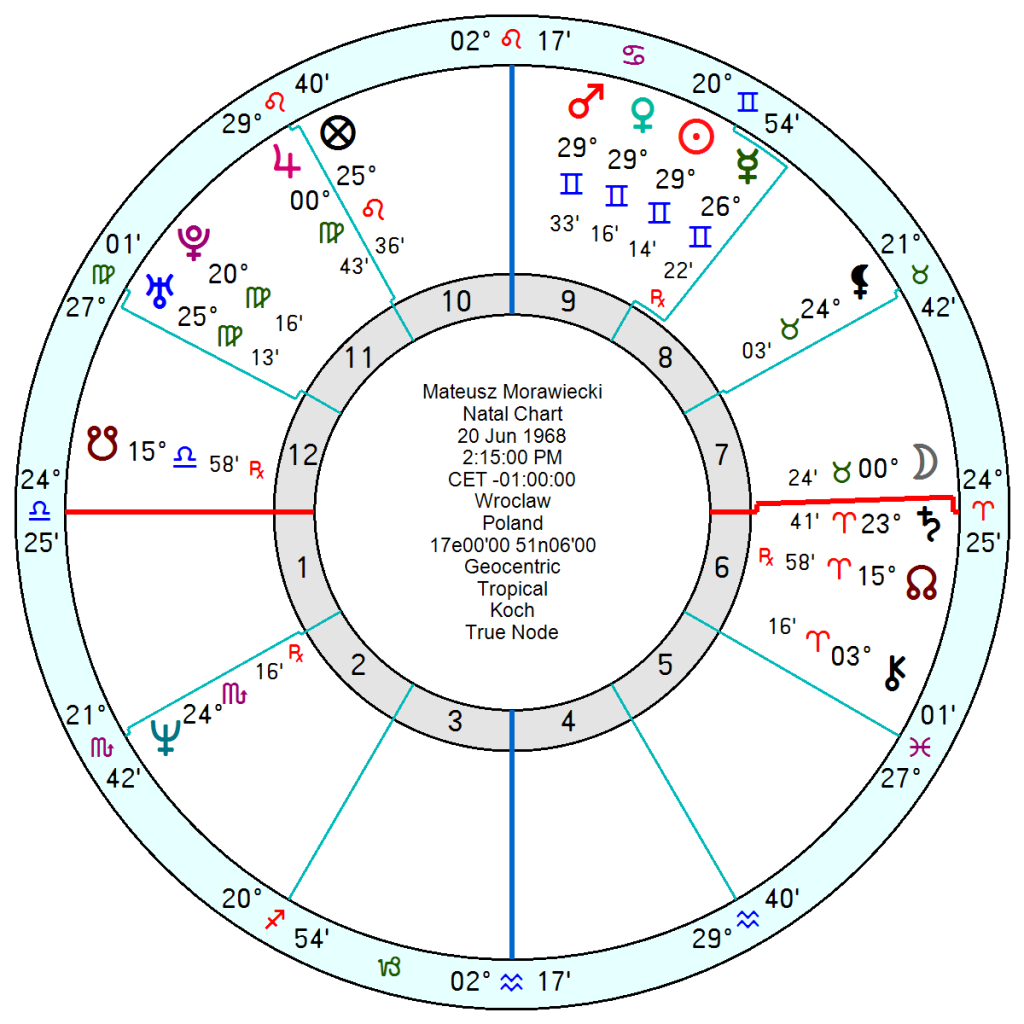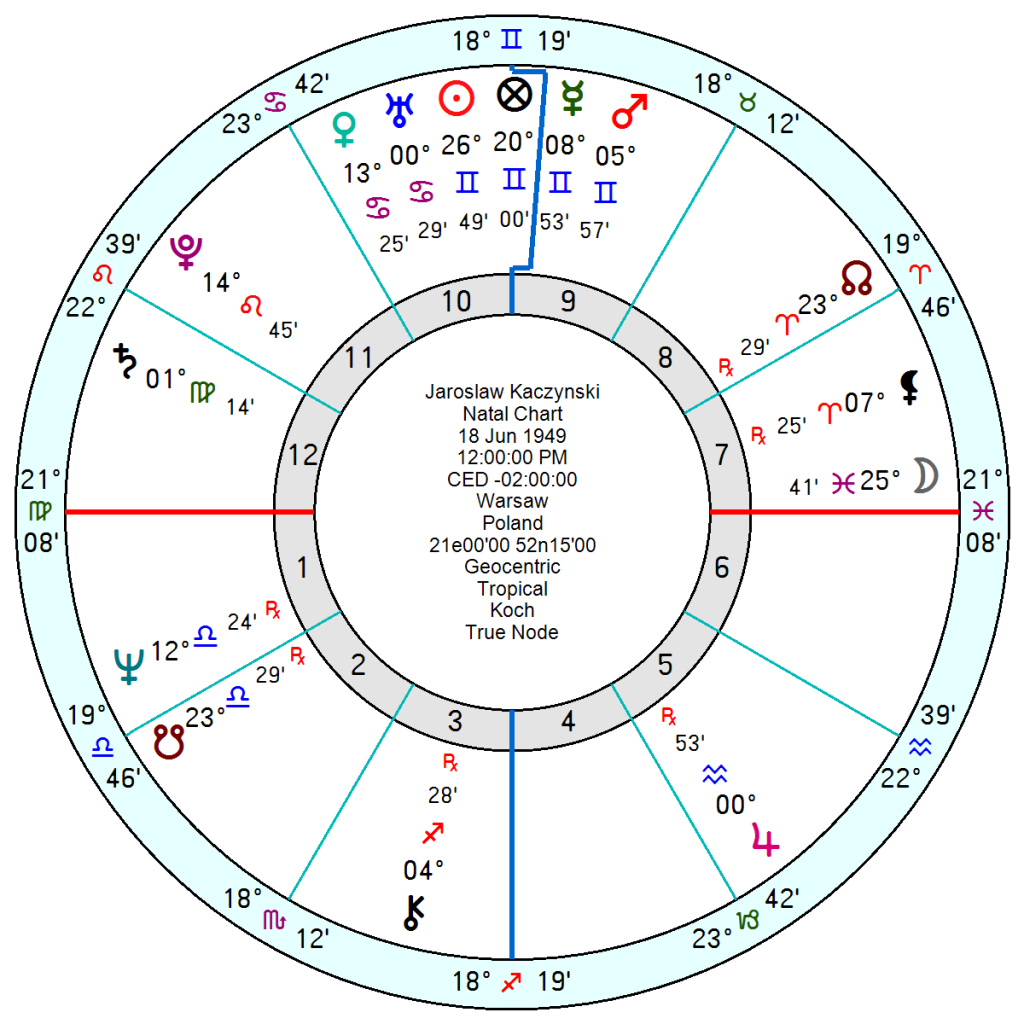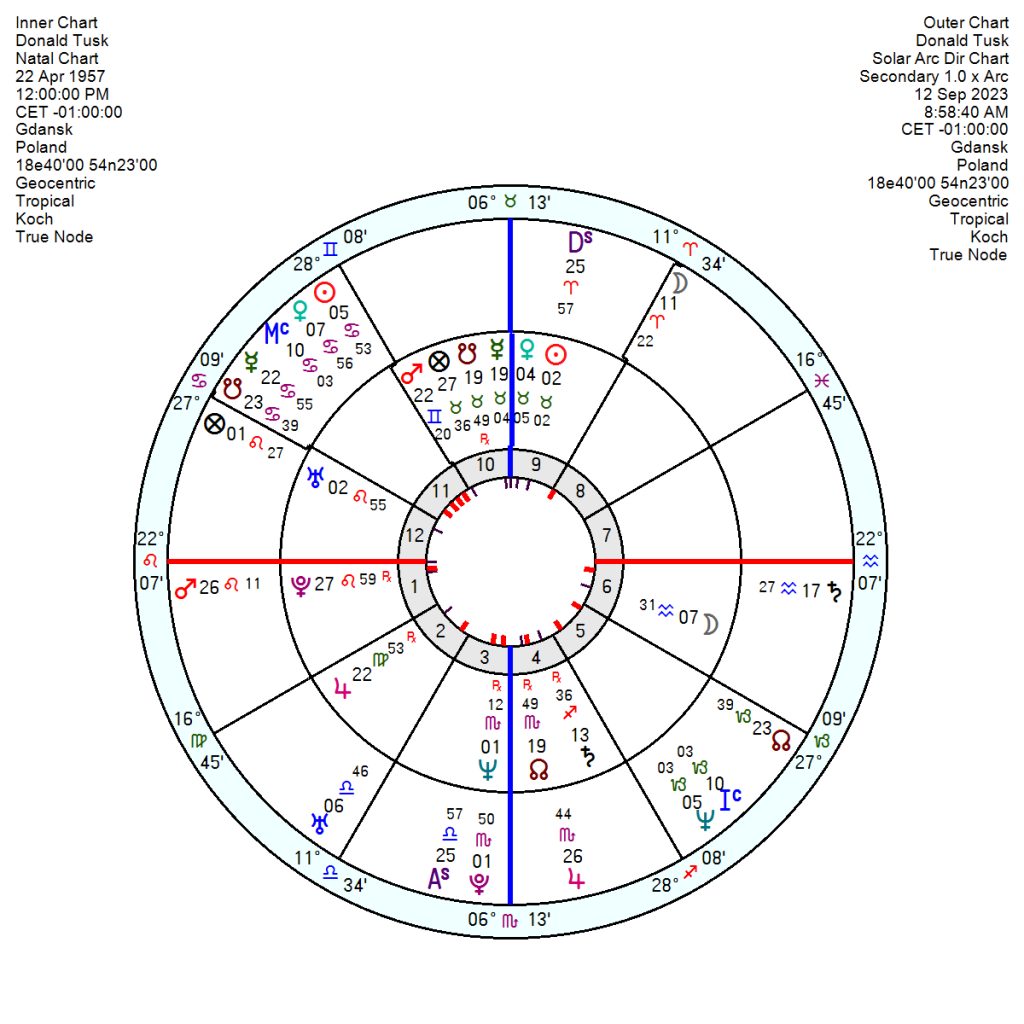 The Poland elections on October 15 are being seen as pivotal to the future of the EU and the outcome of the war in Ukraine as well as the most important election in Poland since 1989. "Depending on the outcome, the country will either reorientate itself as a euro-enthusiastic rising democracy or will commit further to an illiberal turn at loggerheads with Europe over the rule of law and enlargement."
The right-wing populist Law and Justice Party in power since 2015 has polarized political debate, ramping up the kind of identity politics which have dominated the US, UK and elsewhere. Jarosław Kaczyński, the leader, and Mateusz Morawiecki, the prime minister, face opposition leader Donald Tusk. Commentators reckon the result will be so narrow that fresh elections will be required within a minimum of two years.
The Prime Minister, Mateusz Morawiecki, 20 June 1968 2.15pm Wroclaw, Poland, a Sun, Mercury, Venus Mars in Gemini square Uranus Pluto in Virgo, looks deflated over the election with tr Saturn opposition his Jupiter and in for a sudden change with his SA Midheaven conjunct his Uranus. And has a mixture ahead of undermining Neptune through into 2025; and some upbeat influences late this year into 2024.
Jarosław Kaczyński, 18 June 1949, another Sun, Mercury, Mars in Gemini, looks seriously aggravated at the moment, with tensions rising later in the year. He would not give in easy since Pluto is conjunct his Jupiter through till late 2024 but he is not in a progressive phase.
Donald Tusk, 22 April 1957, whose main policy is to oppose the government, is a Sun, Venus, Mercury in Taurus so should in theory be heled by Jupiter moving through Taurus But he is looking jangled and jolted now, downbeat and devastated in 2024. With maybe just maybe a glimmer of uplift in later 2024.
What may be an indicator is that tr Uranus is now trine tr Pluto suggesting the beginnings of a shift into a new scenario – which may not come immediately for Poland but will make its influence felt over time.
I keep trying to work out why we have been cursed with all these yowling, damage-wreaking, rabble-rousing Geminis since the middle of last decade – Trump, Boris etc etc etc. It must be something in the celestial waters.