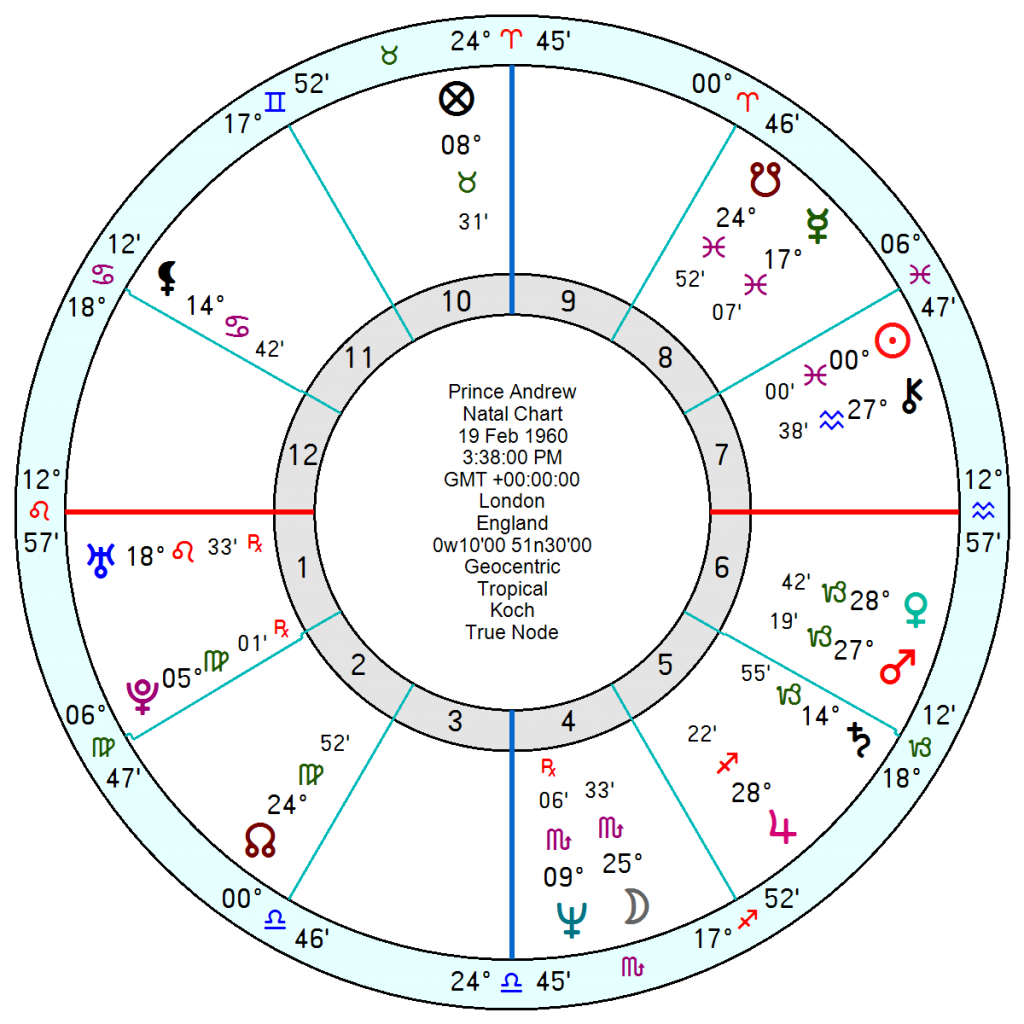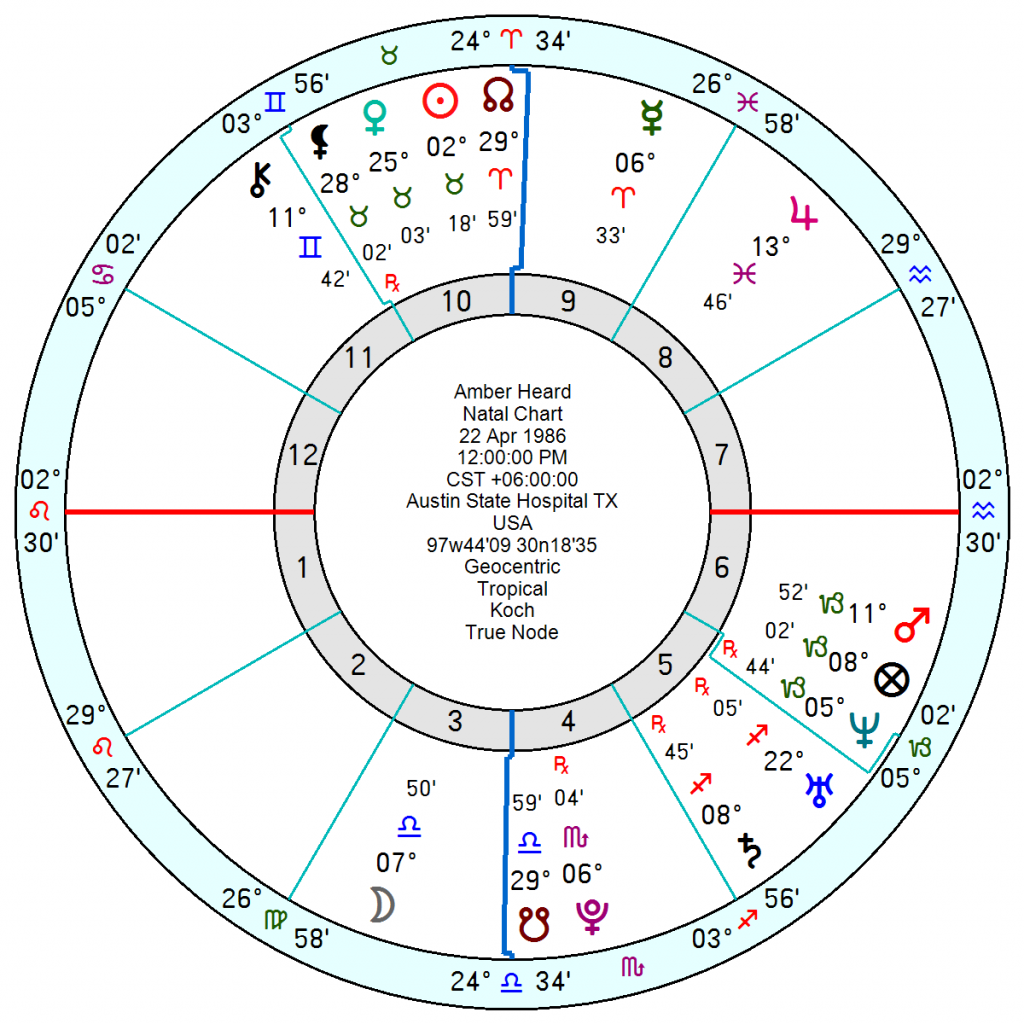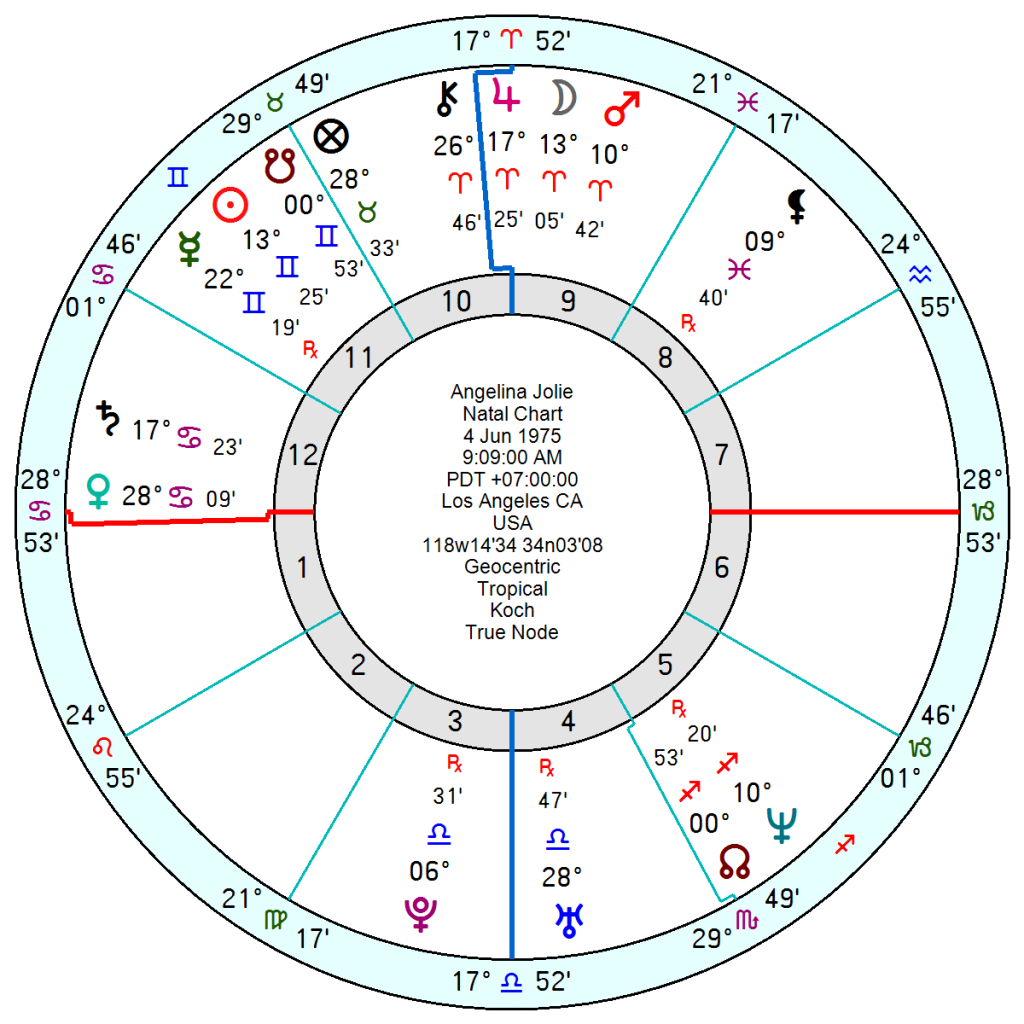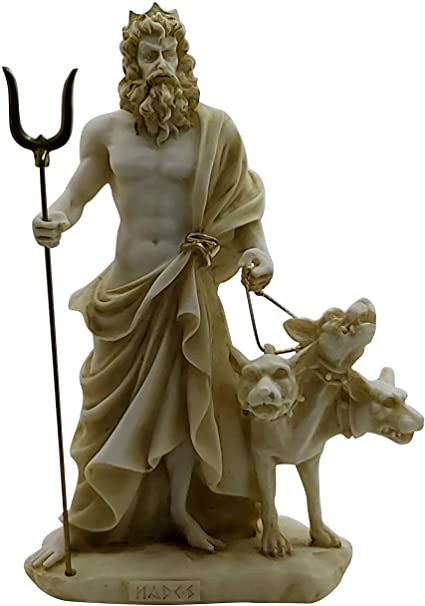 Two revealing examples of Sun opposition Pluto in action hit the headlines this week from two over-exposed personalities who refused to concede defeat, when a tactical withdrawal down a very deep rabbit hole might have seemed sensible. Prince Andrew and Amber Heard both declared war on common sense.
Amber Heard with her Sun Taurus opposition Pluto lost her libel suit against Johnny Depp, was absolved by him from paying the multi-million dollar damages bill and promptly leapt back out to repeat the allegations that had landed her in court in the first place. And Prince Andrew with breath-taking hubris, entitlement, delusional lack of common sense and realism – I'm not even sure how to describe it – thought he could sashay back into his princely role and the public domain, having been banished mere months ago. Never mind the sexual Epstein imbroglio, his career has been swamped by connections to dodgy billionaires and sleazy financial scandals which had him booted off the trade envoy role, with an endless stream since – all of which evoked an almost sociopathic lack of shame.
Sun Pluto hard aspects may differ slightly between the genders, since men will tend to act out the dominating side while women can in their younger adult years live out the submissive side. Though that is not a hard and fast rule. It can make individuals overbearing, with a tendency to compel others to fit into their world view; and be aggressive in the sexual sphere. There is an intense need to express and impose their will on those around and a desperation to be seen as not only in control but also appreciated as perfect. Underneath which is always a deep sense of shame stemming from a damaged sense of identity. More than anything they fear letting go which is an essential part of the transformation process. They hang on and stagnate.
Andrew appears to have had Pluto's bullying streak from early in his life – for some it takes adulthood to become empowered, however imperfectly. He was referred to by Prince Philip as 'the boss', played unkind pranks on family members, was over-indulged by the Queen and developed an unbalanced sense of his own importance. His pomposity depended on him being second in line to the throne which was pricked as Charles' children arrived and he slid down the rankings.
His insensitivity and lack of empathy is legendary to an extent where it could be seen as a symptom of a pathology. When the Queen mistakenly sent him to Lockerbie on a sympathy mission after a devastating passenger plane crash, he blithely informed the locals that it was worse for the Americans – who lost more numerically – and anyway such a crash was 'only a matter of time.'
His Plutonic tendencies are exacerbated by his 4th house Scorpio Moon which will obdurately set his face against admitting failure or letting go.
Added to which he has a deeply secretive 8th house Mercury in Pisces. It is interesting for another reason apart from the Scorpio resonance of the 8th since it sits on one leg of a Yod sextile Saturn inconjunct Uranus in his 1st house. A focal point Uranus can be a trailblazer but it can also be willful, defiant, disruptive, intolerant and lawless. And when it is triggered it indicates a fated change of direction. Tr Uranus will move to square his Uranus from this July onwards so a strategy for burying Andrew might (maybe) appear.
Transiting Uranus opposition his Moon in 2024 is likely to be the key upheaval following since it suggests major upsets and changes at home and in the family, perhaps affecting the Queen. When she goes so does his lifeline to status.
On a quick look at his astrocartography, central Australia in the empty quarter is a possibility with his settled-at-home Sun IC line there, which also runs north through South Korea. Kazakhstan where he has had some questionable alliances in the past has his Jupiter on his IC so he would feel at home there – although his old friends appear to be in hot water so probably not too welcoming just at the moment.
I've always wondered whether the rumours about his parentage, being perhaps the son of Lord Porchester, the Queen's racing manager, might have affected the way the Queen treats him and indeed his own off-balance personality. It was a well-accepted certainty in racing circles before it emerged into the mainstream and such a state of affairs is hardly pass remarkable amongst the aristocracy. The story has sunk into the background in recent years, out of respect for the Queen.
What is intriguing – though no proof of anything – is that Porchester's Capricorn Sun, 19 January 1924, is exactly conjunct Andrew's Venus Mars; Porchester's Uranus is conjunct Andrew's Mercury and his Neptune conjunct Andrew's Uranus – so he hits all of Andrew's key points. And Porchester's Saturn and Mars fall in Andrew's 4th so an awkward family/domestic connection.
It was an easier and more affectionate relationship than Andrew had with Prince Philip. Though no doubt all of this will have to wait for a respectable distance into the future to be finally nailed down. Porchester died on 9/11.
The other strongly Plutonic and can't-let-go type is Angelina Jolie whose separation from Brad Pitt is dragging on endlessly – her Sun is trine Pluto but her Moon Mars is opposition Pluto and square Saturn which is beyond unyielding.
For Heard see 13 April 2022 and 7 July 2020.
Apologies for Royal overkill and flogging a dead horse – but I am eternally fascinated by what makes people tick. Or rather what lies behind bizarre behaviour.
Any Pluto examples welcome.