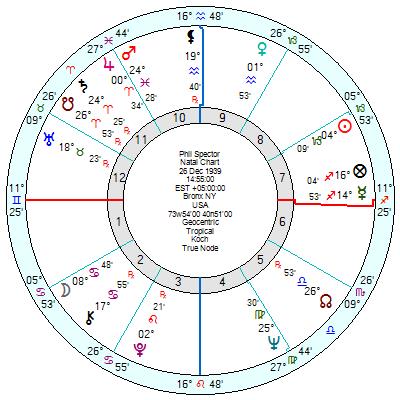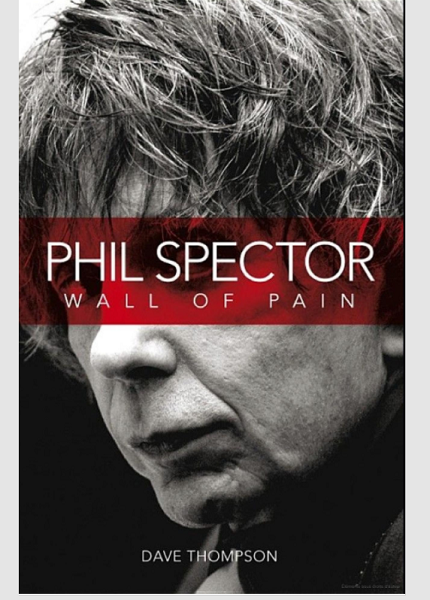 Phil Spector, record producer extraordinaire, a driving force behind the Wall of Sound – the Ronettes, the Crystals, Ike & Tina Turner and worked with the Beatles, Leonard Cohen and the Ramones – has died in a prison care home where he was incarcerated for murder. Another creative talent with significant mental challenges, he had been diagnosed with bi-polar disorder and struggled with his psychological state for many years, before shooting a cocktail waitress dead.
One of his wives related horror stories of her marriage to him as did his children of their treatment(wiki). If true they paint a picture of not just a disturbed man but one who was drowning in his own darkness.
  Born 26 December 1939 at 2.55pm in New York to a first generation immigrant family with his father suiciding at 8, he took up music in his teens, formed a band and had a hit with the Teddy Bears 'To Know him is to love him.'
He had an 8th house Capricorn Sun opposition a Cancer Moon square Jupiter in Aries – intense, money-minded, in tune with public taste (Cancer Moon) and super-confident (focal point Jupiter). He also had a showbizzy and head-in-the-clouds Mars in Pisces conjunct Jupiter opposition Neptune which was sextile/trine Venus opposition Pluto. His Venus opposition Pluto also squared onto a forced-to-be-self-reliant Saturn in Aries opposition a Libra North Node.
It's not an exceptionally brutal chart but is certainly conflicted more than most.
His creative 5th and 7th Harmonics are well aspected. Most notable are his rise-and-fall, self-defeating 10H; and his victim 12H.