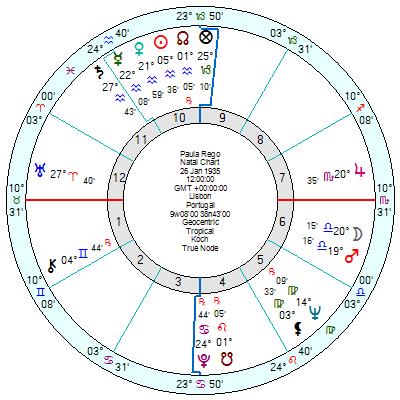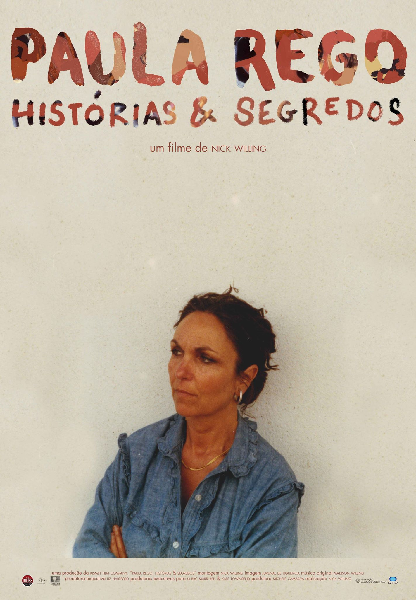 Paula Rego, the Portuguese born painter now in her late eighties is getting rave reviews for her exhibition at the Tate in London.
  One says: "Her narratives have the darkest undercurrents of violence, eroticism, oppression, even incest, and at the same time the look of children's fables and proverbs."  Her "deeply ambiguous work goes straight for the subconscious in this mesmerising seven-decade retrospective." "A stunning achievement."
She was born on 26 January 1935 in Lisbon with an anti-fascist father who went to London to work when she was one years old so she was handed over to her grandmother until her parents returned four years later. She was educated latterly in England, attended the Slade Art School and married British painter Victor Willing, who was later diagnosed with multiple sclerosis.
Her chart is challenging to put it mildly. An unaspected Aquarius Sun will give her an aloof, almost unresponsive quality where others are concerned, totally absorbed in her own world. She has a volatile, controlling and high-risk Cardinal T Square of Mars (Moon) in Libra opposition Uranus square Pluto – so will have been aware of anger, danger and domination from early on. Her Pluto is in a confident trine to Jupiter in Scorpio. A cool, emotionally detached, analytical Saturn in Aquarius is conjunct her Mercury Venus, square Jupiter and trine Mars.
Not an easy personality, for sure, driven by demons. Her relationship with her husband, 15 January 1928, would have been complicated and stressed with his Capricorn Sun opposition her Pluto square her Uranus and Mars; and his Neptune opposing her Saturn. But the relationship chart does have a mutually supportive composite Sun Jupiter sextile Mars so there would be positive sides to it. Though the composite Venus is conjunct Saturn opposition Pluto and square Uranus – so there would be considerable chafing against the chains that bound them together.