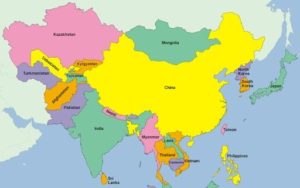 Kim Jong Un may be mad and nasty but he's also smart and is pushing on in the face of global condemnation with amazing sang froid. The signs are that he's about to launch a ballistic missile. He's hit China at an awkward moment as they head for the five year Congress after mid October, when President Xi Jinping wants to consolidate his power base. He doesn't need the distraction, certainly not a situation where he doesn't have any more good options than the US. Supporting the US is unthinkable; as is the prospect of a destroyed North Korea pouring refugees across the China border; and trade retaliations for his inability to shut Kim Jong Un down would damage the China economy at a critical time. South Korea and Japan are on high alert, as is Guam.
If I had to guesstimate when flash point would be, I'd go for November which crops up on a good many of the relevant charts – South Korea, the Japanese Prime Minister, the South Korea/NorthK relationship chart, the South KoreaPM Term chart, as well as Defense Secretary James Mattis. Mattis looks extraordinarily stressed through 2018/19 as well.
It could come sooner, since often events precede exact aspects. The US chart certainly looks aggravated at the moment with tr Saturn opposition the Mars and then across late September to mid October tr Saturn squares the US Neptune – so an extended few weeks of high uncertainty.
Xi Jinping's Presidency chart looks to be facing a setback at the October 19th Congress with tr Saturn square the Sun and tr Uranus conjunct the Solar Arc Moon; which is reflected on his own chart with jolts, jangles, shocks and total upheavals; with worse in 2018.