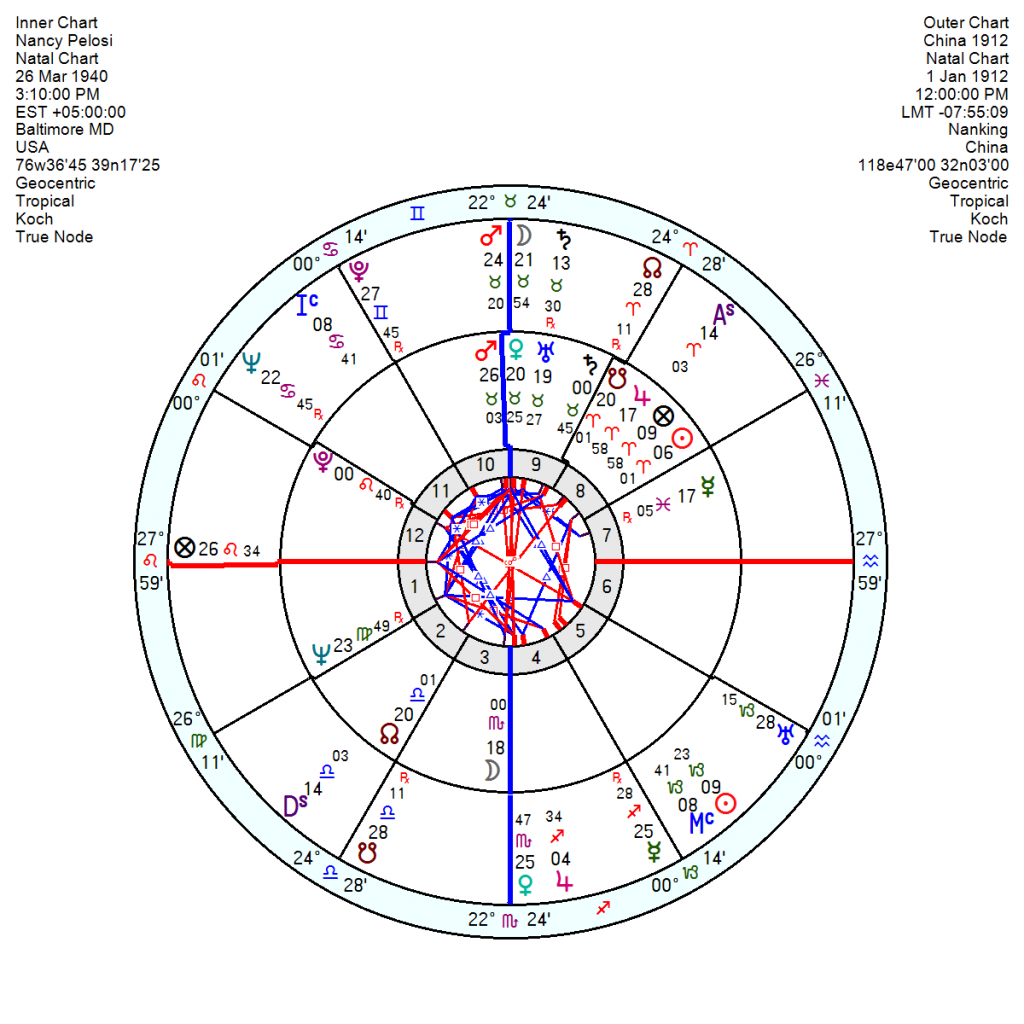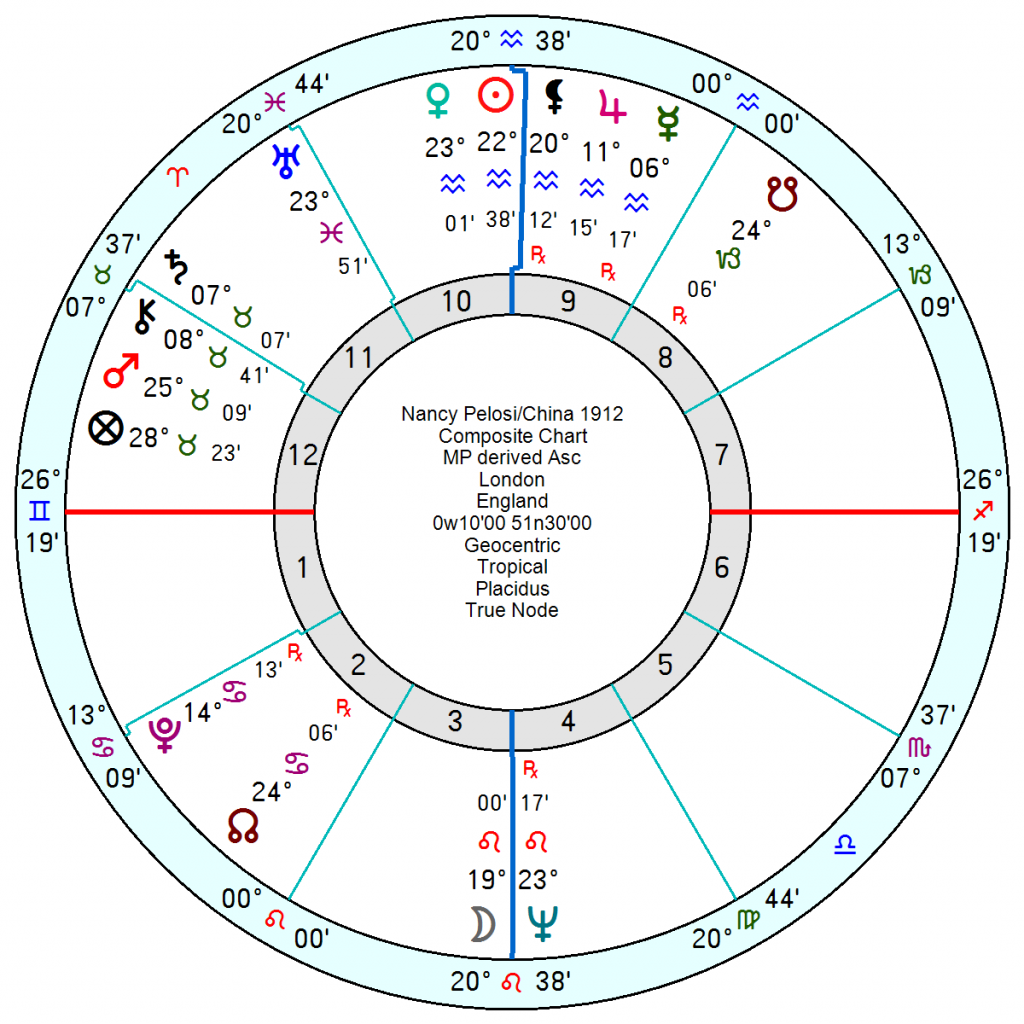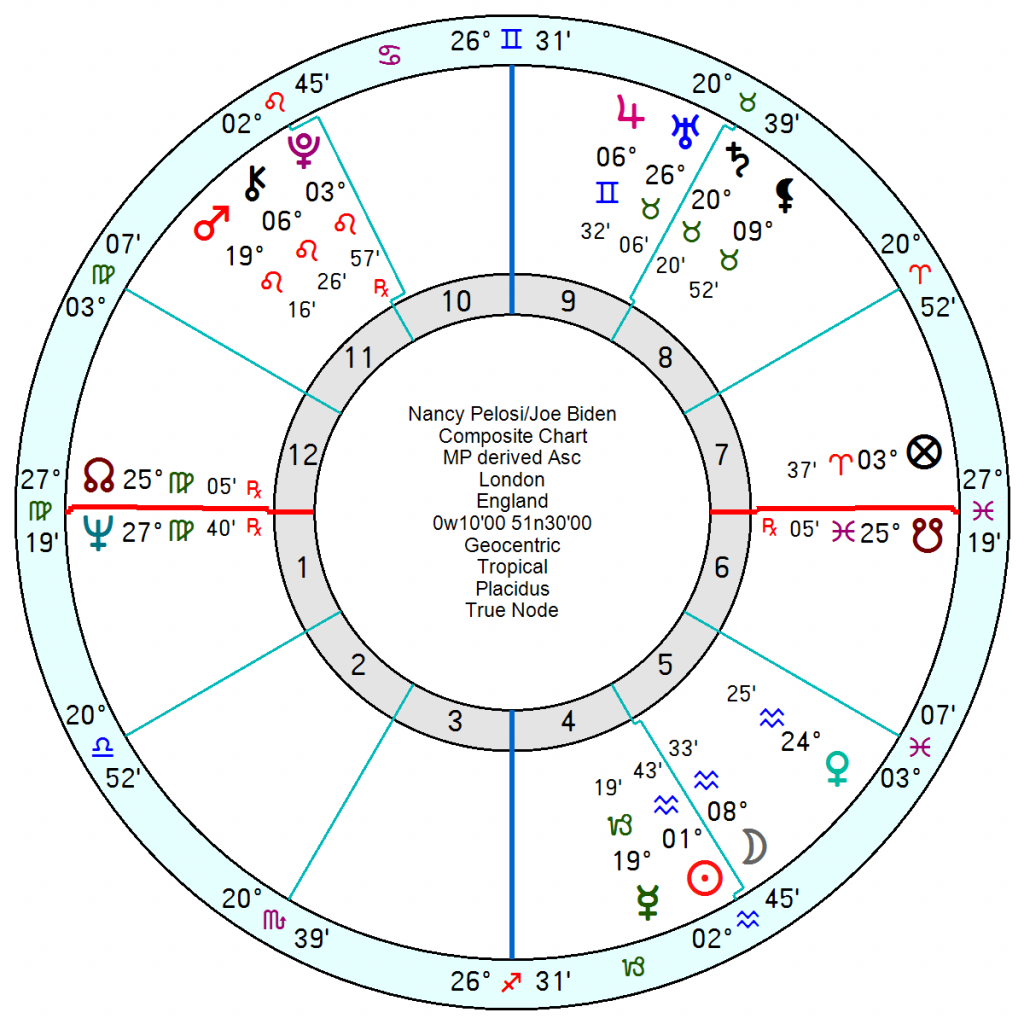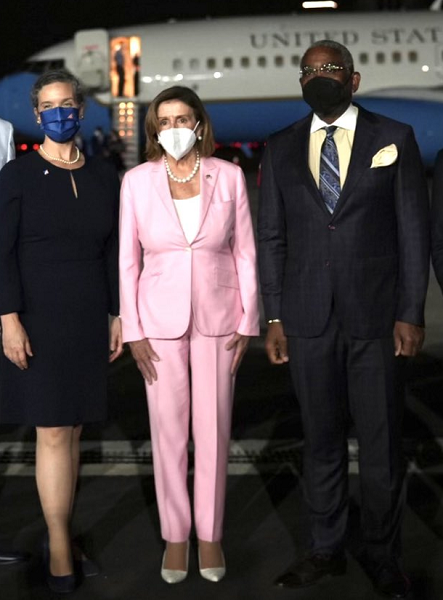 Nancy Pelosi has been accused of grandstanding and china-baiting in her swansong tour of the far east including Taiwan. The White House raised concerns about the visit and even Taiwanese locals are wary that she'll cause unnecessary trouble. She has been incensed about authoritarian China since the Tiananmen Square riots were brutally suppressed in 1989.
Nothing much budges her when she has set her plans with a substantially Fixed chart. She was born 26 March 1940 in Baltimore, MD, with a biography time of 3.10pm, which puts a formidable collection of Mars, Venus and Uranus in Taurus on her Midheaven opposition a Scorpio Moon. She also has Pluto in Leo square Saturn in Taurus and and 8th house Aries Sun.
Her Mars is conjunct the destructive Fixed star Algol so she's a determined fighter and her Mars Venus Uranus are conjunct the China 1912 Mars Moon in Taurus with the China Saturn conjunction her Uranus. So not an amiable connection. Two formidable opponents.
Her relationship chart with China 1912 is under discouraging, separating influences this year. The already fraught, suspicious composite T Square of Sun Venus opposition Neptune Moon square Mars is catching tr Saturn hard aspects this year and next with worse in 2023/24 as tr Uranus catches up to rock their boat further.
The China/USA relationship chart is uncertain this year, scratchy in 2023 and still in bulldozer-meets-brick-wall gear – depressing and neither side compromising.
Her relations with Joe Biden are never easy at the best of times since her heavyweight Taurus planets clash with his Scorpio stellium. Her unyielding Saturn square Pluto sit on his Moon square Jupiter so she'll douse his enthusiasm. Her Sun opposes his 10th house Neptune so she'll find him evasive and indecisive.
Their relationship chart has a New Moon opposition Pluto = power-struggling. With an aggravated composite Mars opposition Venus square Saturn Uranus which is being chilled by tr Saturn hard aspects this year and next.
If the Republicans take Congress at the Mid Terms she is expected to retire. And given her age that may happen whatever the outcome. Pluto moving into Aquarius will shift the trajectory of her life as it opposes her Pluto and squares her Saturn in 2023/24 and moves out of her 'performing' 5th house. 2023 is also the year of her Uranus Return.
PS. I use the 1 January 1912 China chart because it works better than the 1949 one.
See previous post on Taiwan 19 July 2022