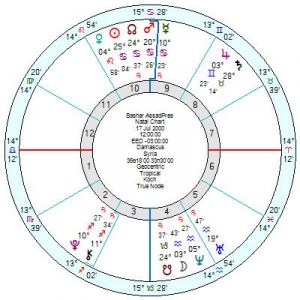 A radioactive boulder having been lobbed into the Middle East causing Ayatollah Khamenei to vow revenge and Trump to counter-threaten further reprisals, the surrounding countries are on tenterhooks.
This is just a quick look round certain key charts. Apart from Iran, the two Soleimani allies most affected by his death are Syria's Bashar Assad and Hezbollah. Assad's Presidency chart of 17 July 2000, despite his recent 'win' always did look more pressured ahead with a trapped, high-risk tr Saturn Pluto opposition the Sun/Mars midpoint in 2020 and then opposition Sun at 25 degrees Cancer – so a potentially blocked and destructive three years ahead.
Hezbollah, based in Lebanon, who are one of Israel's main concerns, 16 February 1985, look devastated at the moment with their Solar Arc Sun square Saturn hitting on their Neptune exactly, bringing uncertainty and a significant setback. Tr Uranus is also triggering their pushily-confident Jupiter square Pluto between now and late March, which could provoke a definite response. Their relationship with Israel is on a sharp downhill slide from late March onwards for several years ahead with tr Neptune square the composite Mars and then opposition the composite Pluto Uranus.
Israel is alarmed at present with tr Uranus square the Sun/Neptune midpoint; and foreseeing disruptive changes with tr Pluto square the Jupiter/Saturn midpoint. This March could be a flare-up point with an emotionally upsetting tr Uranus square the 10th house Moon.
Netanyahu whose political future was hanging in the balance after indictment charges looks remarkably confident and successful from late March onwards with tr Pluto conjunct his Jupiter. Though relations between the Israel and the USA chart seem to be exceptionally strained from late March as well with tr Pluto picking up the opposition to the composite Mars which runs till late 2021; and an undermining and disappointing tr Neptune square the composite Sun slightly earlier in March (repeating into early 2021). There will also be a considerable upheaval in relations from late March into April.
Up in the skies the second half of March does have Mars in Capricorn conjunct Pluto and Jupiter and then in Aquarius conjunct Saturn – which looks risky, angry and could be violent.
Saudi Arabia, 15 January 1902, is certainly in for an event-filled year with times of major confidence (over?) and deflating setbacks. At the moment and through January there'll be an urge towards impulsive action, rising excitement and a tendency to over-reaction from tr Uranus square the Sun/Mars midpoint; which will, if anything, become more marked from July onwards as tr Uranus squares the Saudi Mars which can bring an explosive mood, high-insecurity and lead to hasty and unwise retaliation. In between tr Pluto will conjunct the Saudi Sun Jupiter from late February onwards for two years which could lead to soaring over confidence, but with tr Saturn also in effect and the Saturn/Jupiter and Saturn/Sun midpoints being triggered in 2020 it'll be one step forwards, one step backwards.
Mohammed bin Salman,  31 August 1985, the reckless Saudi Crown Prince, looks more pumped up than usually at the moment with tr Uranus triggering his Jupiter Pluto Venus T Square – at the moment tr Uranus is opposition his Pluto, moving to square his Venus and Jupiter  from lat5e May, on and off till early 2021. This could bring lucky breaks as well as hasty initiatives.
Too many charts, too much data but some of it may be helpful.