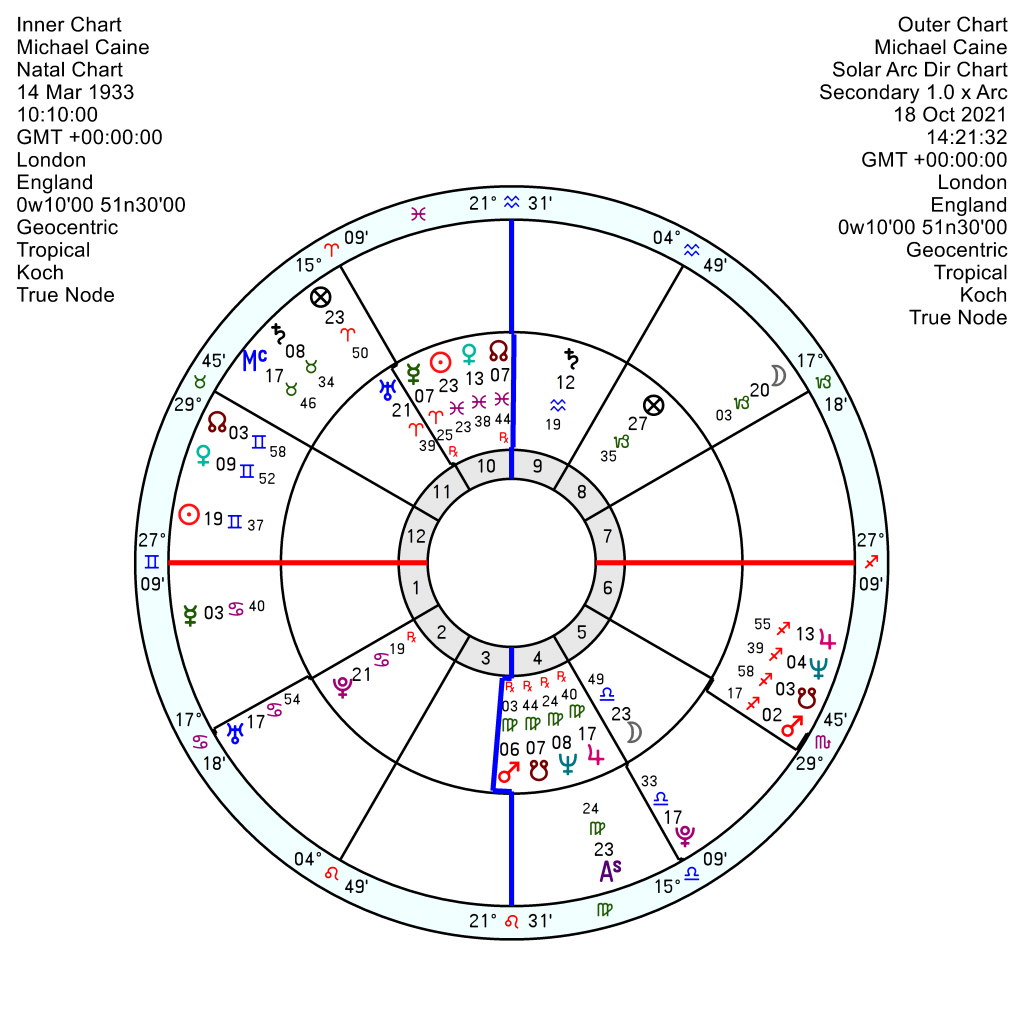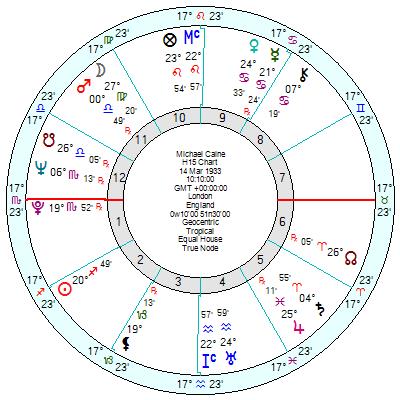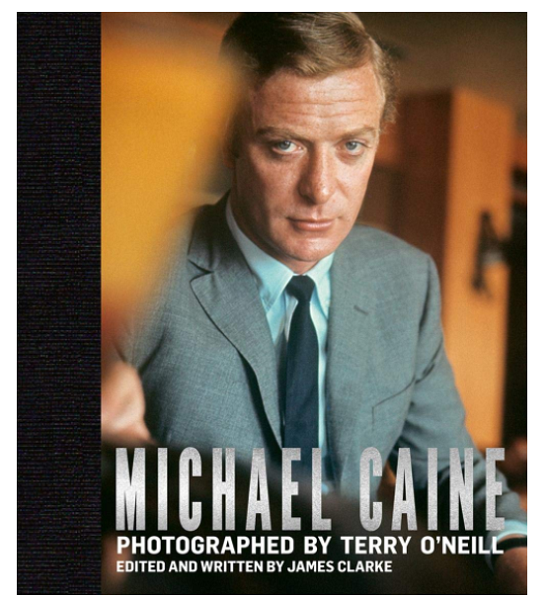 Michael Caine despite headlines to the contrary may not be retiring after all as scripts continue to roll in, albeit slower than in his heyday. Now 88 he's written successful books recently and had back problems which have kept him anchored for a while. But he's clearly still keen to see what is on offer.
Born 14 March 1933 at 10.10am in London with a Billingsgate-porter father and a cleaner mother, the family lived in a house with no electricity in a slum. He dreamed of becoming an actor to give him another life and played bit parts on stage and TV through his twenties before hitting it big in Zulu and then The Ipcress File when he had turned 30. And never looked back with 130 movies now to his credit.
He has a 10th house Sun and Venus in Pisces, making him ideally suited to a filmic career; with his Sun in a confident opposition to Jupiter in Virgo and a determined trine to Pluto; and his Venus is opposition a showbizzy Mars Neptune and Jupiter. His Libra Moon is in the entertaining/performing 5th house opposition Uranus square a 2nd house Pluto – so a tumultuous domestic and emotional life and a tendency to over-control financially and in other ways.
He may drift a little through 2022 with tr Neptune conjunct his Sun but that could suit movie-land as well.
  His actor's 15th harmonic is exceptionally well aspected, linking an influential Pluto to an easy-going Jupiter Venus and the Moon, which last rules the public.  His 22nd Harmonic hinting at global success is also emphasised.
He does come across occasionally as resentful – which will be his focal point Pluto. But I met him once and he was extremely charming and supremely professional. Turned up on time, did everything he was asked courteously, spoke fluently, smiled and left. Most impressive.
  His 1933 generation did produce some notables, see Jean Paul Belmondo see post 7 September 2021.
"The — exuberant and attention-attracting, and hard-working Mars, Neptune and Jupiter in Virgo which was around from late November 1932 till July 1933 produced a considerable number of names – Yoko Ono, Kim Novak, Nina Simone, James Brown, Carol Burnett, Ruth Ginsburg, Quincy Jones, Philip Roth, Michael Caine, Elizabeth Montgomery, Jayne Mansfield, Willie Nelson, Gene Wilder, Joan Rivers, Joan Collins. That plus the determined-to-be-different Uranus Pluto would make them stand out."