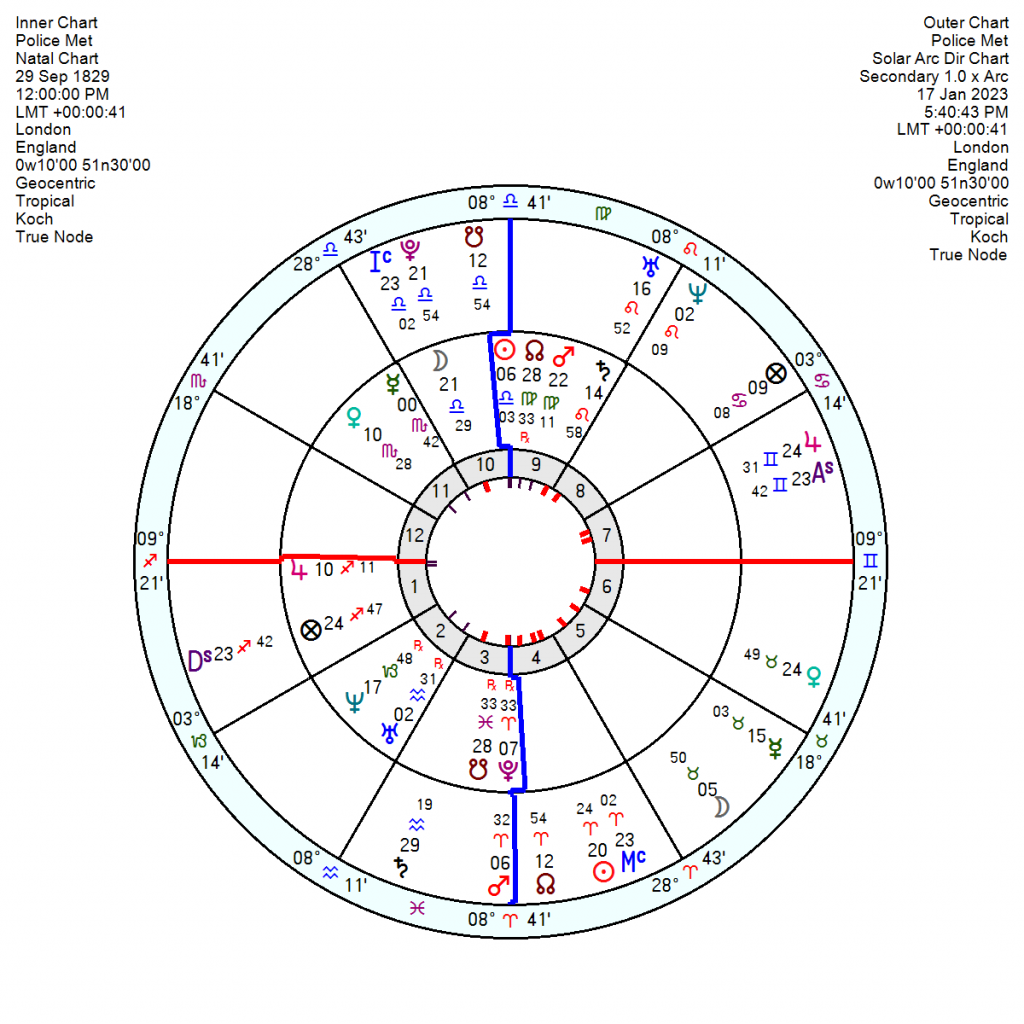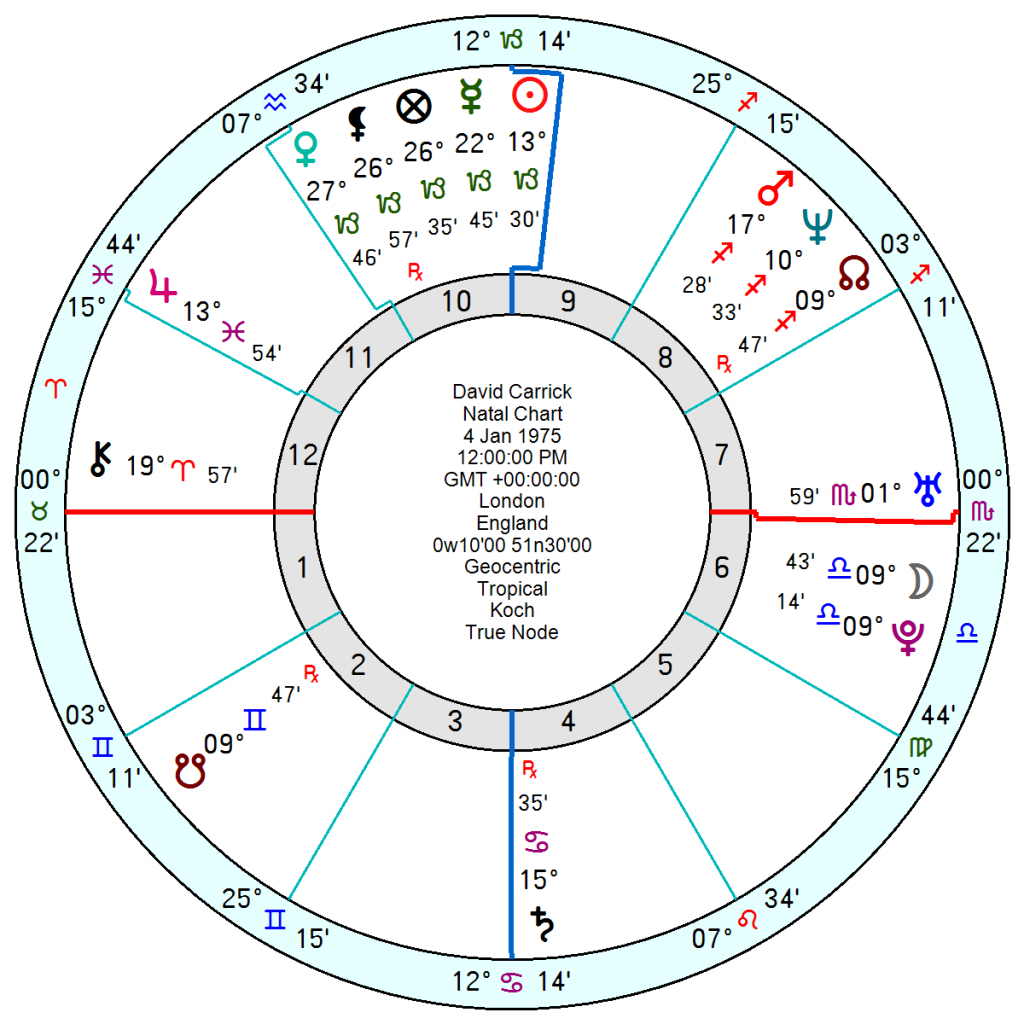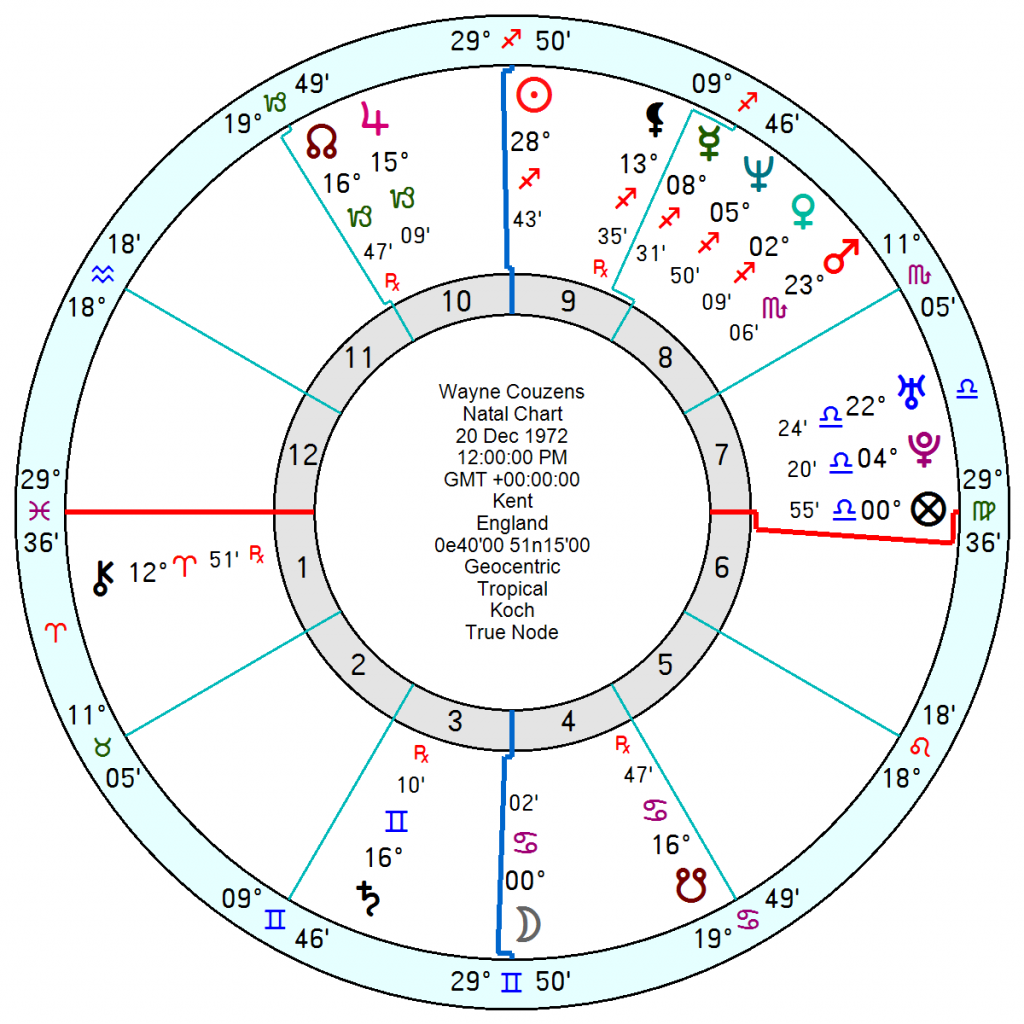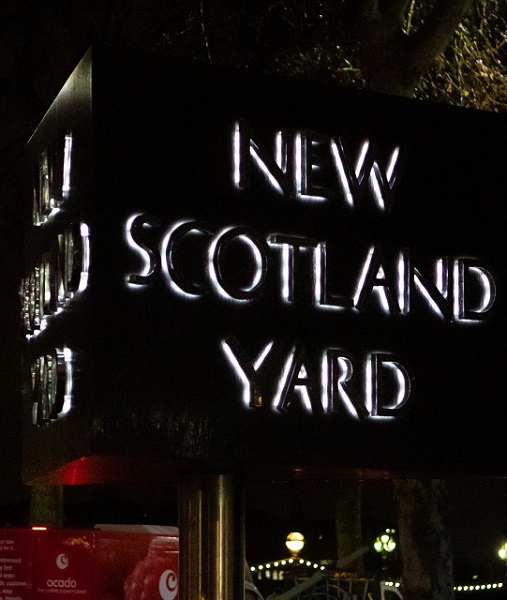 One of the UK's worst sex offenders turns out to be a Metropolitan police officer, who has admitted 51 charges of rape and domestic abuse over 18 years. David Carrick was allowed to keep working even after he had been arrested on a rape charge days after Wayne Couzens, another serving Met police officer was sentenced for rape and murder recently. Multiple criminal complaints about Carrick were routinely ignored. It turns out 800 Met officers are now being investigated for over 1,000 sexual and domestic abuse claims. More than half of Met officers found guilty of sexual misconduct over a four-year period to 2020 remained in their jobs.
The media and political response has been one of outraged disbelief.
It was always clear from the Metropolitan Police chart of 29 September 1829 that there would be a massive, catastrophic setback coming with the Solar Arc Mars moving to conjunct the Met Police Libra Sun now and, worse, conjunct the Pluto over coming months into 2024. And both Carrick and Wayne Couzens, born in the 1970s, have their Pluto in early Libra fitting into the Met controlling, power-hungry Sun opposition Pluto. Not just rotten apples in the barrel but fitting in with a corrupt, misogynistic ethos.
Carrick, 4 January 1977 has a peculiarly bleak and hard chart with a Capricorn Sun opposition Saturn square Pluto (Moon) in Libra – unyielding, un-empathic to put it mildly especially towards women. His Neptune in Sagittarius is conjunct the Met Jupiter to allow him to slither around as he pleased and his Sun is conjunct the Met Neptune allowing him to evade scrutiny.
Couzens, 20 December 1972, convicted of the rape and murder of Sarah Everard, had his Jupiter conjunct the Met Neptune compounding the look-the-other-way Met mentality.
Their respective relationship charts with the Met indicted they fitted in comfortably to the force. Carrick had a composite Sun sextile Jupiter and Mars square Neptune. While Couzens had a composite friendly Sun Venus conjunction and an over-optimistic Jupiter Neptune.
Sir Mark Rowley, the new Commissioner, has his work cut out ahead to sluice out the Augean stables. His Term chart from 12 September 2022 does have a reforming, practical Grand Trine with Uranus to Pluto to the Sun but since it all focuses onto Neptune it may turn out to be a damp squib.
The Met ahead has tr Uranus square the wannabe-important Saturn in Leo, shaking its amour propre now and into next month. With tr Pluto square the Mercury from late March bringing bitter discussions and arguments for two years ahead and more as tr Pluto is conjunct the Uranus in 2024/25. That last might suggest a major clear out but there is a sense of drift in the last few years of this decade as tr Neptune squares opposes the Sun and is conjunct the Pluto.
Though I suppose looking on the bright side tr Uranus giving a mighty tug to one leg of the Met Grand Trine of Pluto trine Saturn trine Jupiter exactly now might be expected to see some shift in direction and that plus tr Pluto conjunct Uranus in 2024/25 could also upend the status quo and bring in new practices.
Whatever happened to the trusted Brit bobby? Scary in London with trust completely broken. And given that overall in England and Wales there is a 1% conviction rate for rape with the police being the initial gatekeepers after the event, it is beyond imperative that attitudes within the force are forcibly hauled into modern times.