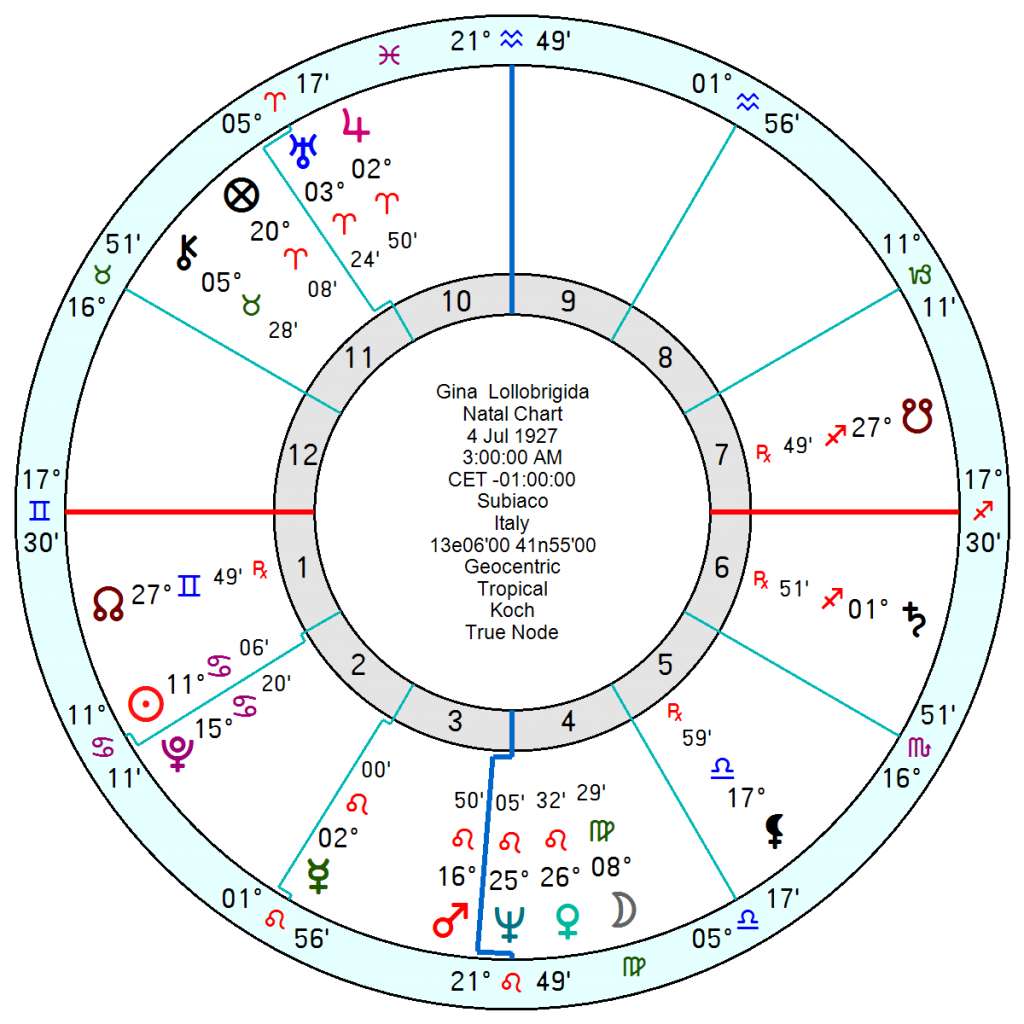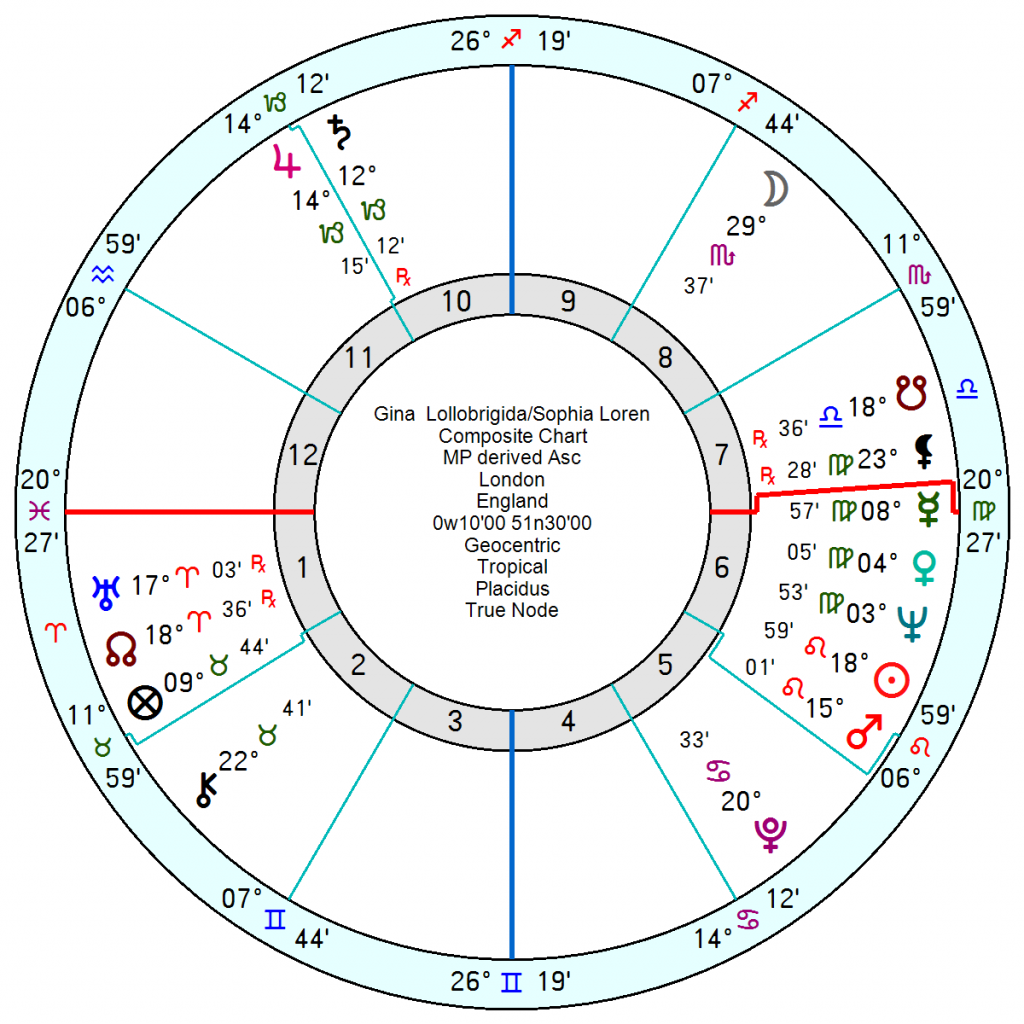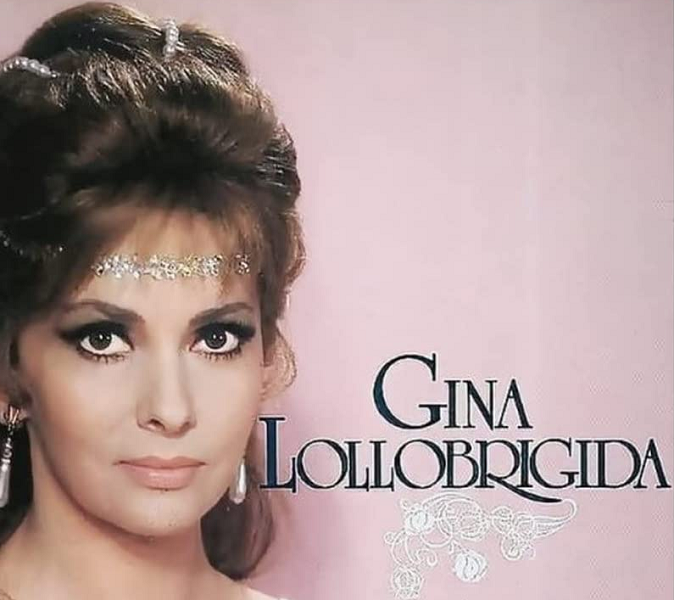 Gina Lollobrigida, sultry and prolific actress, a post-war international sex symbol acclaimed as one of the world's most beautiful women has died at 95. Known as "La Lollo", the "temptress of the Tiber", she made a film a month in the 1950s and by the 1970s was setting up a second career as a highly-thought-of photographer.
She did not respond well to criticism and became litigious at the drop of a hat, which didn't stop her insulting her compatriot Sophia Loren as they conducted a public feud. "We are as different," she said, "as a fine racehorse and a goat."
Latterly she ran unsuccessfully for the European Parliament and for the Italian Senate.
She was born 4 July 1927 3am Subiaco, Italy and was an intense Sun Pluto in Cancer with an attention-demanding and inspirational Fire Grand Trine of an adventurous Jupiter Uranus in Aries trine Mercury in Leo trine Saturn in Sagittarius (which last can be prickly when criticised). She also had Mars, Neptune, Venus in Leo as well – flamboyant and entertaining.
Sophia Loren, 20 September 1934 2.10pm Rome, also had Mars in Leo – entertaining, passionate and ego-centric; with her Mars in a hard-edged opposition to Saturn Moon in Aquarius so was just as steely as La Lollo. Their relationship chart has an explosive and competitive composite Sun Mars trine Uranus which would not make for harmony and peace.
From old post on women/stars dying as Neptune exits sign.
1901: Neptune leaving Gemini – Queen Victoria dies.
1915: Neptune leaving Cancer – Mary Baker Eddy and Emily Davidson (suffragette who suicided by horse at the Derby). Florence Nightingale also died with Neptune in late Cancer (1911)
1929: Neptune leaving Leo – Emmeline Pankhurst (the great suffragette), Ellen Terry, Isadora Duncan.
1943 – Neptune leaving Virgo – aviator Amy Johnson, writer Beatrix Potter.
1957 – Neptune leaving Libra – Laura Wilder (Little House on the Prairie), scientist Irene Curie
1968 – Neptune leaving Scorpio – Helen Keller, Enid Blyton, Dorothy Parker, Vivien Leigh, Judy Garland, Little Mo, Sonja Henie, Gypsy Rose Lee, Sharon Tate.
1983 – Neptune leaving Sagittarius – Nathalie Wood, Anita Loos (Gentlemen Prefer Blondes), Anna Freud, Ingrid Bergman, Grace Kelly, Gloria Swanson, Ethel Merman, Lillian Hellman, Indira Gandhi.
1998 – Neptune leaving Capricorn – Princess Diana, Mother Theresa, Ella Fitzgerald, Ginger Rogers, Lana Turner, Evelyn Laye, Dorothy Lamour, Claudette Colbert, Margueurite Duras, Patricia Highsmith, Mary Leakey.
2011 Neptune into Pisces 2011/12.
Liz Taylor – March 2011
Amy Winehouse – July 2011
Jane Russell – Feb 2011
Whitney Houston – Whitney Houston Feb 2012
Esther Williams 2013