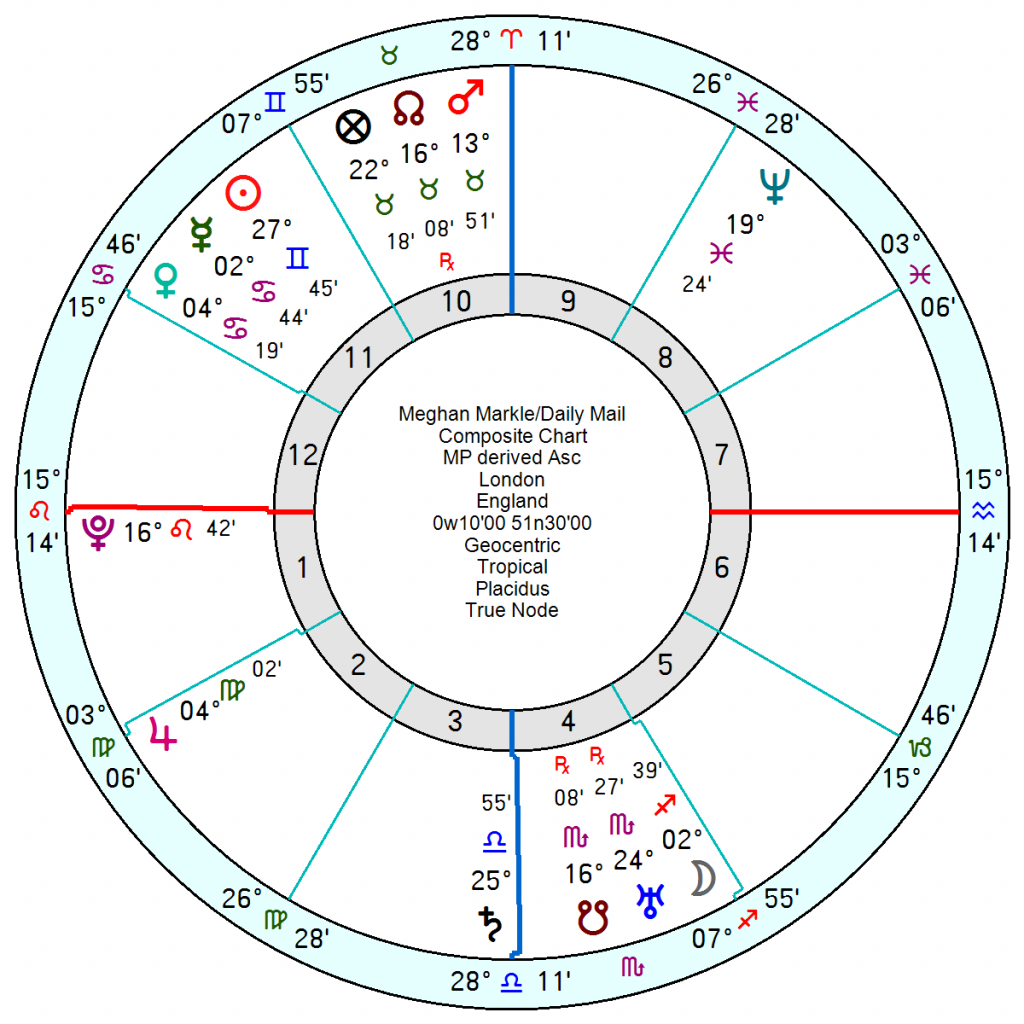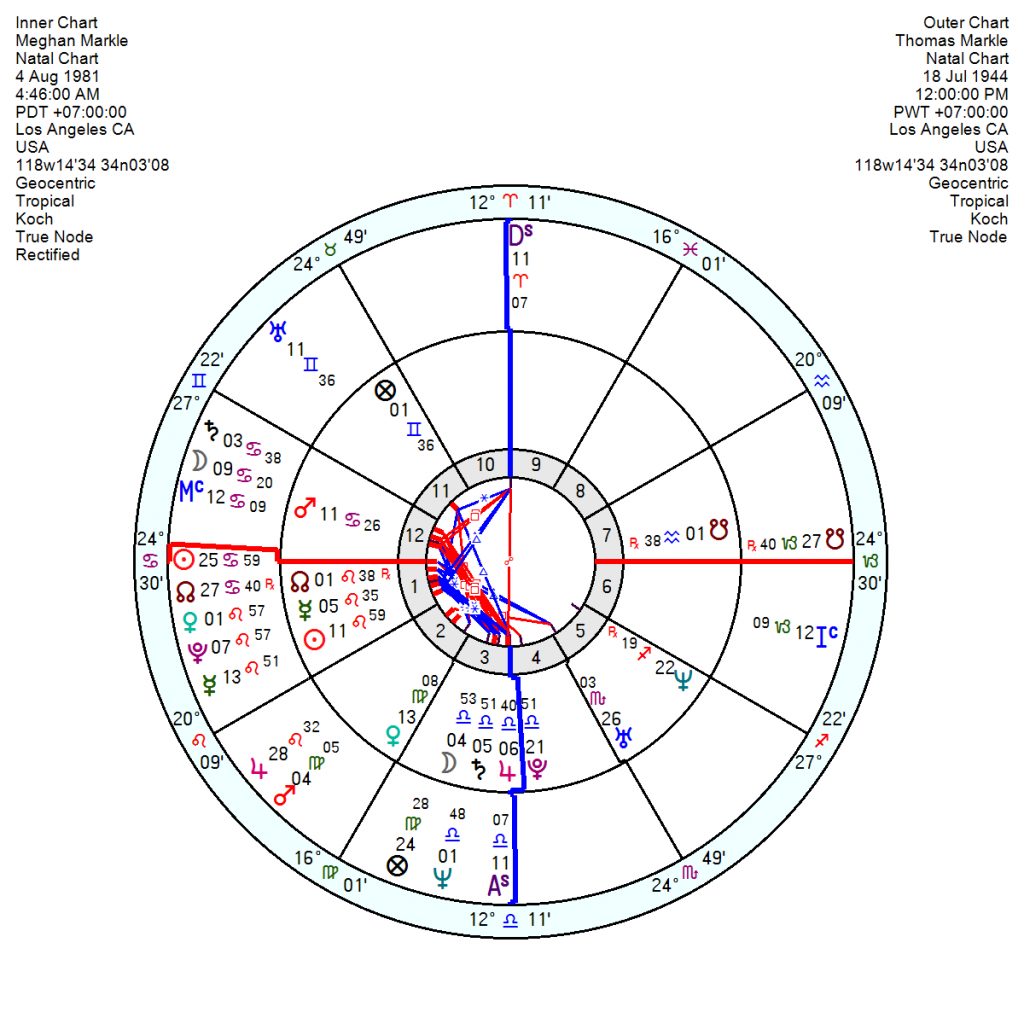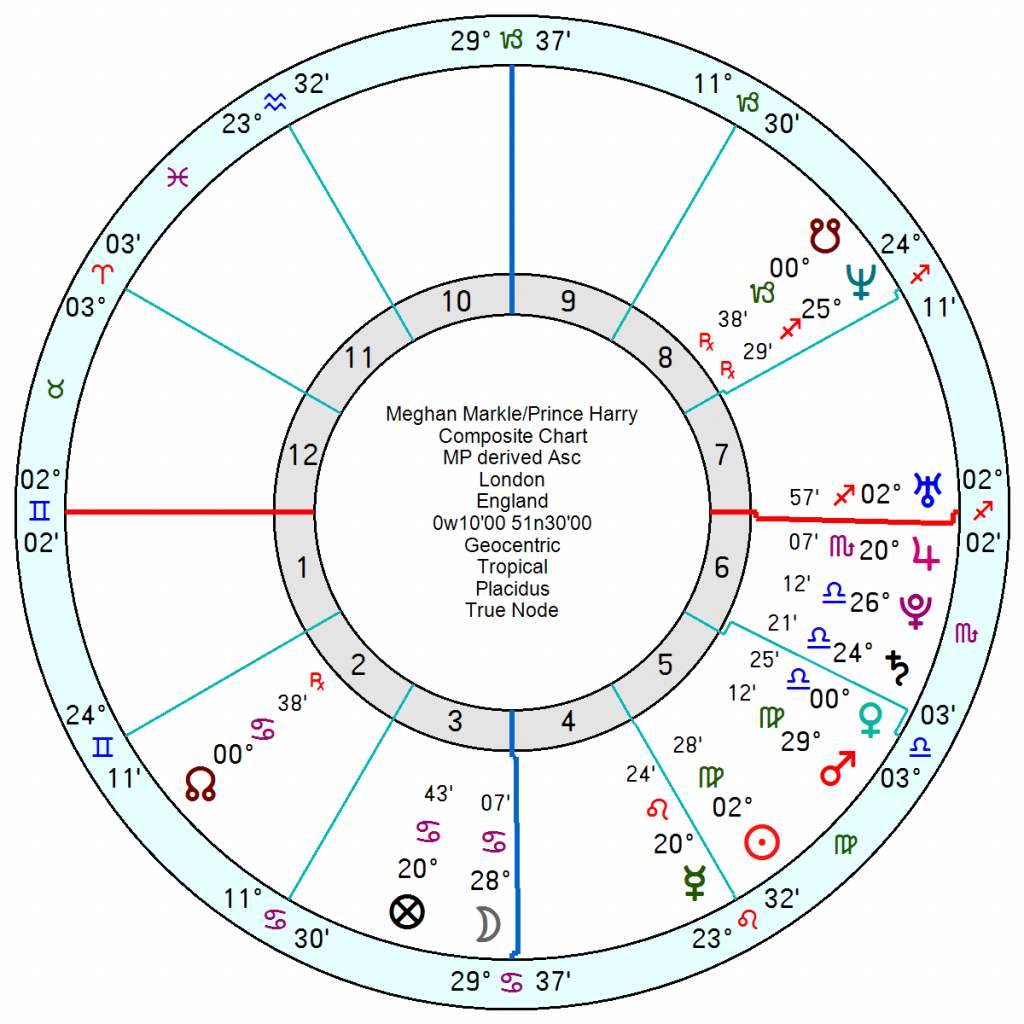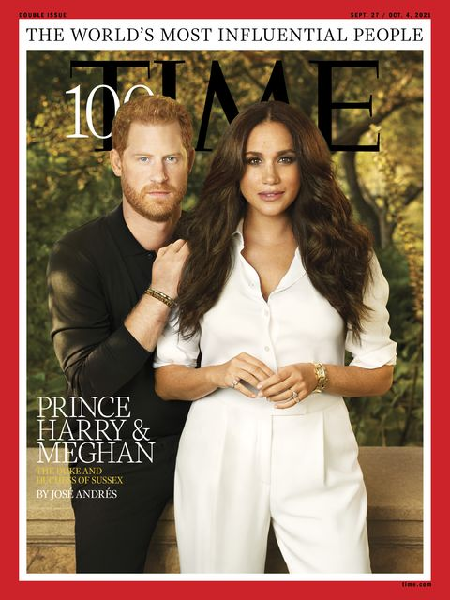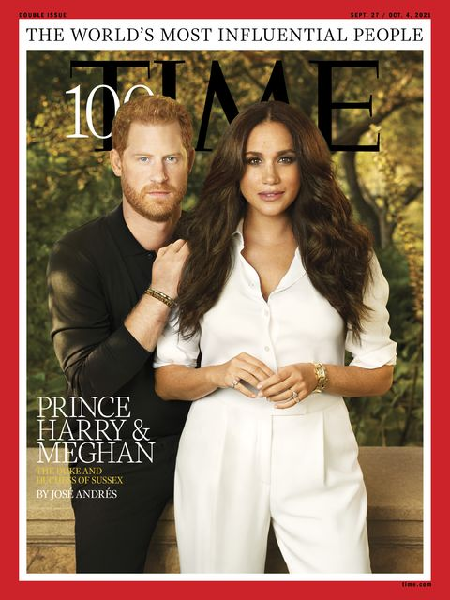 Rarely a week goes by without a Meh Again story hitting the papers. Part of which can be attributed to the total idiocy of suing the Daily Mail which was never going to end well – or indeed ever end at all. And the rest to a jack-in-the-box tendency of the Sussexes to pitch in on whatever the trendy topic of the moment is.
  The Mail first – founded in 1896 on 3 May it has a stalwart Taurus Sun opposition Saturn in Scorpio which sits squarely across from Meghan's Leo Sun; and its ferociously-determined and can-be-malicious Neptune Pluto in Gemini square Mars in Pisces is in hard aspect to her Venus. The relationship chart has a bitter, power-struggling-to-the-death composite Mars square Pluto – and it looks upended at the moment, under a dark cloud this December; jolted, jangled and high-tension through 2022 with tr Saturn square tr Uranus hitting on the Mars Pluto; and sagging badly for two years after.
The latest kerfuffle comes from an admission that the 'private' letter to her father, the subject of her copyright lawsuit, was crafted with an eye to possible publication and that the Royal pair had sanctioned communication with the authors of the supportive Finding Freedom. New information released suggests the Royal pair, despite past piteous claims of being under-supported, were given a good deal of help and advice from staff. Meghan seems, extraordinarily, to have taken umbrage at the suggestion that someone, Harry or a staff member, should fly out to see her father before the wedding. Which at the time seemed like common sense .
Her father is an important component of her life with his Cancer Sun on her Ascendant although he will be controlling with his Pluto conjunct her Sun. And she has Pluto in her 4th so she will bridle at any hint of not being in control of family matters. He was a successful and respected Lighting Director in his career and paid for a good deal of her education. While she may have been concerned about him elbowing in on her moment in the limelight, it was all so badly handled it ended in a total mess.
Harry wouldn't help since his relationship with Thomas Markle is, if anything, more difficult. Not that he has ever met him which doesn't help. Markle Snr's Pluto Mercury square Harry's Saturn for a communication block and Markle Snr's Saturn opposes Harry's Jupiter Neptune so he would have an enthusiasm-dampening effect – at least the idea of him would, since the reality was never tested.
The Lunar Eclipse in Taurus conjunct Algol next week does hit Meghan's 5th house Uranus so will already have rattled her Don Quixote inclination to charge every windmill she comes across or dreams up. In the Royal household she was reputed, like Harry, to be extremely thin-skinned. She's recently had to apologize to the court for misleading them in previous evidence which could well be part of the Eclipse effect.
[Don Quixote was a 17
th
Century Spanish literary character who decides to take up his lance and sword to defend the helpless and destroy the wicked. In one memorable episode, he attacks a row of windmills, believing them to be gigantic knights. (This is the source of the common phrase "tilting at windmills" to mean attacking imagined enemies.) His delusions of grandeur make him the butt of many practical jokes.]
She's on an upward trajectory in terms of career ambition for years ahead. Though will be running into a few setbacks immediately as tr Uranus squares her Sun from late this month throughout December and is amplified and buffeted by tr Saturn opposing her Sun in the final week of this December.
Harry will drift along with tr Neptune opposition his Virgo Sun continuing from this year through 2022. Their relationship chart is ploughing through heavy seas this month with the final tr Pluto square the composite Saturn; but December won't be much better and next year has tr Pluto square the Pluto and then more significantly opposition the composite Moon from March 2022, on and off till late 2023, which will be extremely challenging in terms of family matters. And the pressures won't lift with tr Pluto trine the composite Mars Venus in 2023/24. It won't be a honeymoon.
Difficult to see this whole farrago ending well. Such a shame for Harry who was doing sterling work with Invictus – but he's got bees in his bonnet about the media and a lopsided view of his mother, neither of which make him think clearly.
See previous post: August 5 2021