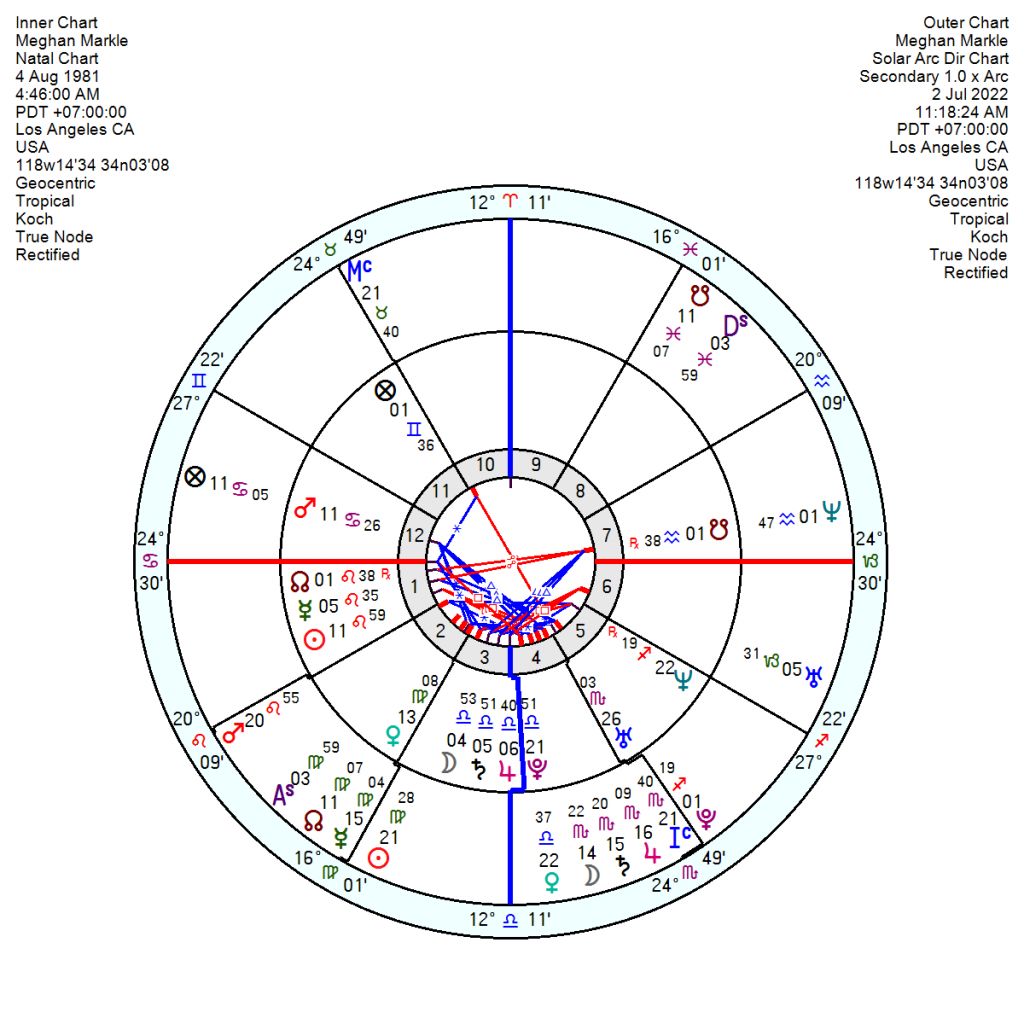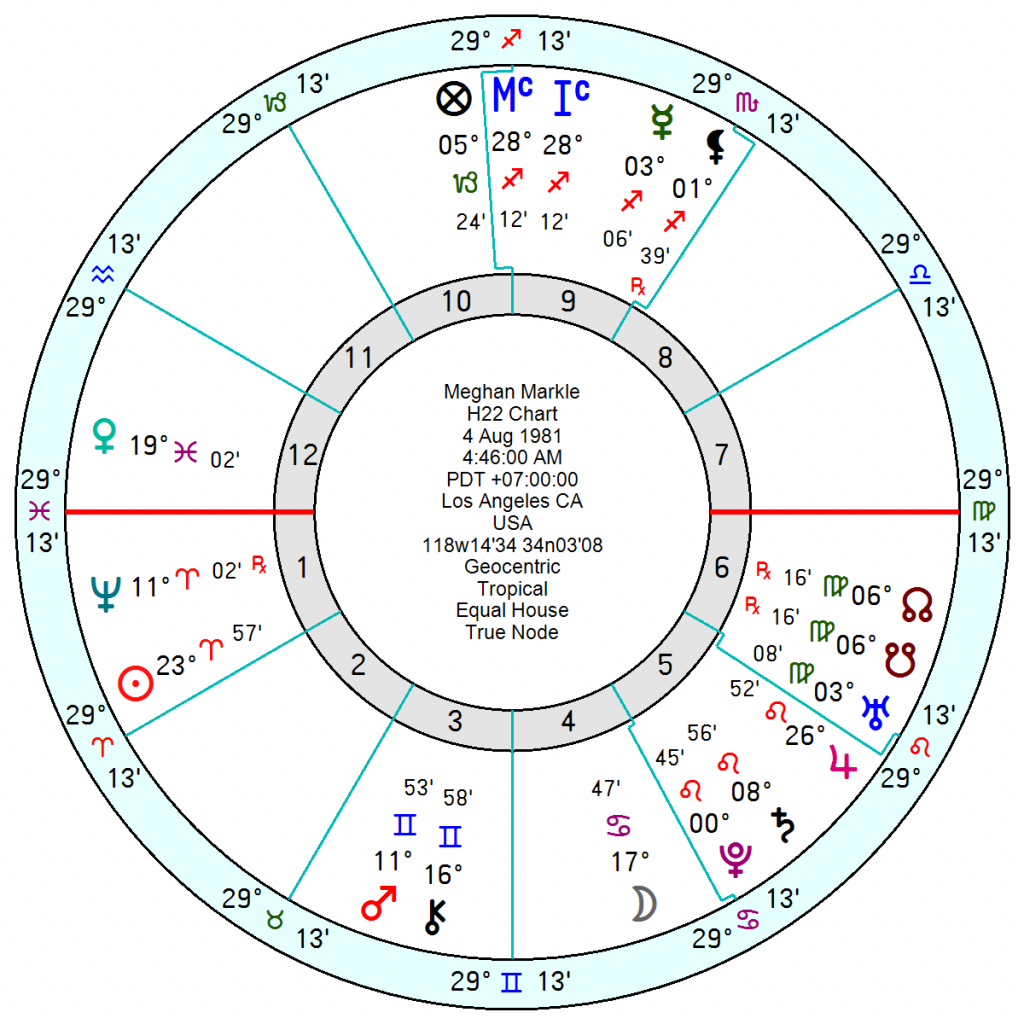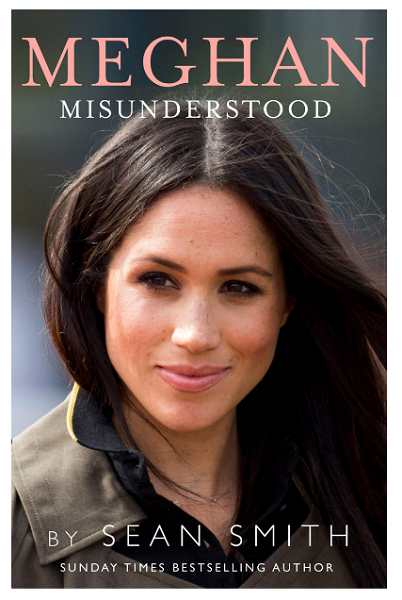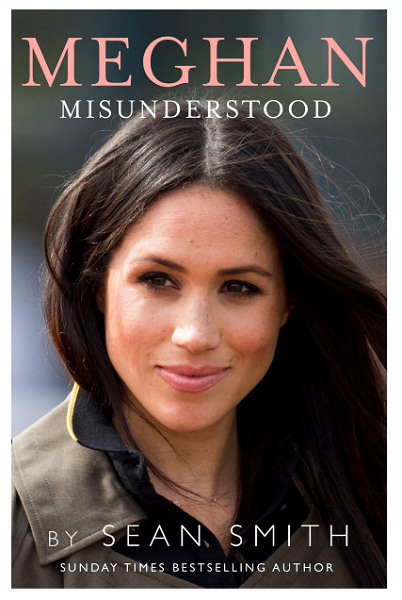 President Meg Mountbatten-Windsor is being punted as a future prospect if the Duchess of Sussex heads for Washington as she has hinted she'd like. The Royal title would have to be ditched or would be swiftly withdrawn, which may happen in any event, depending on behaviour ahead.
 She's undoubtedly in a more ambitious phase of her life than Prince Harry with tr Saturn moving upwards towards her midheaven at the moment, hitting her high-visibility peak phase from 2026 till 2034. Not that it means a political career is guaranteed to happen but she does have a lucky, successful 22nd Harmonic which will bring her a global reputation – though it sits side by side with a strong, self-defeating 10th harmonic which can bring low what it initially boosted.
Her chart is lower hemisphere with the exception of Mars in the 12th so she will tend to be subjective in her interests which might well count against an 'outer' political career working for the good of society.
But her Jupiter Saturn conjunction does have the potential to amplify her ambitions and as a Leo Sun she'll delight in being on a public stage.
I'd have been inclined to dismiss it as a grandiose delusion on the part of a personality who loves to leap onto any liberal bandwagon going – a 'rent-an-opinion' to use a DM term. But her 22H is an eye-opener and she does have a 'leadership; Leo North Node. And in the USA anything is possible.
She will be pushing confidently ahead in 2027/2028 when tr Pluto is trine her Jupiter. Though tr Neptune in Aries is being less helpful in opposing her Saturn Jupiter conjunction and moving on to square her Mars and conjunct her Midheaven by 2030 which will undercut her forward gear.
As an avid Royal watcher I've been pondering on the bullying investigation triggered by staff complaints about her behaviour when in situ in the UK, which is now to be buried. All allegations were hotly denied by the Sussexes as smears or a misunderstanding about the American work ethic.
One probable explanation came recently from a psychologist. "One of the great mysteries about dominating people is how big an asymmetry there is between how they experience themselves and how everyone around them does."
Too true. I once knew someone who was a control-freak and a bully as far as others were concerned, while she insisted on seeing herself as this poor downtrodden little worm inside. It was bizarre and she was utterly astonished to hear that others perceived her as a strong pushy personality. The inner and the outer – a gulf apart.
Meghan does have Pluto in the 4th which will make her insecure and grab for control as a defence, a legacy from a high-tension childhood. She also has a volatile Mars in emotional Cancer square Saturn and Moon which will make her ratchety and inclined to snap.
The media is up in arms about the independent bullying investigation not being published but I wonder if there isn't an ulterior motive – apart from not wishing to inflame an already aggravated family situation. The Sussexes' Jubilee visit which in advance I thought would be a mistake turned out to have been cleverly handled. There were no photo ops for later use by Netflix etc which I half suspected was the only reason they turned up. And as far as reports suggest they had limited contact with the wider family including William and Kate who were busy glad-handing round the country.
The bullying investigation now hangs like a Sword of Damocles over the Sussexes' heads. Harry's shock-horror, no doubt ghost-written, memoirs and further Oprah type grievance-airing may well risk it being published. There may be an attempt at a – "we'll shut up if you shut up" – deal.
 Relations between Meghan and the Royal are not improving. It's tricky with the Queen's chart since she is the age she is, but assuming she stays as bright as she is, then their relationship is deteriorating over this year and the next two. Will is aggravated with her and vice versa right through till 2024/25. Prince Charles, never happy with confrontations, will have glimmers of hope this July but 2023/24/25 look tense and frustrated between them. Princess Anne is not amused also over the next three years.
  This psycho-family drama will run and run and the mystery is how a Netflix et al funded career will survive if the Royal connection is is muted down to a faint whisper. Royal courtiers have centuries of experience at putting parvenus in their place. You cross or try to upstage the monarch at your peril.
See previous post for detail on Prince Harry – April 15 2022.