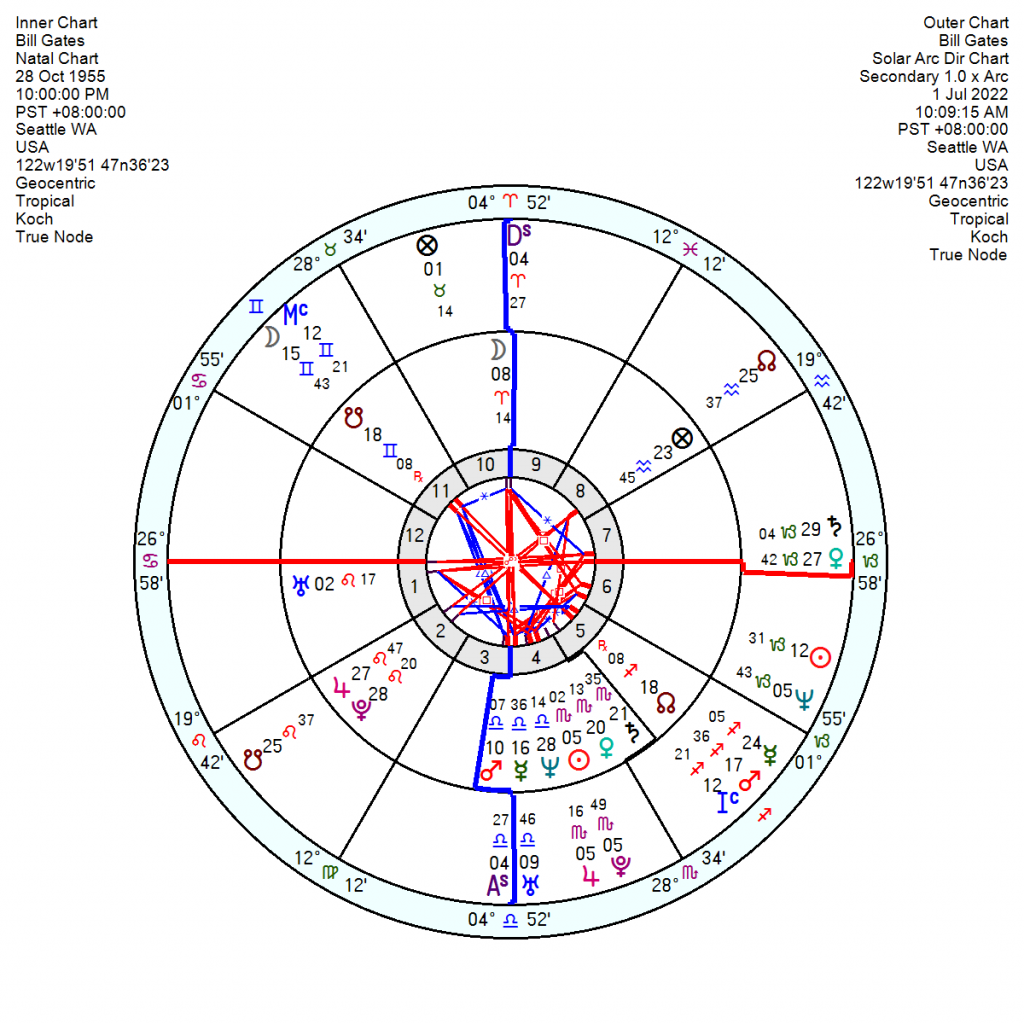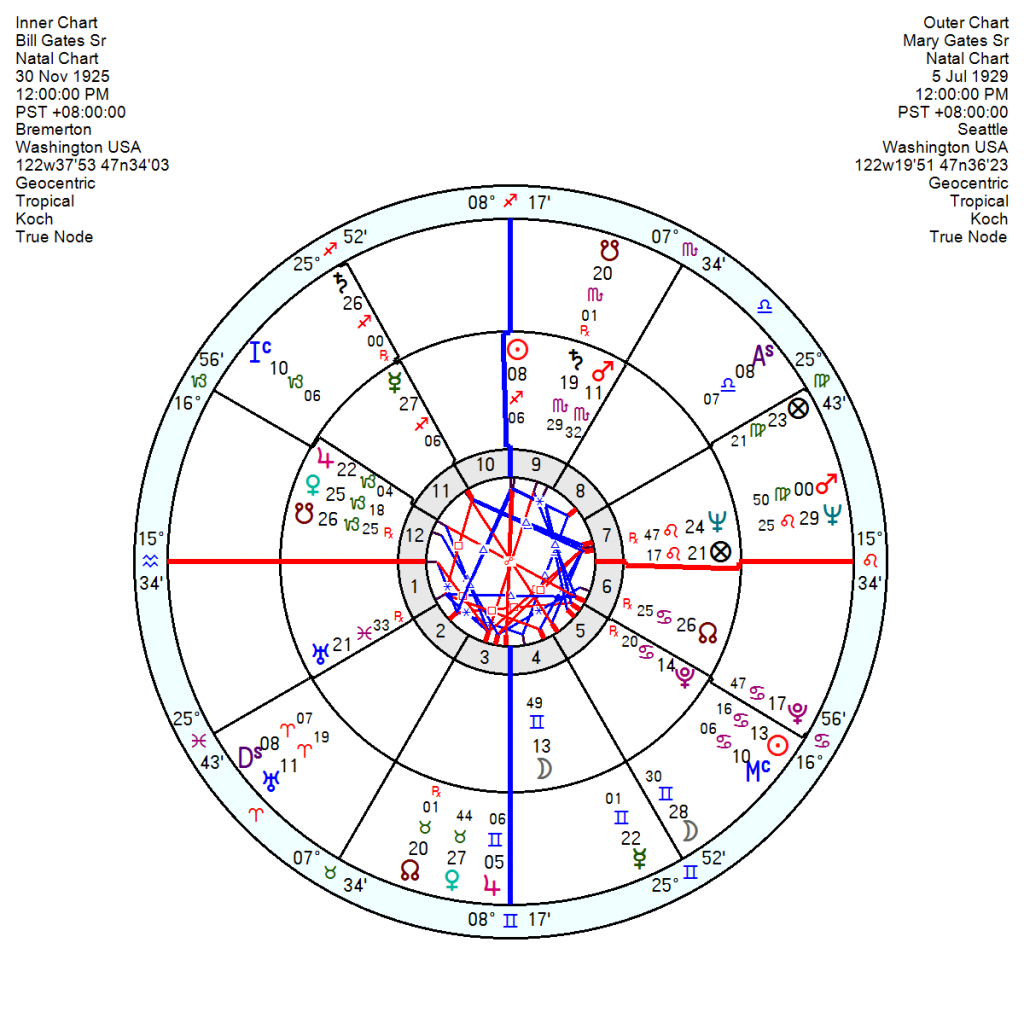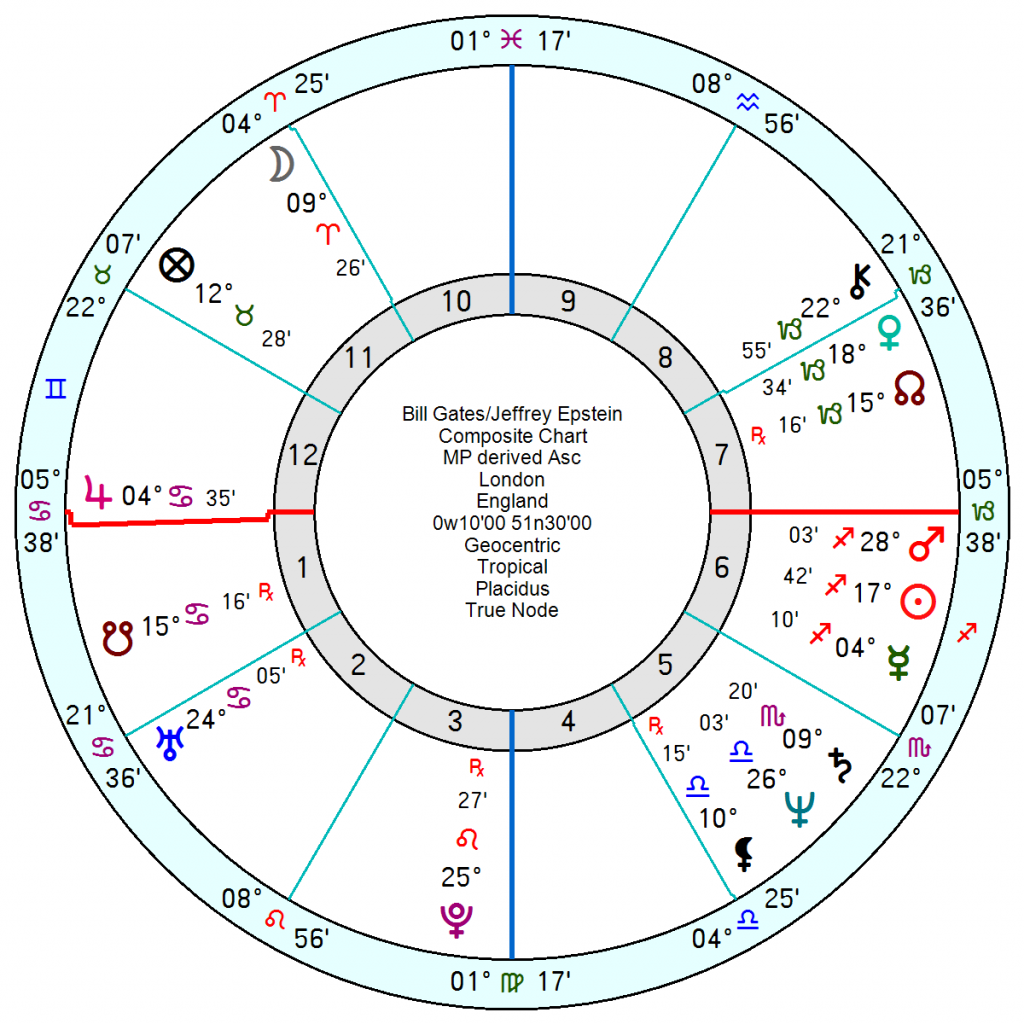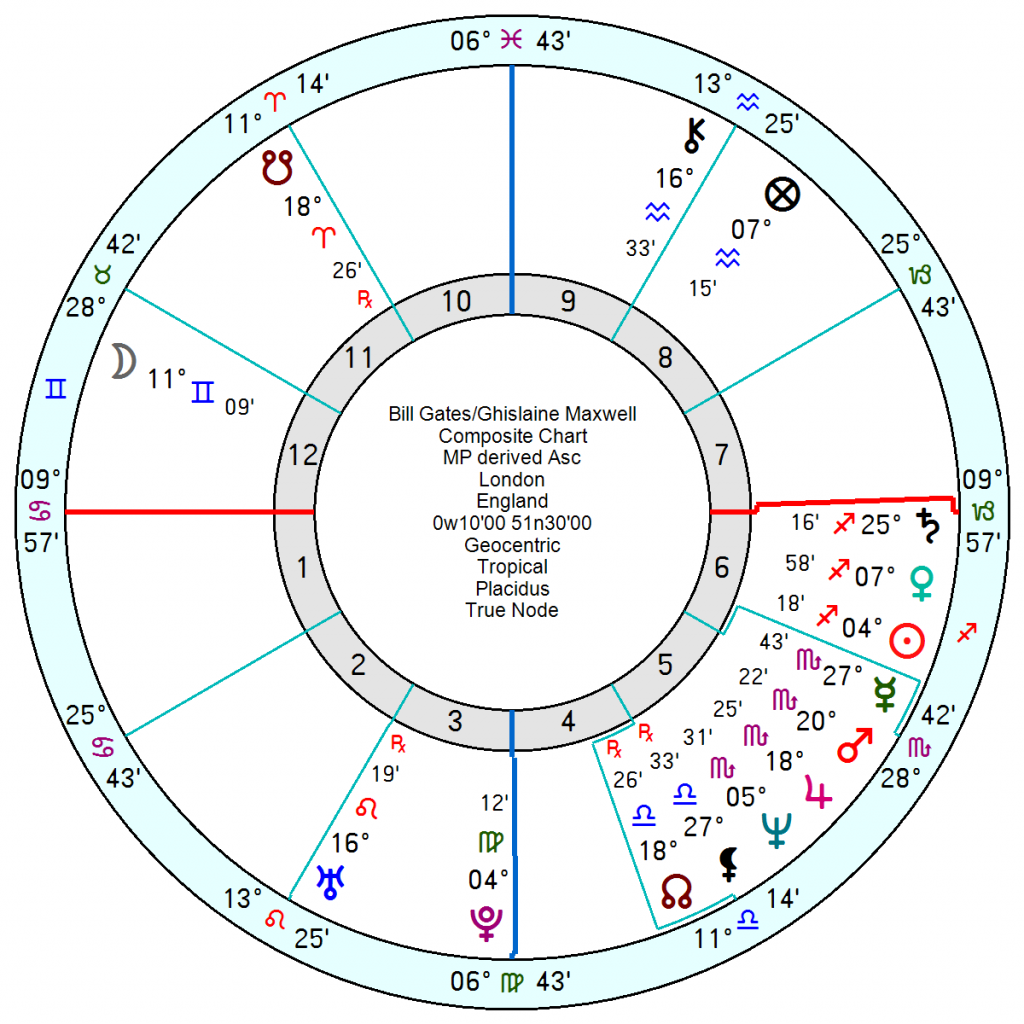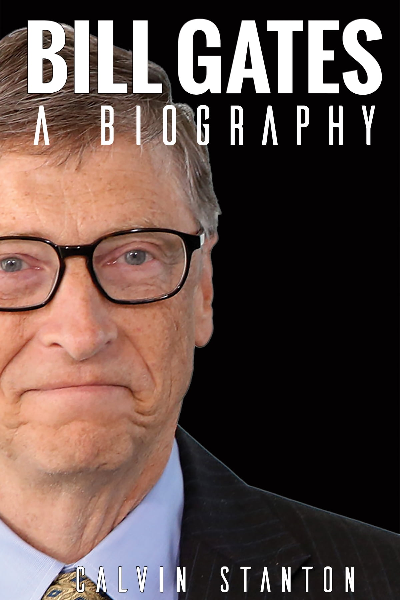 Bill Gates, the Microsoft nerd-genius turned ruthless tycoon, the richest man on the planet for several years, was transformed into a saintly philanthropist until his philandering ways brought a divorce, with increasing and damaging publicity about his connection with Jeffrey Epstein.
  Gates was born 28 October 1955 at 10 pm (from memory) Seattle, Washington, and has a packed 4th house with his Scorpio Sun there conjunct Neptune and square a maverick and innovative 1st house Uranus. His Mars Mercury in Libra are also there opposition a 10th house public-career Aries Moon; and he has an intense, secretive, emotionally self-contained Venus Saturn in Scorpio which squares a financial 2nd house way-over-the-top Jupiter Pluto in Leo.
Assuming his birth time is about accurate, that means the driving impetus of his life came from his childhood home and his attorney father who was evidently over-keen on winners and disliked losers. Bill Gates Sr, November 30 1925, had a cruel streak with Mars Saturn in Scorpio trine Pluto in Cancer. Both Epstein and Ghislaine Maxwell also had bullying and dominating fathers – one father with a Mars opposition Pluto and the other with Mars Pluto conjunct.
A 4th house is simplistically seen as family-focused but many mega-successful people have it including Rupert Murdoch, Marlon Brando and Jennifer Aniston. All are private but not necessarily warm-hearted sentimentalists.
Gates' irritable Moon opposition Mars does suggest mother-issues and problems with women in general; and three planets in Scorpio would ramp up his sensual nature, not always in a healthy direction with Venus tied into Saturn and square Pluto Jupiter. His mother Mary Gates, 5 July 1929, was a tough bird with a Sun Pluto in Cancer square Uranus – so that wouldn't be a warm or easy relationship.
He was not soul-mates with Epstein, though they shared an Aries Moon. Gates Chiron at zero degrees Aquarius was conjunct Epstein's Sun and Gates' Uranus in opposition. No idea what that Chiron cross-over signifies.
   Their relationship chart had a power-dynamic composite Mars trine Pluto; with a needs-space composite Venus opposition Uranus square Neptune. I could see how both the Mars Pluto and Uranus Venus Neptune might lead to a flirting-with-danger and perverse-thrills kind of tie. But it certainly wasn't a friendship bond.
  What is much more emotional and passionate is Gates' relationship chart with Ghislaine Maxwell which has a composite strong-attraction Sun Venus square Pluto; and an adventurous and risk-taking Jupiter Mars square Uranus. Her role as a mythological Siren (luring sailors with her enchantments into shipwrecks on rocky shores) enticed wealthy men into Epstein's orbit as well as vulnerable young women.
  That relationship chart is on tenterhooks with high uncertainty and a few jolts through the next two years as various people wonder whether Maxwell spill the beans for a lesser sentence. She may not but the worry will remain.
Her relationship chart with Donald Trump is also aggravated in the extreme through 2022/23 and undermined in 2024. Though that latter could be her hope of a pardon from a newly installed Trump getting dashed by his political exit.
  Gates's chart and life will take a battering and shaking up between now and 2025 with the confused tr Pluto square his Neptune in 2022/23; as well as tr Saturn squelching his self-confidence squaring his Venus Saturn this year and worse opposing his Jupiter Pluto in early 2023; followed by tr Uranus shaking up that super-self-assured square in his chart in the two years following. He will have been on a relative high recently with his Solar Arc Jupiter Pluto conjunct his Sun but that is moving on. He'll get a shock of considerable proportions within the next three months as his Solar Arc Uranus is conjunct his Mars.  In 2024/25 he has tr Pluto opposition his 1st house Uranus for a major turnaround in his image and an upheaval in his life; with more jolts from his Solar Arc Saturn opposition his Uranus by 2025. It'll be a stormy ride, for sure, extending beyond that as tr Pluto heads to square his Sun in 2026/27.   Though he won't disappear, go bankrupt or stop striving.