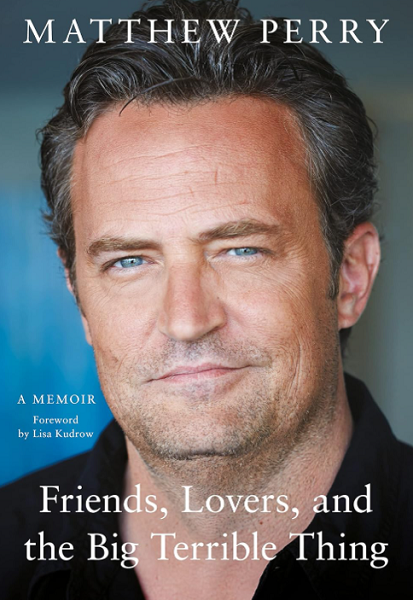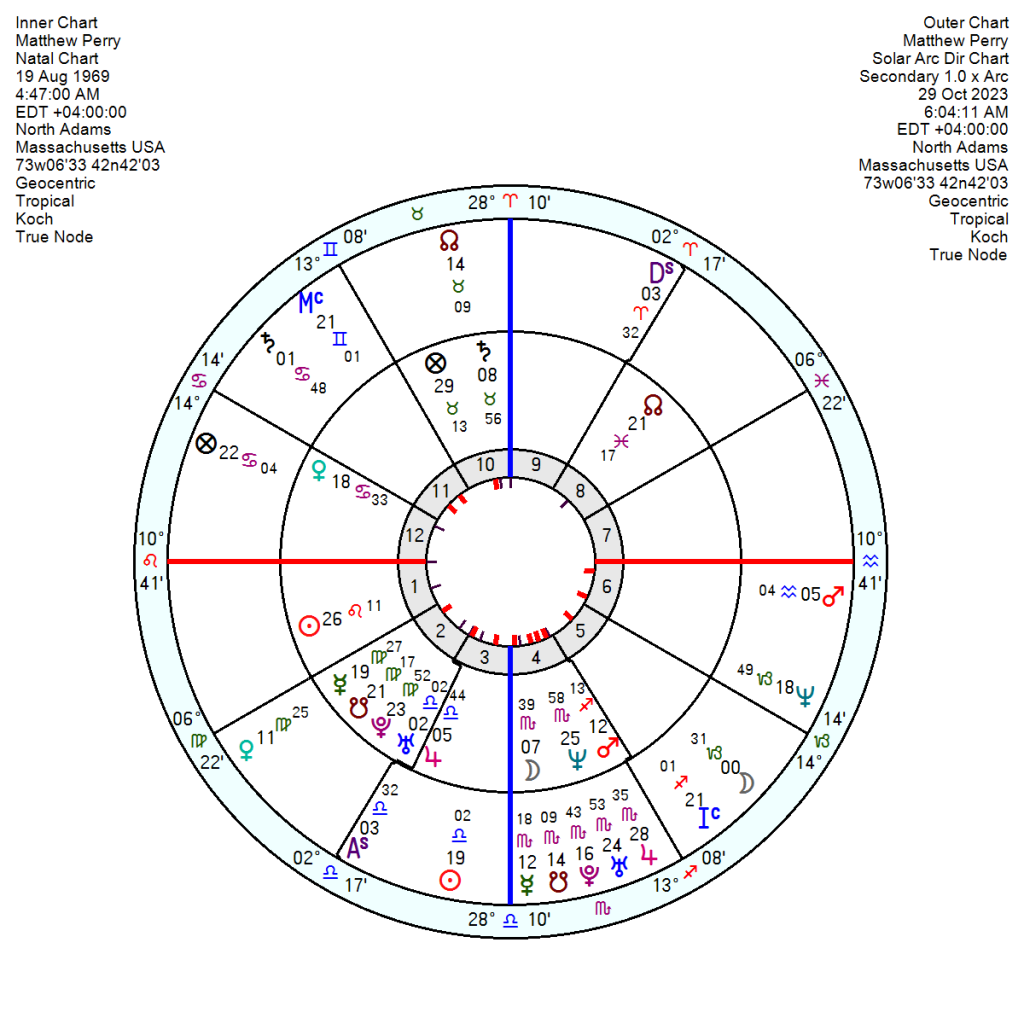 Friends' star Matthew Perry has died apparently of drowning after a heart attack in a jacuzzi. He has had a long history of drug addiction though had been clean recently. He was a Sun Leo and more significantly a Scorpio Moon opposition Saturn in Taurus which both caught yesterday's Lunar Eclipse. As did his Progressed Moon as it headed for a Return.
Details in previous post from October 22 2022.
Behind every comedy there's often a tragedy. Matthew Perry, the wisecracking Chandler of Friends, the most popular TV show of all time, has revealed all about his relentless addiction problems over decades. It saw him in and out of 15 rehabs and almost killed him in 2018 when his colon burst due to the overuse of opioid drugs, putting him in a coma for two weeks with a 2% survival chance and required a colostomy bag for nine months. During one low point during Friends he was taking 55 tablets of Vicodin each day and his weight dropped to 58kg (9 stone).
He was born 19 August 1969 4.47am North Adams, Massachusetts, with an actor father and a journalist mother who split before his first birthday. He has an entertaining Leo Sun in his upfront 1st house square a filmic and escapist Neptune in the 4th; with an intensely emotional Scorpio Moon also in his 4th opposition a hard-working 10th house Saturn in Taurus. And Venus in sensitive, self-protective Cancer in his 12th.
His childhood does not look to have been emotionally supportive with a Saturn-afflicted Moon, a hidden Venus and missing a strong male role model for a father. His Sun and Neptune are both in hard aspect to the destructive Mars/Saturn midpoint which would create setbacks for him. His Sun/Moon midpoint is conjunct Uranus so finding a stable one-to-one relationship would never be easy for him.
When Friends launched on 22 September 1994, he said he had been praying fervently to be famous, only later to discover it did not solve any of his problems. At that point tr Pluto was conjunct his 4th house Neptune which would have a devastating effect before moving to square his Sun the following year as his life changed out of all recognition. Tr Neptune Uranus were also hovering over the opposition to his Venus.
When he hit rock bottom in June 2018 tr Uranus just into Taurus was conjunct his Midheaven for a sudden change of direction; and tr Pluto in his 6th house of health was opposing his 12th house Venus. His Solar Arc Neptune was also hovering on the cusp of his 6th. His Progressed Moon was conjunct his Sun a month or so after he was hospitalised for an internal rebirth. And his Solar Arc Jupiter was wending its way towards a conjunction with his Neptune in the aftermath as he struggled towards a new life.
Saturn has made a full cycle since Friends launched in 1994 as his memoir Friends, Lovers and the Big Terrible Thing is coming out. It won't be easy for him but tr Jupiter going through his 10th at the moment bringing attention and praise will help and tr Saturn moving upwards in his chart for the next decade will give him resilience.
Clearly not enough. Drug addiction takes a terrible toll on health.