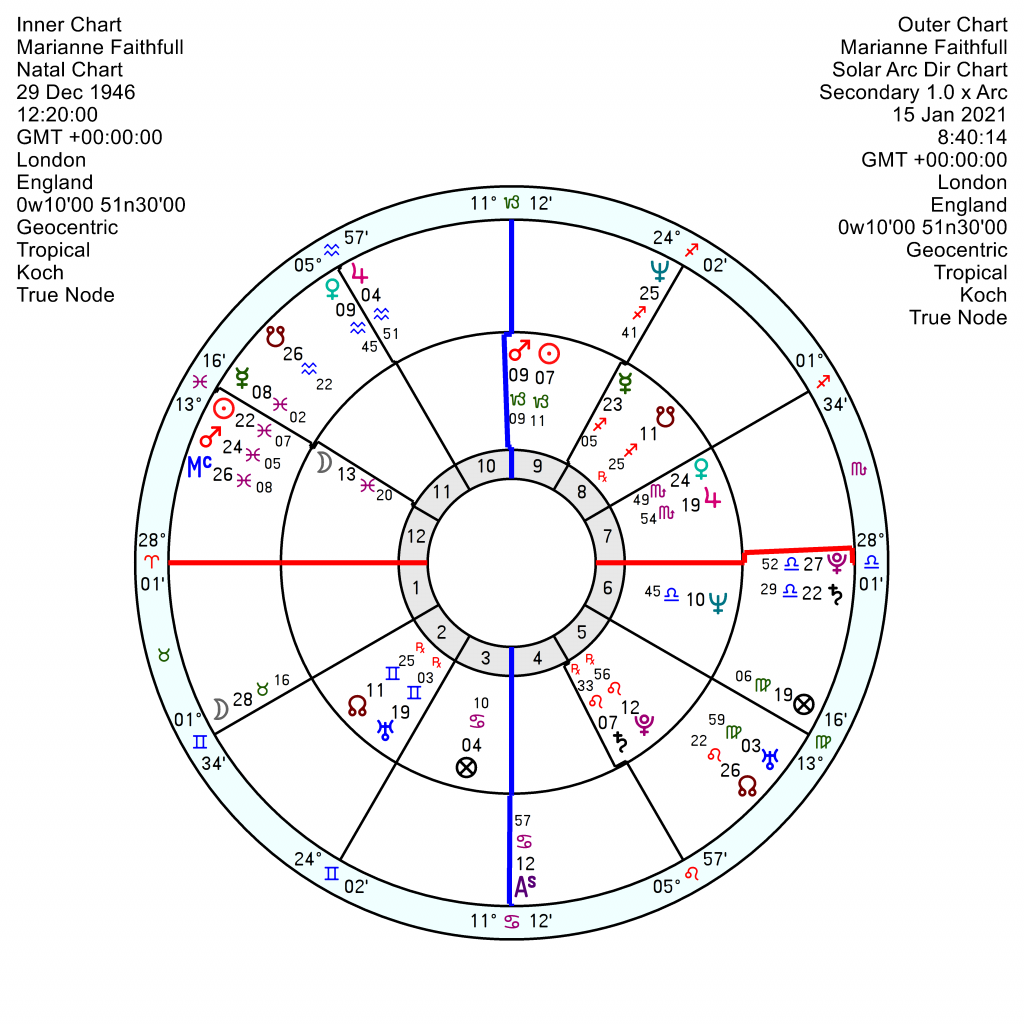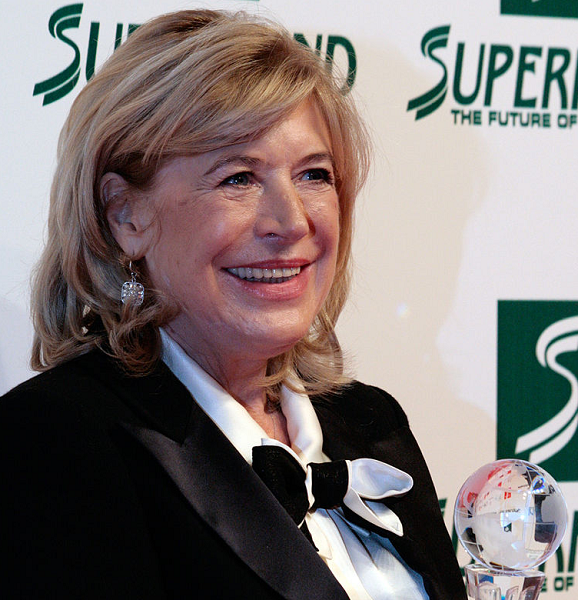 Singer Marianne Faithfull has improbably become one of the Covid success stories – so far, cross fingers. With a history of heroin addiction, bulimia, suicide bids, homelessness, breast cancer, hepatitis C, a 2014 broken hip that became infected after surgery and emphysema, the result of decades of smoking, she was not expected to survive when she went into intensive care last April. She still suffers memory loss, fatigue and lung problems but bounced back to finish her 21st album due out in April in which she reads from the Romantic poets.
Born 29 December 1946 12.20pm (rectified) London, UK, she's a fiery, go-ahead Sun Mars in Capricorn conjunct her Midheaven in a showbizzy square to Neptune in her 6th. Neptune in the 6th should make her health more delicate but clearly she has a guardian angel watching over her.
Her self-protective Pisces Moon is doubly emphasised in the hidden 12th. It is on the focal point of a T Square to Uranus opposition Mercury and on the focal point of a Yod to Pluto (Saturn) in Leo sextile Neptune. The Moon on a T Square tends to be emotionally changeable, restless, resistant to emotional conflict, has cravings for constant stimuli. The Moon on a Yod tends to be emotionally disorganised, defensive, self-defeating with escapist urges which act as protection. What such a Moon is helpful for is a public career since the attention from a wide spectrum of people who don't expect commitment is easier than one-on-one ties.
She has another Yod of Mars (Sun) sextile Moon inconjunct Pluto Saturn, which is truly difficult. Two Yods would make her feel she never fitted in and had to walk her own individual road in life and the emotional overload from that extremely sensitive Pisces Moon would be overwhelming at times. She does have a solid Jupiter Venus in Scorpio, which while indulgent might have helped keep her on track at times.
Relationships clearly were never her thing despite her much vaunted fling with Mick Jagger. Althogh she was the poster girl for the permissive society and free love in the 1960s she admitted recently she only started appreciating sex in her 50s. Before then she needed drugs or alcohol to get her through. She says her Austrian mother and grandmother being raped after WW11 by Red Army soldiers handed down to her a legacy of hatred towards men.
The recent Sagittarius Solar Eclipse was conjunct her Mercury exactly and opposition her Uranus as she tidied up what is likely to be her final album. Over the past two years she has had high-stress transits to her Mars midpoints, some of which will continue so she'll need to slow down.
An extraordinary life and capacity for survival.
Pic: By Manfred Werner – Tsui