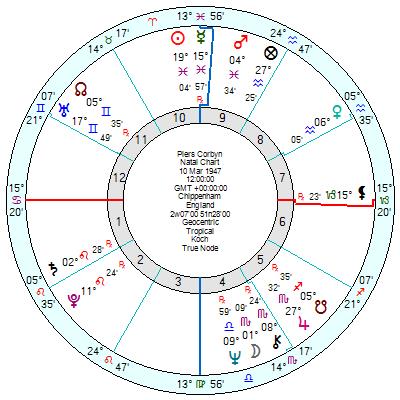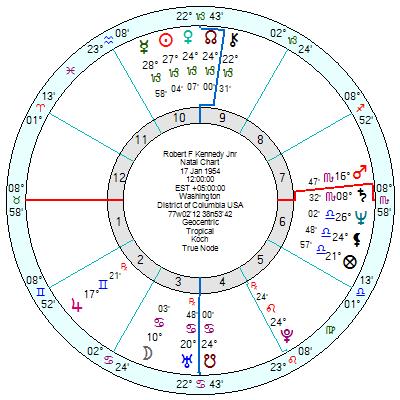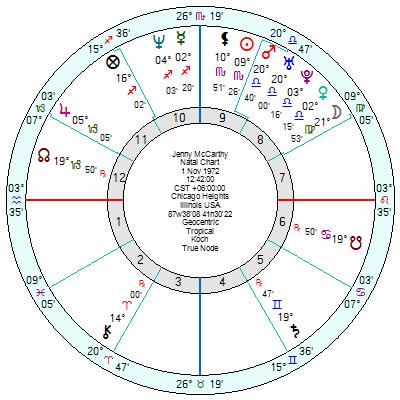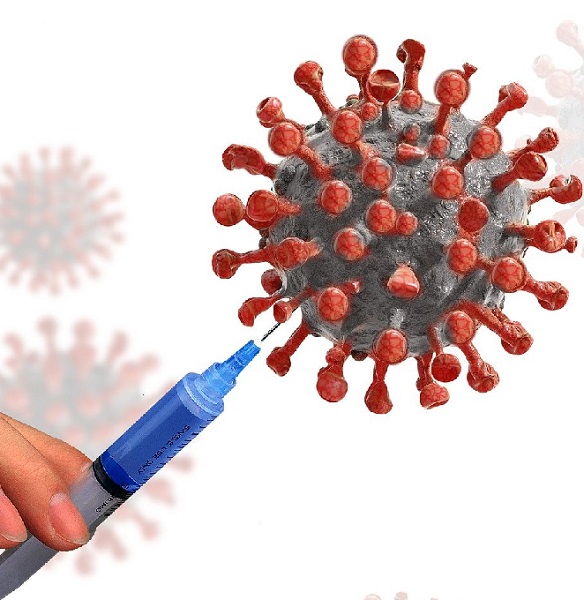 With relief in sight from widespread vaccination programmes worldwide the anti-vaxxer fanatics are crawling out of their bunkers. They insist "Covid is a hoax", refuse to wear masks and in the UK have a leader in Piers Corbyn, the elder brother of former Labour leader Jeremy. He has described the Covid vaccine as a 'satanic death shot' and regards lockdowns, masks and vaccinations as symbols of an increasingly totalitarian control by a 'New World Order'.
In the USA Robert F Kennedy Jnr amongst others are spearheading similar campaigns. Fears appear to range from a fraud perpetrated by capitalist Big Pharma to rip off the taxpayer; to a generalised resistance to state control of individual bodies; to hangovers from the discredited claim that MMR vaccine causes autism due to the mercury compound in the measles vaccine.
All of which add up to an excessive fear and distrust of authority figures – the state and the medical establishment.
Piers Corbyn, 10 March 1947, is a Sun Pisces in a rebellious square to Uranus. But what floats his boat is his Mars in Pisces on the focal point of a stressed Yod inconjunct Saturn Pluto in Leo sextile Neptune. Such a Mars tends to be impulsive, overly aggressive, at times self-defeating and often directing hostility towards inappropriate targets. Any windmill will do as long as he can unleash his anger against it.
Robert F Kennedy Jnr, 17 January 1954, has pushed conspiracy theories about links between Bill Gates, 5G and covid, as well as the debunked autism line. He is a Sun, Mercury, Venus in Capricorn opposition Uranus square Neptune; with Saturn Mars conjunct in Scorpio. Uranus Neptune has a tendency to hang onto delusional ideas even in the face of hard evidence to the contrary. And he's certainly got anger issues that need an outlet.
Jenny McCarthy, 1 November 1972 12.42pm Chicago, has been a vociferous critic of the MMR vaccine which she claims resulted in her son becoming autistic, though it later transpired he may suffer from another condition unrelated to the vaccine. She's a communicative 9th house Scorpio Sun with an explosive, volatile Mars Uranus conjunction square her Capricorn North Node; and a packed 8th house with a Virgo Moon, Venus Pluto in Libra there, which will give her deep-rooted fears of being trapped.
Jim Carrey, a one-time boyfriend of hers, has also voiced fears about vaccines. Born 17 June 1962 2.30 Newmarket, Canada, he is another Sun Venus in Capricorn, like Robert Kennedy Jnr; and has Mars on a Yod focal point like Piers Corbyn – in his case inconjunct Moon sextile North Node in Leo. With Pluto in his 10th he will have control as well as anger issues.
Letitia Wright, 31 October 1993 Guyana, the Black Panther actress, hastily withdrew an anti-vaxx tweet last month. She said she was concerned about what people put into their bodies. She's a Sun Scorpio with Mars Pluto in Scorpio sextile Uranus Neptune in Capricorn and square Saturn in Aquarius – which is a real pile up of unbudgeable-opinion Uranus Neptune; and a seriously afflicted Mars which will make her both angry against authority figures and fearful.
It's not that I don't think Big Pharma is seriously corrupt – which it is – or that the medical establishment don't make horrendous mistakes which they won't own up to for decades. Or indeed that some people don't react badly to standard medical interventions. But having grown up with the required polio, TB and other vaccinations; plus the usual exotic ones for Africa and India travel and never thought twice about them, it does seem an odd neurosis – and very counter-productive.
PS. I've been trying for ages to get hold of the birth date for Andrew Wakefield, the original discredited and disbarred MMR vaccine-causes-fraud medic. If anyone finds it I'd be most grateful. He was born in 1957 as Pluto put a toe into Virgo and published his fraudulent study in 1998 as Neptune just edged into Aquarius.