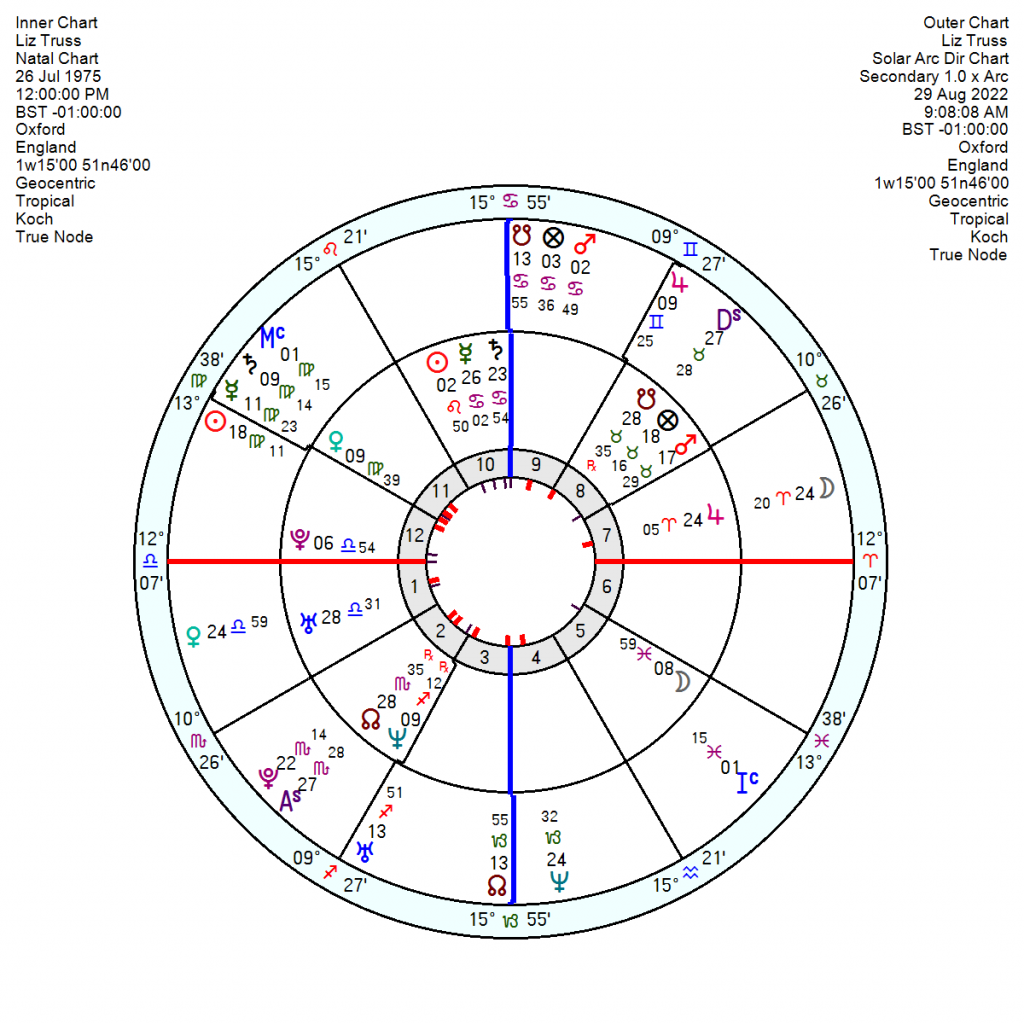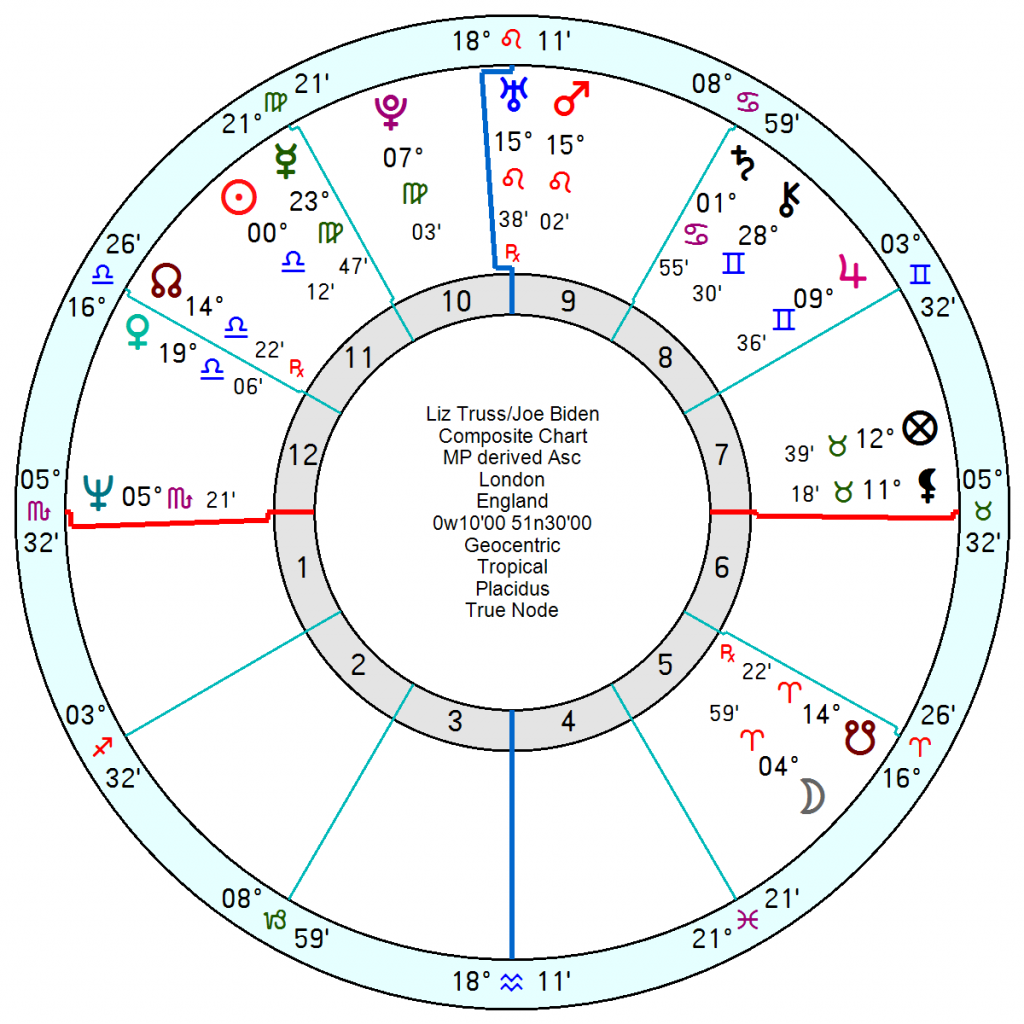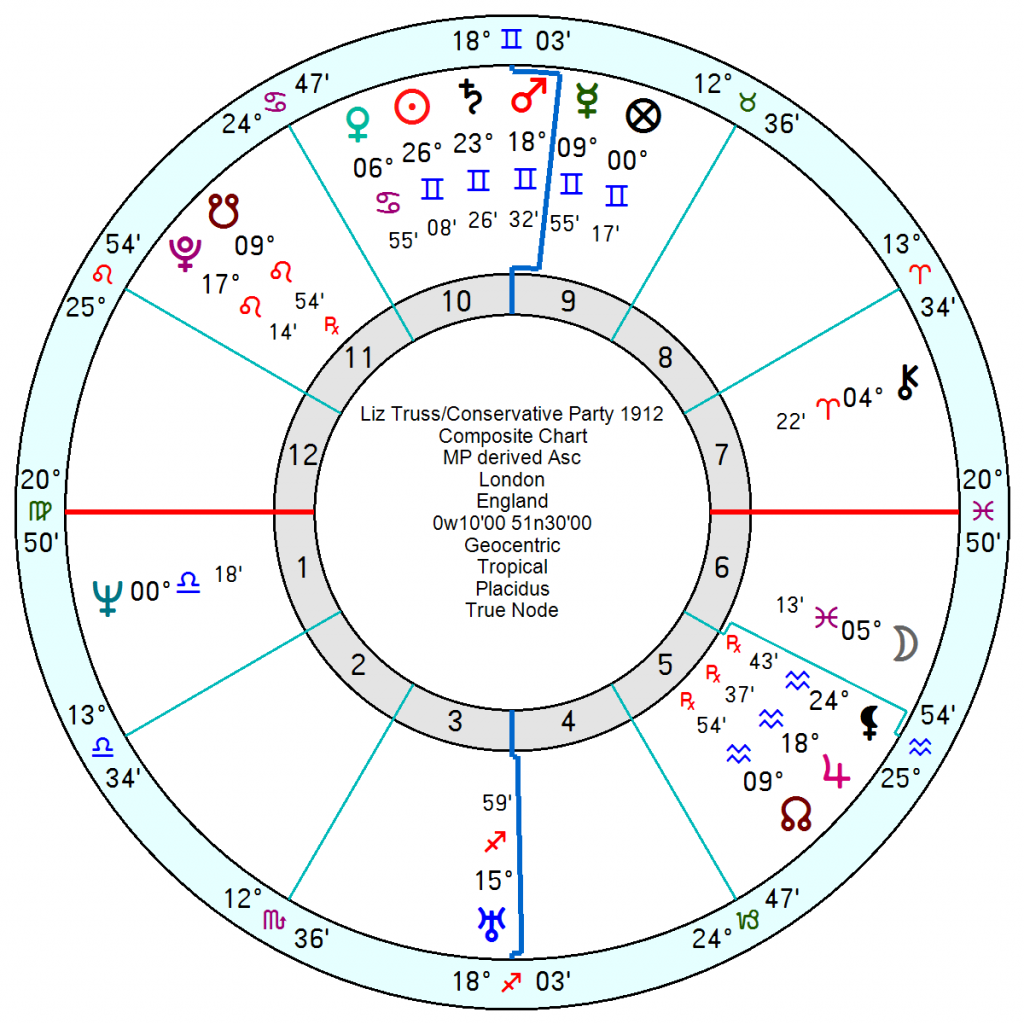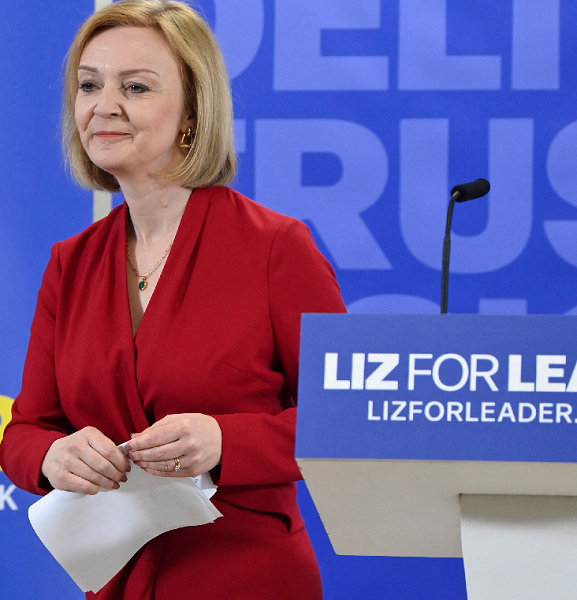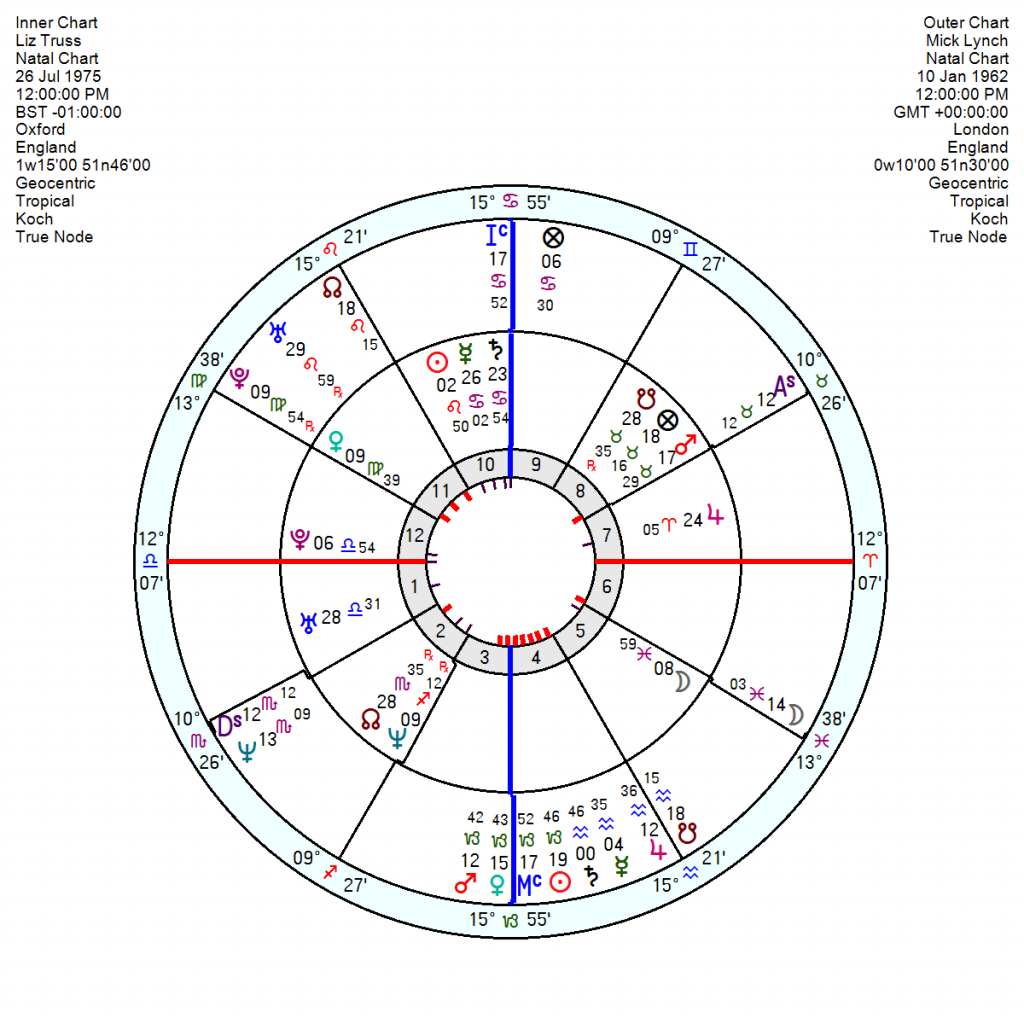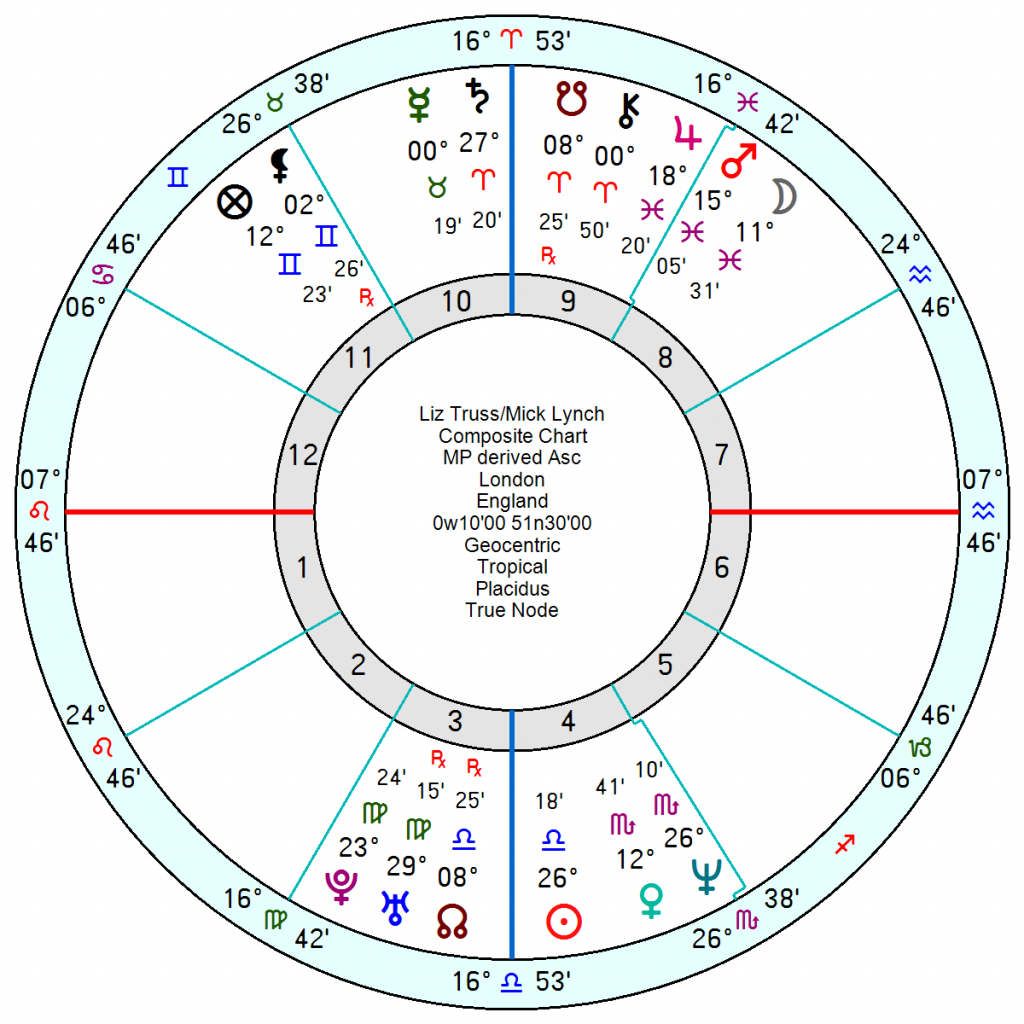 Liz Truss, affectionately dubbed 'the human hand grenade' by the ever acerbic Dominic Cummings is lurching her way towards No 10, despite misgivings about her erratic and absurd economic policies.
He reckoned she blew up everything she touched and she's wasted no time in casting aspersions over Emmanuel Macron, throwing poison darts at the Chinese and Russians and heading for an explosive relationship with Joe Biden and the US. Ukraine and the Northern Ireland Protocol being the initial areas of conflict.
Born 26 July 1975 Oxford, no birth time, she's a Sun Leo with two T squares – a Cardinal T Square of Jupiter in confident Aries opposition an adventurous Uranus square a rigid Saturn Mercury in excitable Cancer – and a Mutable T Square of Venus opposition a Pisces Moon square Neptune in Sagittarius. She's an odd mid of an executive with organising ability though a tendency to be domineering and overbearing; and a head-in-the-clouds disorganised daydreamer. Plus she has Mars in ultra-stubborn Taurus which I might suspect from her belligerent, combative approach is on the chart axis.
The USA will be in the firing line of her ire. Her Saturn is conjunct Joe Biden's Jupiter so she squelches his enthusiasm; her Mars opposes his Scorpio Mars Mercury; and his Saturn is opposition her Neptune and square her Venus – not much love in there.
Their relationship chart is incendiary and volatile with a composite Mars Uranus conjunction, suggesting two individuals, neither of whom will be happy to compromise. That will blow a fuse this December to mid January and again February to mid March. At a time when the USA/UK relationship chart is also being upended. Not so much an ice shower falling on the special relationship as light-the-touch-paper and stand back.
Her connection with Biden also has a tussle-for-the-upper-hand Jupiter square Pluto which suggests a constant jousting for power. There'll be no room for a win-win in their relations.
Her relationship chart with the USA is equally stark and hostile with a composite Mars Jupiter opposition Pluto square Saturn, which is under discouraging Saturn transits from early 2023 right through next year.
The Conservative Party (1912) is looking less than enthusiastic about her progress with their composite Sun, Saturn, Mars catching an undermining run of Neptune squares until 2024.
The UK will be having anxious moments about her across the New Year into January and it is essentially a ratchety, irritable, strained relationship.
What is intriguing is that all of her composite charts – with Biden, the USA, UK, Conservative Party – all have Jupiter Pluto hard aspects. That suggests a thirst for personal power is ingrained in all her relationships. Not even Maggie Thatcher and Tony Blair, both of them micromanaging control-freaks, had such Jupiter Pluto aspects. Will be interesting to see how it plays out.
She is tied into the UK chart with her Sun conjunct the 10th house UK Jupiter; her Mars in the UK 8th not far from the UK Mars and in hard aspect to the UK's financial Neptune and Venus. Most significantly of all her Pluto is conjunct the UK's Ascendant so she will attempt to railroad changes through which will affect the UK's image abroad and be felt as coercive and bullying.
What is floating her boat at the moment against all odds is tr Pluto conjunct her lucky Jupiter/Uranus midpoint which runs out early this December – with a catastrophic tr Pluto opposition her Mars/Pluto picking up on December 9th running till mid January 2023, and repeating late year; and a depressed slog from mid January, also on and off till late year. Plus a failure-strewn tr Neptune square her Sun/Mars midpoint throughout 2023.
What is odd is that the two central T squares in her chart – the Cardinal Uranus Jupiter Saturn Mercury and the Mutable Venus, Neptune Moon are colliding at the moment and for the next several years as their Solar Arc positions sit on top of the other T Square. Usually this presages a life-changing crisis – again interesting to watch.
The November 8th Lunar Eclipse in Taurus will conjunct her Mars – which will bring a shock, an over hasty reactions and arguments running on for months thereafter.
   She is volunteering for a poisoned chalice given the economic calamity the UK and elsewhere are facing but her approach won't bring too many remedies. Making relations with the USA and the EU worse is hardly helpful in these troubled times.
Add On: The major thorn in her side in domestic politics is likely to be not the leader of the Opposition but Mick Lynch, spokesman for the Rail Union, who is speaking up for struggling workers in every industry. Not even Maggie Thatcher's relationship with miners' leader Arthur Scargill was as bad.
Lynch's Saturn in Aquarius opposes her Leo Sun and her Saturn in Cancer opposes his Capricorn Sun. His Neptune opposes her Mars and his Pluto is conjunct her Venus, square her Neptune opposition her Moon. Saturn criticises and sets up barriers. Neptune undermines. Pluto controls. If the outcome wasn't so serious, it would be good spectator sport.
That translates into an astoundingly difficult relationship chart. With a locked together, fated, deeply frustrating and self-defeating Yod onto Saturn inconjunct Pluto Uranus sextile Neptune, with Saturn opposition Sun. For good or for ill, individuals with a Yodal relationship chart have their destiny intertwined.
Tr Pluto is bearing inexorably down on the composite Yod, squaring the Sun and Saturn through this year till late 2023 – depressing, discouraging and an unrelenting battle. With a worrisome tr Saturn square Neptune on one leg of the Yod in early 2023; and tr Uranus in a highly-strung opposition in 2024. The other leg of the Yod is catching the undermining tr Neptune opposition to Pluto and Uranus now till 2025. As if that wasn't enough tr Pluto will square the composite Mercury from March 2023 till late 2024 for bitter arguments and hostile discussions.
See previous Mick Lynch post 15 August 2022. He does have a 'leadership' North Node in Leo as Maggie Thatcher did – born to be out front. Liz Truss's North Node is Scorpio – born to be embroiled in endless arguments until she learns to let go.