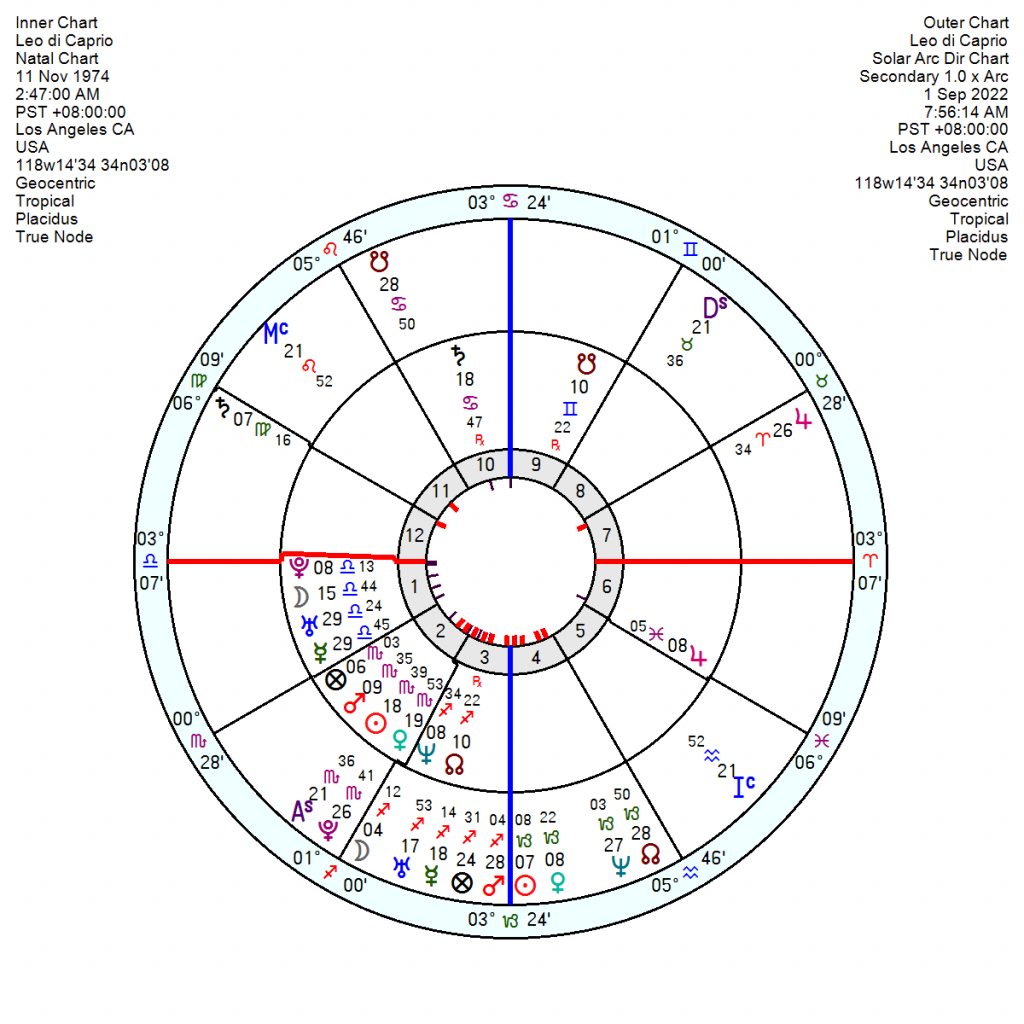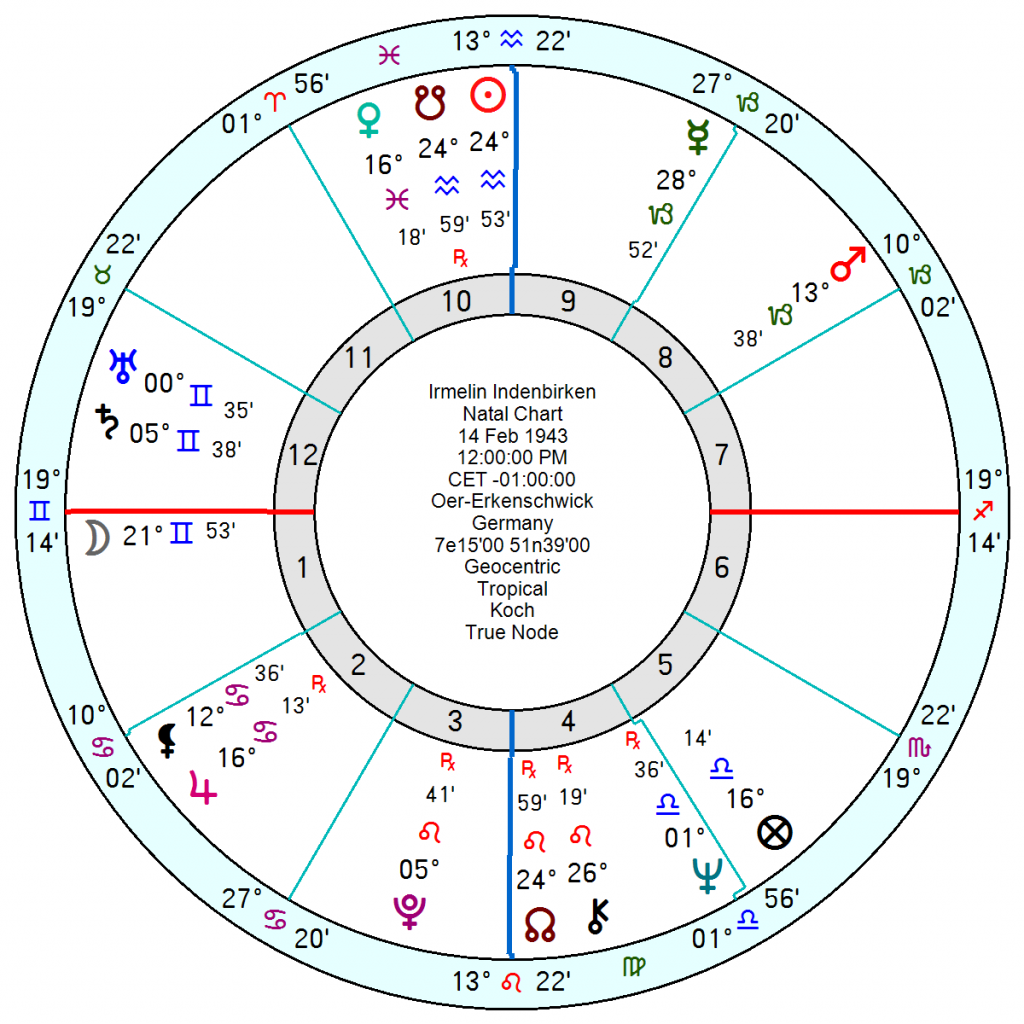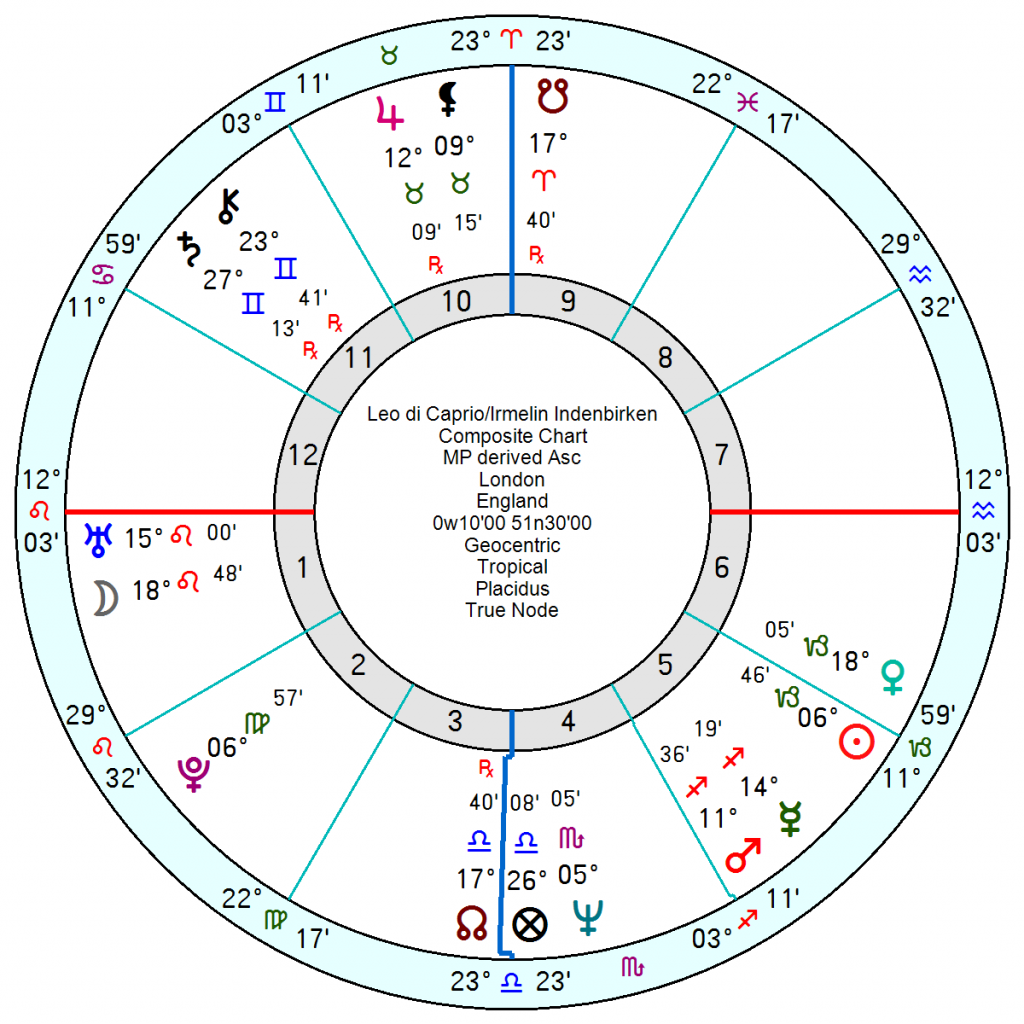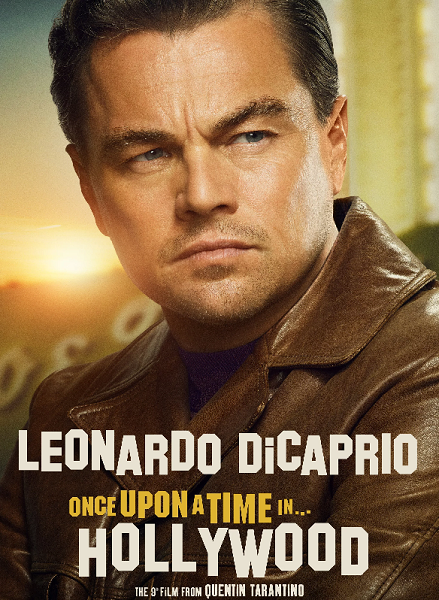 Leonardo di Caprio's repetition compulsion for losing girl friends when they turn 25 is still in operation as yet another one exits on cue. Quite what he is re-enacting isn't entirely obvious.
  He was born 11 November 1974 2.47am Los Angeles which gives him a charming and seductive Sun Venus in Scorpio in his financial 2nd house with Mars in Scorpio also in his 2nd in an enthusiastic trine to a 6th house Jupiter and a 10th house Saturn. Money and work are his priorities.
   His Libra Moon sits just below his Ascendant conjunct Pluto and square Saturn which hints at an emotionally bleak childhood and a controlling and disciplinarian mother. Though his relationship with his mother in publicity photos appears close and he describes her as the driving force in nurturing his talent. His parents split when he was one but continued to live in neighbouring houses to be able to co-parent and he talks of it as a happy time.
Not to be overly Freudian about it, the younger-girlfriend syndrome will be tied somehow into his relationship with his mother. Immelin Indenbirken, 14 February 1943, born in Germany during the war, is an Aquarius with a Gemini Moon and Venus in Pisces. Her Jupiter sits in Leo's 10th conjunct his Saturn and trine his Scorpio planets so her enthusiasm would spur him on. Her Venus is trine his Scorpio planets for good feelings. What does stand out is her Pluto square his Mars which suggests a power imbalance and underlying fear.
  That Mars Pluto theme repeats in several of his relationships with past girlfriends. The submissive one gets a chance to dominate perhaps? He also appears to pick girl friends who are unlikely to stick around to eternity.
Gisele Bundchen had her Uranus conjunct his Sun Venus. Bar Refaeli had her Venus opposition his Uranus. Camila Morrone, the latest to leave, has her Saturn opposition his Moon and their relationship chart has a composite Venus square Uranus.
His relationship chart with his mother is strong on the power-couple energy and possessiveness with a composite Jupiter trine Pluto trine Sun. Plus a dominating Mars square Pluto. There's a constant oneupmanship battle going on which is clearly never spoken nor even possibly conscious.
He will have a fear of being trapped with a Moon conjunct Pluto as he was by his mother so when girlfriends get to the stage of being obviously adult or starting to flex their muscles in the relationship it'll trigger his defences.
  His chart is Water Air – with a Water Grand Trine and a stellium in Libra – which is a difficult combination and a tight-rope act balancing emotions with thinking. He'll veer between being immersed in feelings or being overly detached – and constantly pulled between the opposites.
  He does have hints of significant emotional change coming up. Tr Uranus will oppose his Venus Sun in 2023; tr Jupiter will move through his 8th from May 2023 for a year which brings positive emotional changes, fewer defences and maybe insight as he pulls away from the past. Tr Pluto will square his Sun/Moon midpoint in 2024/25 which will force him to face what he wants out of close commitment – it won't be easy but the end result may bring better connections – and last but not least Uranus moves out of his 8th in 2025 which will be more settled emotionally thereafter.