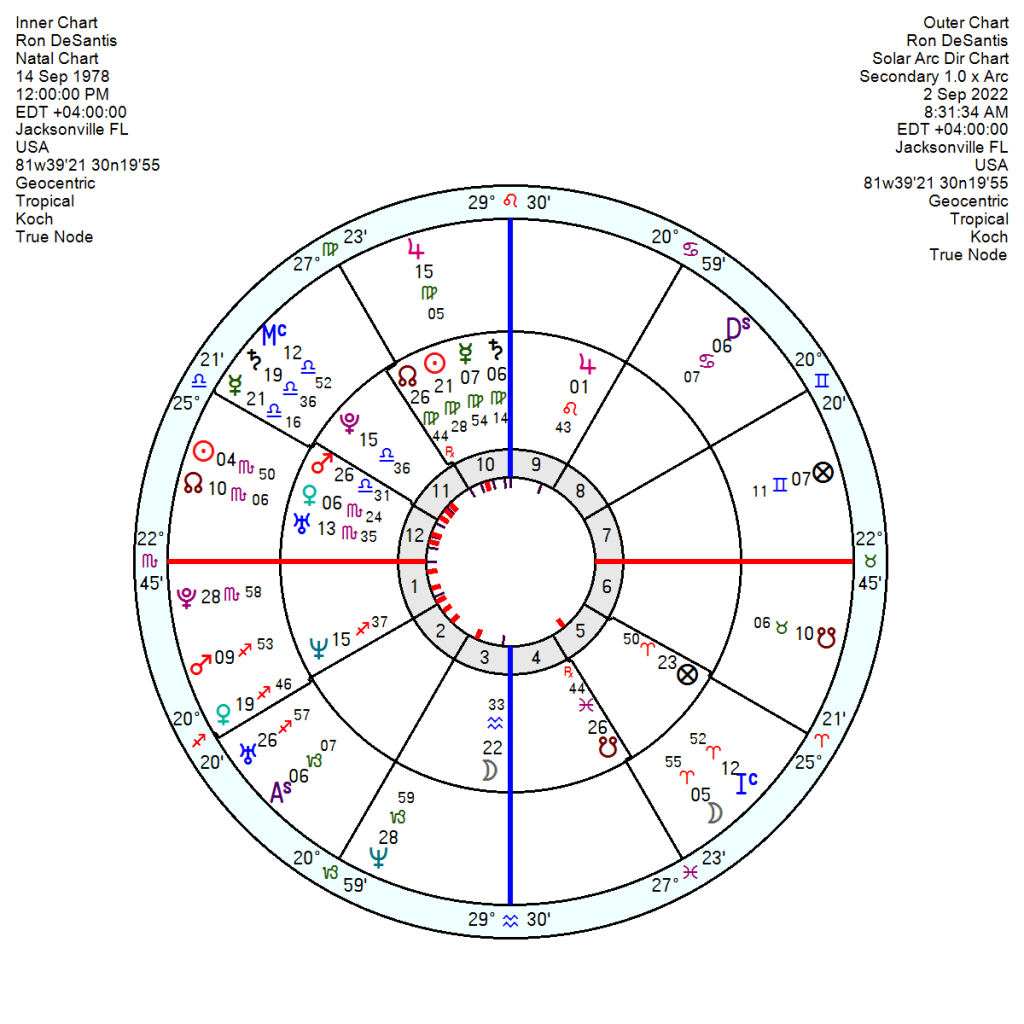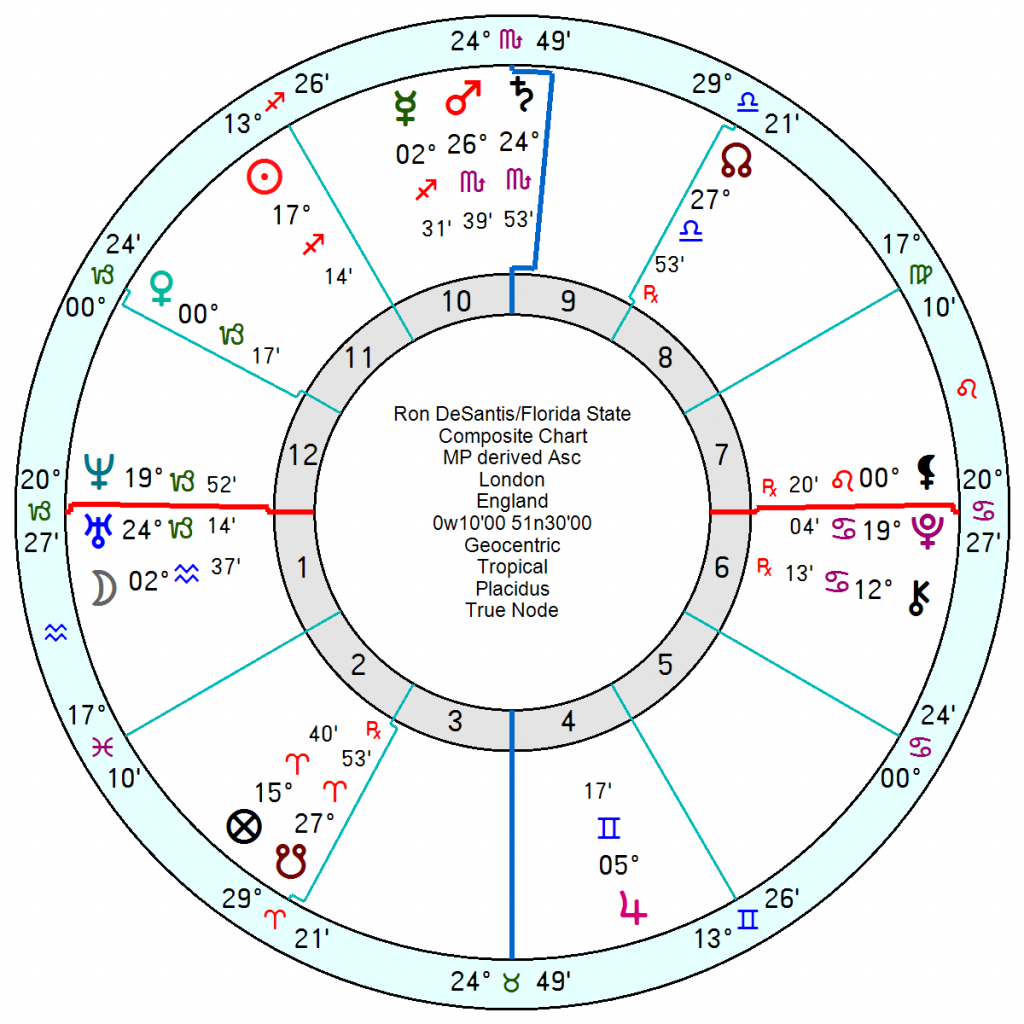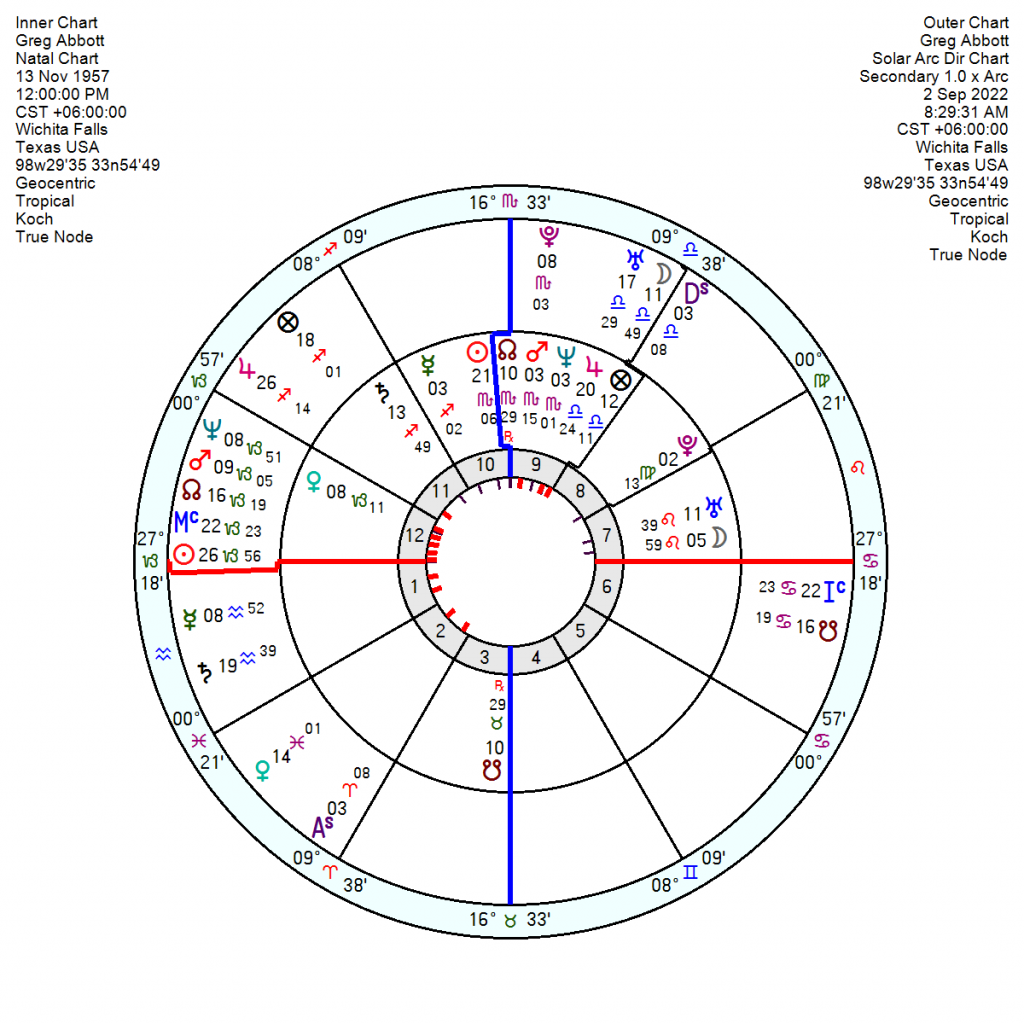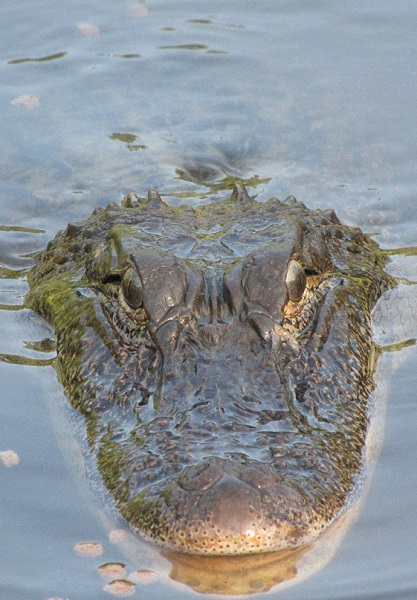 American politics grows more mystifying, toxic and divisive with Trump's loony-toon supporters demanding he be granted immunity from the laws of mankind and he offers the same in return and Joe Biden bemoans the near death of US democracy.
Two states at the heart of the extremist GOP rhetoric, at least as far as political leaders go – anti-vaccination, anti-gun control, anti-LGBT, anti-abortion – are Florida and Texas.
Florida is normally a swing state but Governor Ron DeSantis has imposed a swingeing right-wing radicalization on policies which haven't made him as popular with residents as his shouty proclamations might suggest.
He was born 14 September 1978 in Jacksonville, no time, with a Virgo Sun square Neptune and Saturn Mercury also in Virgo with an Aquarius Moon maybe trine Pluto and Mars in Libra.
He's not looking overly cheerful across this year's Midterms with tr Pluto in a frustrating square to his Mars; and a disappointing tr Neptune opposition his Jupiter/Uranus midpoint. But is looking luckier come the 2024 when he may overtake Trump as the GOP nominee. His relationship with Trump is on a fast downward slide from April 2023 onwards.
Florida, 3 March 1845, for whatever reasons which may not all be political, is having a less than progressive year in 2023 with an undermining, panicky, failure-ridden tr Neptune square Mars from April 2023 onwards. Into 2024 tr Uranus square the Tx Neptune Venus will make for overwrought nerves and emotional upsets.
DeSantis is not a good fit with the Florida state chart with an angry, resentful composite Saturn Mars in the relationship chart which will be upended in 2024; and a disruptive Neptune, Uranus opposition Pluto. He is a catalyst for change but not of the popular variety.
[More nearer the time, but Democrat Charlie Crist, 24 July 1956, up against De Santis this November does have a couple of Jupiterian lifts around then then so could well be successful. Democrat Val Demings, 12 March 1957, up for the US Senate in November, is looking successful from early December – perhaps after a recount?]
 Texas is a more obvious right-wing state from the deep south with Greg Abbott, the governor, 13 November 1957, pushing the  ultra-conservative line on guns, abortion, covid etc. He's a Sun Scorpio with Mars, Neptune, North Node also in Scorpio square Uranus in Leo. He's got mixed influences running into this November midterms with upbeat and successful Mars/Jupiter and Jupiter/Pluto midpoints; as well as career-losses from Jupiter/Saturn and panic from Mars/Uranus. He'll win some, lose some.  The October Solar Eclipse in Scorpio will catch his Mars Neptune for a crisis or two and some very public arguments. 2023 is not a good year for him; nor is 2024 to 2025.
Beto O'Rourke, 26 September 1972, no birth time, running against Greg Abbott, has a couple of successful midpoint transits over the Midterms – but is facing a failed-plans run of influences in 2023/24.
Texas, 29 December 1845, an uncompromising and ambitious Capricorn Sun in a volatile square to Mars Uranus in Aries, will have a few hitches and glitches in early 2023, but from late March onwards till late 2024 the state will be going full-steam ahead with tr Pluto square the Jupiter in Taurus; with some ups and downs from tr Uranus square Neptune Venus from mid 2023 to late 2024. 2026 to the end of the decade will undercut the Texan bravado with tr Neptune undermining the Mercury, Sun and Mars Uranus.
Oddly enough Abbott isn't too popular there either according to the relationship chart with another aggravated Mars Saturn conjunction (like DeSantis and Florida).