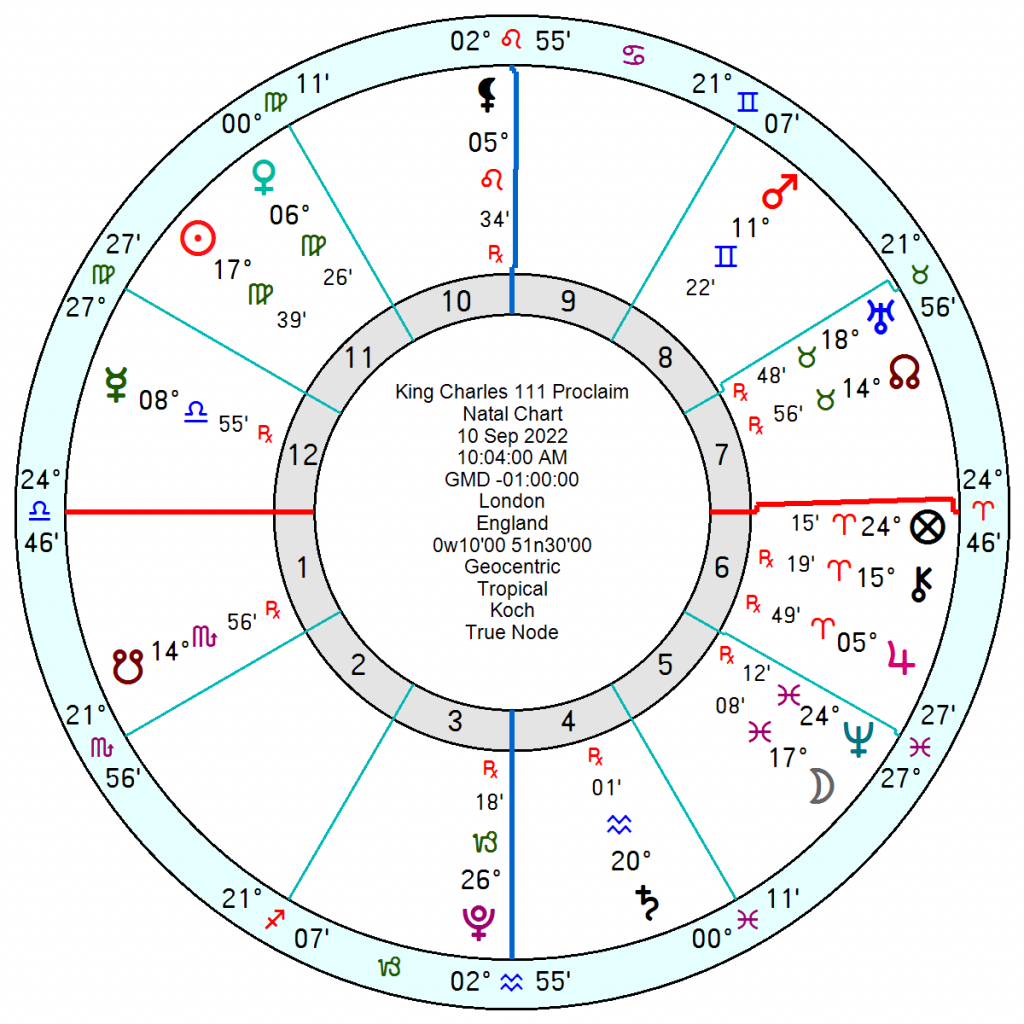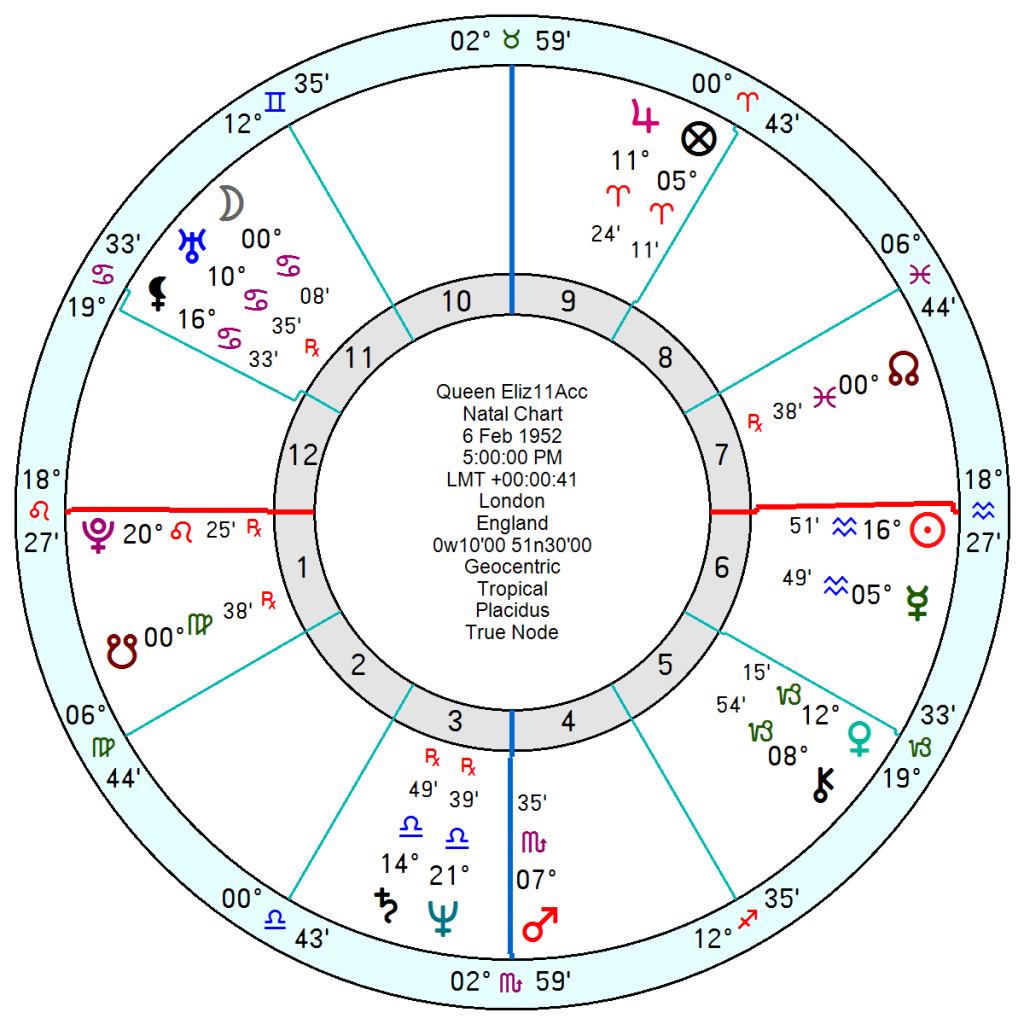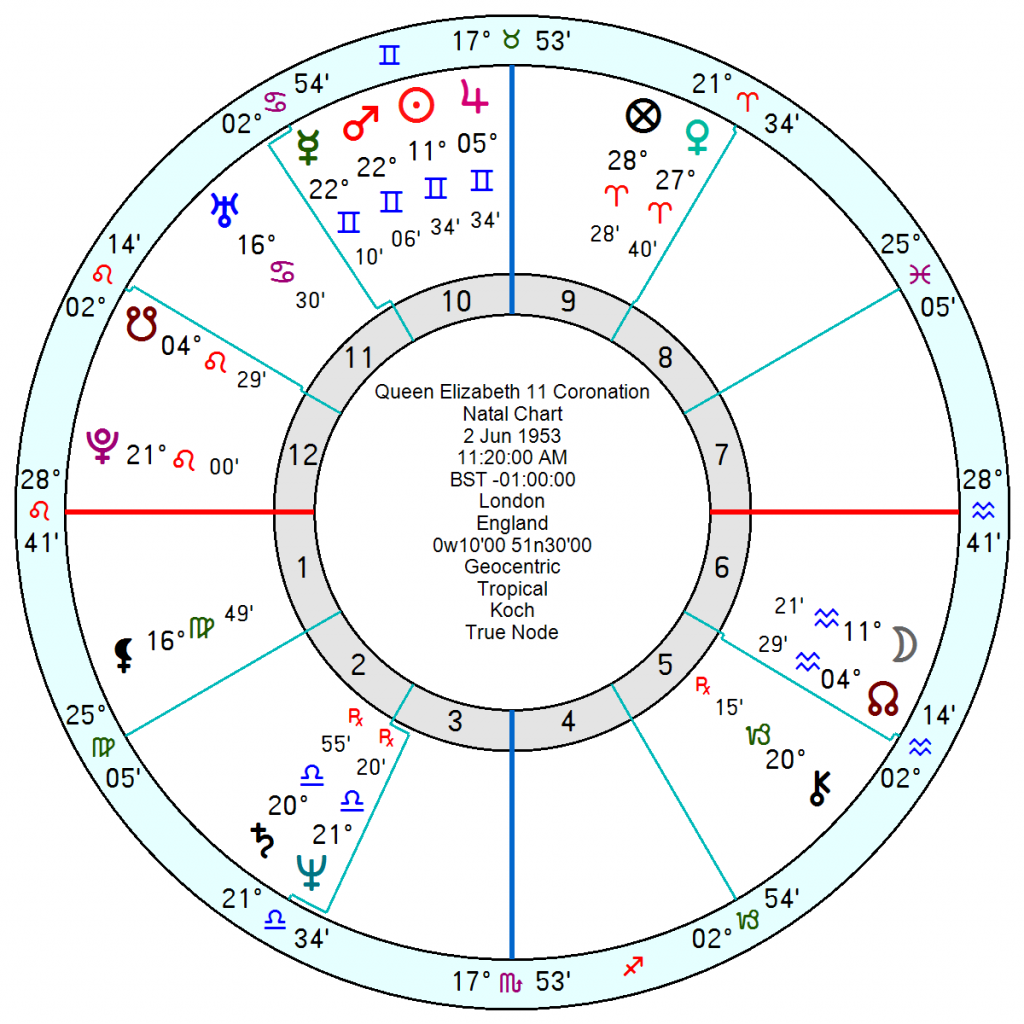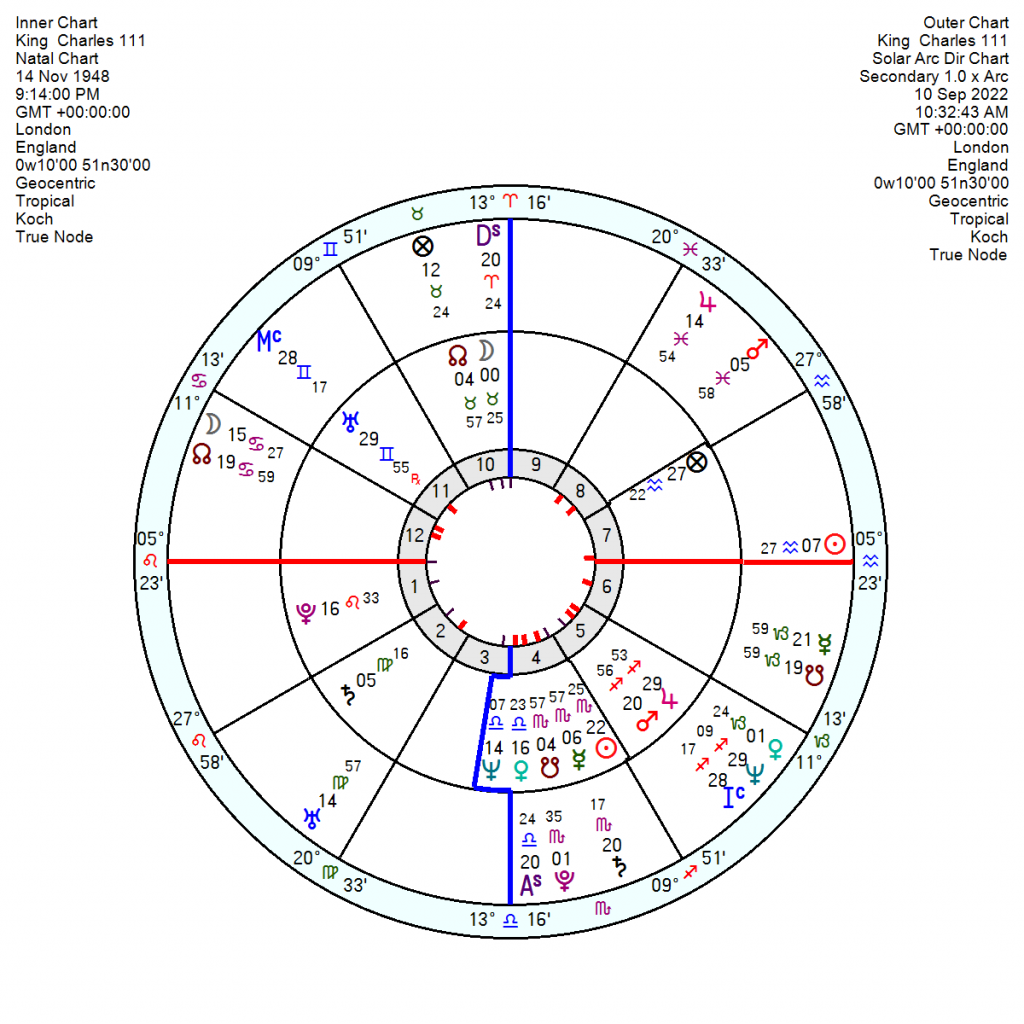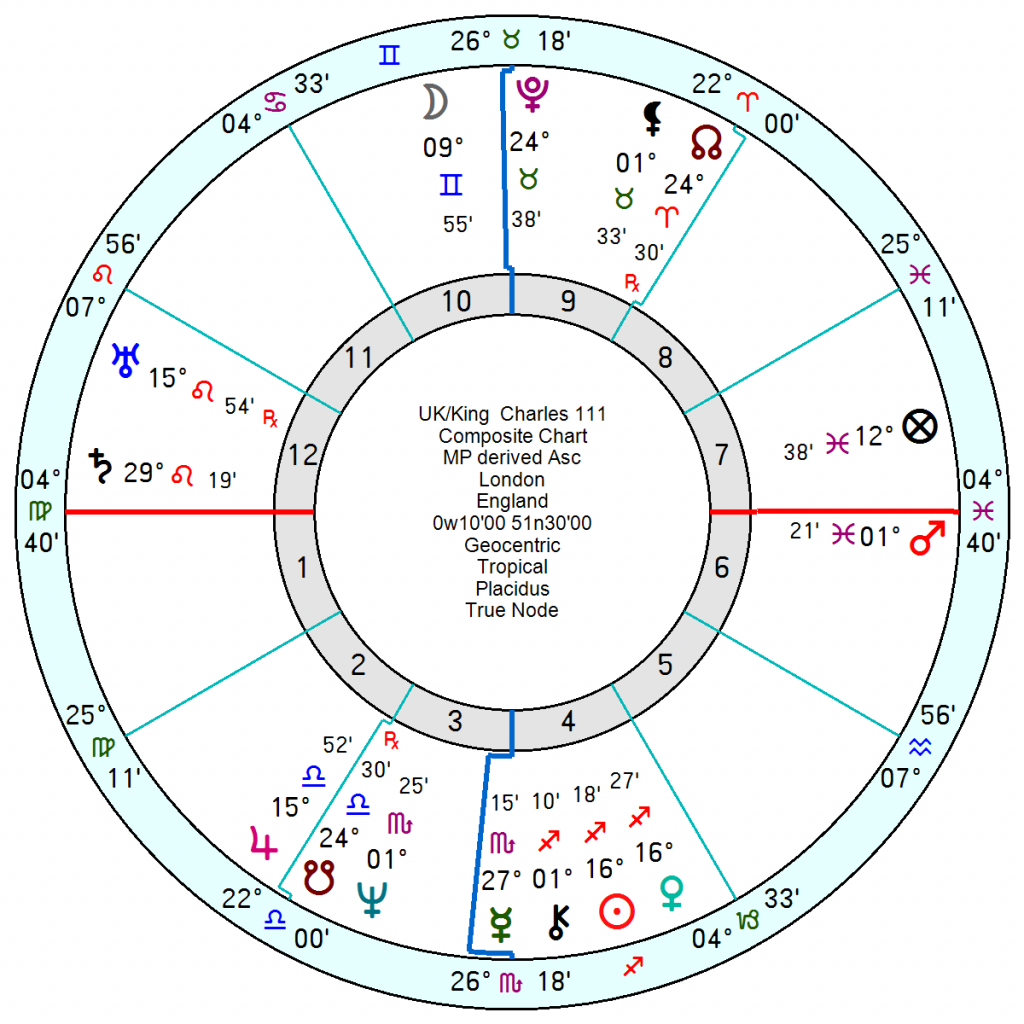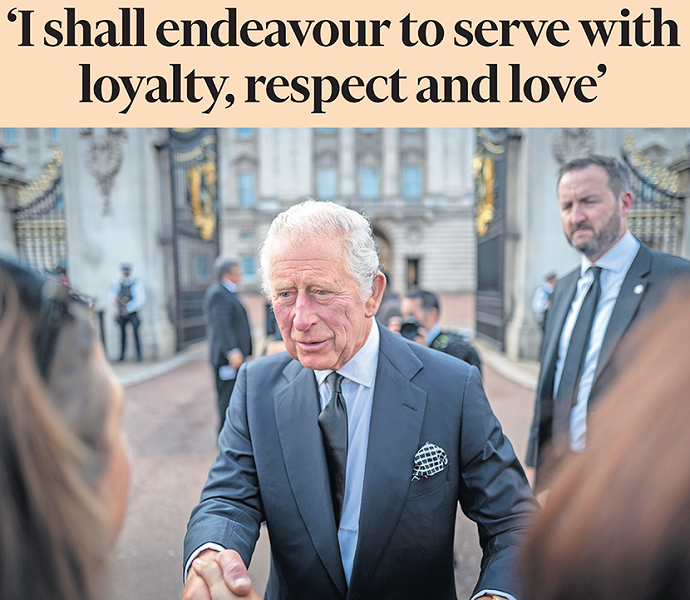 Charles 111 was proclaimed King at 10.04 am this morning in London on the exact Full Moon conjunct Neptune. This sounds indecisive, unstable, overly dewy-eyed. Except that the Full Moon is the fulcrum of a determinedly practical and business-like Earth Grand Trine of Virgo Sun trine Uranus (North Node) in Taurus trine Pluto. It won't be easy to integrate two such divergent energies and Moon Neptune in Pisces as the driving planets are not instantly obvious as helpful or constructive.
There will be arguments with Mars in Gemini in the 8th over money amongst other things with Mars square Venus and trine Mercury.
Uranus Node in the 7th doesn't leap out as cooperative or supportive of relationships, quite the opposite. Uranus Saturn can be autocratic and with Saturn in the 4th it may point to family tensions.
The other point of interest is the Black Moon conjunct the Midheaven in the 10th which could give him the ' desire to accomplish great things in order to prove to a parent that he is worthy of love.' It can lead to an obsession with living up to expectations by making a difference, so driven and ambitious, not wanting to settle for mediocrity. Making an impact will be important to him, stemming from a fear of failure in the public eye, scared of what others might think. Wanting to be an influential person and in control.
  It is a very different chart to the Queen's Accession at 5 pm on 6 February 1952 which had an unbudgeable – and unfathomable – Pluto on the Ascendant opposition an Aquarius Sun. Plus a lucky and highly active Jupiter tied into a resourceful Cardinal Grand Square. Her Coronation chart of the following year has relatively similar traits with a prominent Jupiter and plenty of Cardinal signs for initiative.
It'll be quite a baptism of upheavals for him over the next two years which he won't find easy with a Scorpio Sun square a 1st house Pluto and a Taurus Moon. He's Fixed in a different way to his mother and lacks her ramrod straight devotion to duty and responsibility. His Saturn falls in his 2nd house of personal finances which I have never quite understood since traditionally it means caution around money and he seems to be profligate at a personal level and less than rigorous when it comes to eliciting charitable donations. [Mind you Sarah Ferguson also has Saturn in her 2nd and is a complete klutz when it comes to money, reckless and irresponsible.]
Tr Uranus is tugging at his Pluto, turning his life upside down this year and early in 2023; with a sense of cutting away from the past as tr Saturn squares his Sun this year as well. Tr Uranus follows behind to oppose his Sun from July 2023 on into 2024 which will involve another set of disruptions. Plus a run of calamities from January 2023 onwards, on and off till late 2024, as tr Pluto squares his Mars/Saturn midpoint and last but not least tr Pluto will square his 10th house Moon from late March 2023, on and off till late 2024, which will bring immense professional and personal pressures and challenges, prompting/forcing him to change.
But for all that Jupiter will move across his Midheaven from March 2023 onwards for a year which may coincide with his coronation and will bring success in the months following. And tr Saturn is aiming for his peak from late 2026 onwards for several years – so if he overcomes the hurdles he should move steadily ahead after that.
His relationship chart with the UK is a good deal trickier than his mother's. There's Pluto on the Midheaven opposition Mercury square Saturn which does suggest arguments over control and direction and a good deal of stubbornness – plus an affectionate Sun Venus conjunction. His determined Scorpio Sun squares the UK's 11th house Saturn which suggests he and parliament may be at cross purposes – which was always the fear expressed in Michael Dobbs' House of Cards sequel To Play the King.