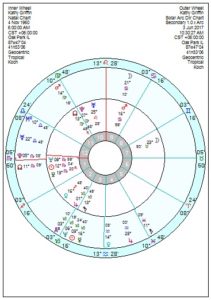 Kathy Griffin, the controversial stand-up comedian and television presenter, is watching her career disintegrate in front of her eyes after a stunt with a severed head of Donald Trump. Several comedians, including Jim Carrey, have stepped up to support her, saying comedians sometimes step across the line, but she's had gigs cancelled and sponsorship withdrawn. Her supporters point out that "Obama's presidency was marked by effigies of our first black president hanging from nooses across the country … or being burned around the world." Sauce for the goose and all that. Those that give it can rarely take it.
Griffin was born 4 November 1960 6am Oak Park, Illinois (astrotheme), the youngest of six to older Irish immigrant parents, had a paedophile, drug-addicted, abusive brother and suffered from an eating disorder. Not a great childhood.
She is a Sun Mercury Neptune in Scorpio so undoubtedly intense; with her Scorpio planets trine an excitable Mars in Cancer. Her Mars in the 9th is also opposition Saturn in Capricorn, so she'll be hard-edged, prone to overstatement, bubbling with anger. She'll certainly be talented with a Half Grand Sextile off that opposition, of Mars sextile Node Pluto sextile Neptune Sun sextile Saturn – but a happy lady at heart she is not.
Her Uranus is in her 10th like Jim Carrey as is her Pluto. Her Uranus is conjunct Trump's Mars, so a recipe for fireworks. She'll perk up marginally from late this month with a lucky-break tr Uranus opposition her Jupiter/Uranus; but she's in a generally low-profile, less successful phase with undermining Neptune transits running till late 2018.
Like Carrey, her 7th Harmonic, which can be mentally on the edge as well as creative is ferociously strong; as is her victim 12H; and she has a strained and aggravated 13H (= breaking with the orthodox).