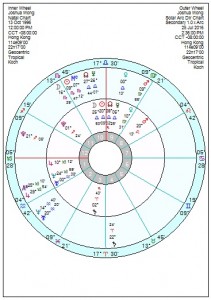 Joshua Wong, 13 Oct 1996, a social and democracy activist in Hong Kong, who has been arrested several times after demonstrations, was listed by Fortune as one of the world's greatest leaders in 2015. And he's not yet 20.
Born with dyslexia, he was raised as a Protestant Christian, became active in church and student protest groups and this year launched Demosisto, a movement stressing Hong Kong's right to self determination.
He's a Sun, probably Moon in Libra, square Neptune in Capricorn, and sextile Mars in Leo – idealistic, keen on justice, pro-active and good at publicity. With Mercury North Node also in Libra opposition Saturn in self-reliant Aries square Jupiter in Capricorn – Jupiter has a socially aware drive which can produce enlightened spokesmen. His Mercury is also heavily aspected being trine Uranus, sextile Pluto as well as in the T Square to Jupiter and Saturn so definitely a communicator.
He's in an excitable insecure phase at the moment with his Solar Arc Uranus opposing his Mars; and his Venus in Virgo and Solar Arc Mars in Virgo picking up the swampy, worrisome tr Neptune square tr Saturn now and into early 2017. In Jan 2017  tr Uranus opposes his Sun for the final time and from 2018 tr Pluto starts to square his Sun – so a longish period of considerable challenge. Though along the way he does have his Solar Arc Jupiter conjunct his Uranus which should produce relief, a lucky break and good news.
His chart does collide with China's with his influential Pluto falling in the China 10th and his Mars in their 7th conjunct their ferocious Mars Pluto. The China Libra Sun is conjunct his Mercury North Node and opposition his Saturn –  all in all he won't sit comfortably with the Beijing government.
The relationship chart does indicate a continuing struggle for the upper hand through 2016/17 and a major upheaval next year.
His emphasised Jupiter falls in the Hong Kong 1997 chart 10th house, so he's an important beacon of hope for the country. Though there looks to be concern and reversals over the next eighteen months. With better news coming 2018/2019 as tr Uranus squares the composite Jupiter Uranus.
He's a brave lad since facing the might of China is no small undertaking.