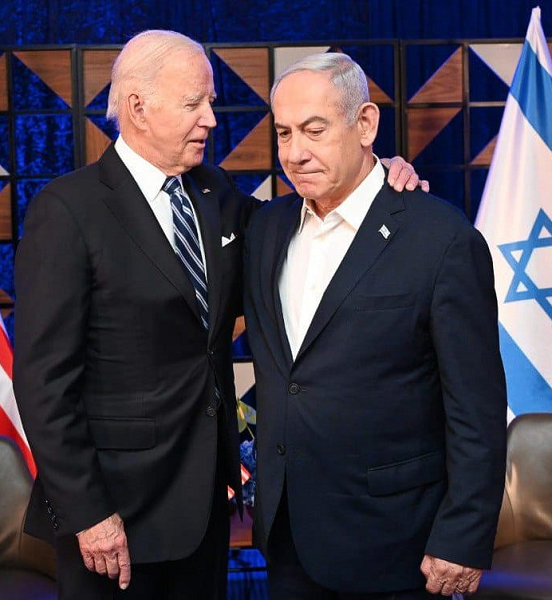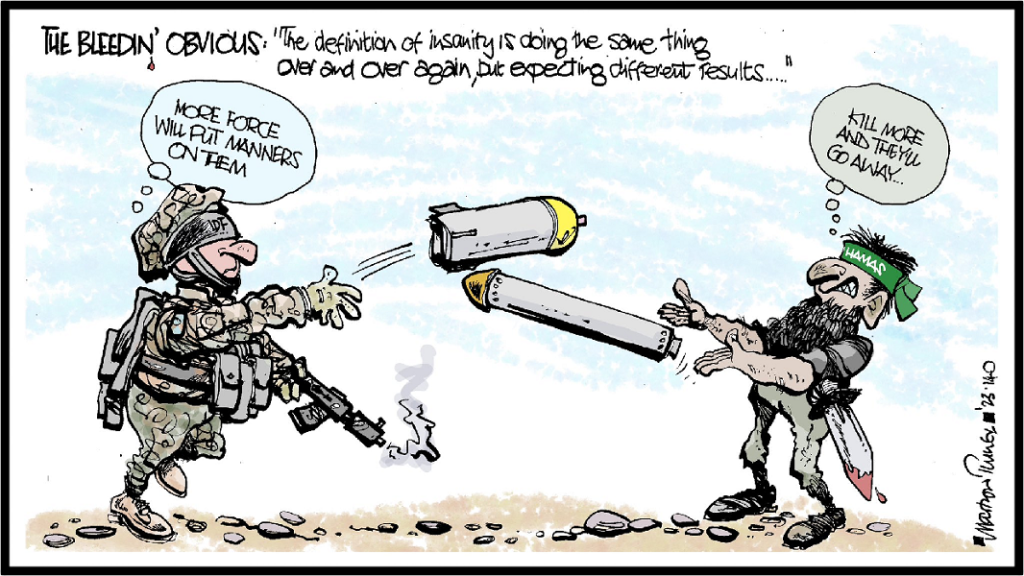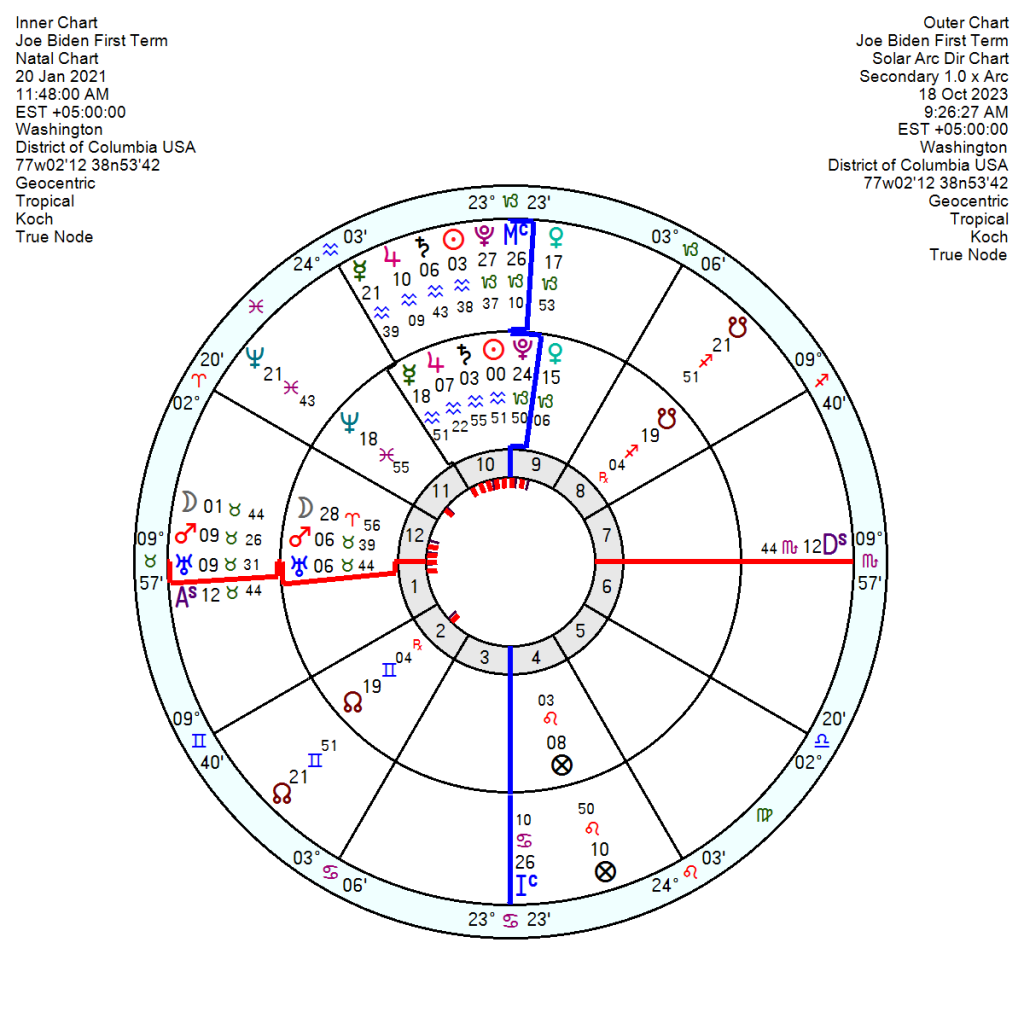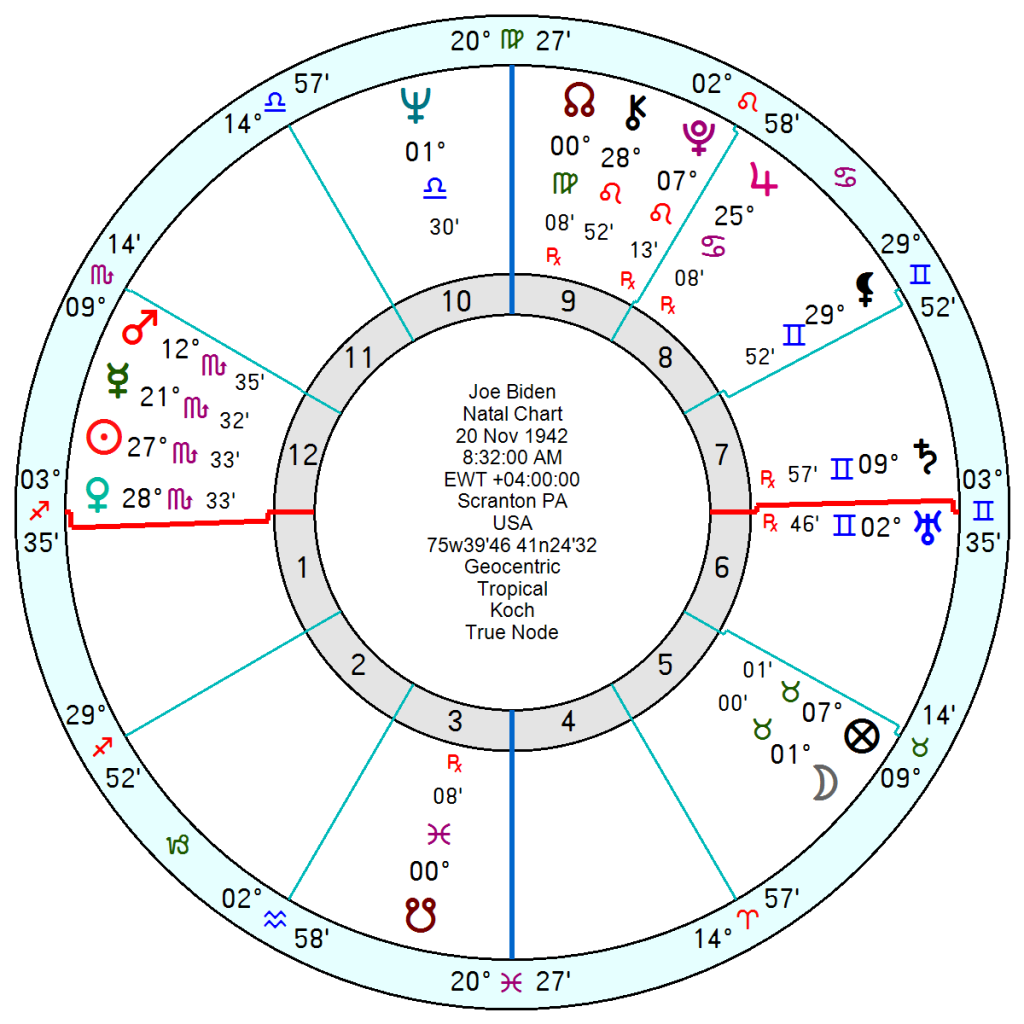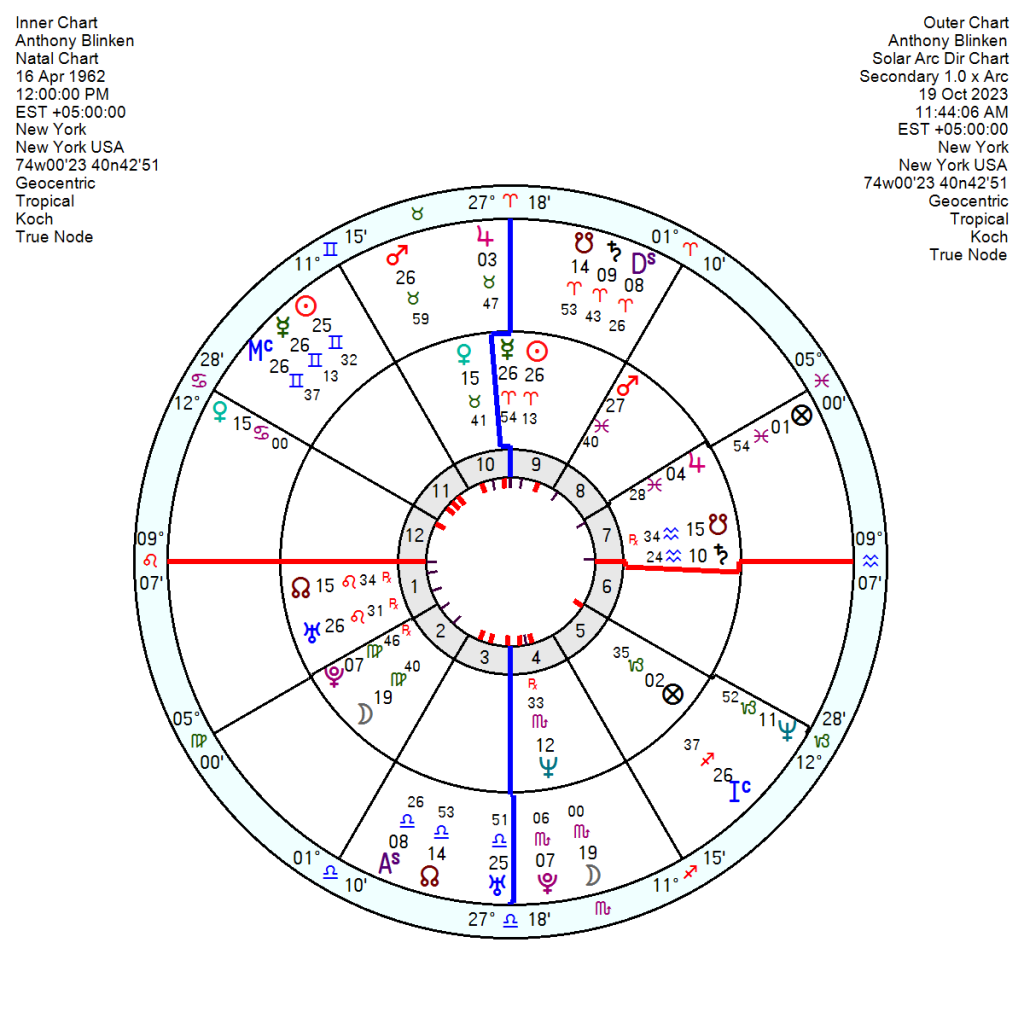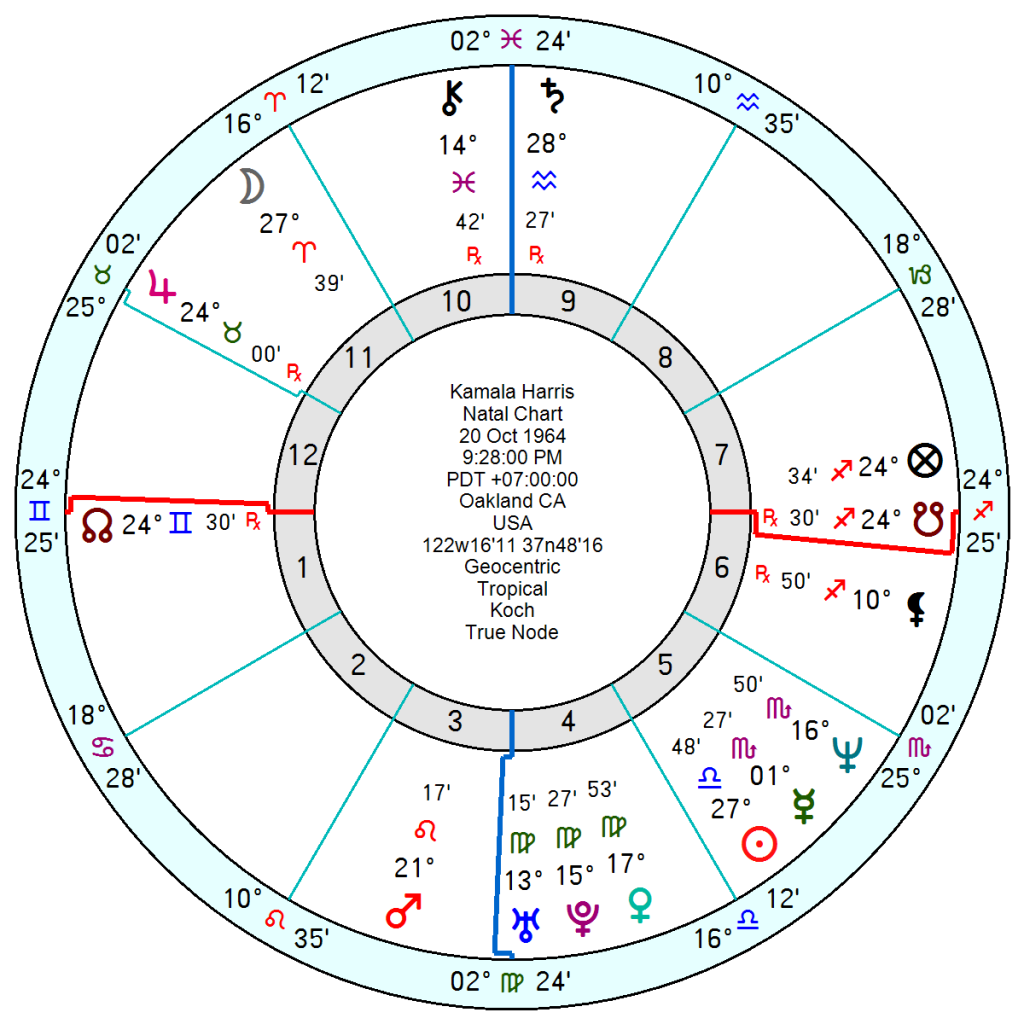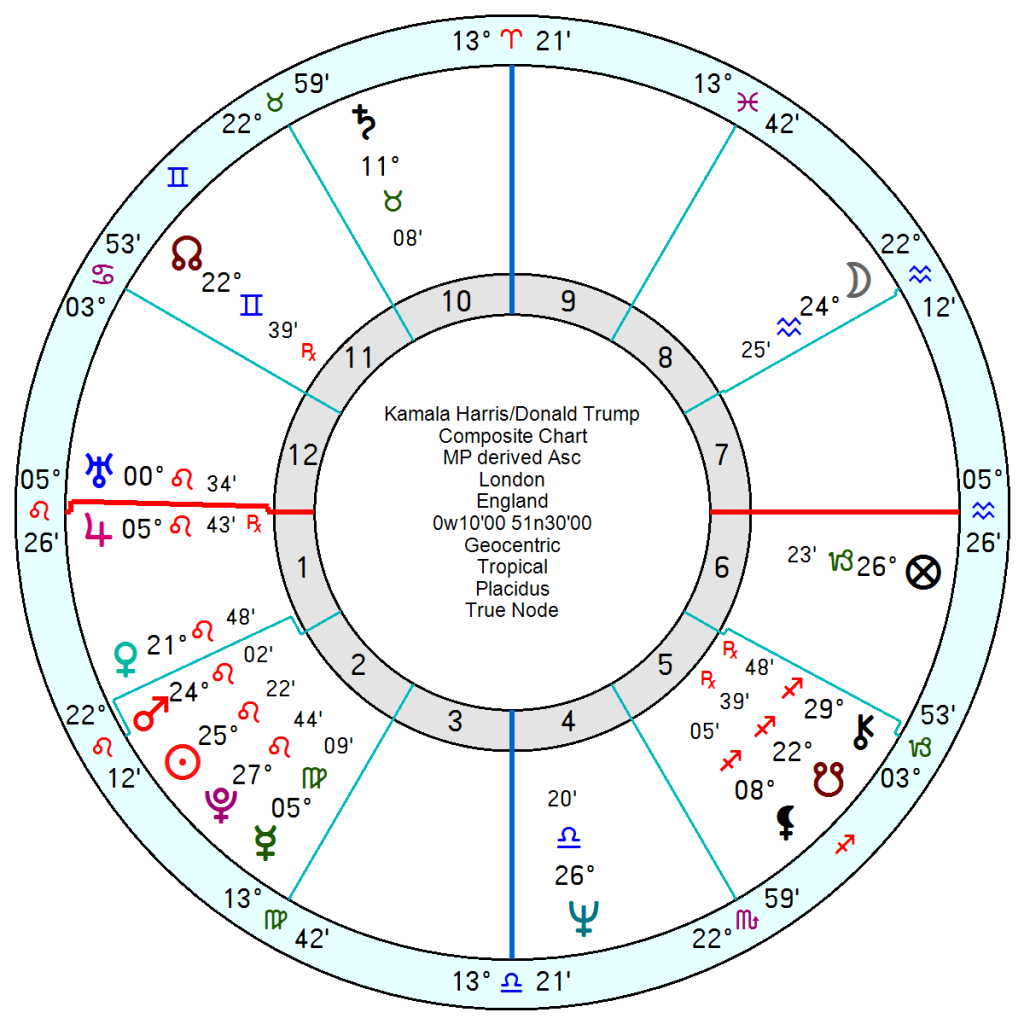 And so it has come to pass. The explosive turn of events that was aways going to mark Joe Biden's term, much pondered at the time of the inauguration, has arrived on cue – with the Term Solar Arc Sun closing the conjunction with Saturn to exact and SA Saturn closing the square to Mars Uranus to exact. Saturn = weighty matters and heavy responsibility. Mars Uranus Saturn = a volatile, high-risk and destructive situation.
The Taurus Lunar Eclipse late this month will also conjunct the Term Mars Uranus adding to the challenge and danger. Ebertin describes Mars Uranus as violent people, fighters for freedom, revolutionaries, a test of nerves and a sudden intervention (sometimes an operation).
Biden took the almost unprecedented step for a US President of visiting a war zone, offering full support to Israel but that was conditional on aid getting into Gaza, with cautions about not repeating the same mistakes as the US by taking a vengeance spree post 9/11. He called for respect for the rules of war and for the innocent lives on both sides who might be put at risk in the conflict. He backed his support for Israel by sending two carrier battle groups into the region – no doubt with a wary eye on Iran.
Joe Biden's personal chart has Mars exactly on the Descendant for Iran so it is very much his warzone hotspot.
Biden's personal Mars/Uranus midpoint is on red alert over this crisis and for another few days; with a similar tr Uranus opposition his Sun/Mars midpoint picking up mid this November to mid December. He's facing a panicky disaster just after mid November to late December with tr Neptune opposition his Mars/Pluto when he won't have the energy or wherewithal to handle calamities decisively. He'll get back into confident gear from late February 2024 onwards with tr Uranus square his Jupiter/Pluto midpoint.
But will be seriously rattled come July 2024 as tr Uranus squares his Mars/Saturn midpoint = which may be when the Middle East moves into an even more perilous phase with another major atrocity. (Or admittedly in his case could be a million different things.) But that period certainly flags up on Netanyahu's chart and his relationship with Mohammed bin Salman, as as well as MBS's relationship with Israel. (And Trump and the GOP Convention.)
It also flags up on Secretary of State Anthony Blinken's chart. He is doing sterling service at present zipping from capital to capital backing up Biden's message. Born 16 April 1962 New York, he is experiencing the same extreme turbulence with his Solar Arc Mars square his Uranus and SA Uranus opposition his Sun now. And his Aries Sun is opposition the recent Solar Eclipse for a crisis. Next June he has tr Uranus opposition his Saturn/Pluto midpoint and then in July tr Uranus square his Uranus and his Pluto/North Node midpoint – which points to him being under maximum pressure in a potentially war-like situation.
There is a blackly humorous and depressingly on-point cartoon today by Martyn Turner. The Bleedin' Obvious: "The definition of insanity is doing the same thing over and over again but expecting different results…" Israel – More force will put manners on them. Hamas – Kill more and they'll go away.
From the look of Israel's chart this one is not going to go away for several years ahead. Indeed the situation is much as James Cameron pointed out 50 years ago and nothing much essential has altered since. See post 10th October.
  See previous post on Netanyahu 11 October, and also previous post on Biden 2 July 2023.
ADD ON:
Kamala Harris, as ever waits in the wings, a stand-in if the unthinkable happens and Biden becomes incapable for whatever reason. Born 20 October 1964 9.28 pm Oakland, California, she has a Libra Sun about to emerge from a gruelling two years of a blocked tr Pluto moving through her 8th house square her Sun from late this month which has put her through the wringer. Tr Saturn is now hovering around her Midheaven beginning eight years of heavier responsibility, hard work and possibly promotion ahead in whatever she does. The key complication from an astrological interpretation viewpoint is her Fixed T Square of a sharp-edged and prone-to-setbacks Saturn in Aquarius opposition Mars in Leo square a lucky, though overly confident and acquisitive Jupiter in Taurus. Such a Fixed T Square will give her stamina and the potential to be an enlightened political spokesman though Jupiterian excesses in terms of arrogance, inertia and intolerance can interfere with progress.
 Tr Uranus is in hard aspect shaking up this T Square, first in an edgy, insecure square to Mars late this month to mid November and again next April which can come about because of a sudden surprise change of circumstances and will also bring arguments. Tr Uranus then is conjunct her Jupiter late May to mid June 2024, late November to mid December 2024 and again March 2025.   On its own tr Uranus conjunct Jupiter brings lucky breaks and new opportunities. But tugging on that accident-prone Mars Saturn, it could well lead to an entirely different outcome. [As was obvious from individuals with Jupiter opposition Neptune in their chart who failed rather than succeeded when their Jupiter was triggered since their over-hopeful Neptune was pulled into play.]
Her Mars/Saturn midpoint will be triggered at the same time as her Jupiter in June 2024 and December 2024 and into 2025. This could bring a fortunate separation, a silver lining in a major setback or having to concentrate extra hard on a complex and risky problem.
Around the high-agitation phase in mid July/early August 2024 she has tr Uranus square her Sun/Node which suggests upsets within her community.
  What is marginally alarming is her relationship chart with Donald Trump – whom she was never going to blend with at the best of times with his Mars in Leo clashing with her Mars in Leo plus Saturn Jupiter. Their composite shows up with a bitterly hostile Mars, Sun, Pluto which is being severely aggravated from June onwards, peaking in June/July and extending on through into 2025. Which rather suggests he is still in the game.
Relocating her chart to the Middle East, Saudi Arabia looks most stressed with her Mars close to her Midheaven there – definitely argumentative. Her relationship with Mohammed bin Salman, is rattled at the moment and if she is still in situ 2025 onwards it will deteriorate.