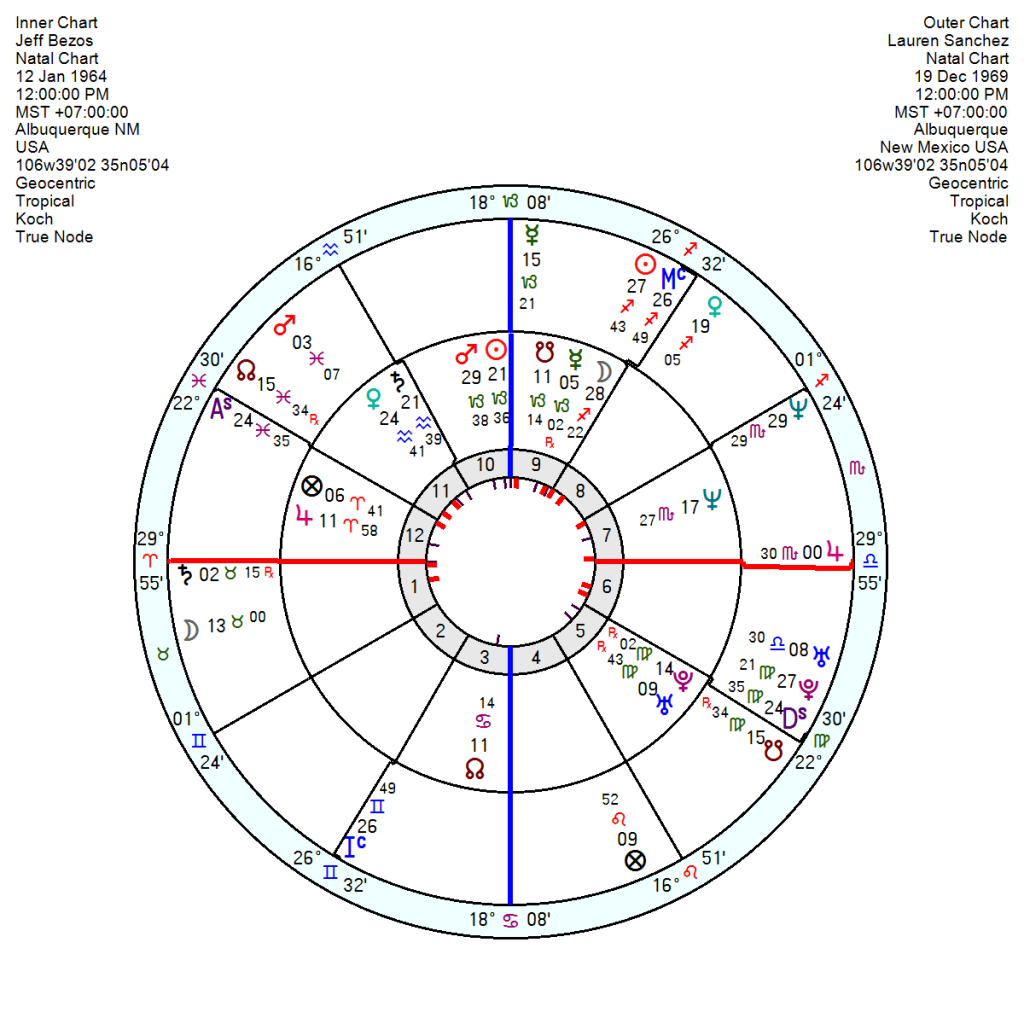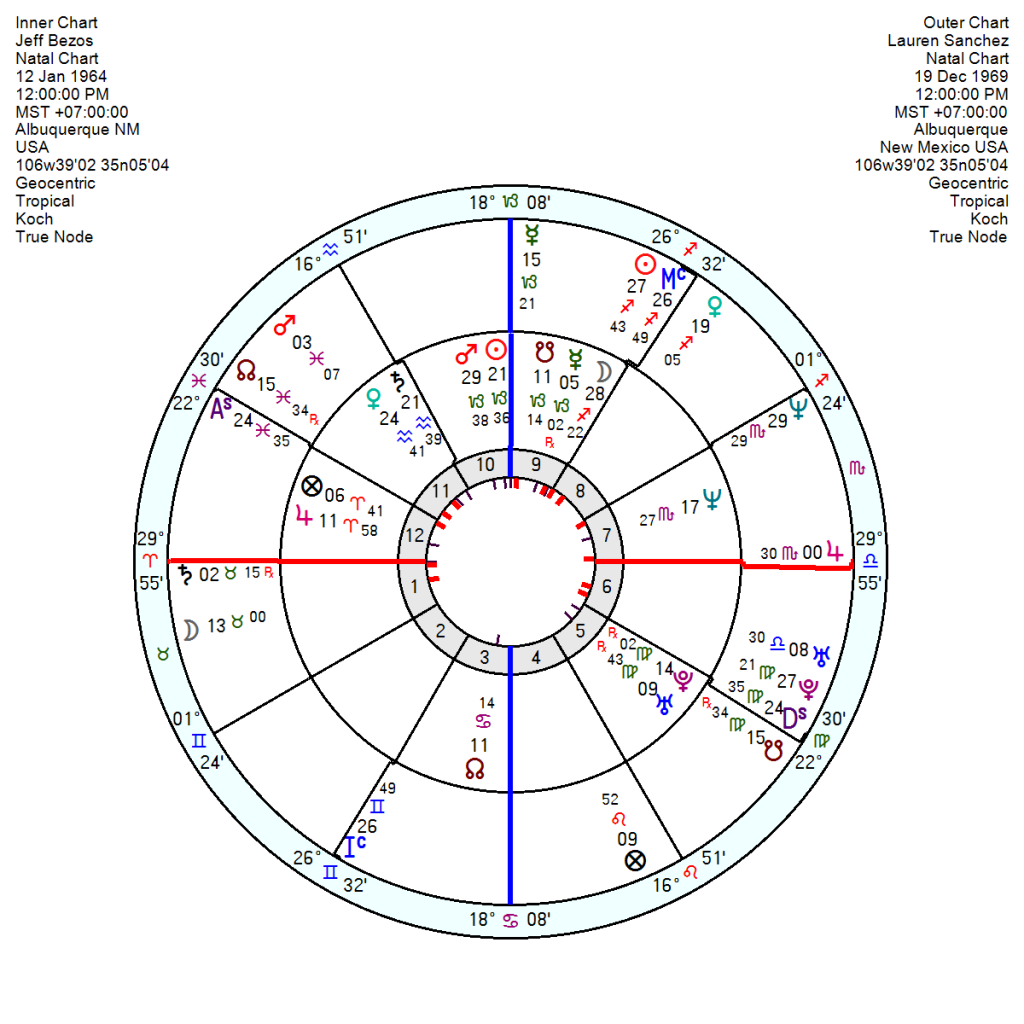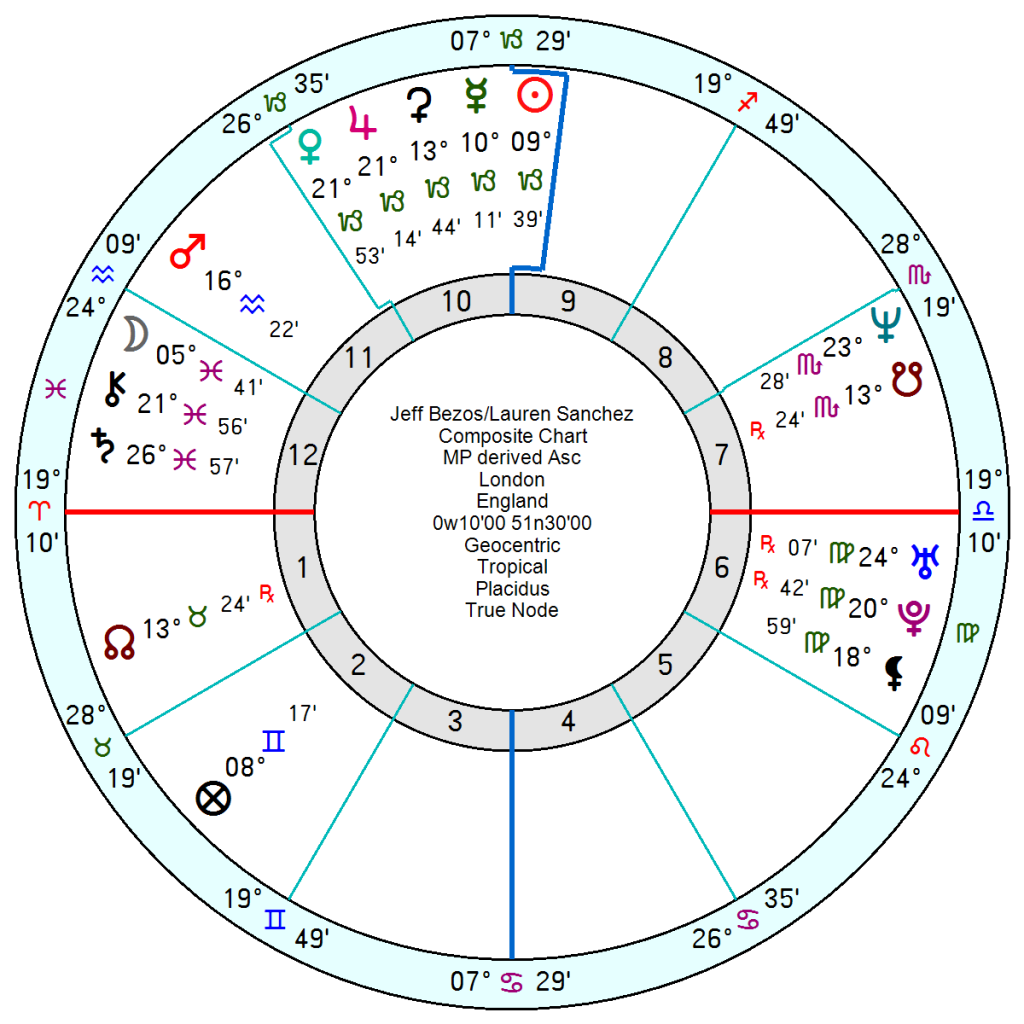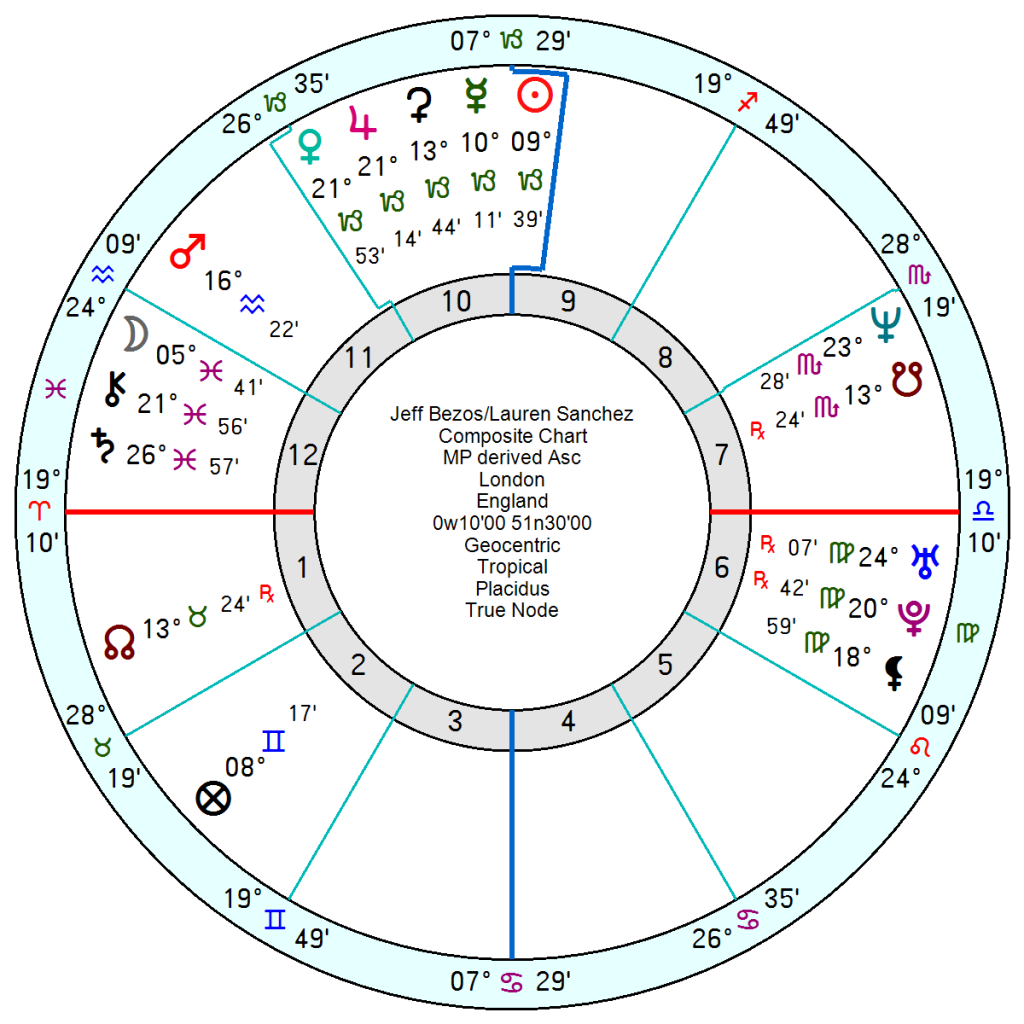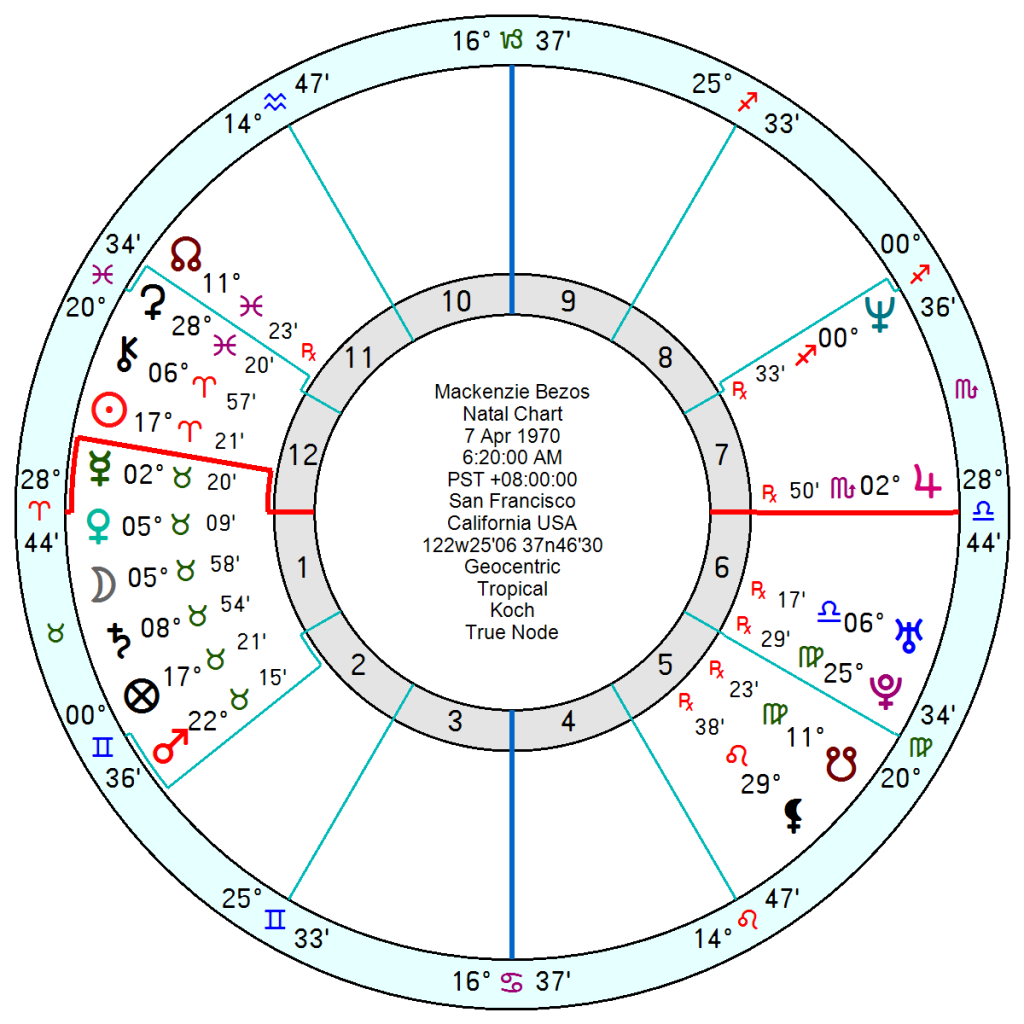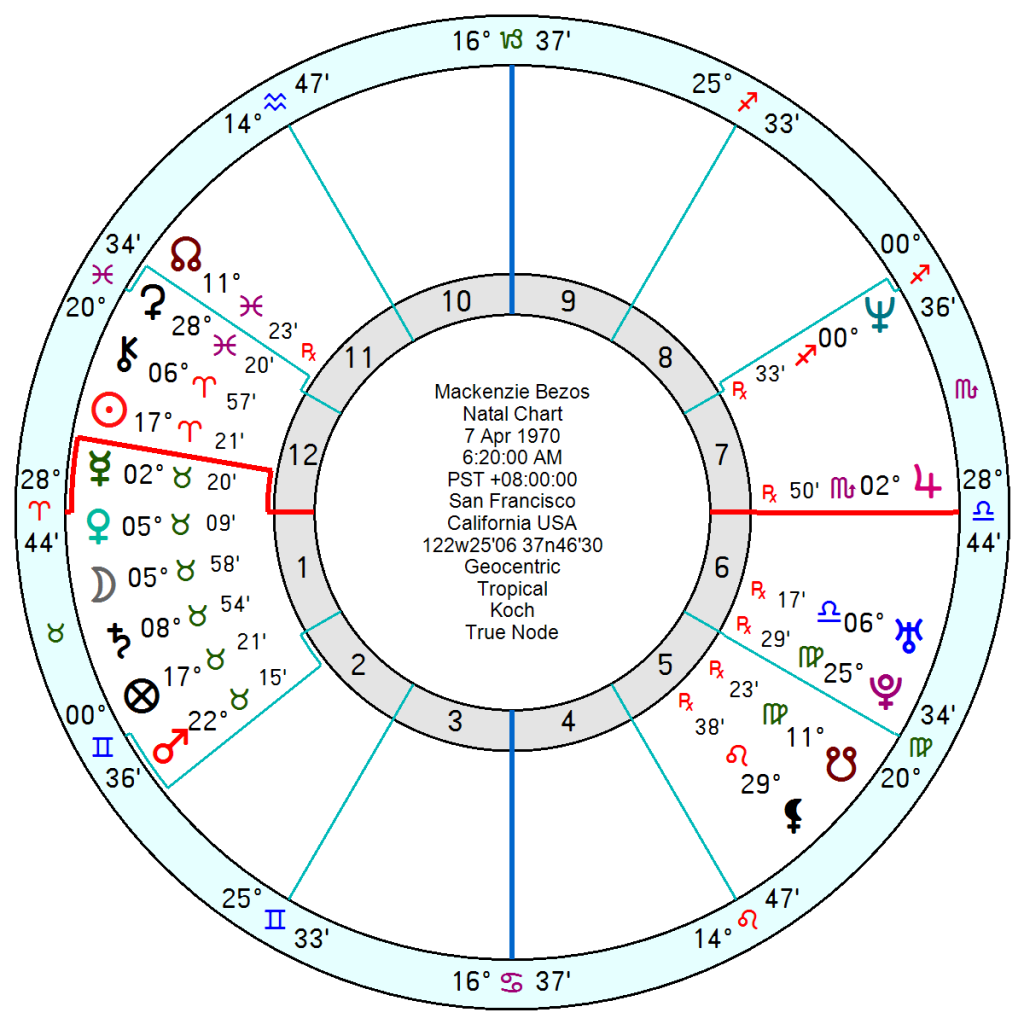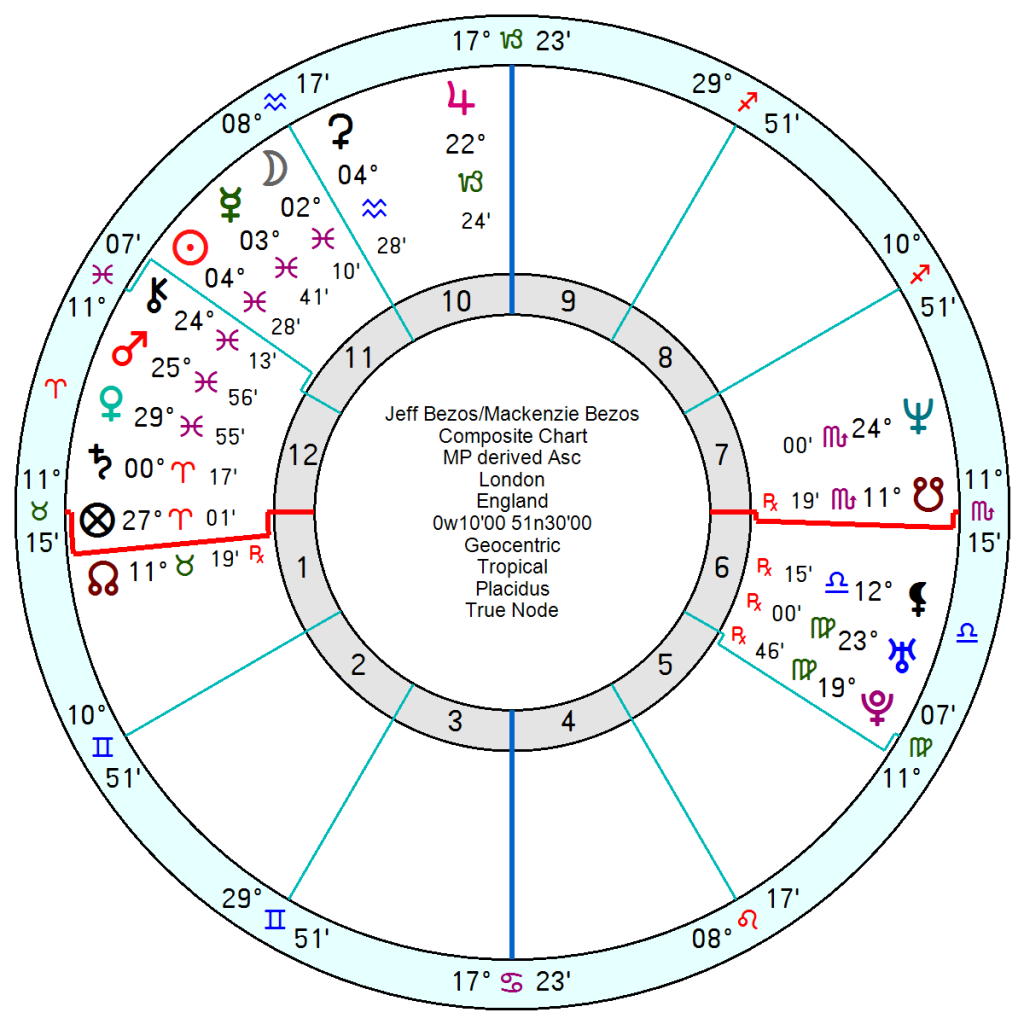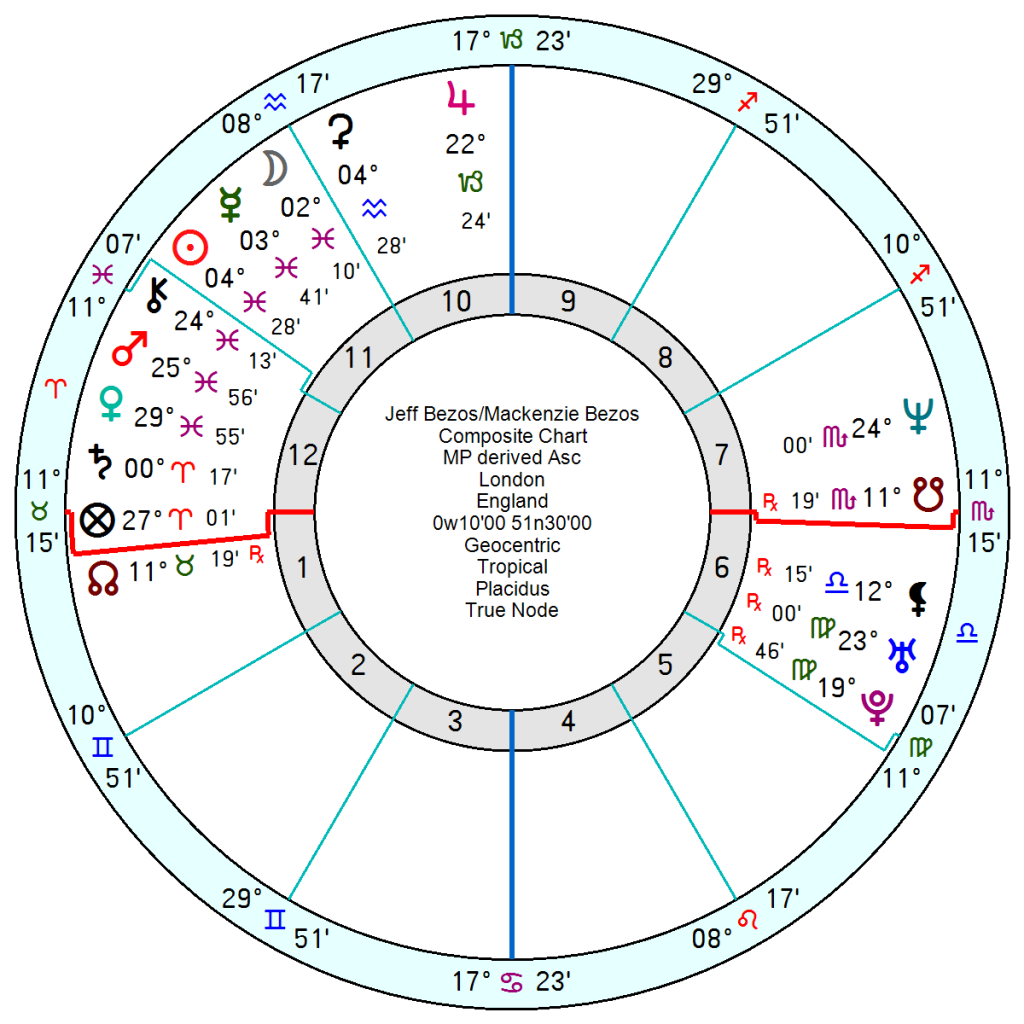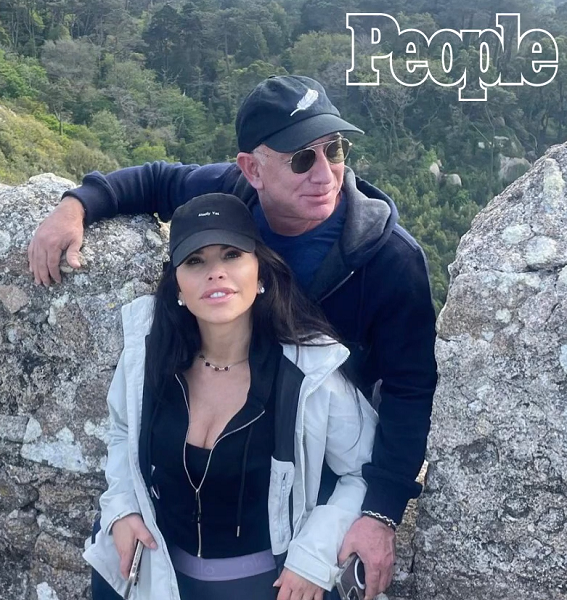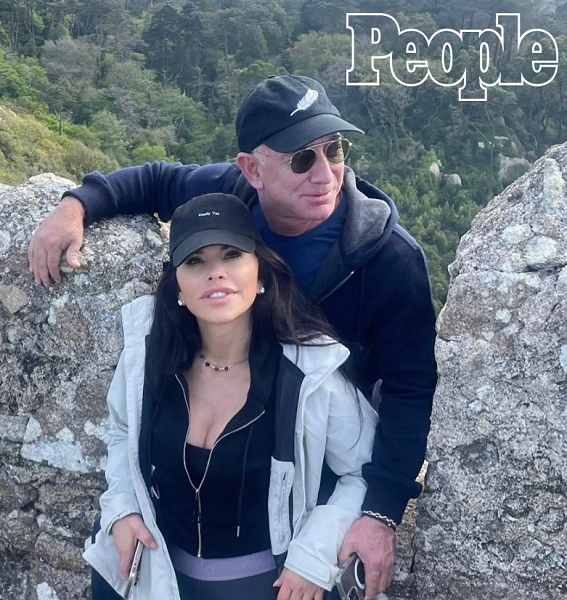 Jeff Bezos, Amazon founder and richer than Midas, has become engaged to his girlfriend of several years Lauren Sanchez, a US media personality, entertainment reporter and news anchor. They got together while both were still married elsewhere and divorces in each case followed.
Bezos, 12 January 1964, no birth time, has a stellium in Capricorn with Sun, Mars, Mercury and maybe Moon there with his Sun square a lucky and pro-active Jupiter in Aries and trine Uranus Pluto in Virgo. He also has a cool, scientific Venus Saturn in Aquarius square Neptune. Mainly Earth Air which is an unemotional combination.
Lauren Sanchez, 19 December 1969, is a Sun and Venus in Sagittarius, with her Sun probably conjunct his Moon. She has an enthusiastic Mars in Pisces trine Jupiter in Scorpio; with her Jupiter in an up and down opposition to Saturn in Taurus. She also has a Taurus Moon which fits with his Capricorn planets. Her Venus in Sagittarius is also OK with his Venus in Aquarius.
Their relationship chart has a frivolous, enjoy-the-high-life composite Venus Jupiter conjunction trine Pluto Uranus and on the midpoint of a mini-Grand Trine of Neptune trine Saturn – so a mix of light and shade, and a relationship that will go through distinct phases. There will be an emphasis on conspicuous wealth and glittery trimmings with such an emphasized Venus Jupiter.
It is not such a together relationship as he had with his wife of 26 years MacKenzie, 7 April 1970, who helped him with Amazon in the early years. She has an Aries Sun conjunct his Jupiter and a stellium of five planets including Moon, Venus, Saturn and Mars in Taurus which fits his Capricorn bunch. Like Lauren her Saturn opposes Jupiter. That relationship chart may have a composite Sun Moon conjunction, making them feel more whole when together, plus an enthusiastic though workaholic Mars Venus Saturn conjunction. With the composite Mars opposition Pluto, trine Neptune and sextile Jupiter. Not easy and one partner would be asked to sacrifice a fair amount but there's more substance to this relationship.
Bezos himself is not having an easy run ahead with a frustrating tr Pluto conjunct his Mars in 2023/24 and a run of hitches, glitches and some disasters from the middle of this year on into 2024. Plus tr Uranus square his Saturn and Venus in 2023/24. It may affect other areas of his life, professional and financial, but there will be a few tremors in their relationship. Tr Neptune will conjunct the composite Saturn into 2024 and oppose the Uranus; as well as tr Uranus opposition the composite Neptune from this August. Nothing terminal in terms of a split but much worry.