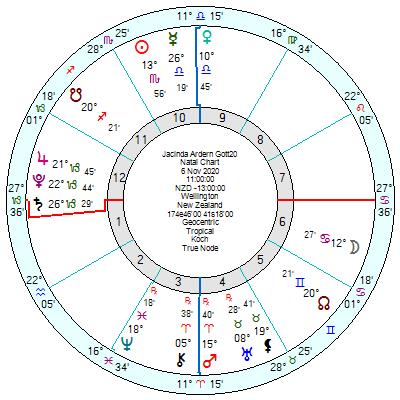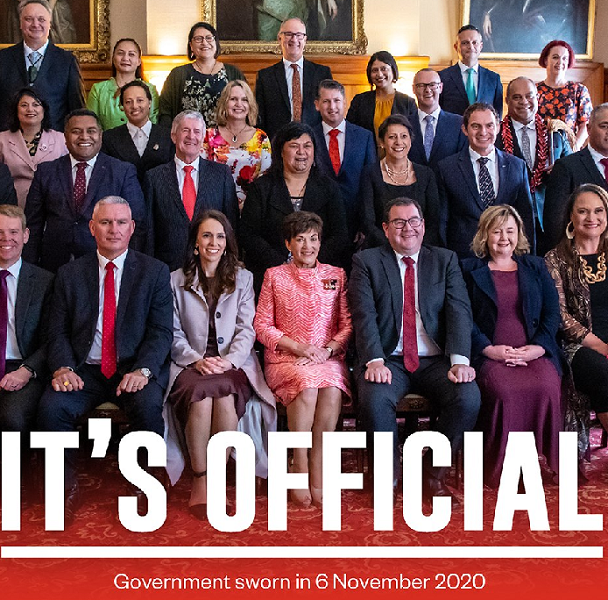 Jacinda Ardern's Second Term New Zealand government was sworn in just after 11 am this morning. That gives an uncompromising, innovative, trailblazing though unsettled Scorpio Sun opposition Uranus which is the driving rod of a Water Grand Trine of Sun trine Neptune trine a Cancer Moon. It'll be compassionate and caring though fairly inward looking as well as intent on rocking a few boats. There's also an argumentative Mercury square Saturn, Pluto, Jupiter; and an enthusiastic though not always sensitive or sensible Venus opposition Mars square a Cancer Moon.
There'll be ups and downs from the tr Uranus square tr Saturn hitting on the Government Sun from May onwards for a year which is likely to be at least in part economic woes. But the bullishly confident and usually successful Solar Arc Jupiter conjunct Pluto, exact in late 2021 should offset early problems.
Jacinda Ardern's own chart (rectified to 1.59pm by Graham Ibell) has tr Neptune opposition the Saturn from late May 2021 on and off till late 2022 which will be uncertain and panicky. Plus a major-setback Solar Arc Saturn square her Sun, exact in late 2021. She will have some successes along the way and upbeat phases but she will be guiding New Zealand through a turbulent few years ahead.
See previous posts: Ardern – 16 October 2020; and NZ 5 May 2020.