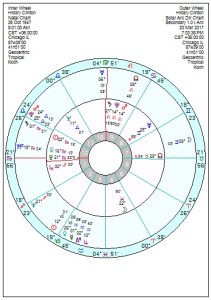 Hillary Clinton has intimated she is 'ready to come out of the woods' in a St Patrick's Day talk. There's nothing in her chart that would suggest a rousing time ahead. Her Solar Arc Saturn is moving to conjunct her Sun, exactly in 9 months time, and the run up to that will be discouraging and sombre.
She looks over wrought this month, and on and off till late 2018 with tr Pluto opposition her Mars/Uranus midpoint; and undermined in April and on and off till late 2018. If anything 2018 is even more muddled with tr Pluto square her Sun/Neptune.
If the 8am birth time is sound then her Progressed Moon is going into her 12th in just over six months and what follows will be inward-looking, more suited to the shadows than public platforms. Plus tr Saturn is moving now through her 2nd which is the lowest ebb of her chart.
I can't see her making any impact really. Though she may bounce a bit in 2020 when her Solar Arc Jupiter moves to oppose her Mars Pluto.