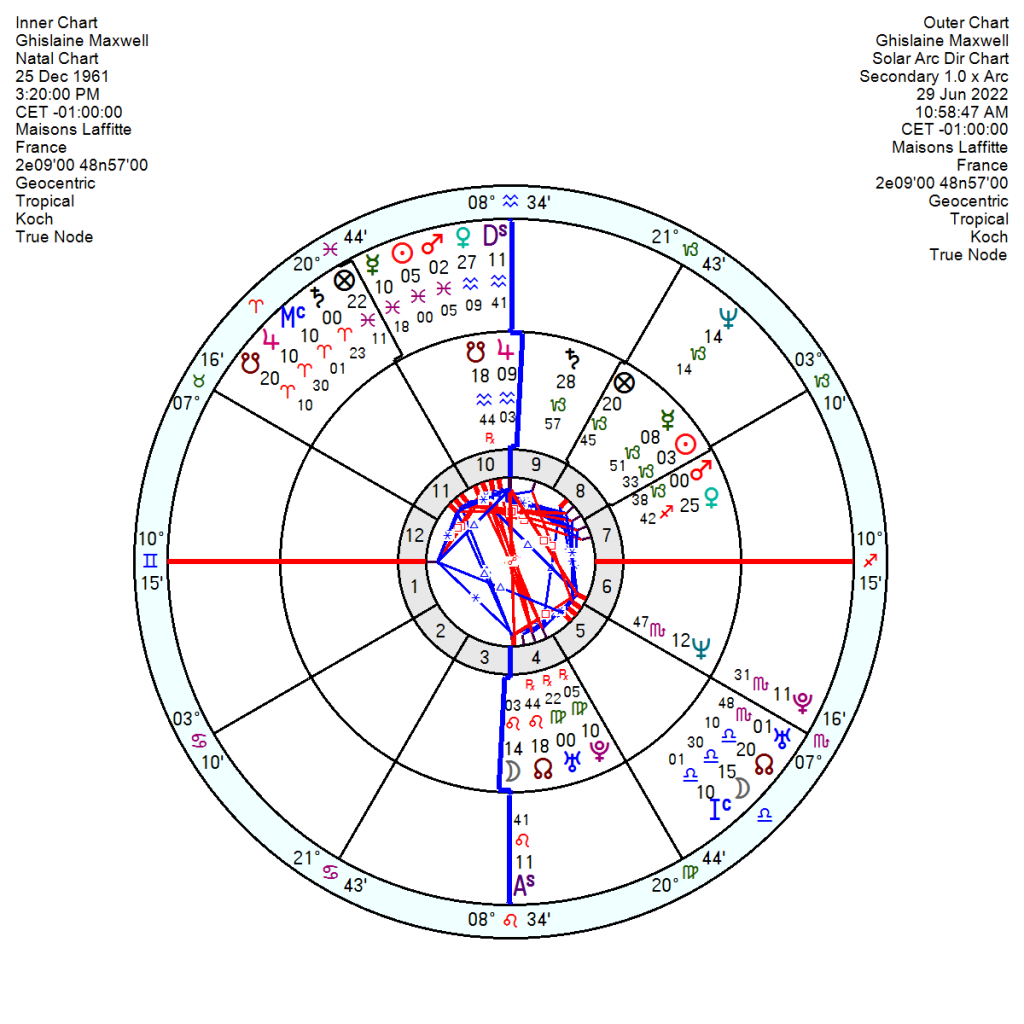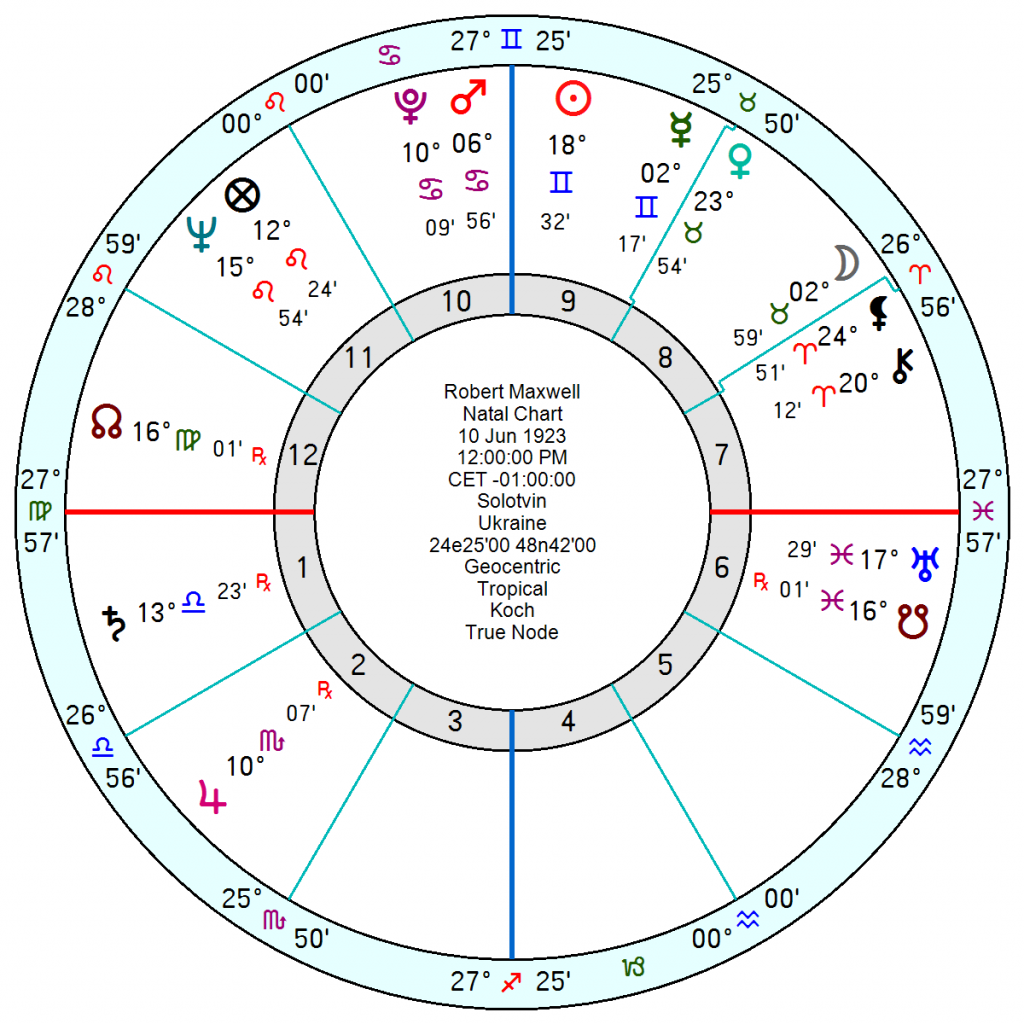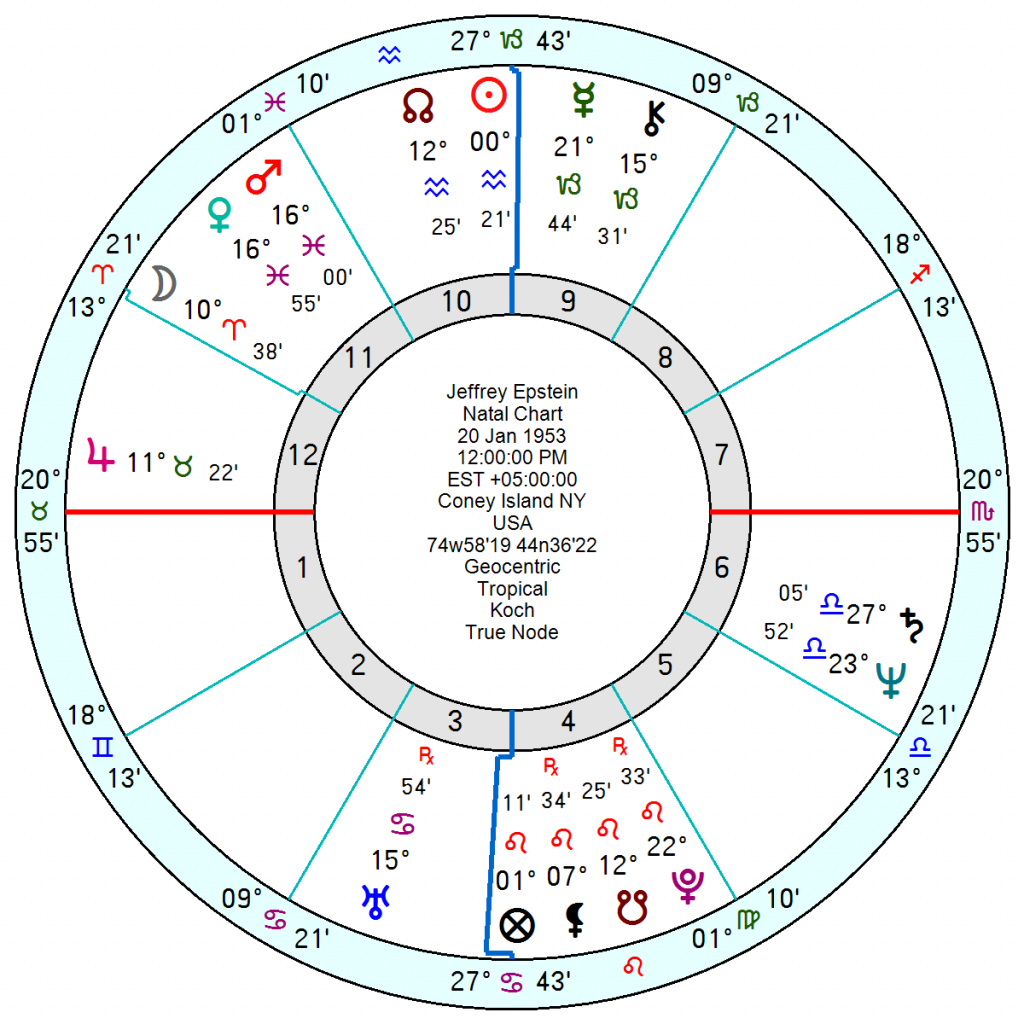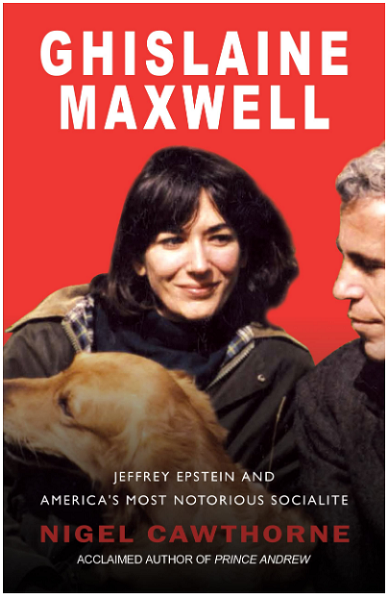 Ghislaine Maxwell appeared unbowed as she faced a 20 year sentence over sex trafficking and listened to the victims of Jeffrey Epstein's abuse give harrowing testimony. As the judge noted she evinced sympathy but ducked responsibility. That will be partly because she hopes to appeal, though, as a lawyer noted, she is also a narcissist, who thinks of herself as the victim. Much was made in her plea of litigation about the damaging effect of her father, Robert Maxwell.
She was born 26 December 1961 3.20pm Maisons Lafitte, France which puts her ambitious Capricorn Sun, Mercury and Mars in her intense 8th house and a lucky, confident Jupiter conjunct her Midheaven. Both would contribute to her need for status and wealth. Sakoian & Acker remark of a 10th house Jupiter – if afflicted there may be 'hypocrisy and vainglory, leading to disgrace and reversals of fortune.
In her case the Jupiter effect is magnified being opposition a flamboyant, life-in-the-five-star-lane Leo Moon which even worse squares onto Neptune. Her Neptune will give her a distorted view of reality, prone to delusions, tending to over-idealise some people and ignore unpleasantness. A Fixed focal point Neptune can accentuate sensuality and cravings as a need to escape inner loneliness and pain.
She seems to have veered towards the negative end of the energies in her chart – since all of them could have been utilised in a constructive way.
  Although she tried to blame her father Robert Maxwell, who was undoubtedly a brute, for sending her off-course what in reality she took from him was an insatiable need to be fed excessive quantities of money. She was his favourite and saw that she lacked nothing in the way of material indulgence. When he died and his fraudulent empire collapsed, she had a desperate need to replace her sugar daddy.
  Robert Maxwell, 10 June 1923, Ukraine, a Sun Gemini had a do-or-die-determined and ruthless Mars Pluto in Cancer trine Jupiter trine Uranus – adventurous, lucky, good at attracting money and cruel – a bulldozer.  His Venus in Taurus was conjunct the destructive Fixed star Algol. Where he connected with Ghislaine's chart was his money-magnet Jupiter conjunct her Neptune and square her Moon and Jupiter Midheaven; and his Neptune conjunct her wannabe-prominent Leo North Node. Plus his bullying Mars Pluto was opposition her Capricorn planets. An extreme mix of good and bad.
Jeffrey Epstein, 20 January 1953, a late Capricorn/Aquarius Sun, had his Jupiter in indulgent Taurus opposition her Neptune – so much of a muchness with daddy's largesse. And Epstein's Pluto was conjunct her 4th house North Node so he would exert control over her though he was nothing like the dominating monster her father was, at least as far as she was concerned.
There is an Astro-oddity I can't get my head round – in both cases her composite relationship chart with both men highlights a close Chiron connection – which doesn't on the face of it make sense. With her father there's a composite Sun Chiron and with Epstein there's a composite Venus Mars Chiron opposition Uranus square Neptune. Though I suppose taking Chiron as representing her core wound – neither of them did her any good.
  When the sentence was handed down tr Uranus was square her Progressed Mars for a shock and Solar Arc Saturn is in a car-crash-setback square to her Mars exactly now as well. The discouraging, deprived and depressing tr Pluto conjunct her Saturn is dragging on through this year and next. By 2024 she has a sobering, face-reality Solar Arc Saturn square her Sun with an emotionally intense Solar Arc Pluto square her Moon in late 2024/25. By tr Neptune Saturn will start to square first her Mars and in the three years following square her Sun and then Mercury. Nothing to suggest an appeal will produce results.
  Relocating her chart to New York where the trial was held and Connecticut federal prison which will be home ahead, it puts a trapped Pluto in the 8th which makes sense. It's a low-security though not a minimum-security prison and was evidently the inspiration behind the TV series Orange is the New Black.