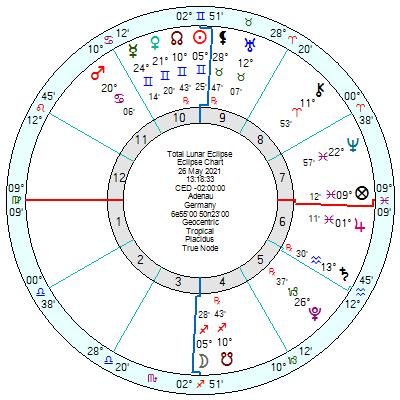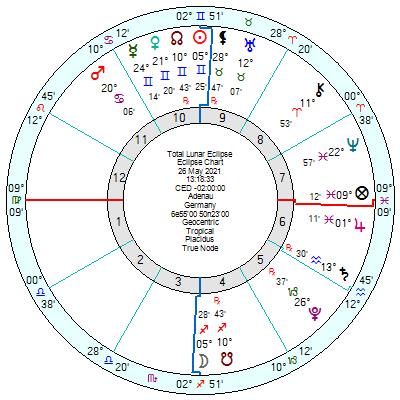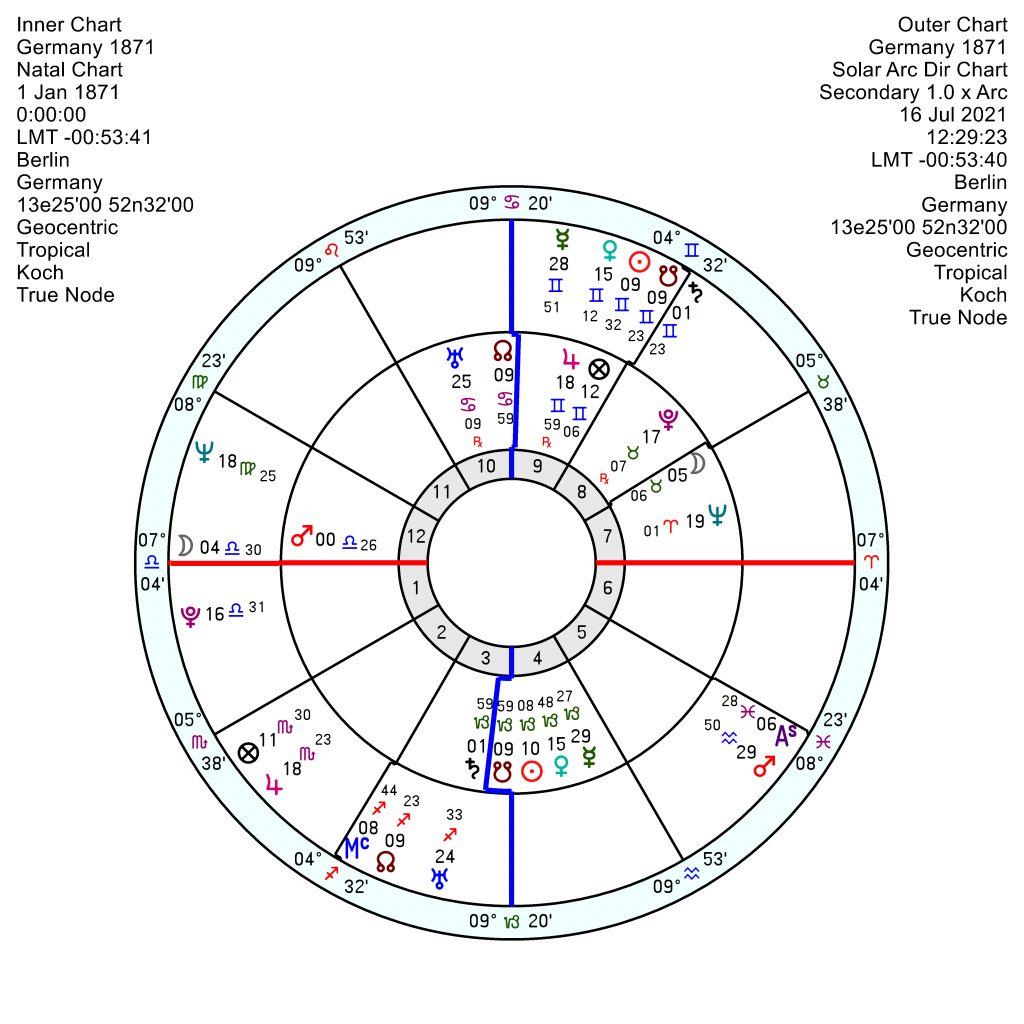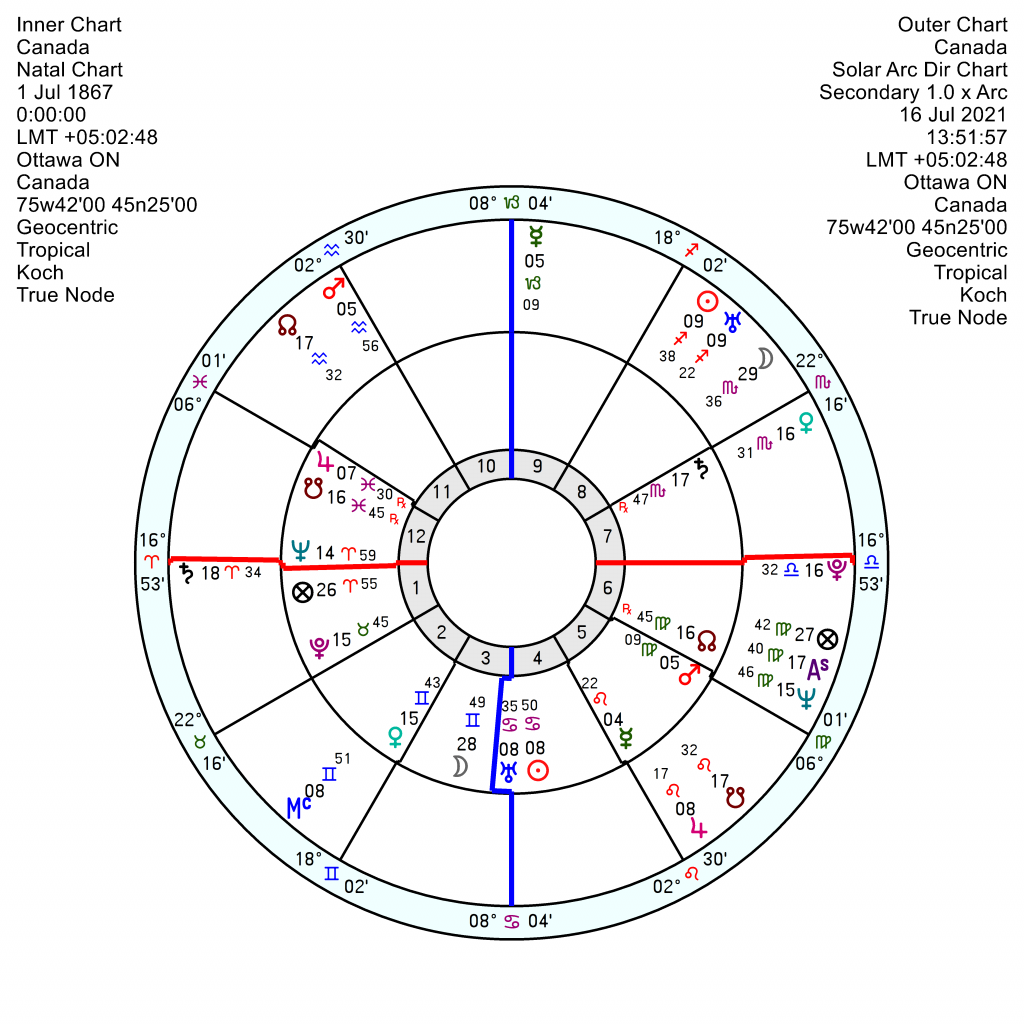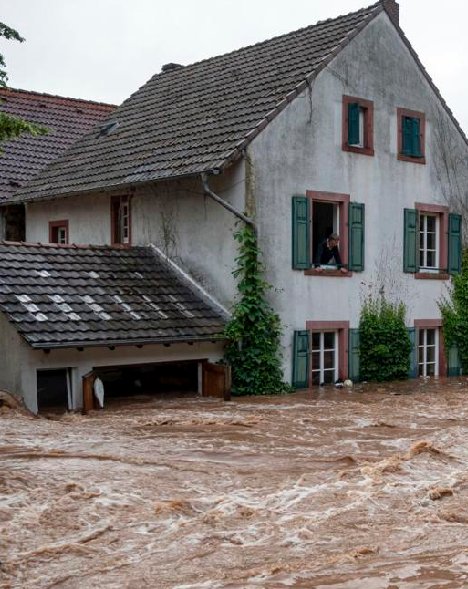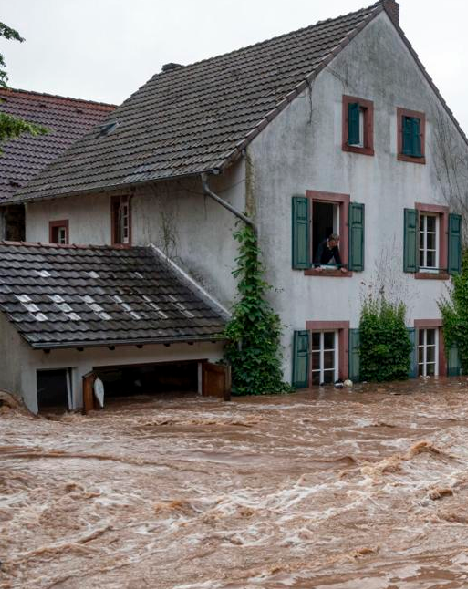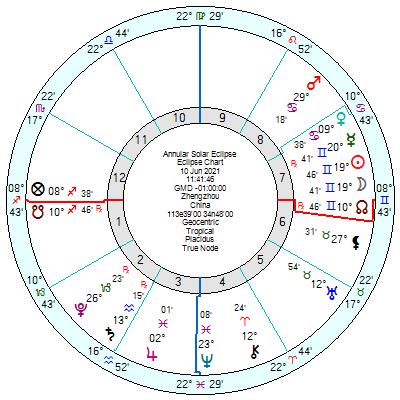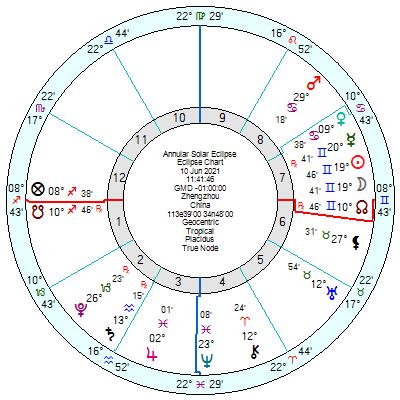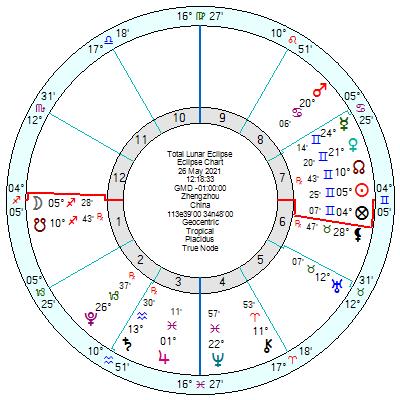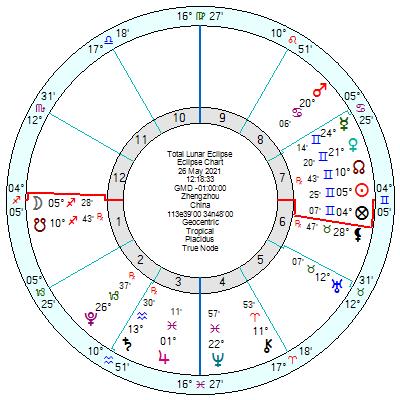 Floods in northern Europe have caused at least 120 deaths with 1300 missing in Germany which has caught the worst of it, with rainfall heavier than seen for a century.
The recent Lunar Eclipse of late May, still in effect, had the Sagittarius/Gemini Full Moon sitting across the Midheaven/IC axis located to the affected region; with the June Solar Eclipse having the North Node conjunct the MC. So it was a key location for the recent Eclipses which both also had the destructive Mars opposition Pluto in place. This week the transiting Cancer Sun was triggering both the Eclipse Mars and Pluto; with the transiting Yod focal point Venus Mars also tugging at the Eclipse Pluto (see post below).
I don't know whether it is a coincidence but modern Canada which recently suffered the worst heatwave in over 80 years came into being only four years before Germany. Both have Pluto in Taurus, in the case of Germany in the 8th, and for Canada opposition Saturn in Scorpio – and those Plutos will be heavily unsettled by tr Uranus conjunct Pluto from mid 2022 onwards for a year.
Major natural disasters sometimes precede seismic or significant changes in a country's destiny not caused by the catastrophe but happening on a parallel track.
Germany is certainly in the midst of a phase of tremendous upheaval and disruption with tr Pluto opposition the 10th house Uranus exactly now, returning this December; and then tr Uranus hitting the Pluto which will erupt deep-seated energies – as indeed happened through the 1930s. It won't be the same this time round but won't pass without leaving a profound mark on the country.
Canada Heatwave see post June 30 2021  
Add On: July 21 2021
China has also been overwhelmed with a year's worth of rain falling in three days, bursting rivers, overwhelming dams and sparking landslides. Water flooded underground railway tunnels leaving passengers trapped in rising waters and 200,000 people have been evacuated with more dams threatening to give way.
  The recent Gemini Solar Eclipse had Neptune conjunct the IC located to Zhengzhou where deaths are mounting, with the North Node on the Descendant. The Mars opposition is 8/2nd house – usually houses are not supposed to be relevant for eclipses but disasters do tend to have 8th house planets which make sense.  The recent Lunar Eclipse has the Full Moon sitting almost exactly on the Ascendant/Descendant axis.
Locations with planets on the Eclipse chart axis are traditionally regarded as crisis zones.