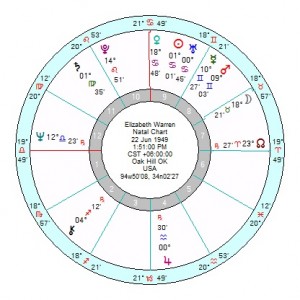 Elizabeth Warren, Democratic Senator, former lawyer and consumer protection advocate is being talked of as a potential VP for Hillary Clinton. She'd bring a much needed anti-Wall Street slant.
Born  22 June 1949, Oak Hill, OK, with a possible rectified time of 1.51pm, she's an innovative Sun Uranus in Cancer in a sensible sextile to hard-working, meticulous Saturn in Virgo; with Jupiter trine Mars (Mercury) in Gemini. The Cancer Sun will tune her into the public mood and she'll be a good communicator.
In addition she's got a Yod of Saturn sextile Sun Uranus inconjunct Jupiter which has the potential to make her a force for good out in society. And the Solar Arc positions of that Yod put her Sun Uranus on HC's MC (8.01am BT). So it might just be – stretching a point – that Hillary gives her the opportunity and platform that she needs to get her ideas across.
Her Saturn is also conjunct Hillary's MC which will give gravitas and an element of practicality and common sense. EW's Jupiter is square H's Scorpio Sun which will be morale-boosting.  But it's a very intense, slightly unsettling relationship with EW's Sun Uranus in H's 8th; and EW's Taurus Moon square H's Mars Pluto Saturn in Leo, so wouldn't make EW feel that comfortable especially where HC's 8th house issues are concerned – business finances etc.
The relationship chart does have an adventurous Jupiter opposition Uranus so at one level it might appeal. But there's an exact composite Mars square Neptune which suggests an ego-mismatch, so when one succeeds the other feels diminished. Though having said that candidates don't necessarily have to get on with their running mates since they are picked for reasons other than compatibility.
Just to be tricky on election day Elizabeth Warren has two contradictory influences.  One is tr Neptune square her Mars which is a definite lose-lose, panicky indicator.  The other is a 'lucky break' tr Pluto square Jupiter/Uranus which has been seen over election wins.
Other favourable influences: – If the rectified birth time is sound, then her Solar Arc Moon is just into her 10th and her Solar Arc Pluto is sitting on her Ascendant, both of which suggest prominence and influence. Plus tr Jupiter will be crossing her Ascendant just before the Inauguration which is also a confidence plus point.
So there are some encouraging signs but I'd still have  considerable worries about that tr Neptune square Mars.