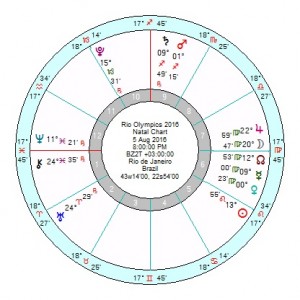 The run-up to every Olympics is plagued by panics over terrorism, unfinished stadiums, and inadequacies of the local hosts. Now health specialists have said the zika virus will make the Rio Olympics unsafe since the half million visitors could spread it globally when they return home. They want it moved or cancelled but that seems unlikely to happen.
The Opening Ceremony is scheduled for 8pm on 5th August in Rio de Janeiro, Brazil, which gives a strained 6th house Leo Sun on the focal point of a Yod to Neptune opposition Pluto, and the Sun exactly on the opposition to the Neptune/Pluto midpoint. Ebertin says of Sun=Neptune/Pluto, amongst other attributes: 'peculiar diseases'.  But even without the prospect of an as-yet incurable virus, it will induce paranoia and confusion. There's also the high-anxious, uncertain T square of Neptune opposition Mercury (Venus North Node) square an accident-prone and bad-tempered Saturn Mars in Sagittarius.
On the upside there's a welcoming 7th house Moon Jupiter in Virgo in a confident trine to Pluto so the hosts will put on a good display as might be expected from the carnival capital of the world.