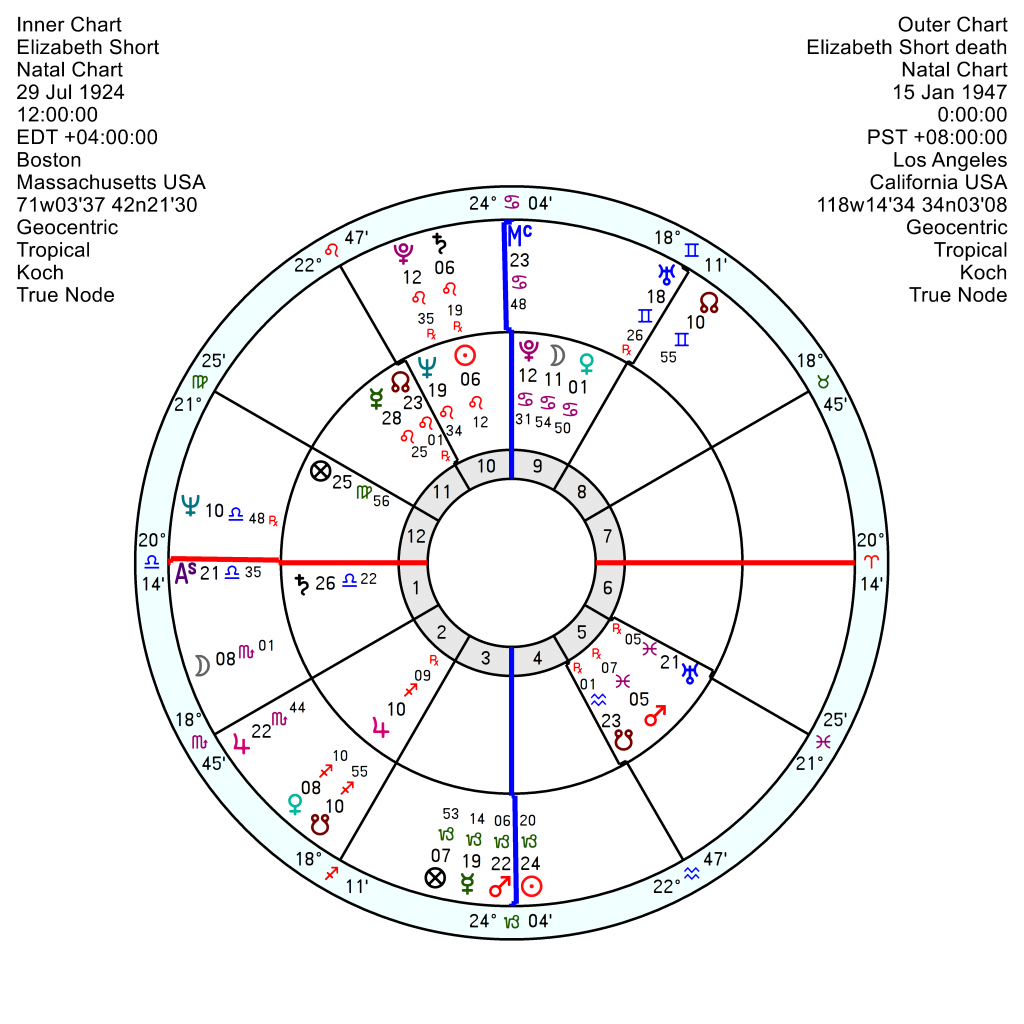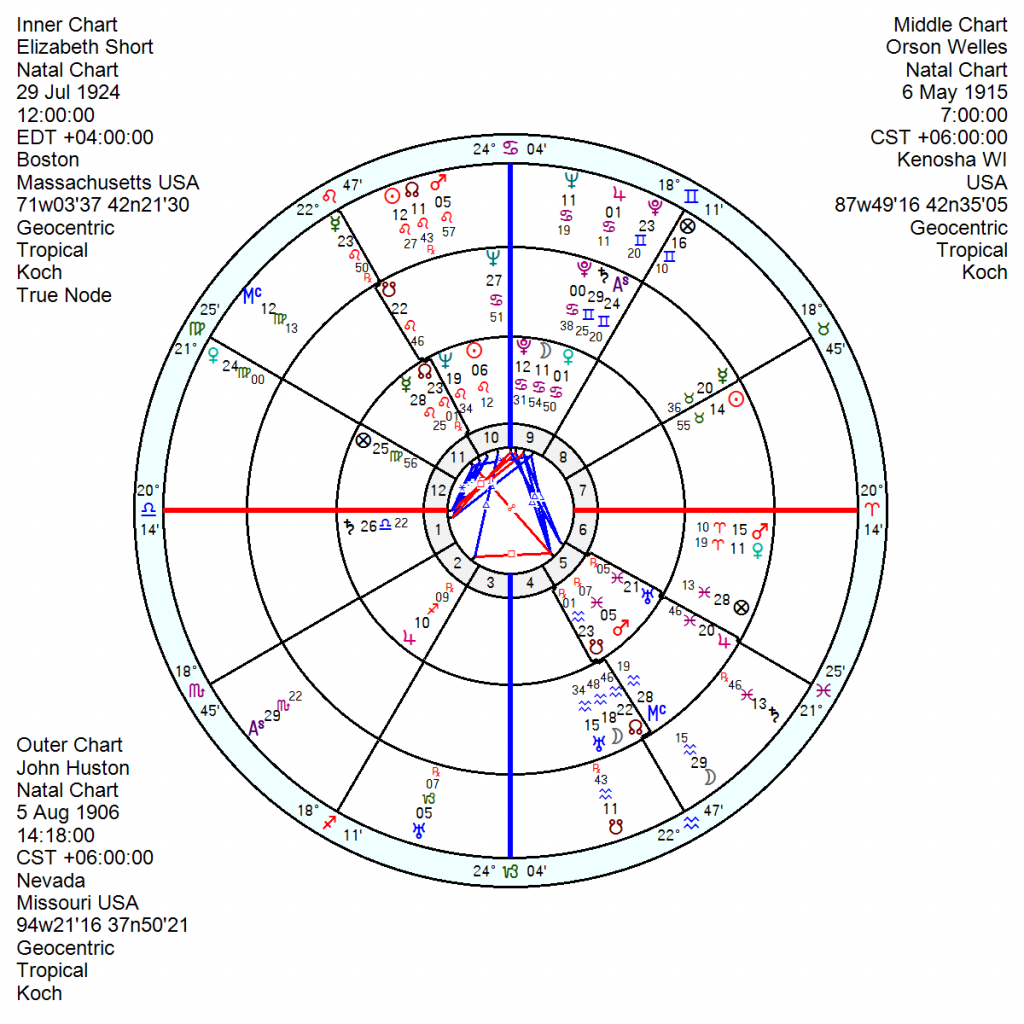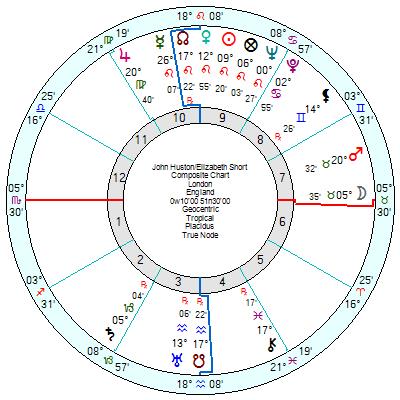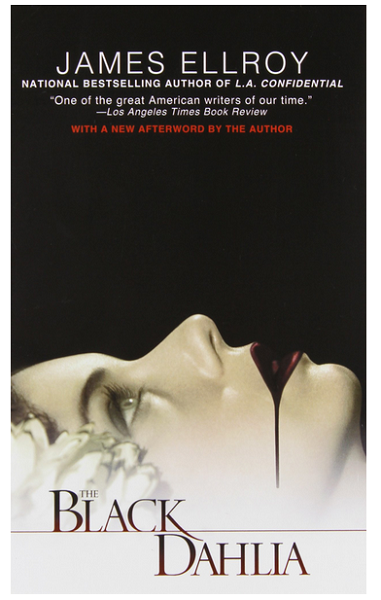 The mystery of Elizabeth Short's brutal and macabre murder in 1947 has continued to fascinate reporters and writers through the decades since, all with different theories based on flimsy evidence but held onto as "unmistakable truths" about what became known as the Black Dahlia murder. Alleged culprits range from a demented surgeon, to a lowlife serial killer burned in a fire years later, as well as George Hodel, a notorious surgeon who ran in Hollywood social circles with Man Ray, John Huston, Orson Welles who all became embroiled in wild speculation as well.
Her death has become "an inexhaustible social phenomenon" as a French reviewer put it recently on the publication of yet another book on the subject which definitively pointed away from the Hollywood circle. But the likelihood is it will never be solved.
Astrology will never prove one way or another about guilt of a crime though there are usually astrological crossovers between victim and perpetrator.
She was born 29 July 1924 Boston, Massachusetts, no birth time sadly, with her father abandoning the family after the 1929 crash and faking his suicide, though he reappeared years later. She was an entertaining and adventurous Leo Sun trine Jupiter but with a stressed Mars in Pisces trine Venus, Moon, Pluto in Cancer and inconjunct her Sun. This led her into a string of relationships with difficult men. Two things stand out for me – one is her 'leadership' North Node in Leo conjunct Neptune, inconjunct Uranus, sextile Saturn and trine her Chiron. There's no indication that she had the talent or resources of character to make a career for herself – though anything is possible if she had lived – but it does suggest an ability to capture the spirit of the age with her Node tied into Neptune and designed to send fantasies swirling.
She was killed sometime around midnight on 15 January 1947 in Los Angeles when a Scorpio Moon was closely conjunct Chiron and the destructive Saturn Pluto in Leo was highlighted in aspected to Uranus, Neptune and Venus.
The Hollywood chart itself, 1 February 1887, was under stress at that juncture with tr Pluto opposition the Sun exactly and tr Neptune in a highly strung conjunction to the Uranus. Which may have been for other reasons but would also help to stoke up conspiracy theories about which celebrities might have been involved.
There are too many charts to cover but to take two. Orson Welles's South Node was exactly conjunct her North Node and Neptune so her capacity to hit the zeitgeist would pull him back into his more primitive instincts. Their relationship chart was competitive and would spark arguments with a composite Sun square Mars but there was nothing much affecting it around the time of her death.
John Huston, the film director, 5 August 1906 Nevada, Missouri, rectified by Starkman to 2.18 pm, was a Sun, North Node and Mars as well as Mercury in Leo. His Sun was conjunct her Mars so she would spark up a fiery reaction in him and her Pluto (Moon) in Cancer was conjunct his Neptune for a confusing and almost surreal connection. Their relationship chart was a complex mix of attraction from Sun Venus, needing space from an opposition to Uranus and inclined to explode with a square to Mars. Tr Pluto was conjunct the composite Venus when she died.
He certainly had strong and not all positive astro-connections to her but that proves very little. His relationship chart with his daughter Angelica Huston was ten times worse with a composite Mars Pluto inconjunct Saturn etc etc and she lives to tell the tale.
  I met John Huston briefly years ago and he still sticks in mind as an aggressively unpleasant and sadistic personality who loved to crush people, especially women (i.e. me) under foot. It was quite unnecessary in a fleeting social setting and one in which he knew I would hardly hurl a coffee pot at him. He was what was known long ago as 'a man's man' – big game shooting, heavy drinking, womanising. His autobiography described his fifth wife as 'a crocodile' – and good on her. Talented as a film director but a lesser human being.